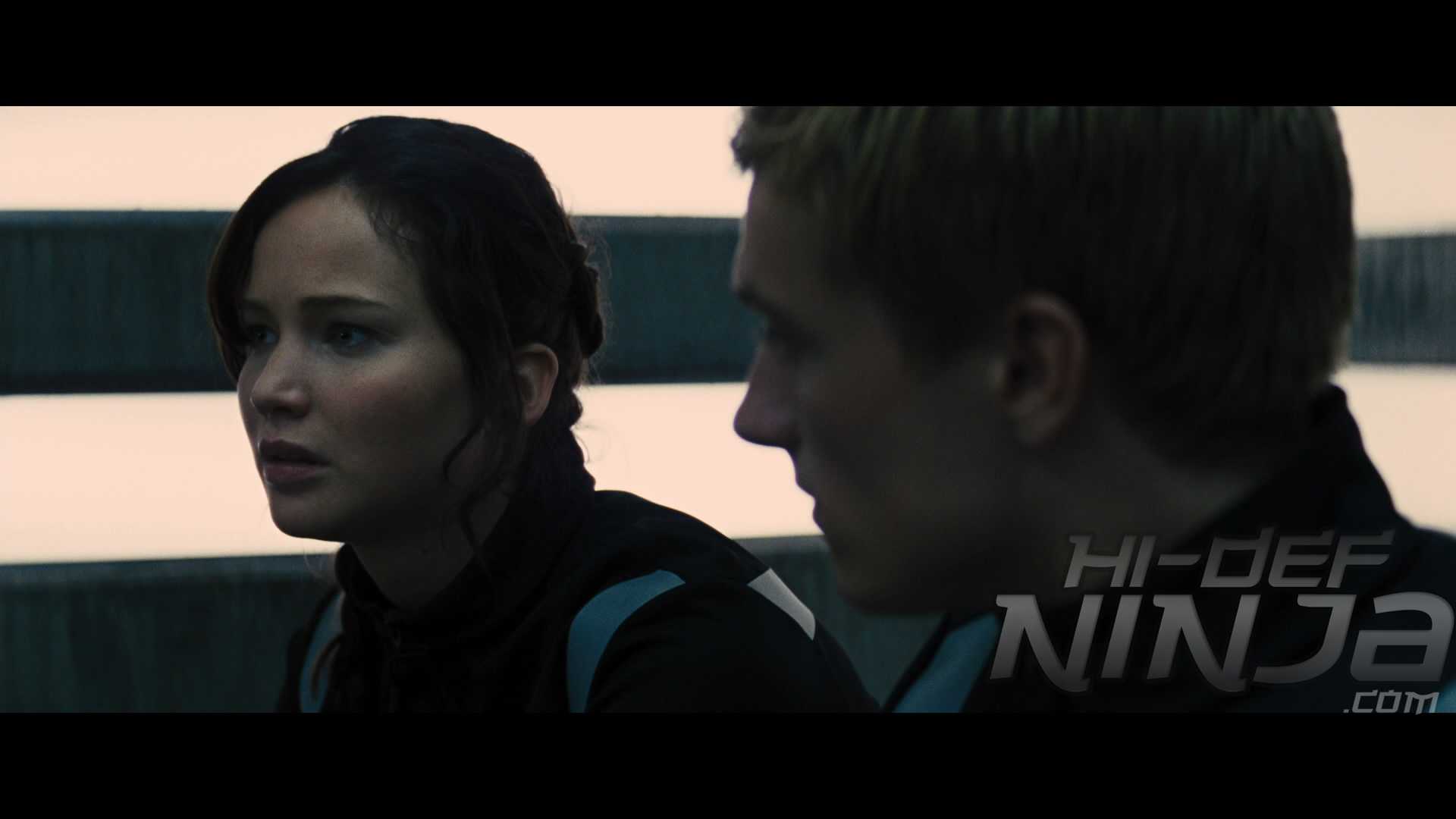 The thoroughly enjoyable The Hunger Games: Catching Fire sports reference-quality audio and video.
Sequels – and particularly sophomore efforts in a series – are hard to pull off.  Expectations ran too high with Indiana Jones and The Temple of Doom, and in many ways Hollywood has found that lesson hard to remember.  Others – like the predictable Grown Ups 2 – never grow beyond their infinitesimal core, happy as a cow to churn their cud while ranking in diminishing returns.  Luckily, The Hunger Games: Catching Fire doesn't rest on such laurels and excels in every way possible, delivering a powerful swing of the axe to our characters that reminds us more of The Empire Strikes Back than Iron Man 2 or 3.  And like the film itself, the home release is just as impressive.
Set three months after the 74th Hunger Games, life across the 12 districts is not pleasant: violent protests and brutal responses by The Capitol City and its dictator President Snow (Donald Sutherland) are commonplace, as is a growing rebellion unintentionally inspired by Katniss Everdeen (Jennifer Lawrence) and Peeta (Josh Hutcherson), who beat all odds in the games to emerge victorious.  Although they and their families now live in great comfort, the seeds of hatred towards Snow have been germinating within Katniss, who soon learns the true price of winning the games.  When a victory tour turns violent and deadly, all of Panem seems to court the idea of civil war.  Fellow Tribute Haymitch (Woody Harrelson) tries to keep Katniss and Peeta focused, but even he and their publicist/escort Effie (Elizabeth Banks) sense something darker is approaching.
It's not long before Snow hires Head Gamemaker Plutarch (Philip Seymour Hoffman) to craft a deadly 75th Game, one that will pit our heroes against former winners, all of who harbor deep resentment at being recalled.  This crew are a new breed, and their resumes read like a rap sheet: there's the psychopath Johanna (Jenna Malone), the techie Beetee (Jeffry Wright), and the playboy Finnick (Sam Clafin).  With Katniss leading the bus, they ally to turn the games on their ear, without realizing that other forces are at work to bring the revolution to a full boil.
Catching Fire is not merely another commentary on a distopian world gone mad with dictatorial power, but a totally engrossing drama/action piece that never seems to let up.  There's so many appealing layers here, brought to us this time courtesy of Director Francis Lawrence, who brings Writers Michael Arndt and Simon Beaufoy along for the ride.  The result is a powerful film that's broken into two parts: the first, a deep political tale that sees Katniss used as a tool to further the rebellion, unable to stop Snow and unwilling to lead said rebellion; and an action-packed man hunt filled with deadly mist and very angry animals, set amongst a tropical house of horror.  If you'e new to the series and haven't read the books, we recommend waiting until afterwards, for the excitement and surprises contained within certainly made their effects more pronounced for the uninitiated.  This is a deeper, darker tale than its predecessor that feels more like a punch to the gut than a triumphant escape for Peeta and Katniss.  Although such things are not intended for the young – with violent scenes of people being whipped or beaten to death, along with the long run time – it's appreciated that Team Lawrence has made a commitment to telling as much of this story as possible.  Our tours through Panem are insightful, as these provide a needed backbone to understanding just how ludicrous things have become before it all goes bad.
Harrelson, Lawrence, and Sutherland seem to relish in their roles, fueling Beaufoy and Arndt's excellent script with terrific performances, while introducing new faces like Malone, Hoffman, and Clafin, all of whom shine early and often.  Clafin slides effortlessly into Finnick, reflecting an enjoyable mix of arrogance and total commitment to winning the games.  We also loved the return of over-the-top television host Caesar (Stanley Tucci), who thinks he's more important than Katniss or even the games themselves.  With so many great performances, Hoffman's is the only one that keeps this from achieving a 5-star rating – it was great to see him re-emerge into such a high-profile project, but I think his role could have been cast better.
Lawrence has certainly upped the ante here, delivering a performance that outdoes the original in the every way.  With Hoffman's untimely death this year, it will fall to the Lawrences to deliver a fitting end to both the series and to properly memorialize a troubled actor who died long before his time.
Granted, no film is perfect, and Catching Fire does parade a litany of undeveloped faces that meet predictable ends, along with some story elements that could have used more tightening.  But any perceived issues are small and never derail the effort, which was as impressive as anything we saw in 2013.  It proves that a mostly ignorant Hollywood sometimes understands what moviegoers really need and actually tries to deliver.
Like the film itself, The Hunger Games: Catching Fire arrives as complex a product as we'd expect.  Liongate's MPEG-4/AVC codec dutifully operates between a 2.40:1 aspect ratio for most of its runtime, and sometimes strays into a 1.78:1 ratio for The Hunger Games scenes.  The film's noticeably darker tone never suffers from the changes, perfectly displaying appropriately-colored icy blue and gray hues while keeping color and contrast consistent throughout.  Blacks and shadows lead to sharp detail as well, from Haymitch's dark bachelor pad as well as various night scenes.  As previously stated, color for the most part has been drained out of the various disricts, but when you get to The Capitol or anything attached to it – like the bullet train for example – things change magnificently.  Colors – from Effie's wild fashion to the dome's tropical greens and blues – pop from every angle, showing the print's technically mastery.  Similarly, detail on faces, hair, and the occasional blood is stellar.  When Cinematographer Jo Willems captures Jennifer Lawrence's very emotional response to the death of Cinna (Lenny Kravitz), the print shows off a range of emotions that add to the power of that scene.  Outdoors scenes, particular in the dome, look lifelike and remind us of the danger of the Games.  Finally, there's zero evidence of edge enhancement, aliasing, or banding, leading to a print which I think is actually improves the home experience over my memories of seeing it several times in the theater.
The Hunger Games: Catching Fire explodes with a powerful DTS-HD Master Audio 7.1 track, complimenting the video transfer while establishing itself in several ways.  The downmix into our 5.1 setup never suffers , starting with the forward speakers, in which voices dominate the mix of music and sound effects.  The center channel is all voice, which in my opinion excels over tracks which simply throw in all the other elements and treating it like a third forward channel.  Where this track exceeds is found in the surrounds and the LFE.  The rears are constantly providing environmental sounds such as crowd noise, music from Composer James Newton Howard, and jungle sounds during the film's tense climax.  The sound seems to envelope you, making the audible world of Panem seem very real.  Lending a big hand to that experience is the LFE, which thunders and pulses all the time.  When Katniss exposes a flaw in the dome's structure, the LFE handles it with style and power.  Catching Fire offers reference-quality audio that's sure to remain on our list as one of the best home releases of 2014.
The supplements for The Hunger Games: Catching Fire are quite ready for hand-to-hand combat, stacked with enough extras to inform you on nearly all aspects of the production.  All of these are offered in HD:
Audio Commentary with Director Francis Lawrence and Producer Nina Jacobson: The creative team sit down for what's mostly a bland commentary.  We get lots of information in sporadic fits, with lots of silence in between.  At least the commentary is offered, but I wish the dialogue had been more robust.
Divergent – Sneak Peek (6:43): The least interesting of the big-budget films this year, this featurette looks into the upcoming film.
Surviving the Game – Making The Hunger Games: Catching Fire (2:24:55): This is a total in-depth experience that rivals Warner Bros' Second Screen feature in terms of information.  A total of nine features take us through every aspect of the film, from pre-production to the challenges of shooting and post-production.  This isn't your normal EPX – I'd say they're among the best I've seen, both in terms of length but also in quality.  Interviews with cast and crew and nearly unfettered access to the production gives us an advantage few movies are willing to show.  Topics include A New Kind of Hunger: Continuing the Saga, Visual Vocabulary: Building a World, Stirring Things Up: The Cast, Fashion Forward: Costume, Make-Up, and Hair, Let it Fly: Production in Atlanta, Moves and Countermoves: Stunts and Weapons, Tick Tock: Production in Hawaii, Threading the Needle: Post Production, The Revolution Lies: Reflection and Looking Forward.
Deleted Scenes (4:35): There's nothing really insightful here, but it's good to see them included.  Scenes include deleted scenes in all. The Hob, Train Station, A Wrinkle, Switching Envelopes, Finnick Ties Knot.
At the time of this posting, several versions of the release were available, including a steelbook from Best Buy and a Digibook from Target.  For this release, it does seem that American audiences are getting a wide and well-made collection of alternate versions.  Our evaluation copy arrived as a Blu-ray/DVD Combo with Ultraviolet Digital Copy.  The slipcase is colorful but not embossed, and there is no interior artwork.
The Hunger Games – Catching Fire is a gut punch whose dark tone is just what the doctor ordered, but parents would be advised to judge for themselves whether its violent content might be too much for younger audiences.  Its cautionary tale about assuming you know enough about your enemy to win makes for great watching, and certainly ups the ante for a franchise that was waiting to be great.  The tragic death of Phillip Seymour Hoffman does present a challenge for Team Lawrence going forward, but for now this one gets our strong endorsement, sporting reference-quality sound and video as well as a deep collection of supplements.  We think the inevitable mega set from this franchise is eventually forthcoming, but still recommend adding this one immediately to your collection.  The Hunger Games: Catching Fire is rated PG-13 for intense sequences of violence and action, some frightening images, and suggestive situations and language, and has a runtime of 146 minutes.
Discuss this review with fellow HDN fans on Facebook. On Twitter, follow us at @HidefNinja, and follow author Matt Cummings at @mfc90125.