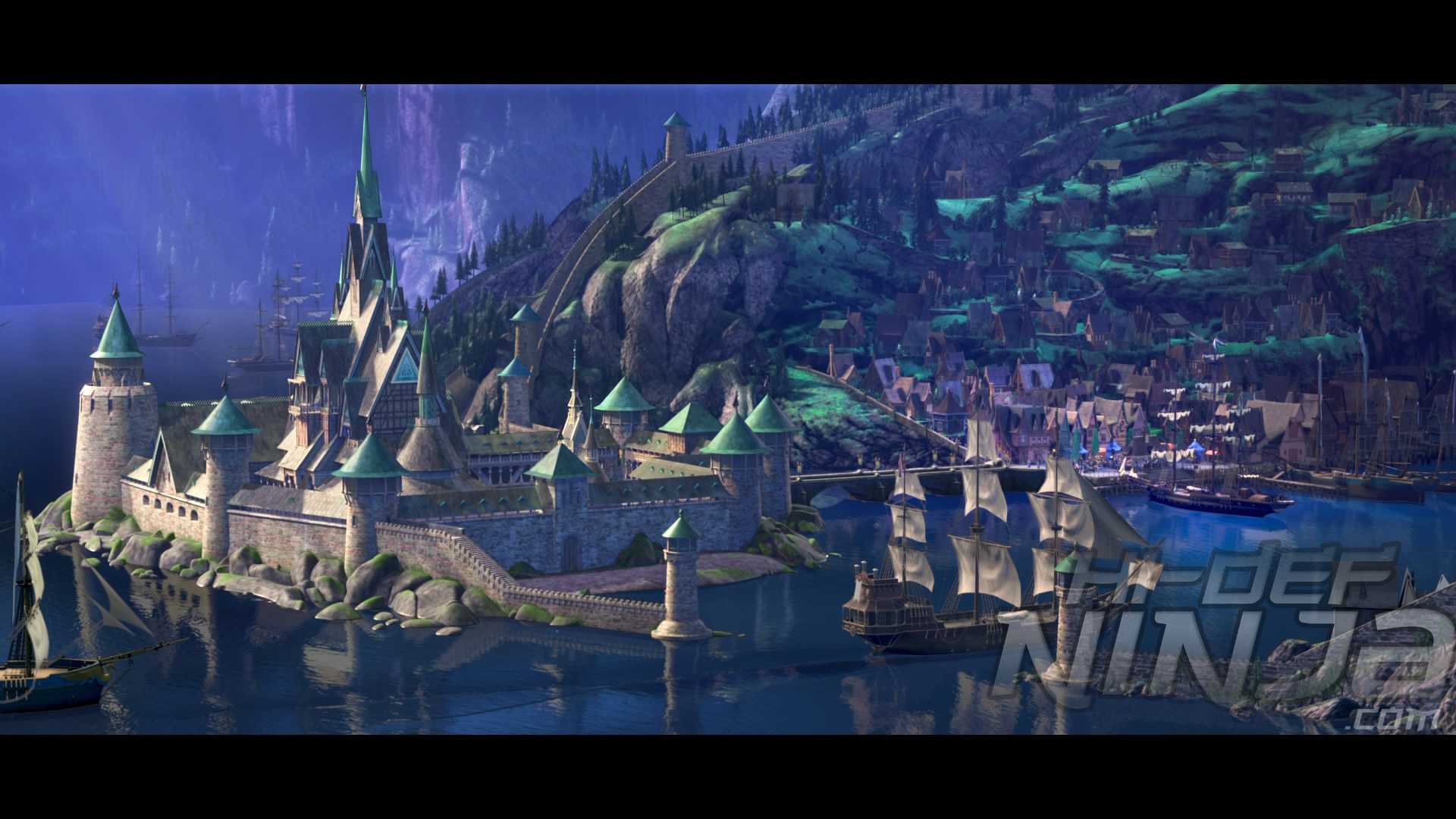 When Elsa (Idina Menzel) accidentally strikes Anna (Kristen Bell) with her icy powers, Elsa becomes a recluse in her room and the royal family orders the doors to the palace to be closed. When she is coming of age, Elsa is forced to go through the coronation ceremony with an insecurity to be able to control her powers. Anna, who had just met Hans (Santino Montana), decides she is going to marry him, but Elsa refuses to give her blessing. The two argue causing Elsa's power to be exposed, scared and not knowing what to do she runs to hide in the a mountain nearby, what she doesn't realize is that her power has brought her town to its knees with a never ending winter. Now it's up to Anna to find her sister, on her way recruiting Kristoff (Jonathan Groff), Sven and Olaf (Josh Gad) to help convince Elsa to come back home.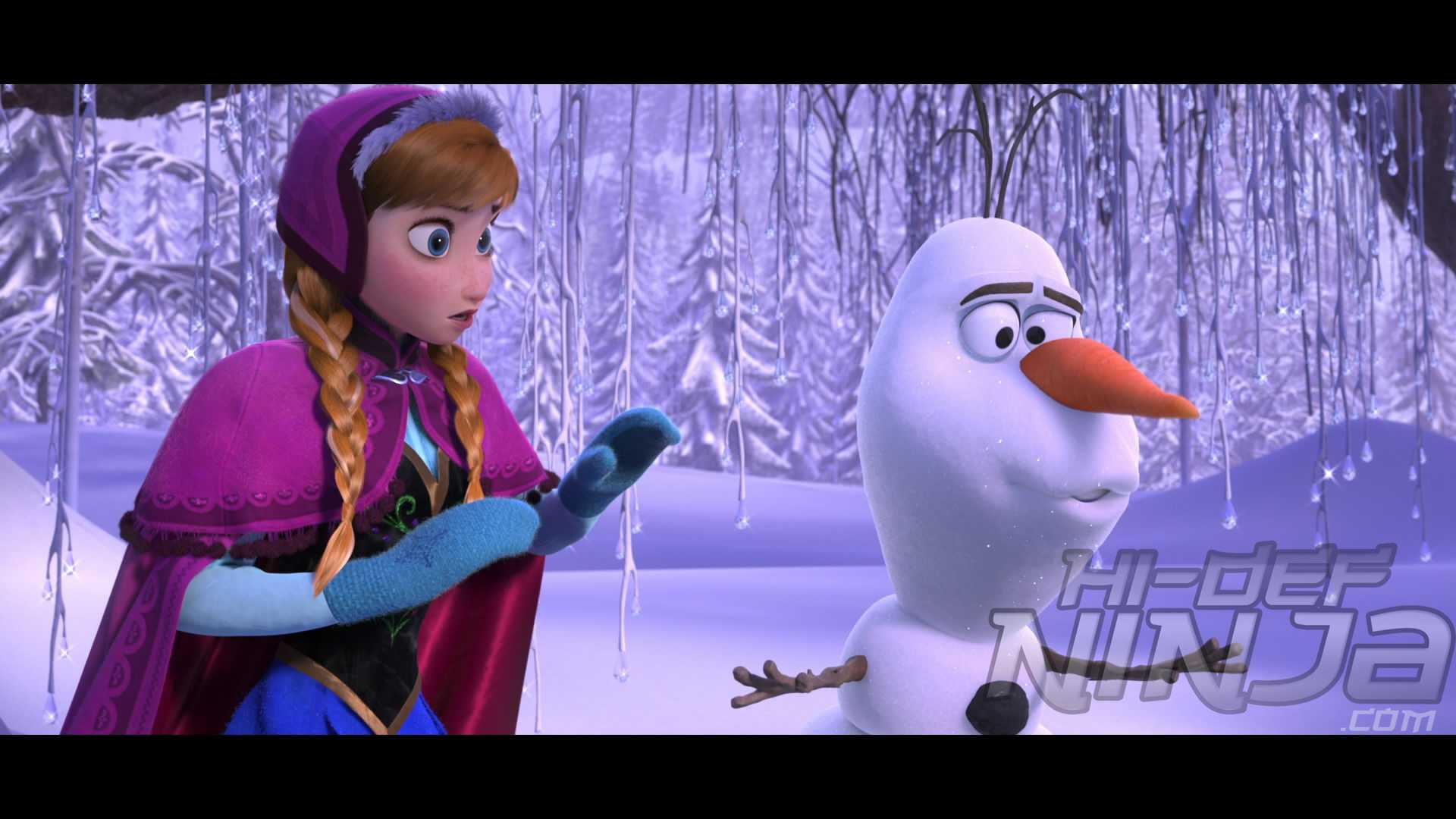 Presented with a fantastic 1080p 2.24:1 presentation, the transfer simply put is some of the best 3D I have had the pleasure of viewing.
Everything that makes the 2D presentation look as amazing as it does comes across perfectly, if not even better here in 3D. Colours look so vivid and really pop off the screen, great depth is added to the picture thanks to the 3D with everything from the characters, the sets, the environment looking fantastic; the whole setting of 'Arendelle' looks alive and you feel like you're there with them. Some great use of the 3D technology is shown with things like falling snowflakes and even Olaf's carrot nose. Whilst it doesn't try to poke you in the eye, it does look as if it's entering the room with you. I did notice some very very slight ghosting on one or two of the quicker moving action scenes, but this was not distracting in any way at all.
I would recommend anyone waiting to view "Frozen", to watch it in 3D. This is 3D reference material right here, I know the next time I watch it, it'll be again in 3D.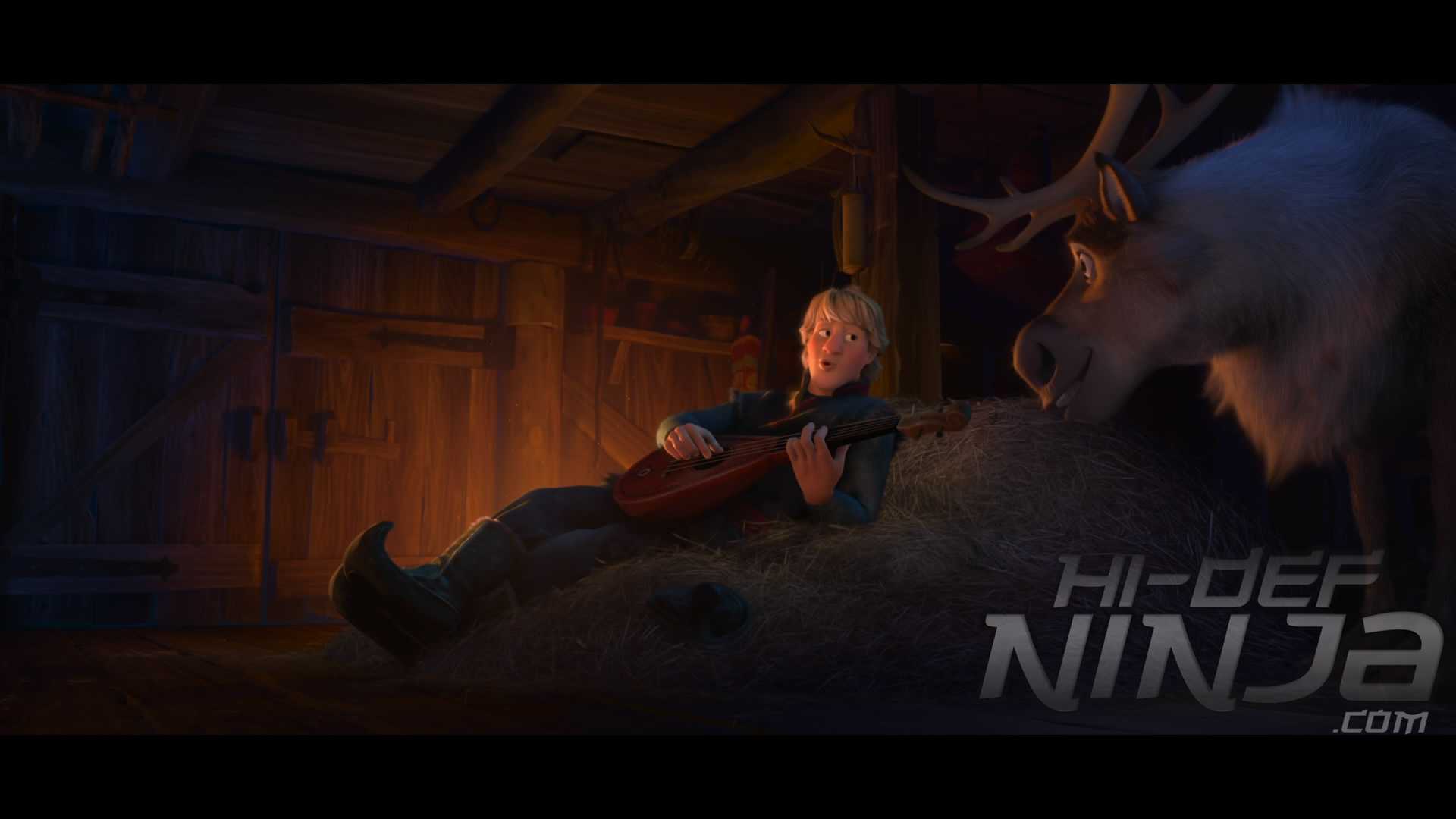 As like the 3D disc, the 2D version of the movie (which is included as a separate Blu-ray disc), is also presented with a fantastic 1080p 2.24:1 presentation.
The following exert is taken from our 2D Blu-ray review
Frozen continues the Disney tradition of great transfers; the image is clean and very pristine right from the beginning. An excellent digital picture that is full of details at every corner from the castle decorations to the town streets, there's tons of details to be seen everywhere. Each character is greatly detailed too and you can even see the fine details on Sven's fur or even Olaf's snow pattern. The colors look vivid even during the snow and cold environment. Black levels are deep and inky. I didn't detect any issues in the picture, if anything Frozen is another reference quality title.
"Frozen" contains a variety of soundtracks, which are the same on both 3D and 2D discs. To choose from there is a fantastic DTS HD Master Audio 7.1 English track, DTS 5.1 Portuguese, Castilian Spanish, Catalan Spanish and finally and English Dolby Digital 2.0 track. For the purposes of this review I of course opted for the DTS HD Master Audio 7.1 track (down mixed to 5.1).
This is one of the finest tracks I've had the pleasure in listening too whilst viewing a movie. From the off, everything is nice and quaint with all the speakers picking up the orchestral work from composer Christophe Beck, with the rears adding the extra bit of surround to really grab you into the movie. As "Frozen" moves along, the musical numbers we are treated too really bring the track to life and fill your room with the Disney goodness that many of us know. Dialogue is clear and delivered with great clarity, the rears pick up the noises from wind and ice storms that really make for an amazing immersing experience. Everything just seems to work and flow nicely, with LFE kicking in when needed most notably during the snow man-monster chase sequences.
As like with the video presentation this is reference material.
Also included on both discs are English hard of hearing subtitles, as well as Portuguese and Castilian Spanish subtitles.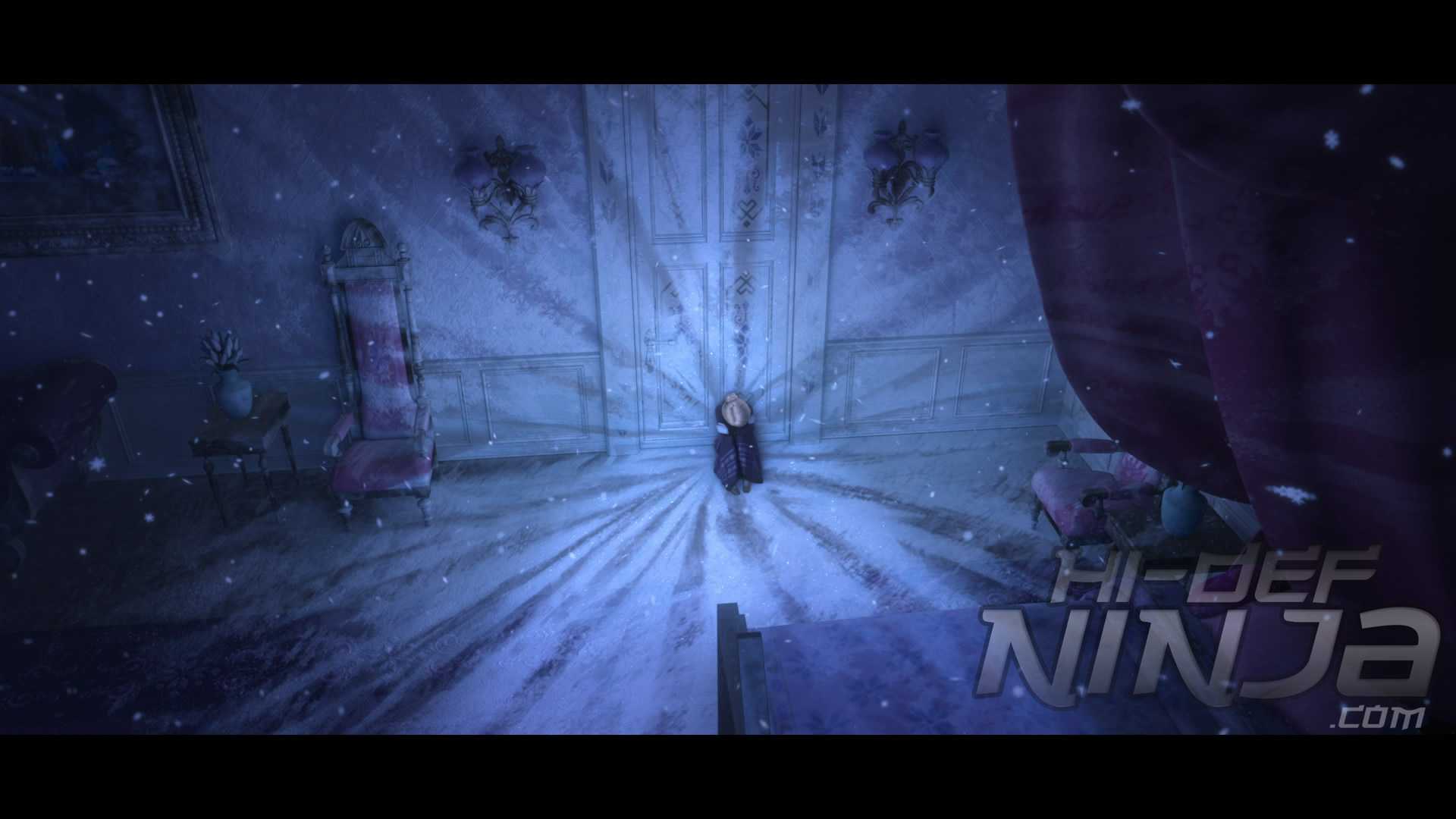 "Frozen" comes with the following extras –
3D Disc
* "Get A Horse" original theatrical short (3D, 6 mins) – This short features Mickey fighting Pete over Minnie. This is a very clever short with some great use of 3D
2D Disc
* "Get A Horse" original theatrical short (HD, 6 mins) – As above but in 2D
* The Making of Frozen: The Musical (HD, 4 mins) – Josh Gad, Jonathan Groff, and Kristin Bell lead a fun musical number inside the Disney Animation building in Burbank.
* D'frosted: Disney's Journey from Hans Christian Andersen to Frozen (HD, 8 mins) – Various individuals discusses the creative process and ideas that Walt and other animators had for various projects including Frozen.
* Deleted Scenes with introduction by directors Chris Buck and Jennifer Lee (HD, 7 mins) – Four unfinished deleted scenes can be accessed, with introductions from the co-directors (Never Underestimate the Power of Elsa, The Dressing Room, Meet Kristoff 1, Meet Kristoff 2)
* 'Let It Go' music videos (HD, 15 mins) – Demi Lavato (in English), Martina Stoessel (in Spanish & Italian), and Marsha Milan (in Malaysian) perform their "End Credit" versions of the Academy Award winning song, "Let It Go."
* "Frozen" teaser trailer
I have to be honest here, for such a big film I felt this was only area of the Blu-ray that was lacking, hence why I can only give it 4.5/5. Yes, there is enough here to please the fans but I wanted more in all honesty.
I grew up on the Disney animated classics, with some favourites being "Robin Hood", "Peter Pan" and "The Aristocats" but naturally growing up and not having any kids (yet!) I lost a bit of interest in some of Dinsey's more recent outputs like "Toy Story 3", "Cars", "Up", etc but must admit thoroughly enjoying "Wreck It Ralph". It was the same with "Frozen", initially I wasn't too fussed about whether I got to see it or not, but I was offered the chance to review it for the 3D purposes as surprisingly the US home release of "Frozen" seemed to not include 3D and became a 2D only release.
Having not read much into the movie itself and only seeing that it had won 2 Academy Awards recently and seeing it plastered over social media from friends saying that their kids loved it and couldn't stop playing the movie was pretty much the extent of my knowledge on "Frozen". When it arrived through my letterbox I was slightly hesitant in watching it asking myself what have I got myself in for. Upon pressing the play button on the remote I have to admit to being immediately hooked and I loved every damn second of "Frozen". It took me back to my childhood and reminded me of the traditional Disney movies that I grew up with, right down to the characters and the musical numbers ("Let It Go" has been in my head ever since I finished watching "Frozen"!) and from what everyone else has said, it certainly seems to be a return to form for Disney. The story line isn't really anything new and we've seen it all before; but not for a long time. Everything from the structure of the story, an act of true love, etc is very reminiscent of the older Disney animated classics that I feel have been lacking in the more recent Disney offerings. Don't get me wrong, the Disney-Pixar era have made some good movies but for me they were always lacking something, and I found "Frozen" filled that hole with a true return to form.
I will be watching this again, and I cannot wait! A superb film on a reference quality disc for 3D, 2D and audio presentations. For you guys Stateside, this is the one to get to fill the 3D gap missing from the US release.
Buy the 3D version from Amazon.co.uk
Buy the 2D version from Amazon.co.uk
httpvh://www.youtube.com/watch?v=2Jw-AeaU5WI