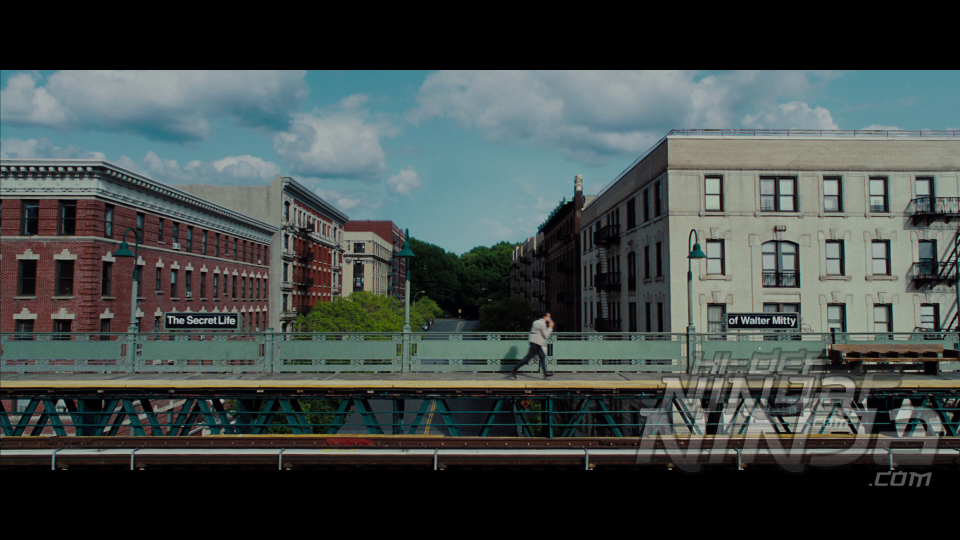 Based on the acclaimed 1939 short story by James Thurber and brought to life by Ben Stiller, this powerful and uplifting journey of an everyday man has been celebrated by audiences all over the world.
Ben Stiller directs and stars in this classic story of a day dreamer who escapes his anonymous life by disappearing into a fantasy world filled with heroism, romance and adventure. When his job, along with that of a coworker are threatened, Walter takes action in the real world, embarking on a journey more extraordinary than anything he could have imagined.

"The Secret Lift of Walter Mitty" comes with a fantastic AVC encoded 1080p 2.40:1 presentation.
Everything is pretty much damn near perfect here, aside from one small thing which I will get to momentarily. Detail is fantastic, with the video showing everything from facial and hair detail, clothing details, and wonderful scenery. Colours are vivid and even though it has the current trend of a blue tint, colours pop off the screen especially during the Icelandic part of the movie, if anything it looked better on Blu-ray than it did at the cinema. Greenery is lush as is the bright blue sky, looking really fantastic on screen. The darker scenes again are great with some very good black levels adding great depth to the picture. There are no banding issues, no motion blur, no digital noise; it's nigh on a flawless transfer apart from one very small thing and that is the CGI. Even though there's very little throughout the movie the CGI that there is, which is mainly in the 'daydream' sequences and it just looked out of place and look a little too soft.
Overall a fantastic transfer that will superb on your home cinema.
On the disc we are presented with two choices. The first is a fantastic English DTS HD Master Audio 7.1 track and the second is an English Audio Description 5.1 track. For the purposes of this review I will be looking at the DTS HD Master Audio track.
I have to start by saying that this is possibly one of the best tracks I've had the pleasure of listening to in all of the reviews that I have posted. Everything is on a grand scale here and is really quite surprising to what you think would possibly be quite a small and contained audio track. The track really engages you from the off whether it be from the confines of Walters dark almost underground-like office to the roaring of the sea. Dialogue is delivered with great clarity sounding very natural and there's some great use of LFE throughout the movie that will give your sub semi-decent workout. The actual surround of the track is simply superb, that makes for a real immersing experience. Whether it's the wind swirling around the rears, or the roar from the erupting volcano to the sound of traffic on the streets or just the simple peace and quiet found in some points of the movie, it all sounds genuinely fantastic and makes for one hell of a good audio track. The score and music also flows from the speakers with great ease and again sounds fantastic.
A pretty much perfect audio track in my opinion that partners perfectly with the video presentation.
Also included are English hard of hearing subtitles.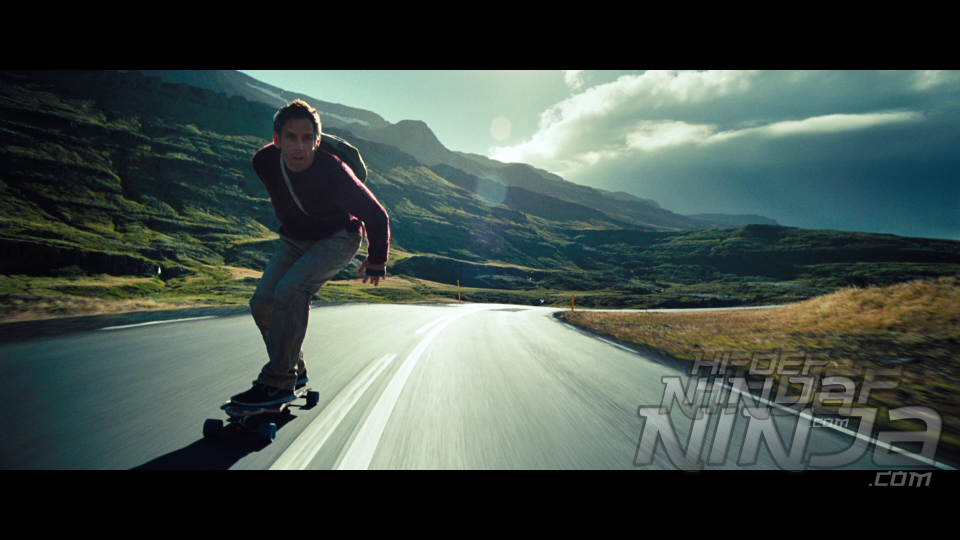 "The Secret Life of Walter Mitty" arrives onto Blu-ray in the UK with the following extras –
* Deleted, Extended and Alternate Scenes (HD, 15 mins) – Exactly as it says on the tin, consisting of "Morning Routine", "Young Odessa Fantasy", " Jester Fantasy", "Manfree Fantasy", "Impound Lot", "Extended Artic Fantasy", "Benjamin Button's Christmas Walk", "Fly to Greenland Alternate Music", "Severance Package"
* Behind The Scenes (HD, 39 mins) – A mix of behind the scenes featurettes consisting of "The History of Walter Mitty", "The Look of Life", "Shooting on Film: The Analog Aesthetic", "That's a Shark", The Music of Walter Mitty", "Icelandic Adventure", "Nordic Casting", "Titles of Walter Mitty", "Skateboarding Through Iceland", "Ted-Walter Flight" and finally "Ted-Walter Fight Pre-Viz Early Version"
* Photo Gallery: Reference Photography
* Theatrical Trailer
All in all a very healthy set of extras, but as my usual slight moan; no commentary and no cast and crew interviews. However, there're more than enough to please fans. A HD Ultraviolet code is also included as well as a first press slipcover.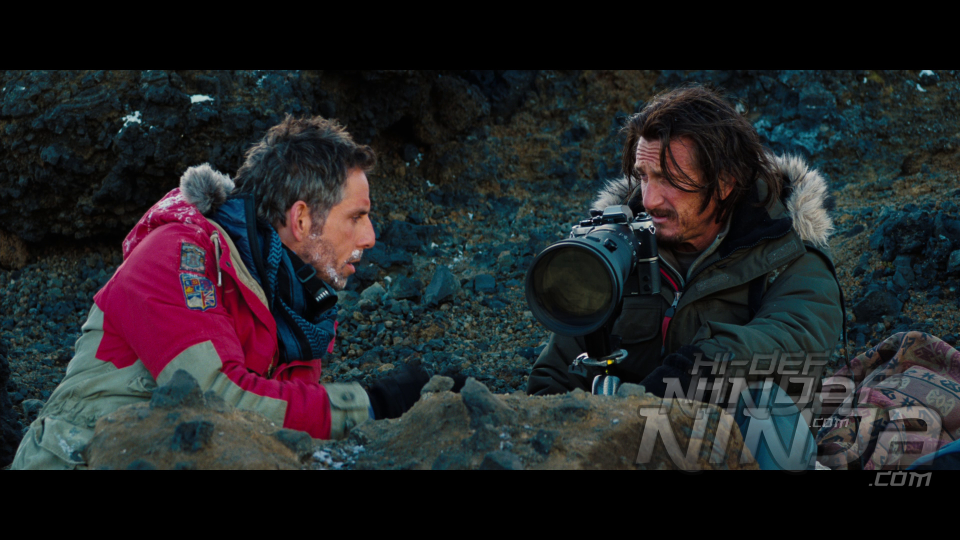 I remember seeing the trailer for this at the cinema and thinking it looked OK and thought yeah I'll give it a go when it was released. I remember the trailer being shown quite a way in advance before it's theatrical run here in the UK and because I visit the cinema at least once a week, sometimes more, and then the particular chain of cinema that I visit decided to then show a 10-12 minute extended preview with 'gimmicky' behind the scenes interviews with the cast; having to sit through this extended preview 3 times (after which I then left my seat until the preview had finished before returning to my seat) I became very disinterested in watching "The Secret Life of Walter Mitty". It didn't help either that I'm not the biggest fan of Ben Stiller (aside from "Dodgeball"), so having to endure him on screen more than I would have to really did put me off.
Upon the film's release at the end of last year in UK cinemas my fiancé still expressed a desire to watch it, to which I begrudgingly accepted to go and sit down and watch. Maybe my expectations were low, but after the credits rolled I had thoroughly enjoyed what I had just seen on screen. My initial preconceptions were immediately washed away, I couldn't get over how much I enjoyed "The Secret Life of Walter Mitty", and said to my fiancé this would be an instant purchase to have in my collection when the Blu-ray came out.
Having this land through the letterbox was a very pleasant surprise, I put aside what I had planned for the same evening and watched it straight away. Watching "The Secret Lift of Walter Mitty" in the comfort of my own home was superb. Ben Stiller has proven he can direct a very well put together movie, with a good cast giving a good, though provoking look on life becoming a very capable director but at the same time putting in a very good turn as Walter. The film, for me, was a good drama-comedy that was both visually and audibly stunning and I'm pleased to say this was replicated perfectly onto Blu-ray. I have yet to see the original movie, but this is something I would now like to watch. "The Secret Life of Walter Mitty" has now become my favourite Ben Stiller directed movie, but doesn't take the top spot for my favourite Ben Stiller starring movie. That is still held by "Dodgeball", although this is a very very close second.
"The Secret Life of Walter Matty" arrives on to Blu-ray in the UK with both fantastic video and audio presentations, as well as a healthy set of extras. Thoroughly recommended!
Purchase your copy now from Amazon.co.uk
httpvh://www.youtube.com/watch?v=kGWO2w0H2V8