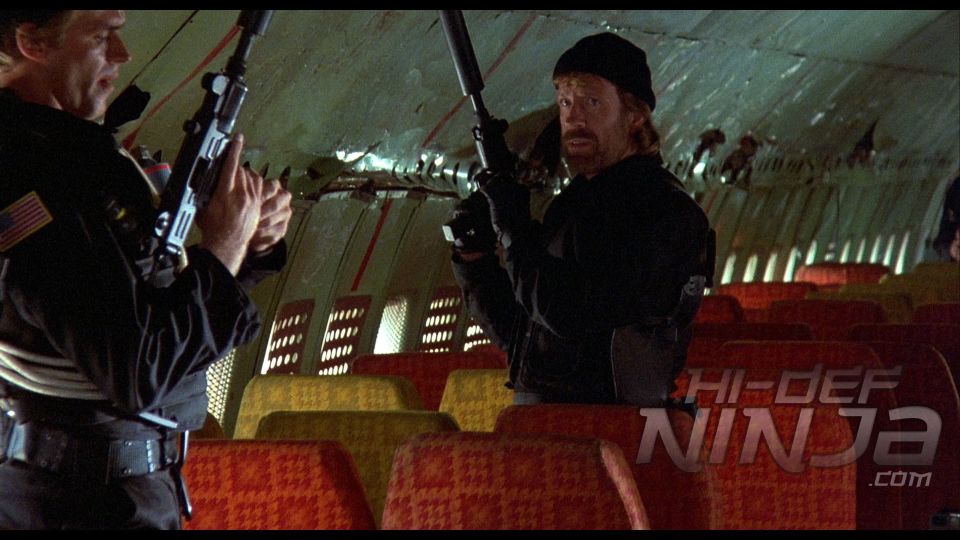 American Travel Ways Flight 282 has been hijacked by a group of terrorists claiming to represent the New World Revolutionary Organisation. The Delta Force, under the leadership of Major Scott McCoy (Chuck Norris), is called in to handle the situation. Still smarting from an ill-fated hostage rescue mission several years prior, this elite squad of Special Forces is determined to succeed in its mission this time – and assert the might of the American military once and for all.

"The Delta Force" is presented in its original aspect ratio of 1.85:1 with the 1080p HD master being produced by MGM and delivered by Hollywood Classics.
The transfer simply put, is fantastic! Detail is great for a film that's come from the 1980s, close up details reveal the fine bristles of Chuck Norris' ever-so famous beard, beads of sweat look prominent, edges look particularly sharp with very little softness overall in the transfer. Skin tones are rich and look natural, both day and night colours look very good with some rich black levels thrown into the mix. For the grain fans out there, there is some slight grain showing little use of digital noise reduction nor was there any other real imperfections that I could see.
Compared to the US release of "The Delta Force", this Blu-ray knocks it clean out of the sky!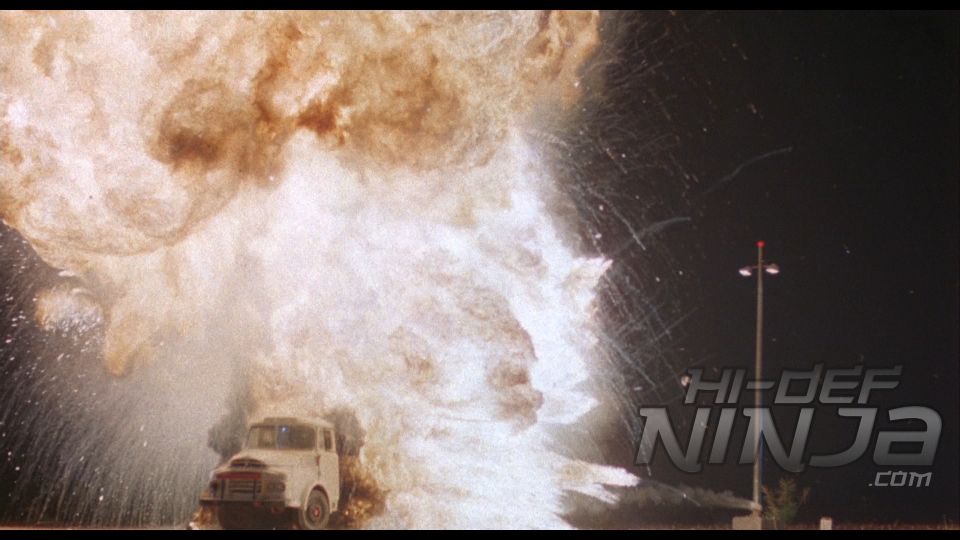 Only the one audio track on this release, which is a very good English PCM 2.0 Stereo track.
Keeping with the movie's original audio, the representation here is great. As with most 2.0 tracks there isn't a great deal of depth or surround feel but dialogue comes across naturally without sounding forced with great clarity and Alan Silvestri's score (which is in fact a very good score) lingers nicely in the background coming to light when the action sequences kick in. Sound effects also come in and sound punchy enough to not sound artificial, but with explosions and gun fight there is little to no use of LFE which does tend to draw you back out from the movie. However, a slid audio track here to compliment the video track nicely.
Also available are optional English subtitles.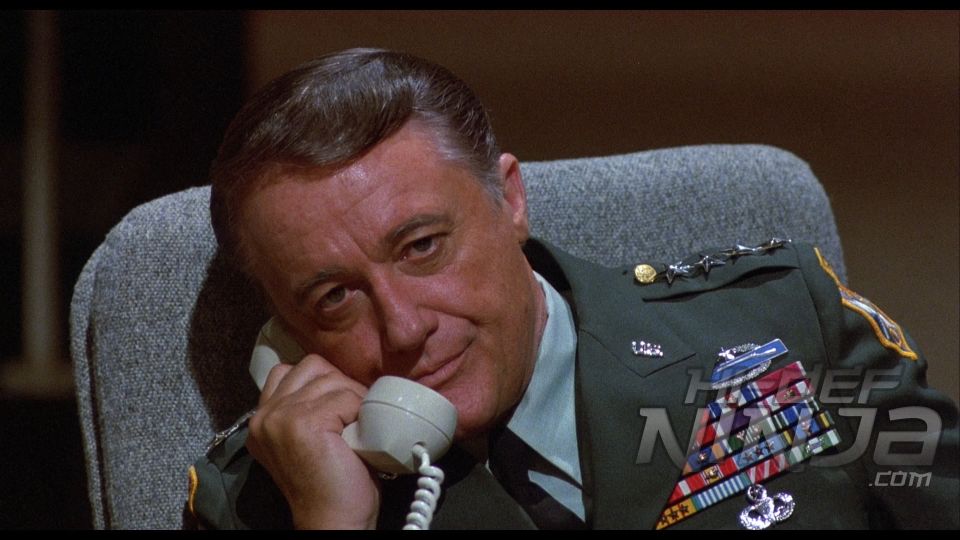 It wouldn't be an Arrow release without some new extras. Included on this Blu-ray release are the following extras –
* Genre Hijackers: Mark Hartley on Cannon Films – The filmmaker discusses the explosive legacy of Golan and Globus (HD, 15 mins)
* Chuck Norris Scribe: An Interview with writer James Bruner (HD, 21 mins)
* May The Delta Force Be With You! – An interview with Commandant Christian Prouteau, founder of the French GIGN and instructor of the first Delta Force (HD, 23 mins)
* Original Theatrical Trailer (1:57)
* Reversible sleeve featuring original and newly commissioned artwork by Graham Humphreys
* Collector's booklet featuring new writing on the film by author John Kenneth Muir and a contemporary article on Cannon Films, illustrated with original archive stills and posters
As always Arrow deliver in the extras department. Bringing some new extras to the table fans of the movie will not be disappointed! The booklet is also a fantastic read, especially if you're interested in 'Cannon Films'. The main thing missing was interviews with Chuck Norris and some of the other cast, but overall it's hard to complain about what we have been given by Arrow.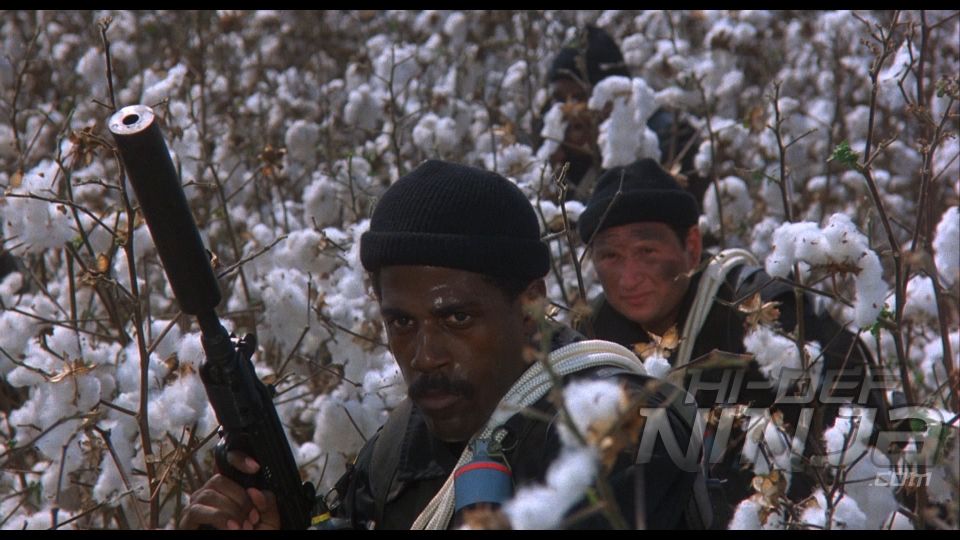 Having never seen "The Delta Force" before, having this land on my desk to watch it was one I was very eager to sit down and watch. I was very excited at the prospect of seeing a company such as Arrow releasing a Chuck Norris movie, and this is something I hope they continue to do as there could be some fantastic releases that a lot of 80's movie lovers would love to see been given the Arrow Video treatment.
Sitting down to watch "The Delta Force" for me it turned out to be a pretty much run-of-the-mill 1980's action movie (which isn't a bad thing in my books) and I must admit to enjoying it quite a lot. The cast in the movie is superb! Alongside Chuck Norris you have the likes of Lee Marvin (in his final screen role), Martin Balsam, Robert Forster, George Kennedy, Robert Vaughn, Shelley Winters and even Liam Neeson in a very small uncredited role (see if you can spot him!), looking at the front cover you would never expect the movie to have such a roster. The movie itself is full of action and doesn't really let go from start to finish and you cannot forget Chuck Norris flying through the air on a missile mounted motorcycle! It has to be seen to be believed. Whilst it can be a little tedious at times and very patriotic, which was the norm in a lot of these 80's movies, it is an entertaining ride that I will happily watch again and again.
This Blu-ray released by Arrow is certainly the best it ever looked with a fantastic video presentation, a strong audio track and some brilliant extras this blows the US release out the water. If you're a fan of Chuck Norris or cheesy 1980s action movies then this is simply a must buy for you.
httpvh://www.youtube.com/watch?v=r-UCFBS4a5I
Purchase your copy direct from Arrow or over at Amazon.co.uk