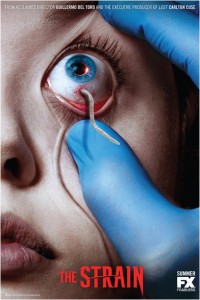 FX have revealed the new trailer for their upcoming horror/suspense television series, THE STRAIN. Based on the series of novels written by Guillermo del Toro and Chuck Hogan, THE STRAIN tells the story of a worldwide epidemic that causes humans to become parasite-like creatures after contracting a vampiric virus.
The series will star Corey Stoll, Sean Astin, Kevin Durand, Mía Maestro and David Bradley amongst many others. Del Toro himself is set to write and direct the pilot episode.
THE STRAIN airs on FX this July.
~K
httpvh://www.youtube.com/watch?v=_42rx8Dm6OQ