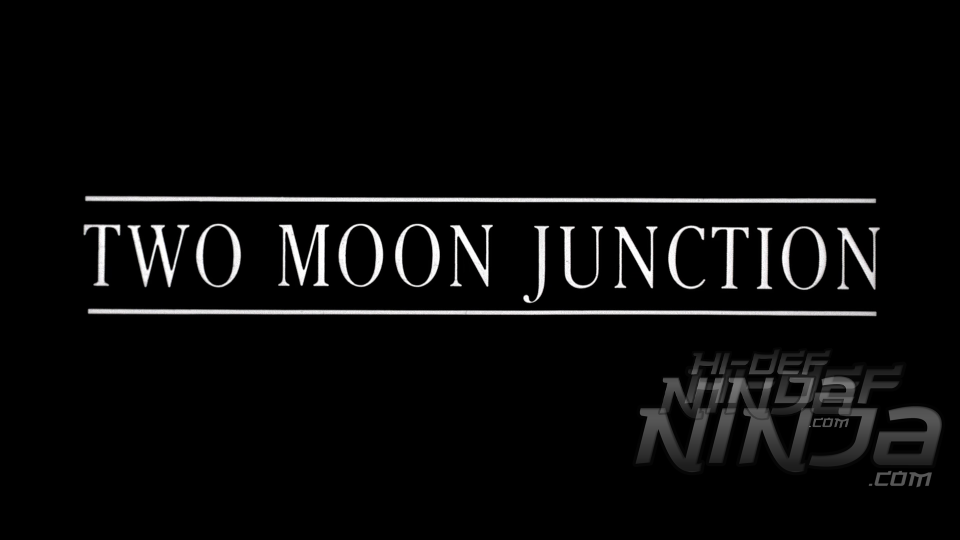 Sherilyn Fenn (Twin Peaks, Wild at Heart, Meridian) stars as April DeLongpre, a beautiful southern debutante who's about to marry a handsome man as privileged as she. But stirring within the re?ned April is a raging sexual desire that erupts when she locks eyes with Perry (Richard Tyson, There's Something About Mary), a rough- hewn, muscle-bound carnival worker. Drawn together in an erotically-charged confrontation of wills, they embark on a journey of unquenchable desire that will change their lives forever. Also starring Academy Award® winning actress Louise Fletcher (One Flew Over the Cuckoo's Nest, Cruel Intentions) and featuring the first ever screen performance of Milla Jovovich (Resident Evil, The Fifth Element).
This was one of those films that I saw the trailer for, like a million times, as it was on the trailer reel for every CBS FOX Video release from that era. Having the chance to actually sit down and watch the film was somewhat an experience for me. Being familiar with Zalman King's other films such as 9 1/2 Weeks and The Red Shoe Diaries, I knew what to expect. Quite a slick and slow intense love story about forbidden desire, Two Moon Junction ticks all the right boxes for a 80's era shot film. Swirls of smoke twisting in the background during a nighttime beach carnival, bare chested denim wearing beefcakes, a typical but expected scene involving a beach bonfire against a dusk background and rich folk wearing angelic white clothing in every scene and some amazing hair, anyone who gets a nostalgic kick from watching films produced during the 80's (like I do) will certainly enjoy this. Could it be made today? Possibly as the story is quite simple to replicate and probably has been copied a few times since 1988 but miss out on the sizzling atmosphere presented here. Sherilyn Fenn (who looks absolutely stunning in this) and Richard Tyson do a great job of keeping the sexual tension between the characters on screen throughout and Zalman King's direction keeps the film's finger on the pulse making never feel out welcomed during it's 105 minute runtime.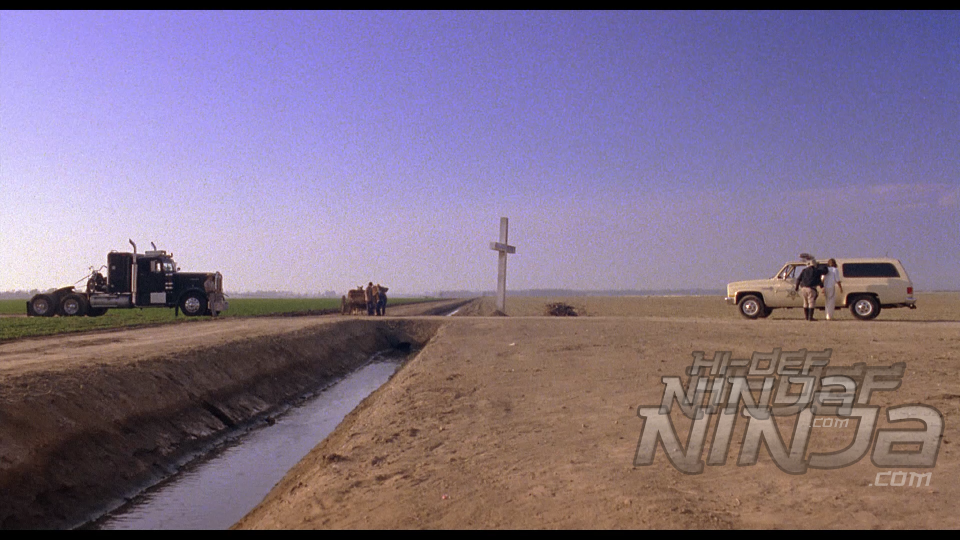 Two Moon Junction is presented on Blu-ray with a 1080/24p MPEG4-AVC Codec that preserves the films original 1.85:1 theatrical aspect ratio. Originally filmed on 35mm, the transfer for this release seems to have been struck from a dated master. I noticed quite a bit of artifacting during the darker lit and softer focus scenes which did reduce the finer detail in the image as it made the picture quite noisy. One particular observation was the presence of white rectangular blocks noticed around 28 minutes into the film and see within the smoke that was gently floating around the room in the background. Possibly due to an encoding error, They only appear for a few seconds but was quite noticeable. Apart from those issues, the transfer itself is good with a nice layer of grain throughout and certainly compliments the smooth slick cinematography. There were a few minor white specks and reel scratches due to print damage but personally that doesn't bother me. The lighter lit scenes and outdoor backgrounds were pretty sharp. Black levels were solid but could be a little bit crushed, hiding some detail in the background. It does
Two Moon Junction arrives on Blu-ray with a single LPCM 2.0 audio track. Originally mixed in Stereo for it's theatrical release, this Blu-ray preserves that mix nicely. Whilst it's not an overly active track, it does deliver a clean discrete mix that leaves dialogue nicely balanced between the front speakers and gives the 80's electronic score a bit more presence throughout, giving the film a low key but sexually intense atmosphere.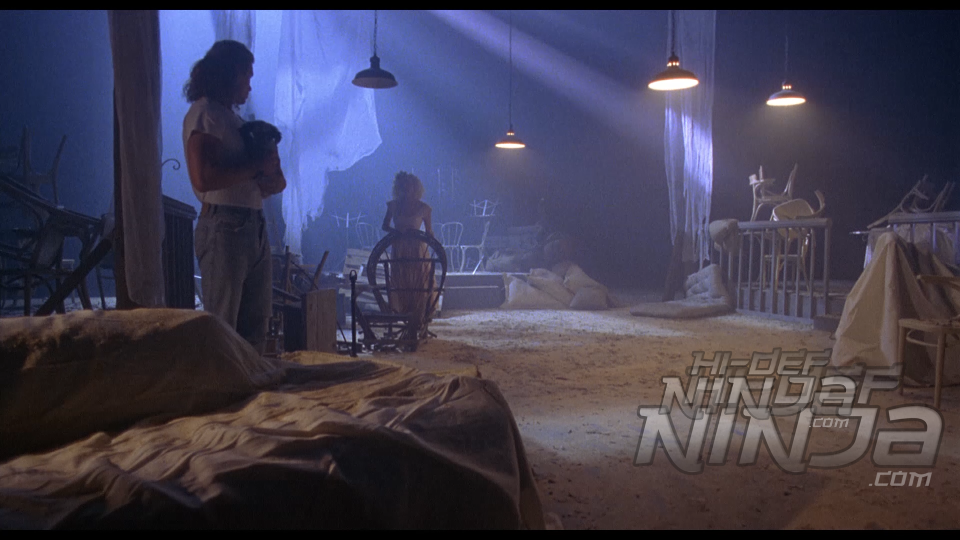 Theatrical Trailer (02:10) : The films original and superbly edited theatrical trailer is preserved in all it's sexy glory. Presented in 1080/24p with LPCM 2.0 audio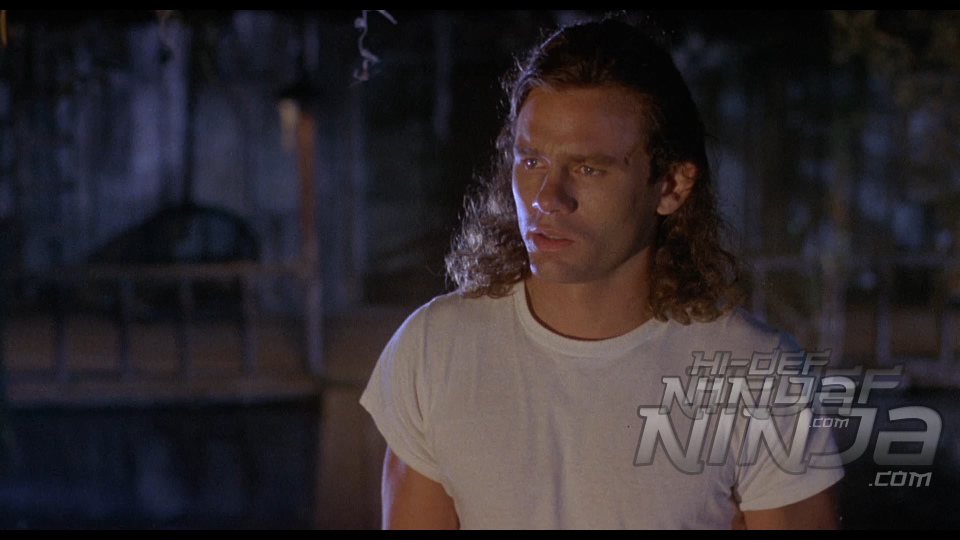 It's taken me about 20 years to watch it but I've finally seen Two Moon Junction and I enjoyed it. Audiences today may not appreciate the style and settings that I do but for me that is the stronghold of the film itself and it added to what can be seen as a quite simplistic story that has been seen a few times. The sizzling 80's atmosphere though is certainly an enjoyment to indulge in. 88 Films bring Two Moon Junction to Blu-ray in the UK on a disc that doesn't quite hit the mark video wise, but does quite well with the audio mix and is good enough for fans of the film to upgrade to. Whilst bonus features are thin on the ground (and always has been for this title on DVD), the inclusion of the sultry and sexy theatrical trailer is a winner.