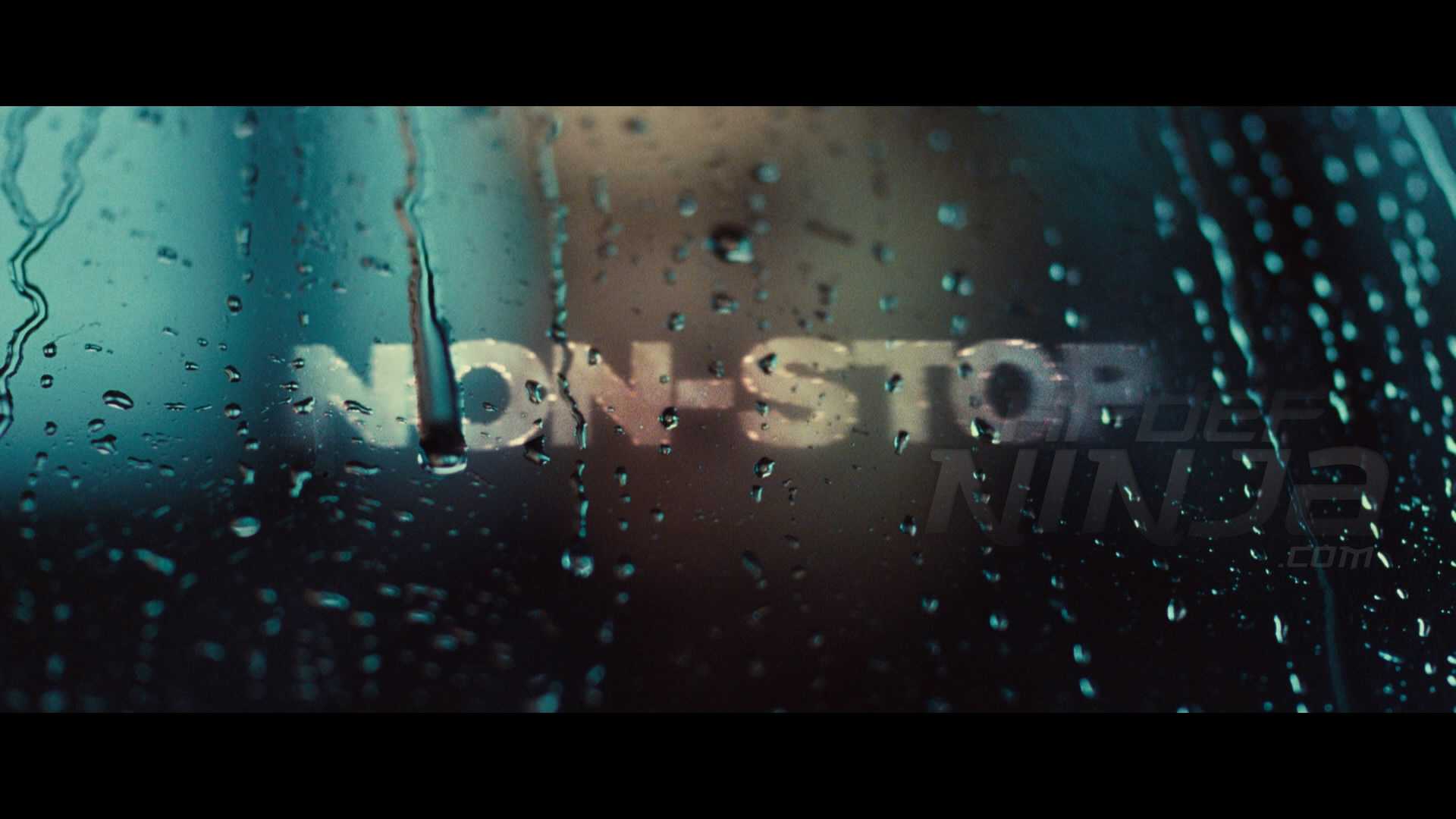 The terrific thriller Non-Stop arrives on Blu-ray looking and sounding great.
Actor Liam Neeson has to be the busiest man in Hollywood these days. With no less than seven projects either out or on their way in 2014, Neeson loves to work. His methodical style and steely glances make him bankable and someone we genuinely love to watch.  His newest film to arrive on home video – Non-Stop – is delicious fun wrapped up in 20-minute morsels of mayhem, and looks and sounds terrific, even if the supplements insanely disappoint.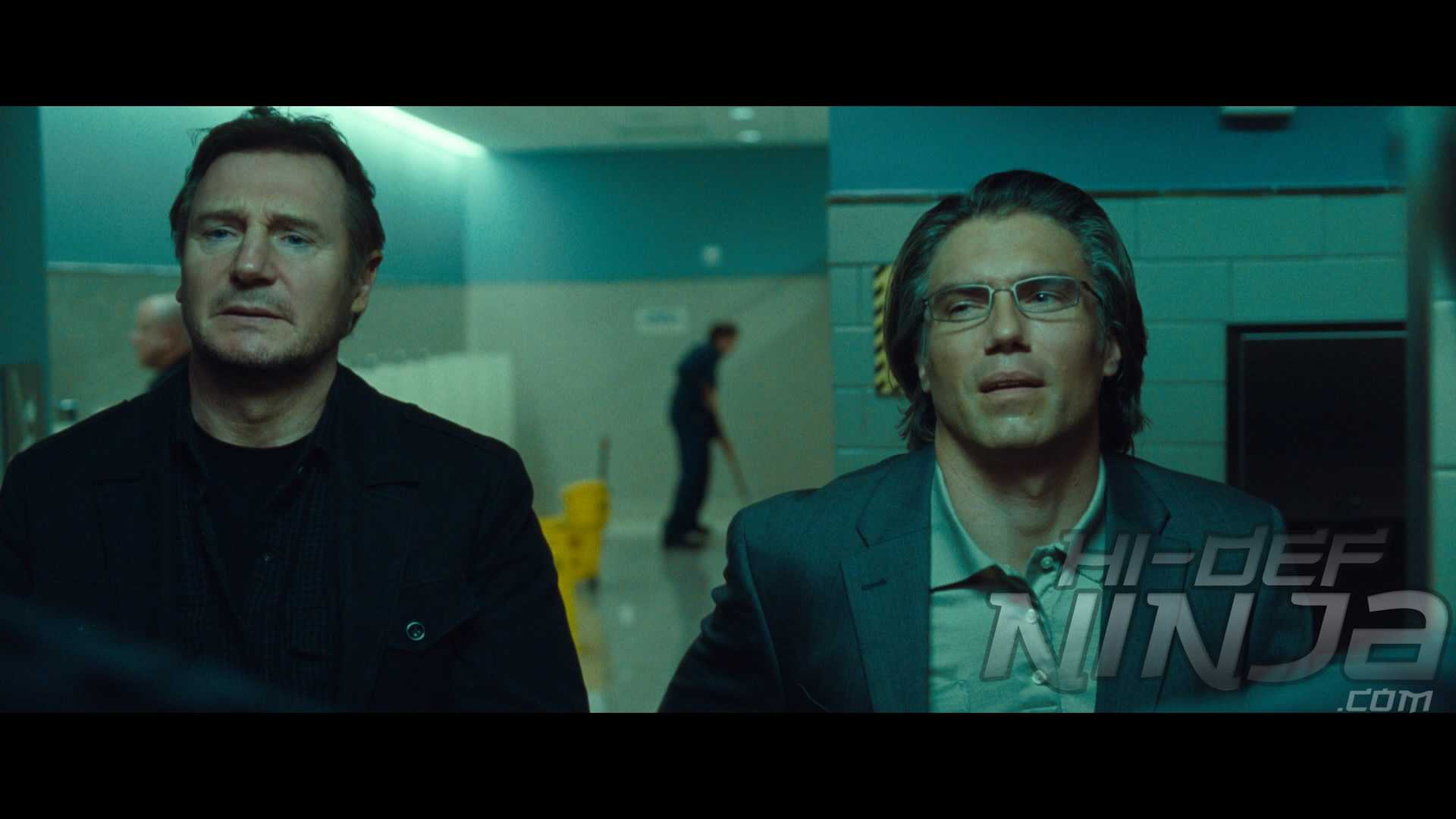 When US Air Marshall Bill Marks (Neeson) learns of a diabolical effort to murder passengers aboard a non-stop flight to London, he must root out the suspect before the clock ticks 20 minutes. The suspect has promised Marks that someone will meet a terrible end every 20 minutes until they receive a $150 million ransom. But finding them won't be easy, as the suspect has considered every angle, forcing Marks and the passengers into a deadly standoff. As the clock counts down, Marks must use all of his assets, including the unsuspecting Jen (Julianne Moore), who herself is a passenger running out of time.
Non-Stop is not your average action-thriller – oh sure, there's the unbelievable climax that seems to be in every Neeson cheap flick of late, taking back a bit of the credit we've given it along the way. But there's also tenderness and regret in Neeson's performance, almost as if this particular version of himself has been deep asleep, waiting for a chance to come out. The loss of real-life wife Natasha Richardson has brought on this recent wave of work, and in Non-Stop he seems to be channeling all the pain and loss of his personal life through Bill.  From the opening scene, we can feel the cloud over him as he takes a slug of liquor from a coffee cup, almost as if his loss is too much to burden.  Later, we learn just how distraught our hero is, increasing our appreciation for his character even more when one of the many twists from Writers John W. Richardson and Christopher Roach arrives to smack us in the face. It's a smart script, filled with just enough comedic interludes while moving the plot forward with sharp dialogue to keep the tension up.
Our creative team keeps us guessing at the suspects, including Marks himself. But it's those 20-minute countdowns that really establish the film's heart, wrapping us into its diabolical web of lies and deceit, before someone else dies and the process starts all over. There's also a pretty stinging commentary on the role of the press in the 24-hour news cycle, but you'll almost miss that as Bill and the rest of the crew conflict, conspire, and ultimately work together to save the plane.
But the script also works in small ways. As the passengers and crew descend into chaos, Bill is the rock-steady Marshall who also admits his faults in an impressive Mea Culpa, and his relationship with a young flier instantly transforms the broken father into a kind-hearted one. Neeson takes these duties on like a pro, also serving up a couple of brutal action pieces, particularly in one of the small restrooms. Director Jaume Collet-Serra (Unknown) picks the one area of the plane to make the most impact, instantly establishing it as one of the best fight pieces ever, due entirely to the cramped spaces. He also brings out the best aspects of the veteran Moore, letting her and Neeson accuse before bringing her story to the forefront in a decent and honorable way. Also, check out the way Collet-Serra uses text messages and plane-themed visuals to great effect. Composer John Ottman's compact score also has its pretty moments, and it's an enjoyable heartbeat to a story that's well-executed on many levels.
Non-Stop isn't an award winner by far, as its climax really forces us to make some assumptions about explosives and the chances of an aircraft actually being able to set down without tearing itself apart from the force. But those issues are forgivable and ultimately aren't the center of the story anyways. This is a pretty well-built, claustrophobic courtroom action thriller set at 30,000 feet, with a bad guy whose motives aren't entirely based on money.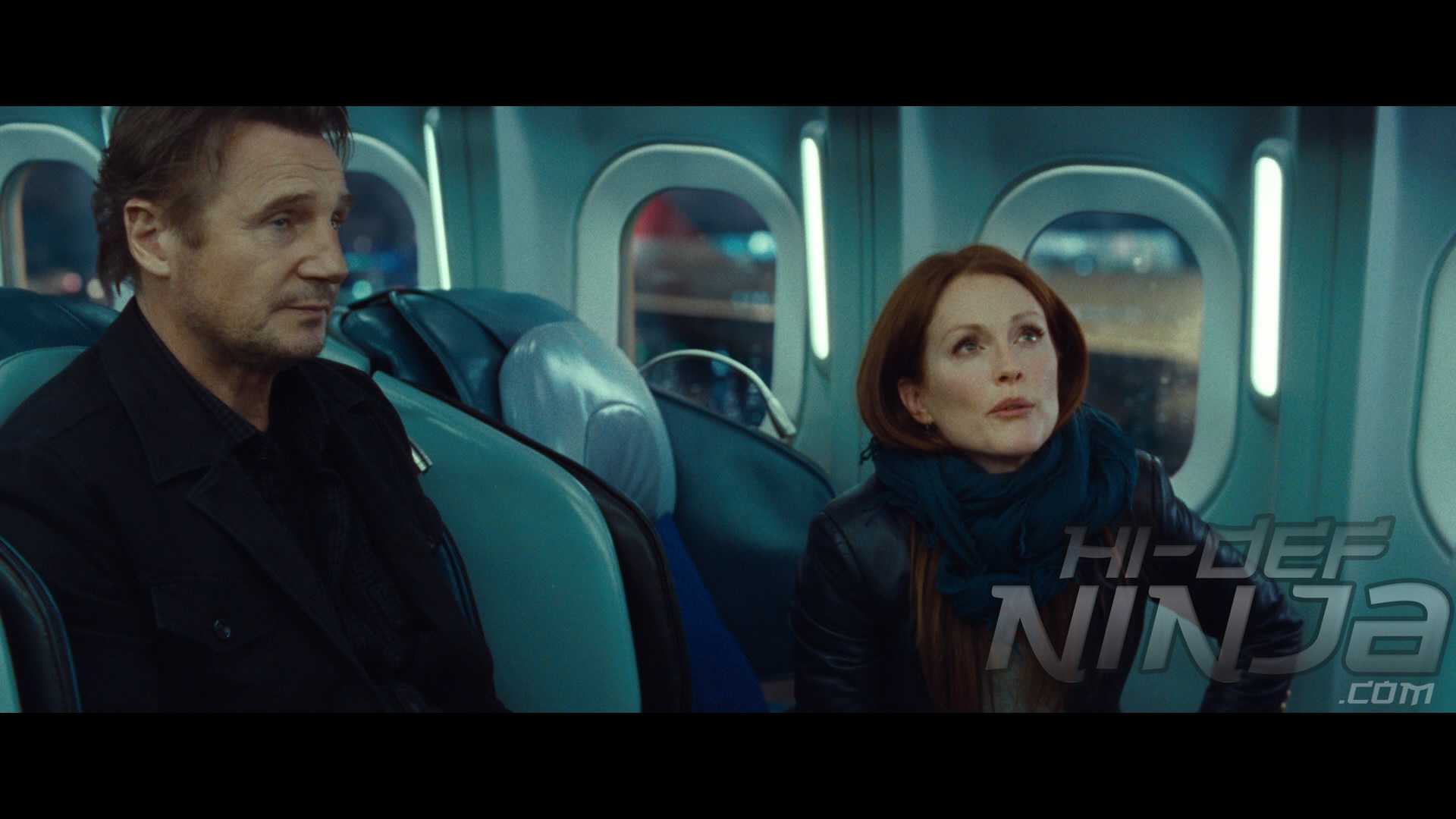 Non-Stop is presented in a stunning MPEG-4/AVC transfer that's one of the best of the year.  Every element of Universal's acumen is one display, from the perfect balance of contrast, to the razor sharp detail on Neeson's face and those of the crew and passengers.  Skintones look lifelike, and hair and other features are solidly displayed.  Tension is the name of the game here, and so every worrisome glance on Neeson's face and those of the terrified passengers come through in every scene.  Color is also exceptional – if a bit washed out –  but that's due to Director Collect-Serra's choice of icy blues throughout.  I viewed this during its theatrical release and noticed the same colors.  Here, they're deeper and a tad richer, reminding us why productions like these always look so exceptional on today's home systems.  Check out the exterior scene at 13:24 to see just how all of these elements work together.  We also get looks at detail on clothing, and the unique use of text messages flow effortless throughout.  Hats off once again to Universal – their transfer of Non-Stop is exceptional.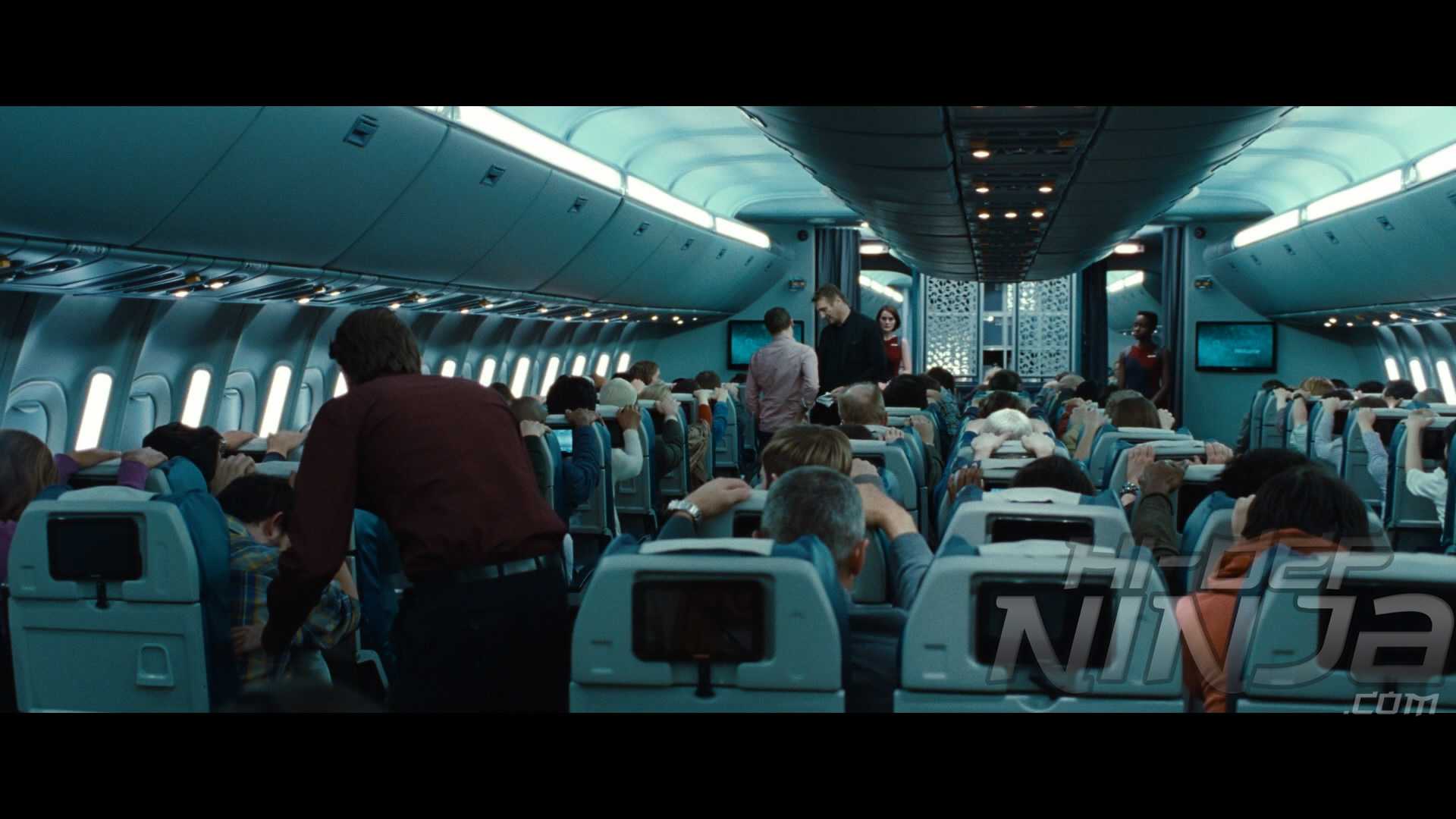 Booming out of the gate, Non-Stop arrives with an masculine DTS-HD Master Audio 5.1 transfer.  Everything from the roar of the jets flying over the airport to soundtrack by Ottman is stellar.  Even the typing of the Marshall's Qwerty keyboard can be heard distinctly.  In the forward speakers, we get a mix of dialogue, music, and sound effects, all of which plays nicely with each other.  The center channel does up the experience by separating the dialogue from the rest, which is definitely appreciated. The LFE does its part with high marks, consistently delivering booming and pulsing sounds, whether it's John Ottman's score or the terrific brawl in the bathroom.  The surrounds offer up music and selected sound effects, and is immersive as can be expected.  As the action heats up, the surrounds get more involved, as does the LFE.  Overall, it's a great experience.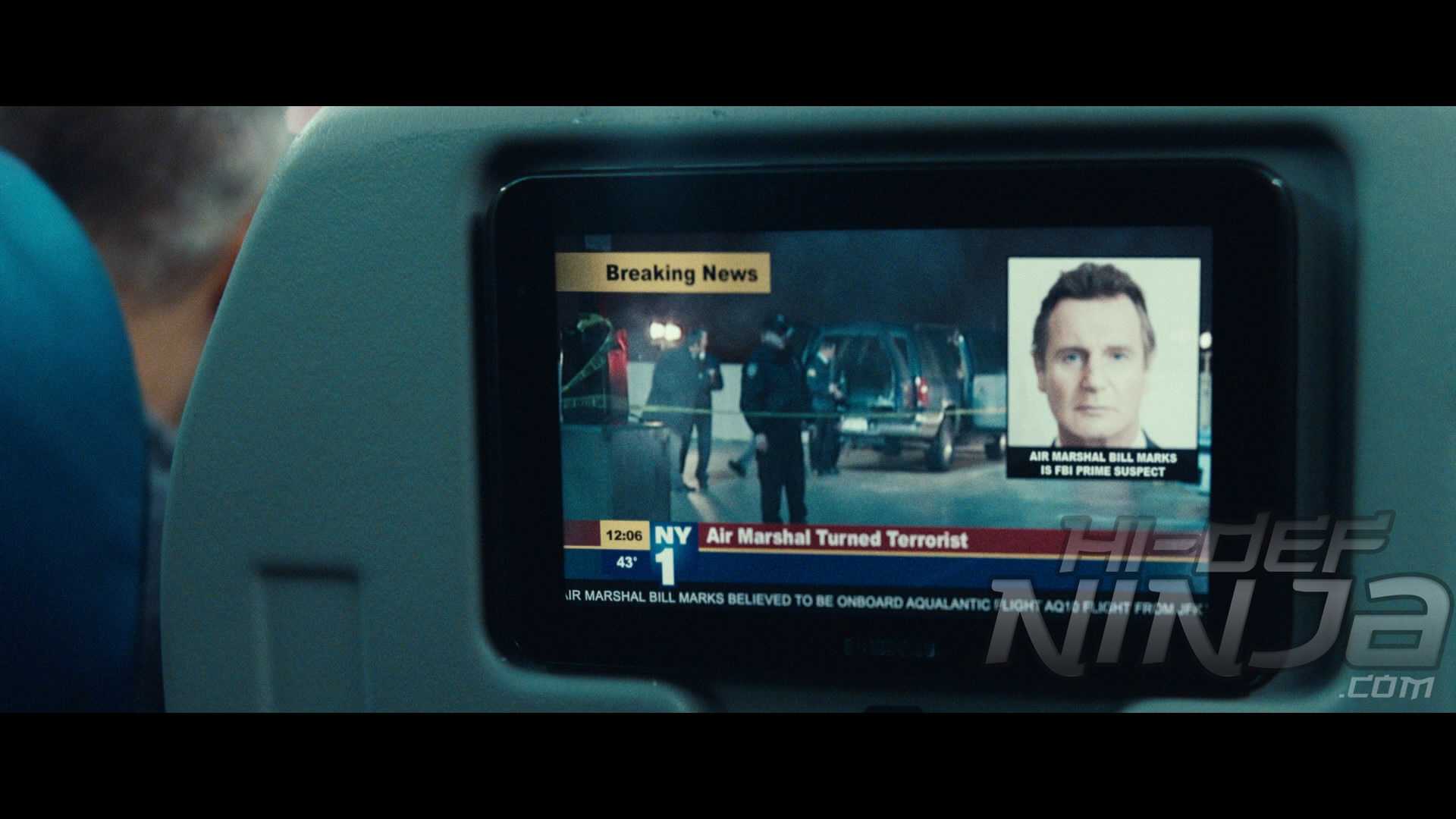 The supplement package for Non-Stop is very thin, and what you do get is problematic. Upon staring the disc, the menu button is disabled, so you must press the remote several times to pass the advertisements and trailers. Once at the main screen, we were informed that our Internet was not connected. We confirmed otherwise using Pandora and Netflix. There are a total of two supplements, both of which are presented in HD:
Non-Stop Action (5:14) – We're taken through behind-the-scenes of the film, including the various stunts used throughout the film.  There's some nice Pre-Viz of the aircraft, along with interviews with the cast and crew.  Your basic EPX featurette.
Suspense at 40,000 feet (7:45) – Cast and crew talk about building the plane set, shooting all day in cramped coach seating, and working with Director Juame Collet-Serra.
Our evaluation copy arrived as a Blu-ray/DVD Combo with Digital HD Digital Copy.  The slipcase is attractive, with all writing (including on the spines) debossed.  There is no inside artwork.  It makes little sense why a 50GB disc would contain so few features.  A commentary would have been perfect for this release.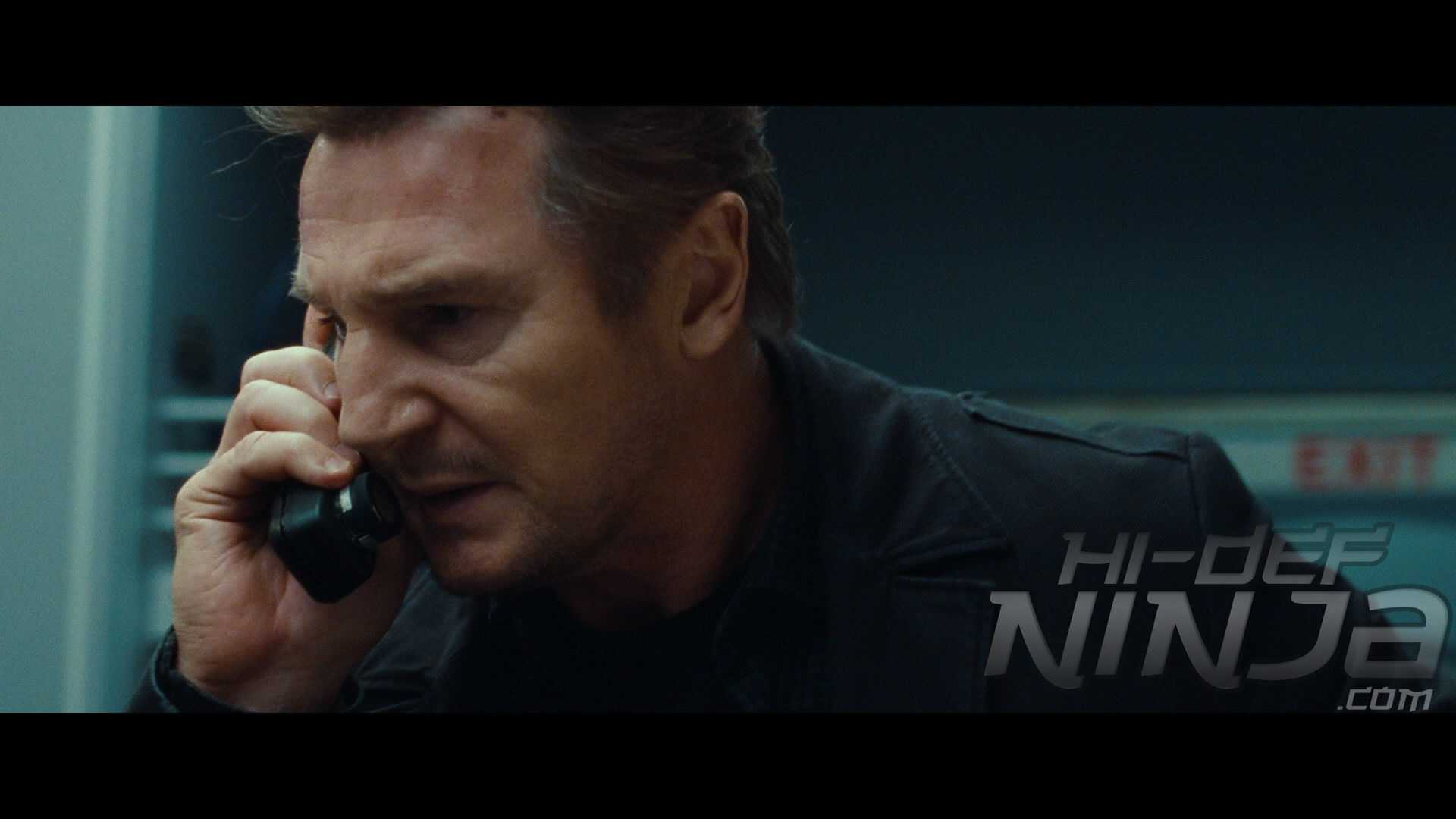 Non-Stop wraps a genuinely good performance with enough high-altitude madness to make us reconsider flying First Class. Surprising on many levels, Non-Stop is better than Taken by a long-shot. Neeson breathes real regret into this one, but the brutality of key moments and strong supporting performances are also worth mentioning. The home release is exceptional, sans the very disappointing supplements package.  As for the film, so long as you suspend reality going in, you'll thank yourself for exhibiting such ignorance. Non-Stop is rated PG-13 for intense sequences of action and violence, some language, sensuality and drug references, and has runtime of 106 minutes.
Discuss this review with fellow HDN fans on Facebook. On Twitter, follow us at @HidefNinja, and follow author Matt Cummings at @mfc90125.