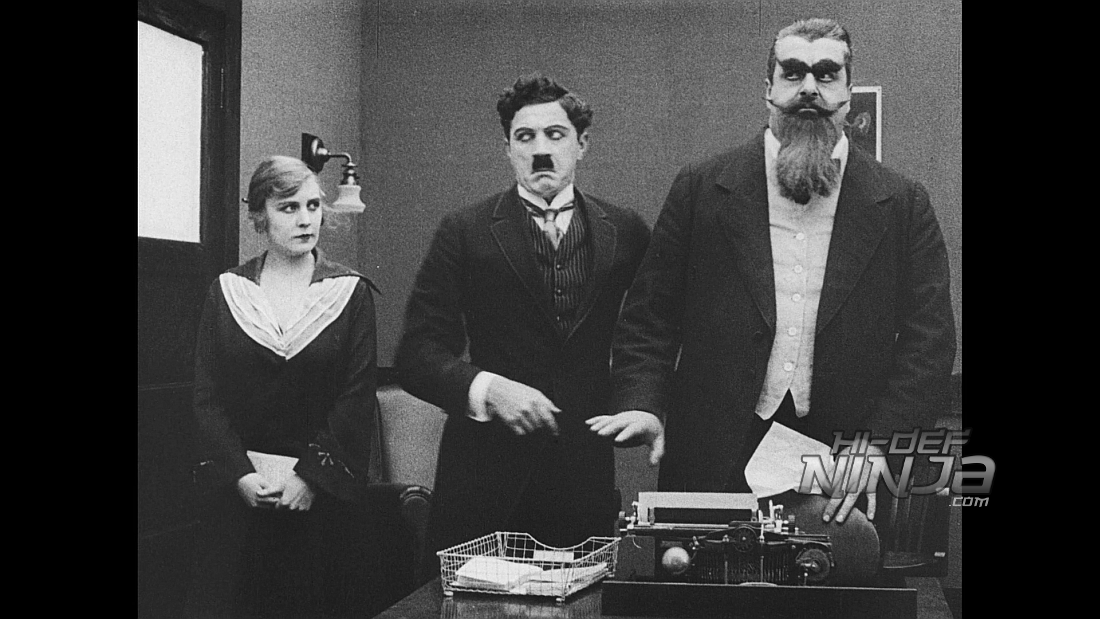 I don't know much about the silent film era to be considered an expert, but I am aware of Charlie Chaplin and his ability to captivate audiences with his innate sense of showmanship. As with other silent films, you do not have to know much about silent features to understand them. With CHAPLIN'S MUTUAL COMEDIES (1916-1917), the comedic features usually consist of slapstick humor, meant to give audiences a laugh without the use of dictation. Could you imagine a comedian/entertainer in this day of age trying to illicit laughs without using his or her tongue? Chaplin was a true legend of his time.
In the world of silent films, the other form of entertainment we get as viewers besides the acting is the soundtrack. Much of what makes a silent movie is the music as it lays in the back drop of the film. Of course the soundtrack goes a long way as it sets the tone and atmosphere much more than the occasional subtitle. The music accentuates the acting by portraying the emotion each character plays. There are some subtitles that merely act as segways, but in the era of silent film, the acting and the musical scores take precedence to any words that can be said.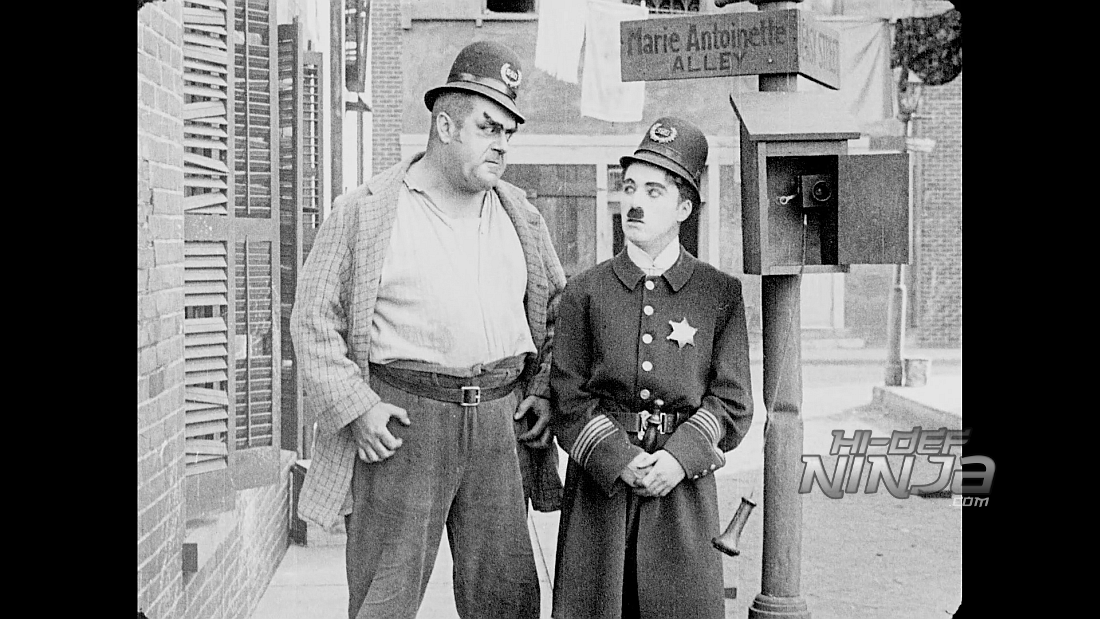 CHAPLIN'S MUTUAL COMEDIES (1916-1917) is from The Blackhawk Films Collection presented by Flicker Alley commemorating the 100th anniversary of the birth of the Little Tramp, premiering Chaplin's Mutual Comedies. This collection features 12 never before seen restorations all scanned at 2,000 lines of resolution. Each of the 12 films carries the ability to listen to each film with a piano accompanied with a full orchestral score. Each film was directed by Charlie Chaplin himself.
It is a 5-disc set housed in a jumbo-style SteelBook. Two of the discs are Blu-ray presentations, while the other 3 are DVDs. This review focuses solely on the 2 Blu-ray discs, however, the content is all the same between both formats. The set comes with a nice 25-page booklet breaking down each film in addition to providing a short biography on Chaplin.
THE FLOORWALKER (29:19)
Chaplin appears to be an employee in a department store and he suspects the manager has been pilfering money from the store as the store comes under investigation for missing money. A Chaplin look-a-like is in cahoots with the manager until the real Chaplin crosses paths with him. They switch clothing in order to evade the authorities in an exchange for some cash in Chaplin's pocket. The attempt fails as the Chaplin look-a-like is captured by the authorities. The manager attempts to escape with the stolen money, but Chaplin intercepts it and the manager is eventually caught.
THE FIREMAN (26:24)
Chaplin is late to a fire call, but would rather sleep in than attend to a fire. The fire chief gives Chaplin an ultimatum: the next time he's late to a fire he's fired. It's safe to say that the rest of the fire crew do not like him as he receives a constant boot to the rear. A fire is called in and his antics continue as he chooses to play chess instead of attending to the fire. At the end of the day, he rescues a woman in a burning building and redeems himself.
THE VAGABOND (26:37)
Chaplin decides to play a solo violinist job outside of a pub where other brass and percussion instrumentalists play. Soon a fight breaks out over musical territory. Chaplin finds a place to play much different from his previous surroundings, to the tune of a young attractive woman. The woman must have been a run away as her wealthy family track her down and offer Chaplin money to take her back.
ONE A.M. (27:22)
It starts off with Chaplin having an extremely difficult time exiting a cab and entering his own home. Climbing through his window, stepping in his fish bowl, all the while thinking stuffed animals are a threat to his existence. Chaplin clearly plays the role of a drunk in ONE A.M. In this skit, we truly get to see Chaplin's slapstick humor on display. I got the most laughs out of ONE A.M. so I recommend this one highly.
THE COUNT (25:11)
Chaplin portrays a tailor who is not so attuned to his profession, burning a client's garment and inaccurately assessing the necessary measurements. After seeking pay from the shop owner, Chaplin rightfully gets the boot from the store. The client they were supposedly helping was a wealthy socialite who happened to have a gala event where Chaplin and the shop owner continued to clash with each other and compete for the countess.
THE PAWNSHOP (26:41)
Chaplin appears to be an employee of a secondhand goods store, who runs amok causing turmoil. Due to his actions, he is fired by the owner, but is lucky enough to get a second chance. He and a coworker can't seem to stop fighting, though, almost risking their jobs with the owner. Chaplin winds up eventually saving the day.
BEHIND THE SCREEN (25:23)
Chaplin appears to work for a movie production company and helps prepare scenes to assist actors off-set with personal needs. Typical Chaplin here; everything he touches seems to fall apart and turns chaotic.
THE RINK (25:47)
Here Chaplin plays a waiter who is up to no good, attempting to take money from patrons, serving a broom as a dish and getting into physical altercations with the staff of the kitchen. The reason this short is called THE RINK is because Chaplin makes his way to a rollerskating rink after his duties in the kitchen to help win the affection of a woman. Typical Chaplin style here; a fight ensues where eventually he is chased by the police.
EASY STREET (26:58)
Chaplin wakes up outside of a church, enters mass and leaves a new man. He decides to enter the police force and encounters a street thug who owns Easy Street and is definitely not intimidated by law enforcement. Chaplin takes down the thug and becomes the new sheriff in town. Out of all the short films, Chaplin takes more of a serious note in his presentation in EASY STREET. This clearly had the roughest look, video quality wise, out of all the short films as well.
THE CURE (26:26)
Similar to ONE A.M., Chaplin plays a drunken character that enters a spa/spring to rehabilitate himself. The water is supposed to cure alcoholism but it doesn't help that Chaplin brought a suitcase full of booze.
THE IMMIGRANT (24:58)
Chaplin is on a boat to America that won't stop rocking back and forth with other immigrants. Chaplin wins some money during a card game and helps a young woman's mother who had no money. Once he arrives in America, he is broke and meets up with the young woman he helped on the ship at a restaurant. They have dinner, but have to come up with a way to pay.
THE ADVENTURER (26:55)
In this short film, Chaplin plays an escaped convict running from the law. We don't know why he's running from the law, just that he's an escaped convict with nowhere left to go but the ocean. He goes from escaped convict to hero of the day by saving a drowning woman. Chaplin went from a convict on the run to a hero invited to the home of the drowning lady, as a guest at a party.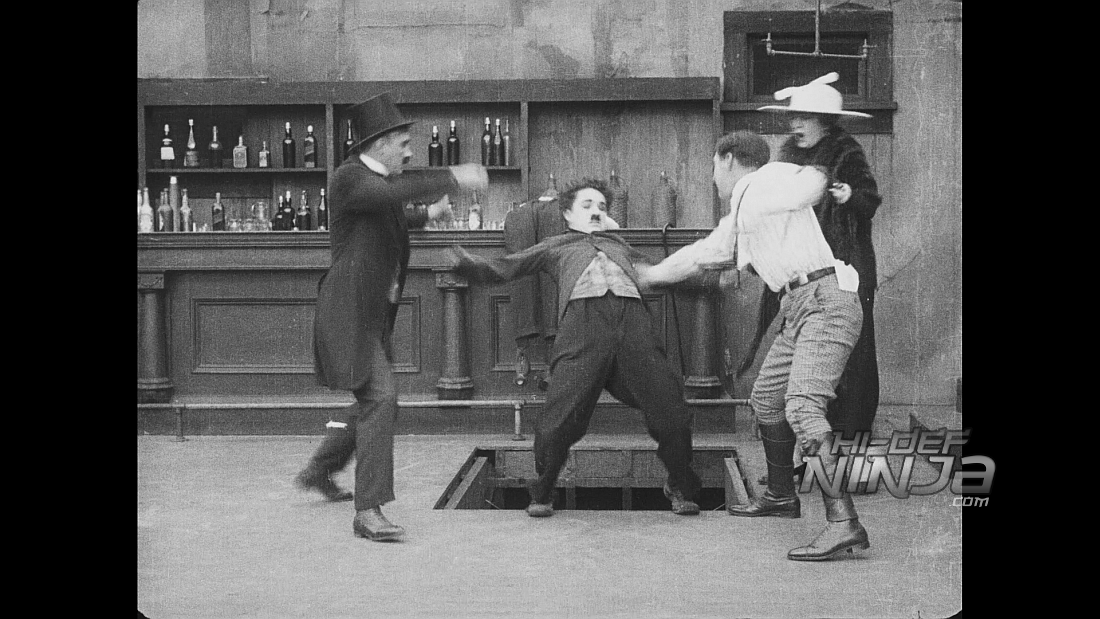 For silent films shot from 1916-1917, the picture looks aged, but that should come as no surprise. As I mentioned in the review above, EASY STREET looked the most damaged. Overall though, for aged films, the collaborative team behind the restoration of these short films did a superb job making aged content look crisp with minimal artifacts. All 12 short films were scanned under the aegis of Association Chaplin at a resolution of 2,000 lines from original 35mm prints gathered from archives all over the world, then digitally assembled and restored; a collaborative effort of Lobster Films in Paris and L'Immagine Ritrovata in Bologna Italy. The two 50GB Blu-ray discs utilize a MPEG-4 AVC codec, shot in 1080p. The original aspect ratio is 1:33:1.
Since we're dealing with silent films, there really isn't technically much to say about the quality of the audio. The Blu-ray discs use an underwhelming Dolby Digital 2.0 audio score, but it serves the purpose. For each short film, you have the option to listen to two different audio tracks composed by the following musicians.
THE FLOORWALKER
a) Music by Gabriel Thibaudeau
b) Alternate Improvisational Piano by Antonio Coppola
THE FIREMAN
a) Original Fotoplayer Music and Sound Effects Played and Adapted by Robert Israel
b) Alternate Improvisational Piano by Neil Brand
THE VAGABOND
a) Music by the Mont Alto Motion Picture Orchestra
b) Alternate Improvisational Piano by Antonio Coppola
ONE A.M.
a) Music by Carl Davis
b) Alternate Improvisational Piano by Gabriel Thibaudeau
THE COUNT
a) Music by Donald Sosin, Peter Breiner, and Richard A. Whiting
b) Alternate Improvisational Piano by Donald Sosin
THE PAWNSHOP
a) Music by Winston Sharples & Gene Rodemich/Adaptation by Eric Beheim & Robert Israel
b) Alternate Improvisational Piano by Donald Sosin
BEHIND THE SCREEN
a) Music by Robert Israel
b) Alternate Improvisational Piano by Antonio Coppola
THE RINK
a) Music by Antonio Coppola
b) Alternate Improvisational Piano by Maud Nelissen
EASY STREET
a) Music by Neil Brand
b) Alternate Improvisational Piano by Donald Sosin
THE CURE
a) Music by Stephen Horne
b) Alternate Improvisational Piano by Maud Nelissen
THE IMMIGRANT
a) Music by Timothy Brock
b) Alternate Improvisational Piano by Donald Sosin
THE ADVENTURER
a) Music by Robert Israel
b) Alternate Improvisational Piano by Neil Brand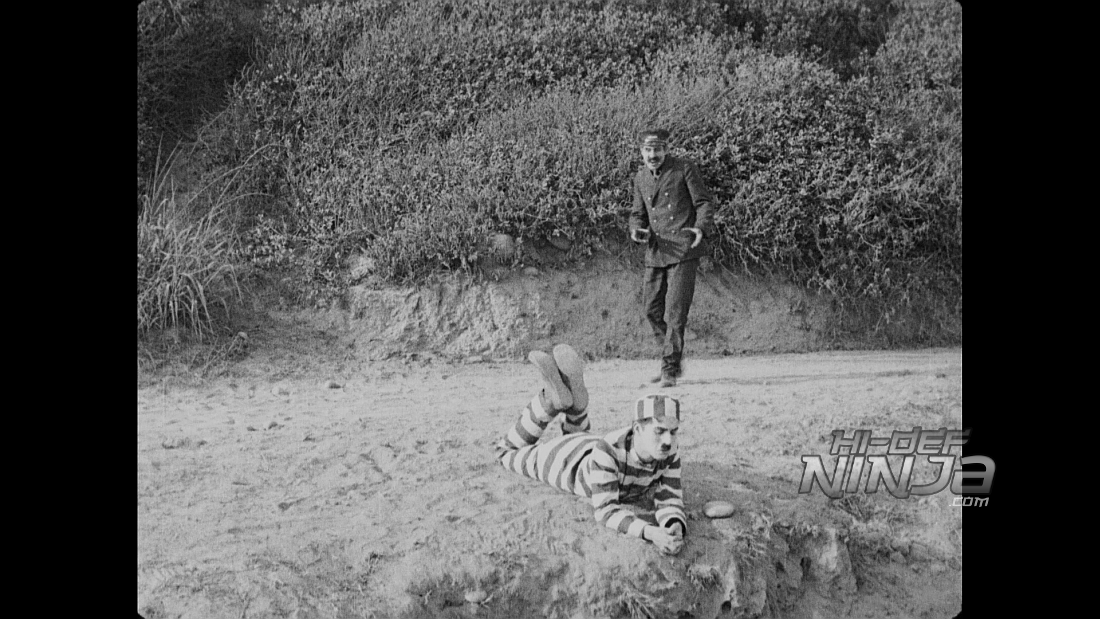 The Birth of the Tramp (63:00)
This is a documentary about Charlie Chaplin, nicknamed the Tramp, as that was Chaplin's most memorable on screen character. This is a home video premiere by Serge Bromberg and Eric Lange. This feature tells the true story of how Chaplin became immortal by becoming the Tramp. Chaplin was born on April 16th, 1889 in a poor section of London. Some Chaplin historians go on to explain that Chaplin's parents were singers and his father was quite successful. His mother on the other hand never made it and was institutionalized for mental health issues. Chaplin started to perform as early as the age of 5 when his mother was performing and her voice broke down. Chaplin saved his mother's performance and sang a song on stage. This is a really interesting feature on the history of Charlie Chaplin that is worth watching for a history lesson on the legend of the man himself. The interviews are shot in HD.
Chaplin's Goliath (52:00)
This is a documentary about Eric Campbell who played the villain in 11 of the short films alongside Charlie Chaplin. He's now regarded as a Scottish film icon and he mysteriously vanished from the world of silent films shortly after his work with Chaplin. It's a little dated documentary as it is not shot in HD. It's an interesting feature highlighting Campbell because I'm not sure if the comedies would be the same without him. Clearly Chaplin is the star, but Campbell's chemistry with Chaplin is excellent and makes for entertaining viewing experiences.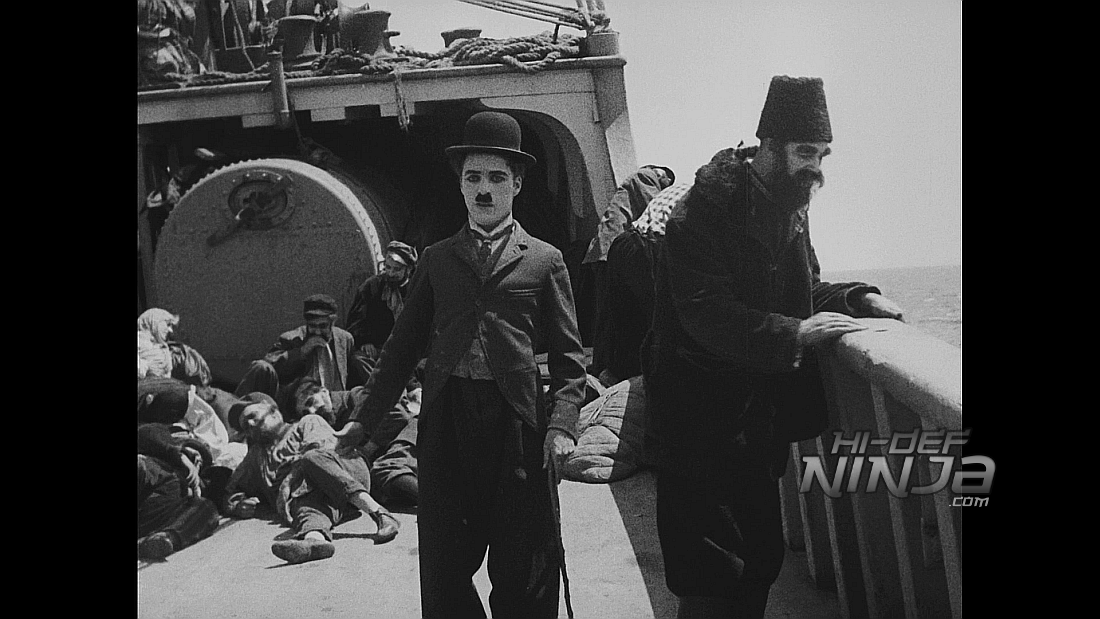 Prior to watching CHAPLIN'S MUTUAL COMEDIES, the only prior exposure I had to the silent film era was Gloria Swanson from SUNSET BOULEVARD, which really doesn't count as a silent film. Chaplin's Series of Comedies opened my eyes further to a world that once was and to the icon himself, Charlie Chaplin. He was the ultimate entertainer of his time and even seeing him now, it's hard to imagine a current actor who could contain the energy and the stage presence that Chaplin brought to the arena.
Even though the collection of short films are comedies, Chaplin touches on some interesting themes as a director ranging from the struggle of class in THE COUNT to addiction in THE CURE. The Tramp always found a way to survive, though, and made everyone laugh along the way. Flicker Alley did an excellent job putting this release together from the fabulous restoration all the way to the packaging and content. Although I'm not a big fan of jumbo SteelBooks, I still like that this came as a SteelBook release. If you are a fan of Chaplin, this collection is a must-have. If you're inexperienced in the world of silent films like myself, this is a great starting point. Pick it up!