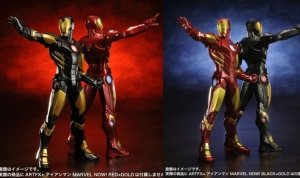 Kotobukiya has two new Iron Man statues coming soon. They are both from Kotobukiya's ArtFX line and based on the Marvel Universe in the comics. They both release on February 20th, 2015 and cost $54.99 USD each before the taxes and shipping charges.
The first one is the newer version of the Iron Man armor with a brown and gold color scheme with red eyes. This is the current armor being used in the Marvel NOW Universe and it has gotten a lot of good reception from the fans.
Purchase Link for the brown and gold Iron Man
Second up is the Iron Man statue with the classic red and gold color scheme. He has the same pose as the Marvel NOW! version but with a different pain job.