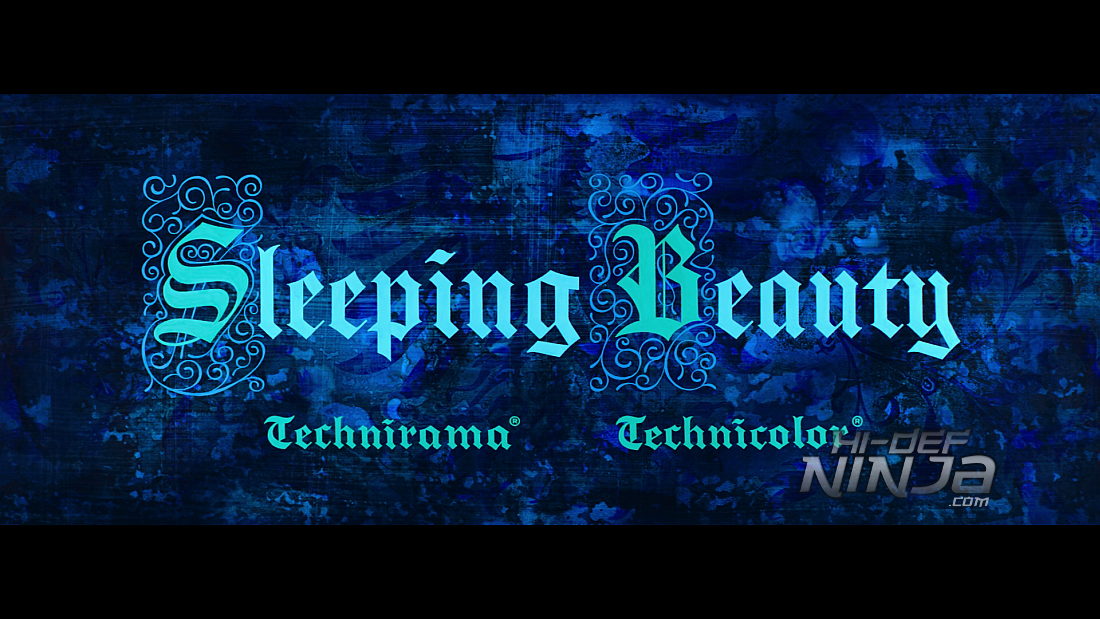 With MALEFICENT coming to Blu-ray, DVD and Digital HD in about a month, it is no surprise that Disney decided to awake SLEEPING BEAUTY from their Vault with this Diamond Edition release. This newest rendition of the timeless classic is not that much different from its vaulted Platinum Edition release, save for some additional features that were not included on the Platinum version and a Digital HD copy.
If you've been living under a rock or just don't care for Disney movies, SLEEPING BEAUTY is the story of Princess Aurora, an infant who was granted gifts of song and beauty by two fairy sisters. Before Mistress Meriweather, the third fairy could wish homage for baby Aurora, the devious Maleficent makes her evil presence and predicts the death of Aurora at age 13. Mistress Meriweather combats Maleficent's evil prediction by granting Aurora sleep instead of death that would only be awoken by true love.
Before Maleficent can follow through on her prediction, she has to find Aurora whom the three fairies have hidden. SLEEPING BEAUTY is not my favorite animated Disney classic, but I have always found Maleficent interesting. From her malevolent mystique to her cunning personality, she was the antithesis of any princess or anything that represented good. This dichotomy of good vs. evil is typical in many Disney features, but Maleficent steals the show in SLEEPING BEAUTY. She is such a dark character with insidious intentions; Disney's own wicked witch. It is no wonder why she received her own full-length feature film, which I have yet to see and am anxiously awaiting.
There is absolutely no difference between the video quality between the Platinum and Diamond Edition on the Blu-ray disc. The Diamond Edition uses a AVC codec with a frame rate of 2:55:1. The picture looks absolutely fantastic for a 55-year-old release. Colors are rich and full of detail. The animation is flawless. Even though it is an animated feature, everything from the scenery inside the castle to the fluidity of the characters is superb. This release deserves high marks for its video restoration.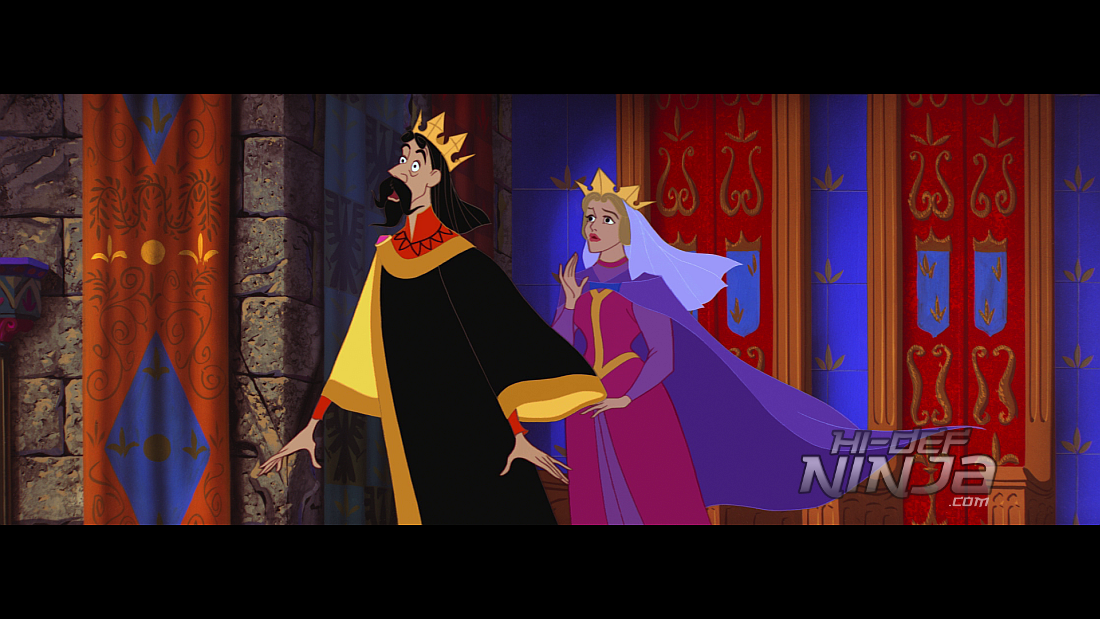 Similar to the video department, there is little difference in the audio representation between the vaulted Platinum Edition vs. the Diamond Edition. The Diamond Edition uses a 7.1 DTS-HDMA audio track that is immersive and makes for a splendid listening experience. Unlike the Platinum Edition, the Diamond Edition boasts some additional languages for anyone interested in importing. The disc comes with a French 7.1 DTS-DHMA, Spanish 5.1 Dolby Digital, and Russian 5.1 Dolby Digital audio tracks. Couple with the fact that this disc is region free (I personally tested it), this makes for a great import disc.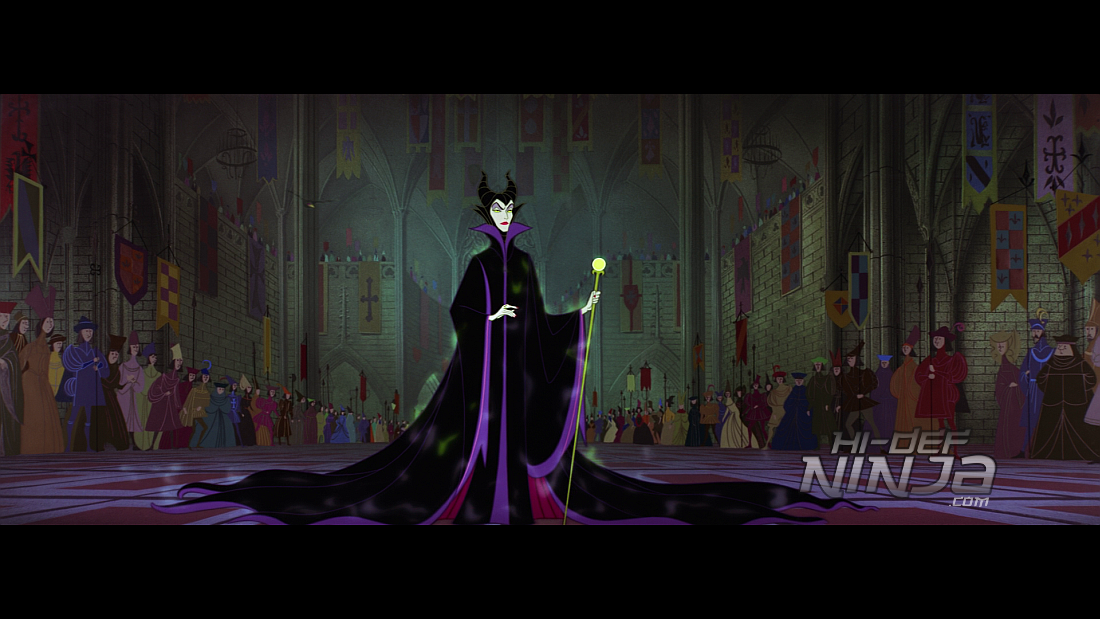 This release boasts over 2 hours of bonuses, however some of the bonus materials on the Platinum Edition are missing from the Diamond Edition. Here are the features on the Platinum Edition that are missing from the Diamond Edition:
Cine-Explore Experience Never Before Seen Alternate Opening
Games & Activities Dragon Encounter Audio Sensory Experience
Grand Canyon Music & More
Princess Fun Facts Backstage Disney
As far as this release goes, here are the bonus features included in the Diamond Edition:
The Deleted Scene: The Curse is Fulfilled – A sketch of an alternate version of the poisonous pin prick scene.
Alternate Scene: The Arrival of Maleficent – A sketch of Maleficent's introduction in SLEEPING BEAUTY.
Deleted Scene: The Fair – A sketch of a vulture disguised as a bird with the intention of helping Maleficent find Princess Aurora. Compared to the other deleted/alternate scene, this was much different from the events that took place in the animated feature.
Once Upon A Parade – A feature designed to help viewers share the Disney spirit, hosted by Sarah Hyland of MODERN FAMILY. This extra weaves the fairy tale of SLEEPING BEAUTY into a live Disney Parade. For a moment, I thought Mila Kunis had a little sister.
The Art of Evil: Generations of Disney Villains – Different Disney animators from the past and present discuss their inspirations and creative ideas behind the villains they worked on.
@Disneymation: Artists in Motion – Follow Brittany Lee, a Visual Development Artist at Walt Disney Studios and her experiences as a paper artist. Watch her create an amazing Maleficent out of paper.
Beauty-Oke: "Once Upon a Dream" – A really cool video of the song Once Upon a Dream, shown with lyrics in large font with animation taken from SLEEPING BEAUTY.
Classic Bonus Features – There are three parts to this feature. These were originally included in the Platinum Edition
1) The Sound of Beauty: Restoring a Classic — The creative team behind the restoration discuss how the sound is taken to a whole other level with this release.
2) Picture Perfect: The Making of Sleeping Beauty — SLEEPING BEAUTY takes center stage in terms of craftsmanship in this documentary. Disney historians, scholars and Disney creative minds past and present line up SLEEPING BEAUTY to other Disney classics in this feature. This is a pretty lengthy feature at 44 minutes so it's an interesting piece to say the least.
3) Eyvind Earle: A Man and His Art – A biography about the great artist and his influence in the creation of SLEEPING BEAUTY.
4) Audio Commentary – Watch SLEEPING BEAUTY with audio commentary by John Lasseter, Andreas Deja and Leonard Maltin.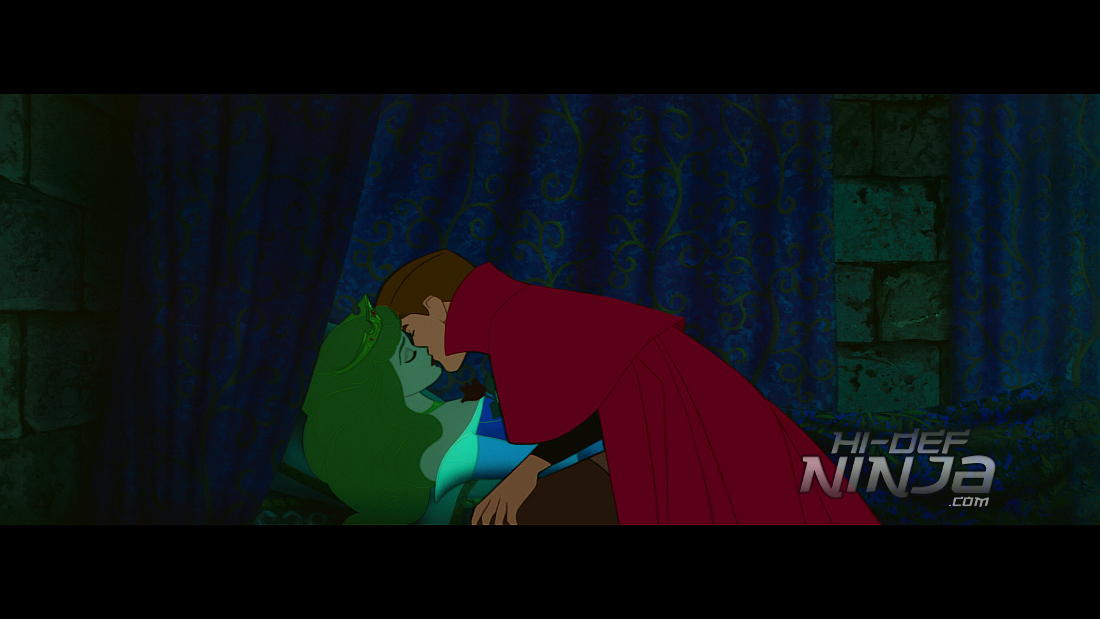 If you're a Disney fan or even more-so, a SLEEPING BEAUTY admirer, don't miss out on the Diamond Edition. What primarily sets it apart from the Platinum Edition are the added features. However, there are several extra features from the Platinum Edition that were not included in the Diamond Edition. The completist Disney fans have to have this. Best Buy released an excellent lenticular slipcover edition, but the standard edition boasts a nice holo-foil slipcover. With MALEFICENT right around the corner on Blu-ray and DVD, it's great to revisit this timeless classic. With that said, there isn't anything extraordinarily different from the Platinum Edition. If you already own that, you could probably give this a miss. Since the Platinum version has been vaulted, this is a great opportunity for collectors and movie enthusiasts to pick up this Disney essential.