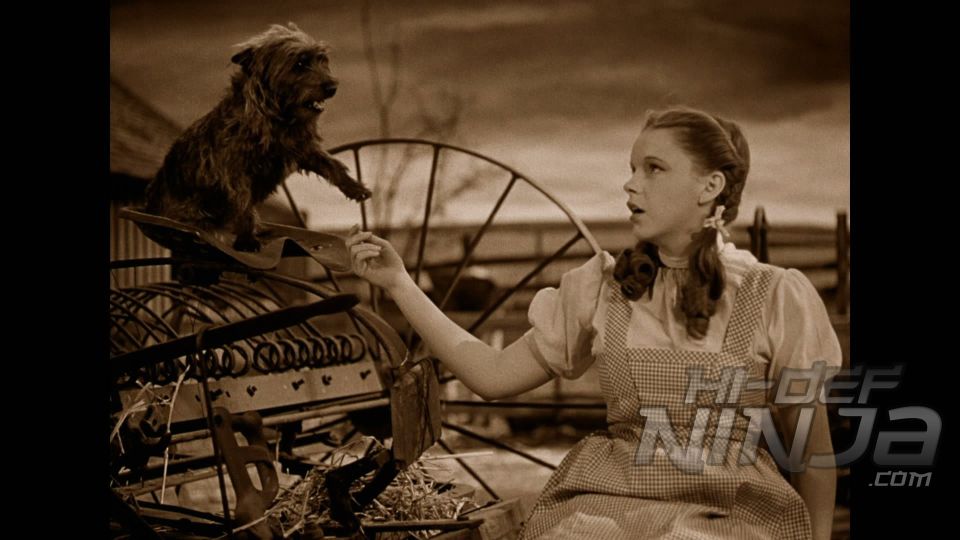 Dorothy Gale is swept away to a magical land in a tornado and embarks on a quest to see the Wizard who can help her return home.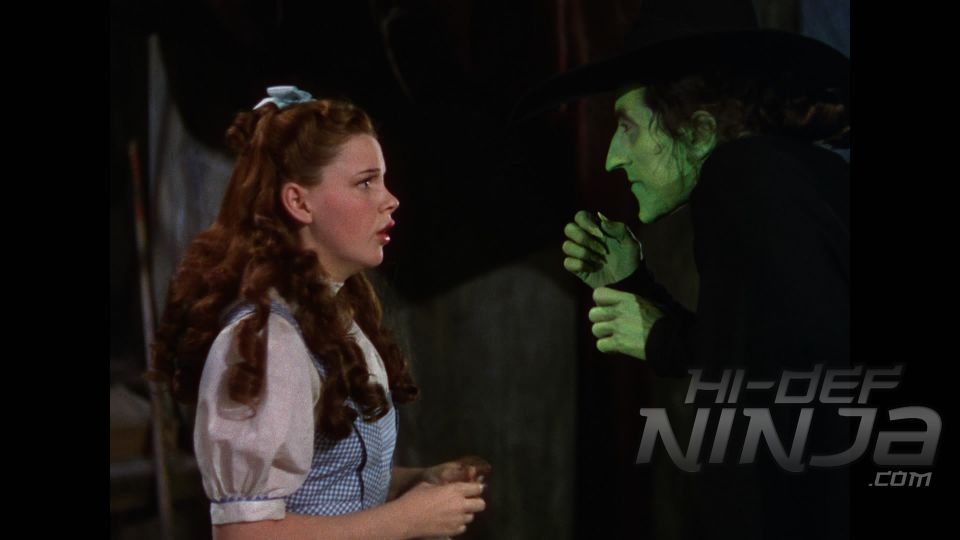 Considering the movie was made in 1939, this catalogue release looks simply fantastic in both 3D and 2D. The 2D disc included in this set is the same that was released a couple of years back (a VC-1 transfer, which in its own right is a damn good transfer!). However, the 3D disc features an all-new transfer scanned from a 2D 8K negative and further processed into 3D.
The new 3D transfer, which seems to be identical to that of the US version released last year, further improves on that of the previous 2D release by having additional work to remove extra blemishes and print damage that were a minor hindrance on the previous release. Grain remains intact, showing that there was little to no digital noise reduction used throughout the process which will please the grain fans out there. Colours look great, the vibrant colours of Oz look superb on screen as do skin tones and textures.
I know the main question on your tongues is, "Well what does it look like in 3D?" and the answer to that my friends is, "Superb!" You can tell that great care and time have been used to produce a fantastic 3D transfer to show the actors and the land of Oz being brought to life in 3D. Great on-screen depth is shown throughout, really bringing the picture to life and making a truly immersing experience. This is the best THE WIZARD OF OZ has looked so far, with this new transfer really showcasing what is possible if time, effort and care is put into the process. If you didn't know different, you would have thought that the movie was shot in native 3D; the transfer is that good!
One last tidbit, if you have both a 3D display and 3D Blu-ray player, you can turn off the 3D and watch the new presentation in 2D where you then get to really appreciate this new transfer.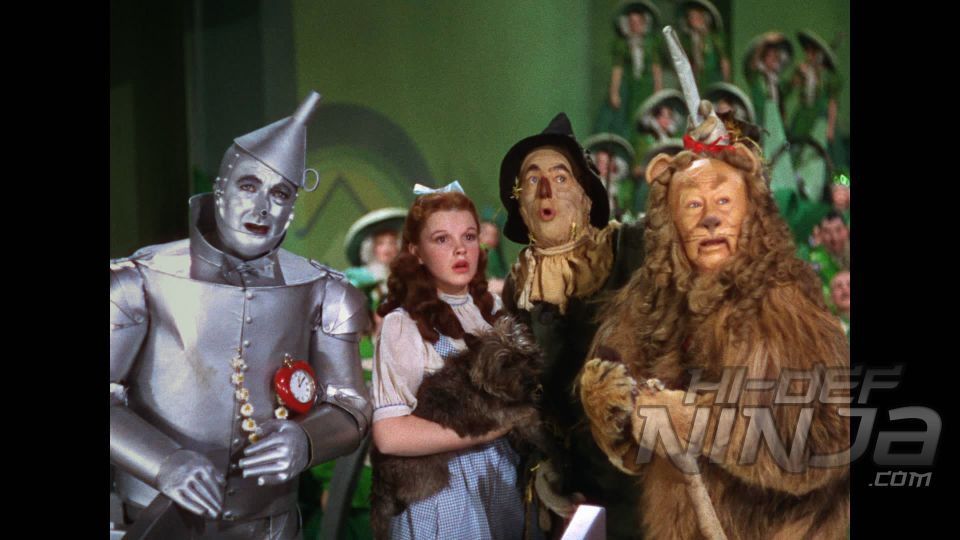 Both the 3D and 2D presentations feature an English DTS HD Master Audio 5.1 track and putting it simply, it's a fantastic listen.
Dialogue is delivered with great precision and clarity, as do sound effects that fill the rears immersing you deeper into the movie. All speakers are used to full effect throughout and really spring to life when the musical numbers start. Orchestral music and lyrics will fill your room with a fantastic surround experience. LFE is constant throughout the track, whether it be from the musical numbers or to thunder claps from the Wizard himself.
Of course the track wouldn't hold its own against something more recent, but considering THE WIZARD OF OZ is over 75 years old, it goes without saying that it's never sounded better!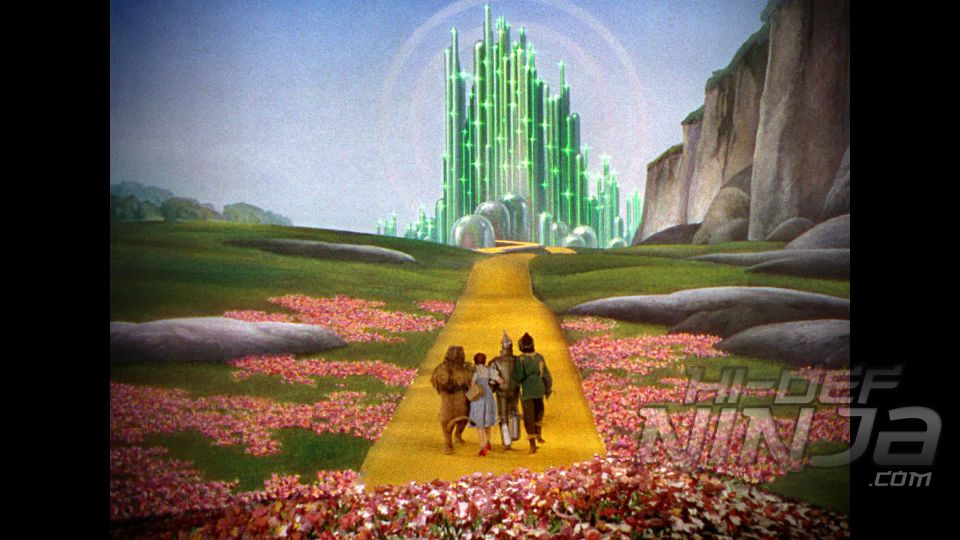 In this 3-disc set, we are treated to a wealth of extra material. It incorporates all of the material that was included with the 2009 Blu-ray release and adds a rather extensive new 'Making Of'.
Disc 1 – 3D Feature
* Audio Commentary – Sydney Pollack takes us through an informative and deep journey into Oz, incorporating vintage interview clips with cast and crew it really is a fantastic listen.
* Music and Effects Track – A one channel track allowing you to watch the film without dialogue.
* Original Mono Track – One that will please the purists!
Disc 2 – 2D Feature
* Audio Commentary – This is the same as featured on the 3D disc
* Music and Effects Track
* Original Mono Track
* Sing Along (HD) – A simple subtitle track that displays the song's lyrics as the movie plays
* The Making of 'The Wizard of Oz' (NEW HD, 69 mins) – Narrated by Martin Sheen, this brand new documentary looks into the movie from development, to production and to release. Fans will love this
* The Wonderful Wizard of Oz (SD, 11 mins)
* We Haven't Really Met Properly (SD, 21 mins) – A series of biographies read through by Angela Lansbury on the cast of the movie
* Jukebox (Audio, 71 mins) – A set of original audio recordings and outtakes of some of the songs from THE WIZARD OF OZ
* Stills Galleries (SD, 105 mins) – Includes stills, behind the scenes pictures, production photos and much more
* Lux Radio Theatre Broadcast (Audio, 61 mins) – A radio broadcast from 1950 that tells the entire story of THE WIZARD OF OZ
* Good News of 1939 Radio Show (Audio, 61 mins) – The final edition of the "Good News of 1939" radio show with interviews of the cast and music from the movie
* Leo is on the Air Radio Promo (Audio, 12 mins) – An extended radio advert for THE WIZARD OF OZ
* Trailers (SD, 11 mins)
Disc 3 – Extras (BD disc, but extras presented in SD with Dolby Digital 2.0)
* Because of the Wonderful Things He Does: The Legacy of Oz (SD, 25 mins)
* The Art of Imagination: A Tribute to Oz (SD, 30 mins)
* Harold Arlen's Home Movies (SD, 5 mins)
* Outtakes and Deleted Scenes (SD, 14 mins)
* "It's a Twister! It's a Twister" The Tornado Tests (SD, 8 mins)
* Off to See the Wizard Excerpts (SD, 4 mins)
* Another Romance of Celluloid: Electrical Power (SD, 11 mins)
* Cavalcade of the Academy Awards Excerpt (SD, 2 mins)
* Texas Contest Winners (SD, 2 mins)
* Victor Fleming: Master Craftsman (SD, 34 mins)
* L. Frank Baum: The Man Behind the Curtain (SD, 28 mins)
* Hollywood Celebrates its Biggest Little Stars (SD, 10 mins)
* Memories of Oz (SD, 28 mins)
* The Dreamer of Oz (SD, 92 mins)
* The Wonderful Wizard of Oz (1910) (SD, 13 mins)
* His Majesty, The Scarecrow of Oz (1914) (SD, 59 mins)
* The Magic Cloak of Oz (1914) (SD, 43 mins)
* The Patchwork Girl of Oz (1914) (SD, 51 mins)
* The Wizard of Oz (1925) (SD, 71 mins)
* The Wizard of Oz (1933) (SD, 8 mins)
Initial pressings come with a lenticular slipcase and HD UV code.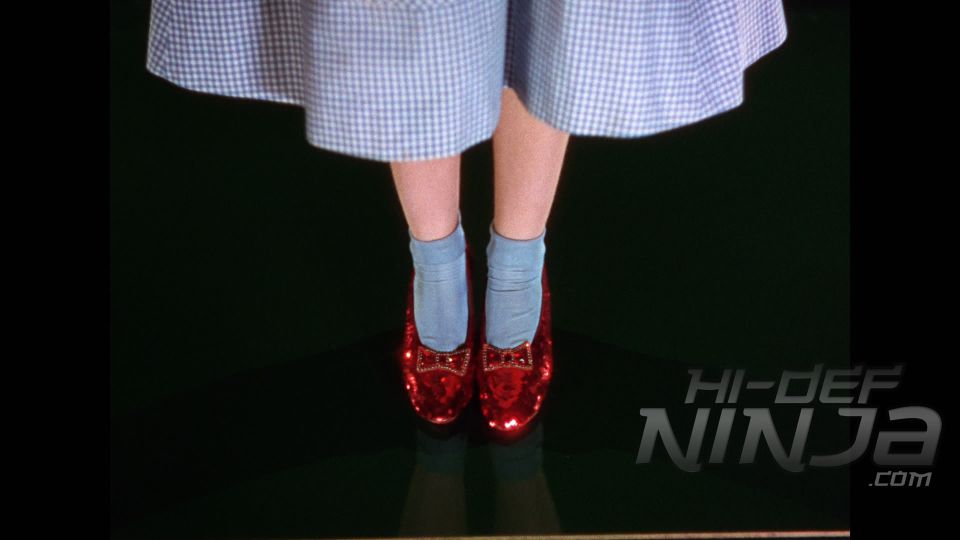 One movie that I didn't think would work in 3D is THE WIZARD OF OZ, but I'm pleased to say that I was certainly wrong in this case. The 3D really brings the picture to life more than it ever did before with the love and attention that was given to the new 3D presentation. I hadn't seen this for a while and I was due a re-watch, and it was an absolute joy to watch it again and even more so this time in 3D. The overall package is simply fantastic, a great audio and visual presentation on both the 3D and 2D discs, including an absolute wealth of extras this is sure to please all fans out there.
This almost gets full marks across the board, but due to not having all of the available special features, I have to mark it down ever so slightly accordingly. However, it's worth noting that this is in fact a 3-disc release that houses a tonne of special features (which I have detailed above) making it a more desirable purchase over the two-disc 3D release that was released last year in the USA, and makes it the best Blu-ray version released (so far) in the UK. All that is really missing which would've made the set complete for me is the feature length documentary "MGM: When the Lion Roars" which is a huge 6 hour documentary that shows the rise and fall of MGM Studios. Had that been included, it would've been top marks all round.
THE WIZARD OF OZ is a movie that I grew up with and I'm sure pretty much every person has seen once in their lifetime. For me it's one of those childhood classics that you can simply watch any time, no matter how old you are and it can be enjoyed by all ages.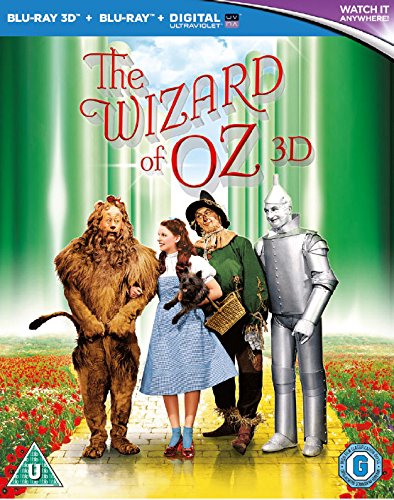 httpvh://www.youtube.com/watch?v=H_3T4DGw10U