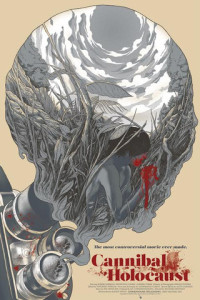 Grey Matter Art is a company that releases excellent and unique items such as licensed posters, apparel and other merchandise. The company was founded in 2013 by Mike McGregory, co-founder and creative director, and Jared Dobbs, co-founder and operations director. They were courteous enough to allow me to ask them some questions:
1) What are some films you'd love to see Grey Matter Art bring to print?
Mike: We really enjoy doing all types of films. I love the horror genre the most, and even though there have been some great properties tackled, there are ones I would love to do our take on it. But personally, I would love to do "Rocky," "Rocky II," "The Mist," and Taxi Driver."
Jared: So far we are proud to say we've been able to work on a ton of great film properties. We've released the first-ever official art posters for "Escape from New York," "The Graduate," "Mulholland Drive," and "Cannibal Holocaust." We are really interested in working on anything from classic to cult films; anything we were fans of growing up has a special place in our heart. In the future you might see us work on more contemporary movies, but that's all I can say for now.
2) What was it like working with Gabz?
Mike: Working with Gabz has been the most enjoyable experience so far. I don't think I can say enough great things about Grzegorz. We get along really well, and I feel we want the same things from this business, which is to make great art and get it out for everyone to see. He has and is currently working on some great things for us. I know it may sound funny, and I tell him this all the time, but every time we think of artists to take on a property, 99% of the time I want him to do it.
Jared: Working with Gabz is nothing short of amazing. He is one of the most professional and hardworking artists in our industry and he delivers a knock out every time. We are honored to be able to continue our relationship, and have big plans for him in the coming months.
3) Which project have you enjoyed the most?
Mike: I think the project we enjoyed the most so far was "Escape from New York". I think Gabz did a fantastic job on it, and the fact that it was the first authorized poster for the film, made it that much better. But there is one we are working on now that is definitely shaping up to be my favorite.
Jared: "Escape From New York", being such an iconic movie, without an official release, it just seemed to fit us perfectly. Gabz completely nailed it, and all the fans seemed to really enjoy it. Plus we are huge John Carpenter fans. Currently we are working on a 4-part, 40th anniversary "The Texas Chainsaw Massacre" series, and I think once that is done, that will be my favorite thing we've worked on.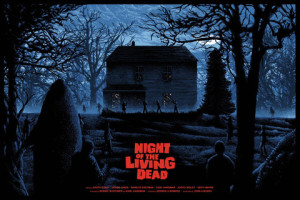 4) You were just at NYCC 2014 ; how was that experience?
Mike: NYCC was a great time. We met a lot of great collectors and fans and the fact that Bottleneck let us tag along with them was great. They are some really great guys over there, and are doing some pretty cool things.
Jared: Simply amazing! We are so honored to meet our fans, and get out there and introduce ourselves to people who are not familiar with our company. We are on the frontlines of something special, and we think the documentary "Twenty Four by Thirty Six" (which we are executive producers of) will really help open a lot more people's eyes to the limited edition art poster world.
5) Are there any other conventions in your immediate future?
Mike: Well, we just attended Chiller Theatre and that was a blast, too. Also met a lot of great people and got to hang with QFS Chris, who we absolutely love. He is one of the coolest guys in this business. I wish more people had his passion and outlook on things.
Jared: We just did the Chiller Theatre Convention in New Jersey at the end of October. We got to meet Robert Kerman there, the actor from Cannibal Holocaust, so that was an honor. We will be there again from April 24-26th, and it is located in Parsippany, NJ.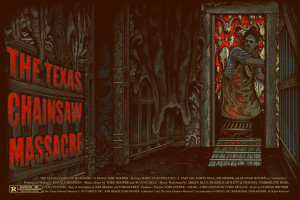 6) Is there a process that you go through to choose the artists you work with?
Mike: It can go one of two ways. If there is a project we think will be good for a specific artist, we will contact them and see if there is any interest. Or, an artist has a couple titles in mind, and we will see if we can get it for them.
Jared: Once we acquire a license, Mike Gregory, our Creative Director, will come up with a few different artists we think will best fit the property. Then if the artists are into the film, we will get
the approval from the studio and start working from there. Then the artist will come up with
different concepts and Mike will work with them to develop that concept into the full-blown
poster.
7) Is there a print that you're the most proud to have distributed or sold?
Mike: I would have to say either Gabz's "Escape from New York" or our most recent project which came out so great, which is Florian Bertmer's "The Texas Chainsaw Massacre." I love what he did with that.
Jared: Again I would have to say "Escape from New York" and "The Texas Chainsaw Massacre". Two amazing, iconic films that we are so very honored to work on. These two films stand the test of time, and we hope our posters live up to them.
8) Have you ever gone by a fan's suggestion of an artist to check out?
Mike: We have checked out some artists based on fans' suggestions. We are always looking for new and interesting takes on projects.
Jared: Sure, fans suggest artists all the time, whether it be directly to us or in the art forums on Expresso Beans. We are always looking to bring new artists into the fold, especially if there is a film property we think they would fit.
______________________________________________________________________________________________
Grey Matter Art's newest release is "The Terminator" by Gabz. It will be the first in a 2-poster set with "Terminator 2: Judgement Day" following the month after by Gabz, as well; to form a dyptich.
Click here to see the Terminator article for detailed info.
"Thank you so much for your questions, we really appreciate you taking the time to find out a little more about GMA, and the things we have coming up."
"No problem, guys. Thank you for taking the time to do the interview. I'm looking forward to see what you guys do next!"