Give-away has ended. Thanks to everyone that entered! Winner has been contacted via email.
With huge thanks to our friends over at 88 Films, we have one copy of THE TOXIC AVENGER III: THE LAST TEMPTATION OF TOXIE and THE TOXIC AVENGER IV: CITIZEN TOXIE to give away to one lucky winner!
THE TOXIC AVENGER III

Times are hard for Toxie. What s a hideously deformed creature of superhuman size and strength to do after he s eliminated crime from his hometown? Desperate to raise money for the experimental surgery that could restore his blind fiancées eyesight, Toxie accepts a lucrative job with the evil multinational conglomerate Apocalypse Inc. Now, Toxies transforming into an even more monstrous creature: a yuppie. And all of Tromaville is paying the price of Toxies Faustian bargain. The Toxic Avenger must defeat his own inner demons before taking on the Devil himself in a battle royale, while the fate of Tromaville hangs in the balance.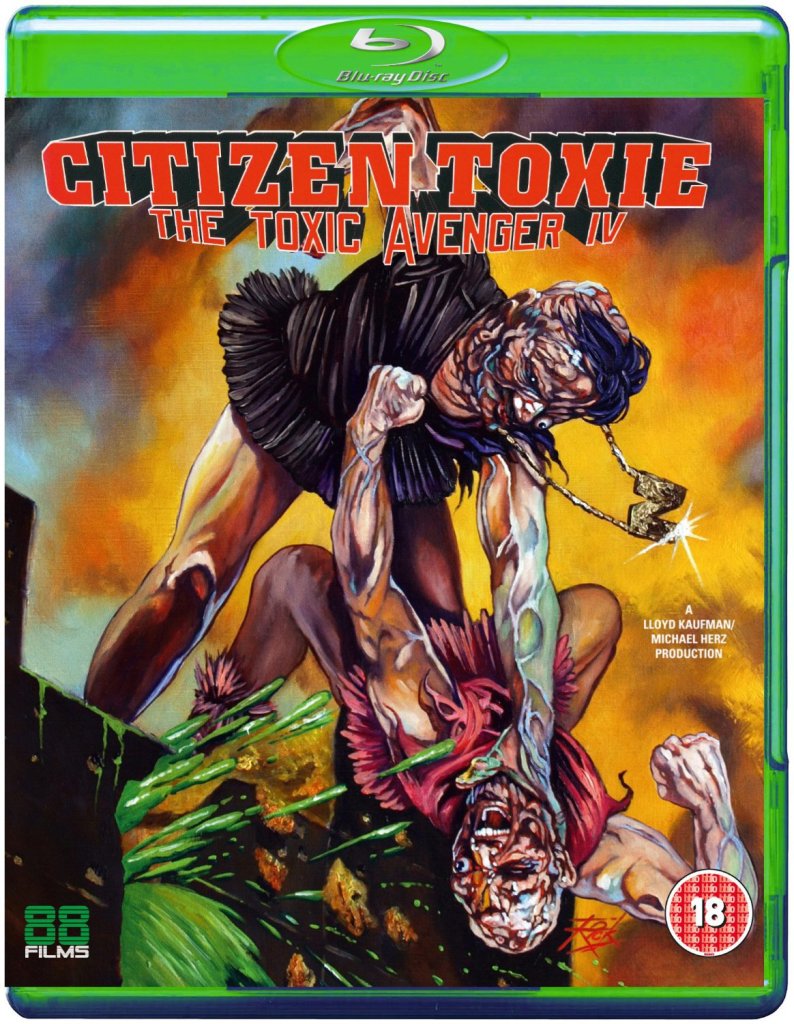 THE TOXIC AVENGER IV

Citizen Toxie is Tromas most ambitious and successful movie. When the notorious Diaper Mafia take hostage the Tromaville School for the Very Special, only the Toxic Avenger and his morbidly obese sidekick Lardass can save Tromaville. However, a horrific explosion creates a dimensional portal between Tromaville and its dimensional mirror image, Amortville. While the Toxic Avenger (Toxie) is trapped in Amortville, Tromaville comes under the control of Toxies evil doppelganger, the Noxious Offender (Noxie). Will Toxie return to Tromaville in time to stop Noxies rampage or is he doomed to remain a second-class citizen in Amortville forever? How did Toxies wife Sarah become pregnant with two babies from two different fathers? Will Tito, the Retarded Rebel, ever get over his teen angst and become a productive member of society?
In order to win, simply comment below with an answer to this question –
If The Toxic Avenger was to be remade, who would you have play him and why?
Give-away is open to everyone; winner will be emailed once the giveaway is concluded. Give-away ends Friday 30th January, 1200 GMT
You can buy these now direct from 88 Films as well as the rest of their releases direct from their very own shop!