Toy Fair photos and coverage by guest contributor Michael Leventhal.
———————
The man of the hour, forum member spawnshop, must be thanked because he is the reason you get to see these photos so naturally. HDN is going to make sure that McFarlane gets the proper spotlight… besides my AEG games, of course.
So naturally, I will start with some of the most recent stuff. Proceeding on with their big news from last year, McFarlane is continuing their THE WALKING DEAD build sets, including new sets such as the boiler room scene in the prison and prison cells, Dale's RV, and a bandaged-up Rick from the iconic hospital scene in the first season.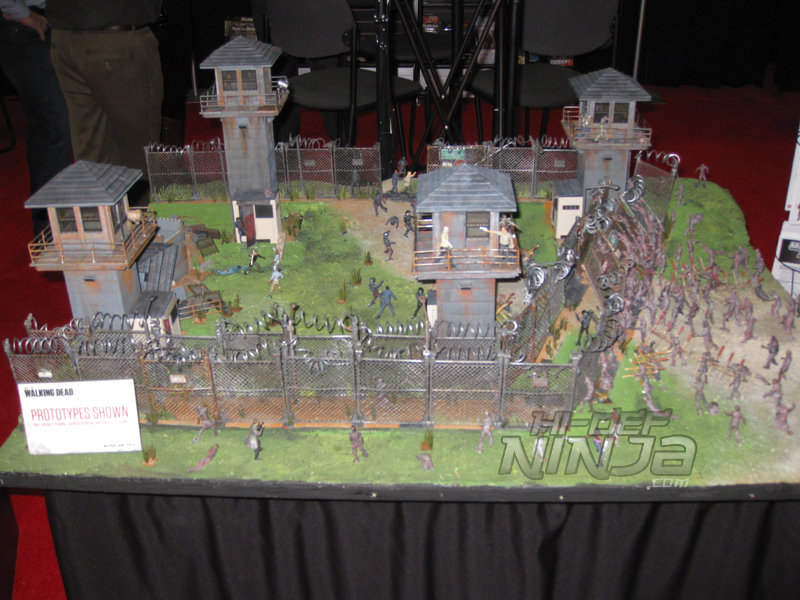 Continuing with THE WALKING DEAD offerings are of course the action figures, both small and large. In the smaller sizes, I definitely spotted a comic Carl with three different heads (spoiler: in the comics, his face gets shot to hell) and a pincushion walker that, as described by Manager of Marketing Operations Brett Garner, is because, "Hey, maybe people didn't know to originally stab them in the head?"
Of course, McFarlane has their other products including a very detailed and large HALO Master Chief, my favorites, Stone Cold Steve Austin and Triple H large-scale figures, and what was probably one of the nicest pieces: a Medieval Spawn figure based on SPAWN.
McFarlane product can be found at major retailers and at their own shop here.