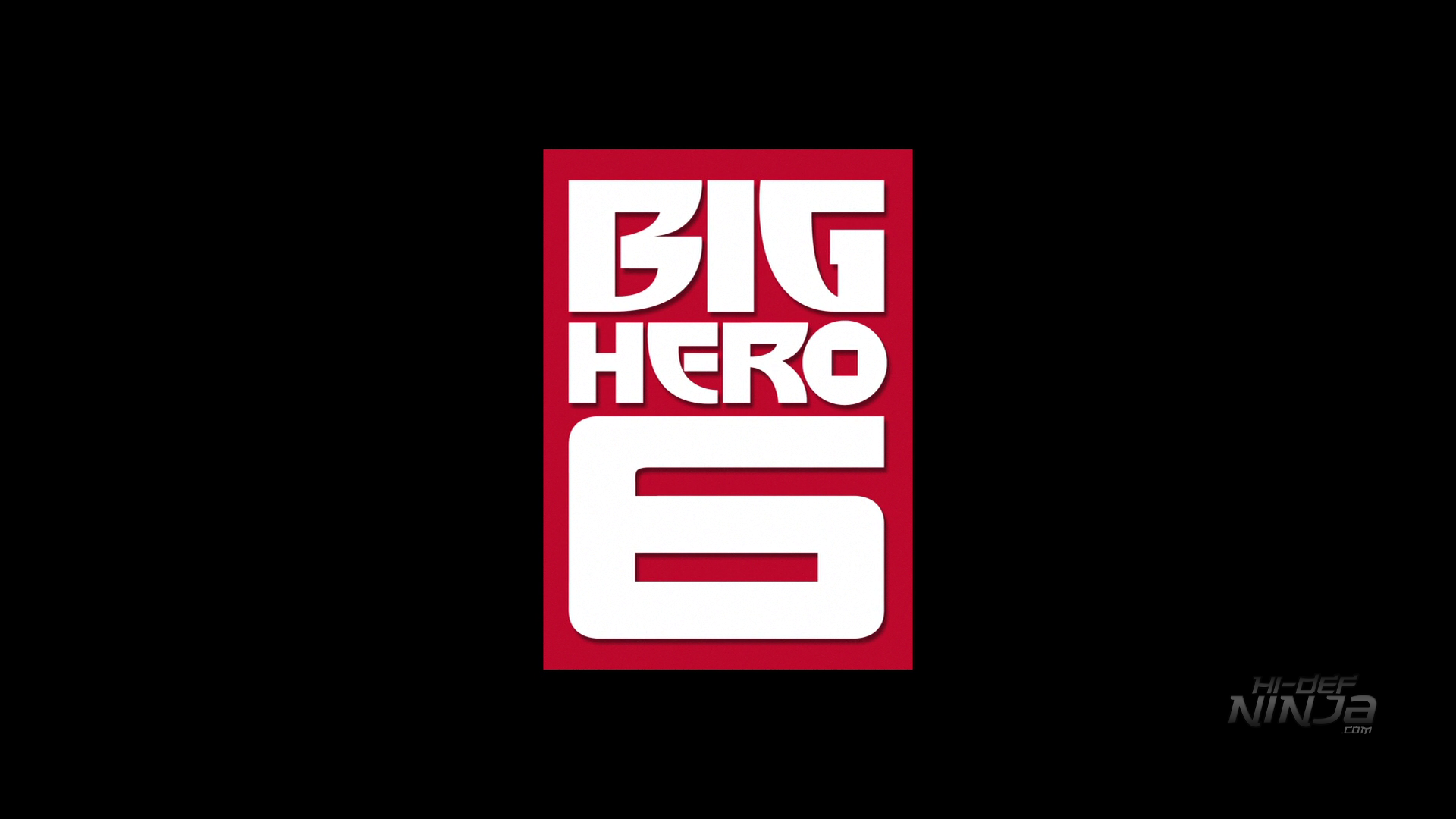 The charming but ultimately dull BIG HERO 6 looks and sounds great.
The machine that is Disney/Marvel has been well-known in the past to completely re-write the backstories of characters it has deemed unworthy.  Ronan the Accuser in 2014's GUARDIANS OF THE GALAXY is just one that comes to mind.  For the animated feature BIG HERO 6, which is based on a six-issue comic book series published in 2008, that narrative has undergone a huge transformation, making the home release look amazing and sound very good, but ringing with a hollowness and sense of dullness that ultimately affects the film.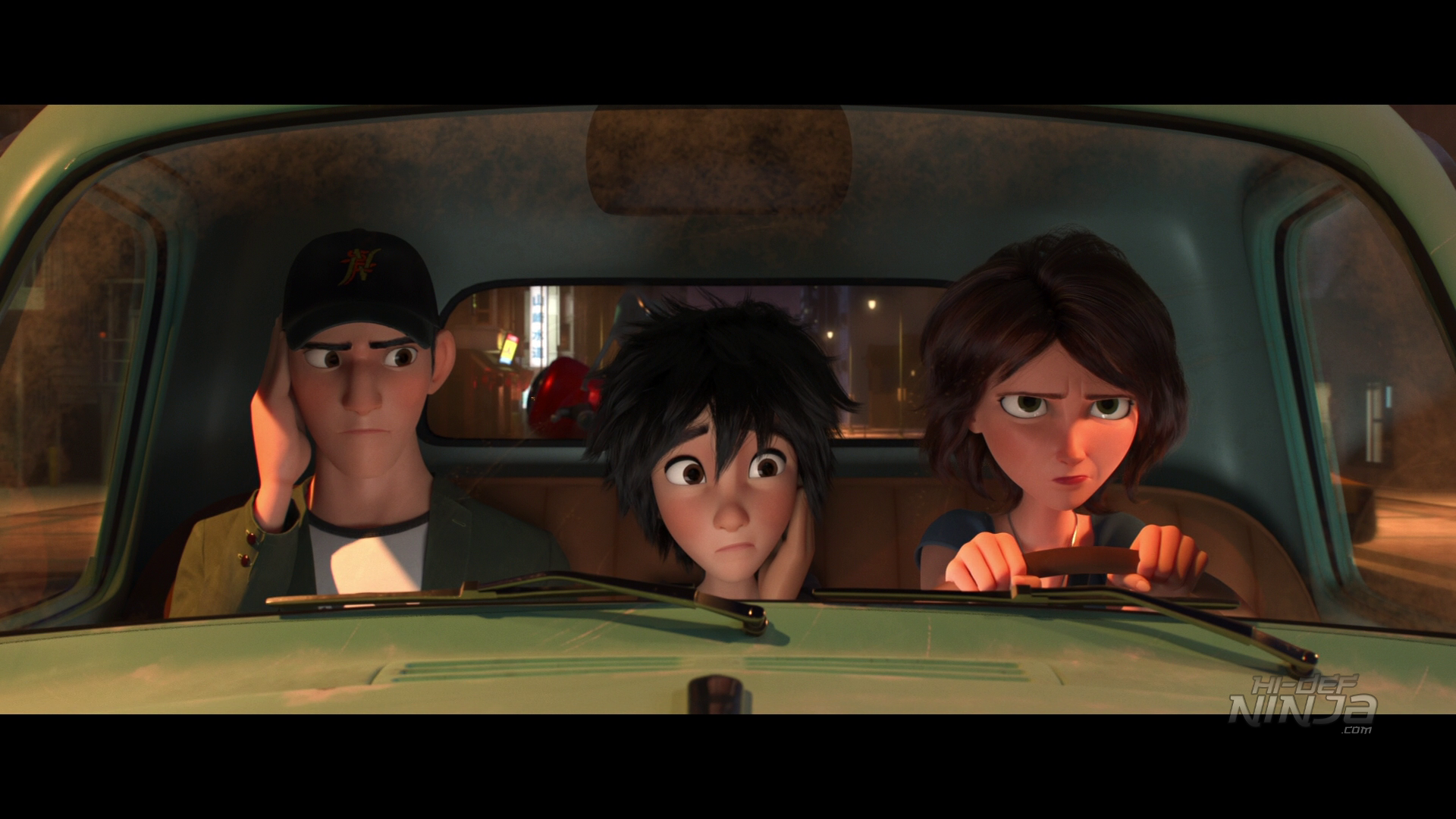 Set in the fictional city of San Fransokyo, Hiro (voiced by Ryan Potter) is a brilliant but independent youth who would rather bet on robot battles in dark alleys than attend school. That changes when his brother Tadashi (voiced by Daniel Henney) introduces Hiro to the world of cutting-edge robotics at his university. There, the boy is introduced to Tadashi's fellow nerd team of Honey Lemon, Go Go, Wasabi, and Fred (voiced respectively by Genesis Rodriguez, Jamie Chung, Damon Wayans Jr, and TJ Miller). When the brothers concoct a brilliant idea in the tiny-sized Micro-bots, it seems Hiro is on his way to attending the university.  That is, until unimaginable tragedy strikes, leaving the lab and his life in ruins. Distraught, Hiro stumbles upon Tadashi's finest work: the lovable medical robot Baymax (voiced by Scott Adsit), who inflates to provide a warm and gentle touch to prospective patients. Hiro re-purposes Baymax into a fierce warrior to find his Micro-bots, eventually transforming his lab friends into superheroes to do battle against Yakai (voiced by James Cromwell).
While the film made half a billion dollars worldwide – based mostly on the lovable Baymax – marketing directors were having a field day with the crossover potential in toys and other distractions to pry parents' money from their pockets.  And that's the ultimate problem with the film: anything established to first sell toys can be creatively doomed, a situation that sadly played itself out in characters as bland as bread.  With the exception of the lovable robot, Hiro and team feel one-dimensional and even copied from other Disney/Pixar productions: Fred is Crush from FINDING NEMO, Honey is the effervescent/brainiac Lucy Wild from DESPICABLE ME 2, Go-Go is wearing a bright version of the TRON: LEGACY battle suit, and Wasabi is nothing like his character in the comics. Granted, a comic book series that shuttered soon after its release in 1998 (ALPHA FLIGHT #17) and reappeared in 2008 as a 6-book series might have needed a major overhaul that some would say was a complete success, but I feel that the creative team didn't go far enough.  Boxes are checked off and tallied as 'complete' but mirrors of better characters do not make these more appreciated.  Although a little sexualized, the comic versions of Honey and Go Go were terrific, but here they've been completely reworked and drained of any individuality.
Directors Don Hall and Chris Williams fashion an interesting patchwork of borrowed animated fare, from the action of HOW TO TRAIN YOUR DRAGON to the "How to Live as a Superhero" plot investigated in the far better THE INCREDIBLES.  Hall and Williams are not new to the genre, and there's nothing glaringly wrong with their direction, but an animated film relies more on the expressiveness of the actor's voice as much as the writing. With no less than five penners, the possible reason for the movie's almost mechanical rhythm becomes more apparent. Our flat voice actors deliver their lines with the same clockwork movement, failing to inhabit their characters but reminding us just how important the work of Andrea Romano in the DC Animated features is to that series' success.  Even Baymax's mechanical/doctor voice just sits there, pleasant as pie but begging for inflection and a sense of humanity. The fictional San Fransokyo is not even in the comics, making its creation here another mystery I'll never get to solve.  And yet, I'm sure we'll see a sequel, because the marketing dollars are too powerful a player.
Its surprise award for Best Animated Film at the 2015 Oscars (beating out the far better HOW TO TRAIN YOUR DRAGON 2, as well as far-far-better THE LEGO MOVIE) just goes to show how much Hollywood loved it.  Me?  Not so much.
BIG HERO 6 isn't an awful film, and kids will probably love it for years to come.  But in a world where this type of animation has become standard, some of the stories have yet to keep up, making this one a case of lost opportunity.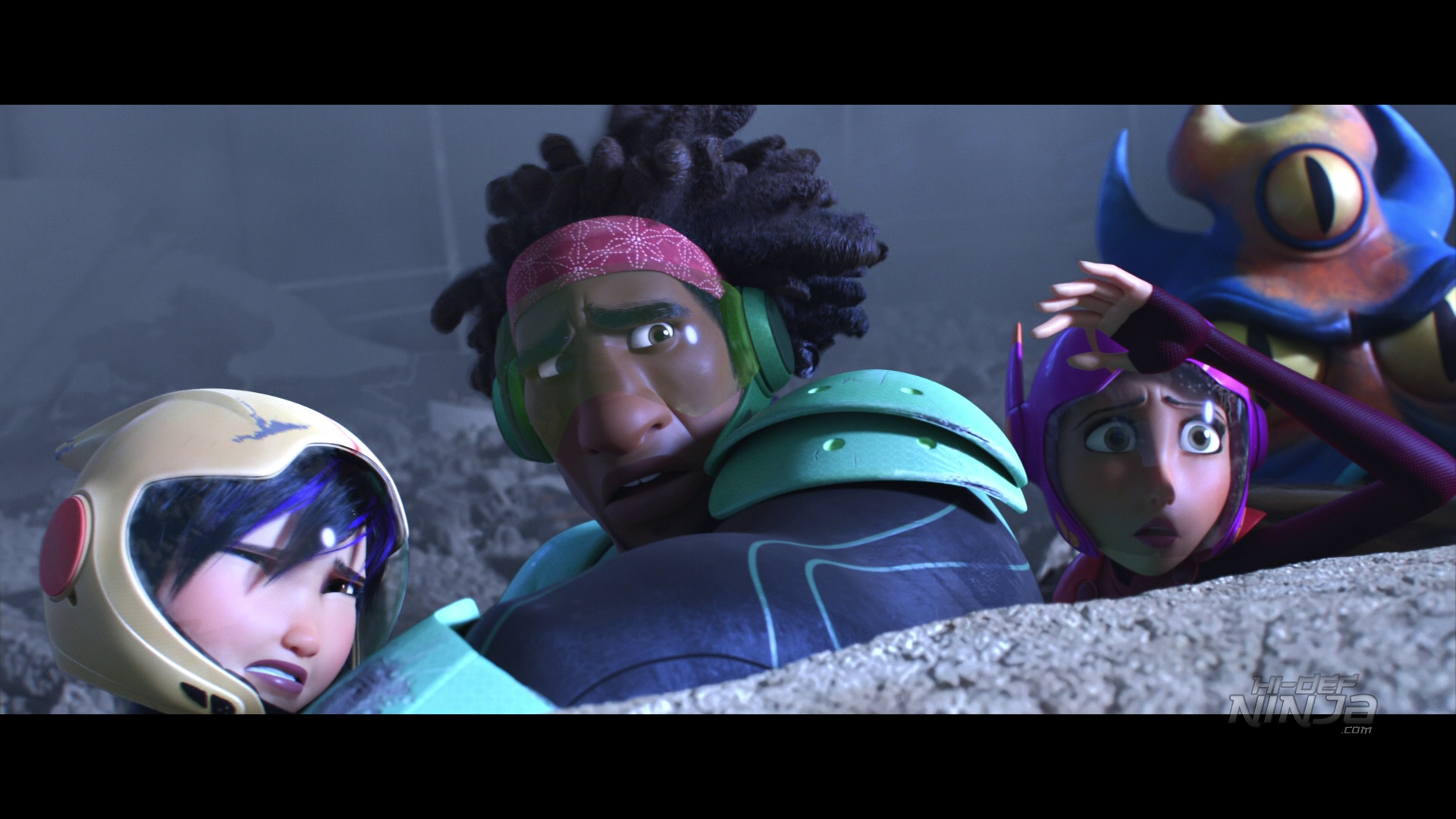 BIG HERO 6 is brought to life via the stunning MPEG-4/AVC transfer, making it perhaps the best-looking animated feature of 2014. Not only do scenes reflect lifelike texture and even foreground blurriness, but the bright colors mix very well with various small details.  Details on hair is extraordinary, as is the universe of San Fransokyo and other places like Hiro's home.  Baymax's outer shell looks like polyurethane, while you can even see the individual details of the tiny robots Hiro designs which are ultimately used for evil.  There are several nighttime scenes which lead to inky blacks and deep transitions to shadow.  I'm beginning to think the home environment is the best place to see animation (or most films these days) because that's how they're created in the studio.  It's why the transfer looks so stunning, and perhaps why one should wait for the home release, as most dirty theater screens weren't replaced in the digital revolution.  Regardless, BIG HERO 6's transfer is reference quality.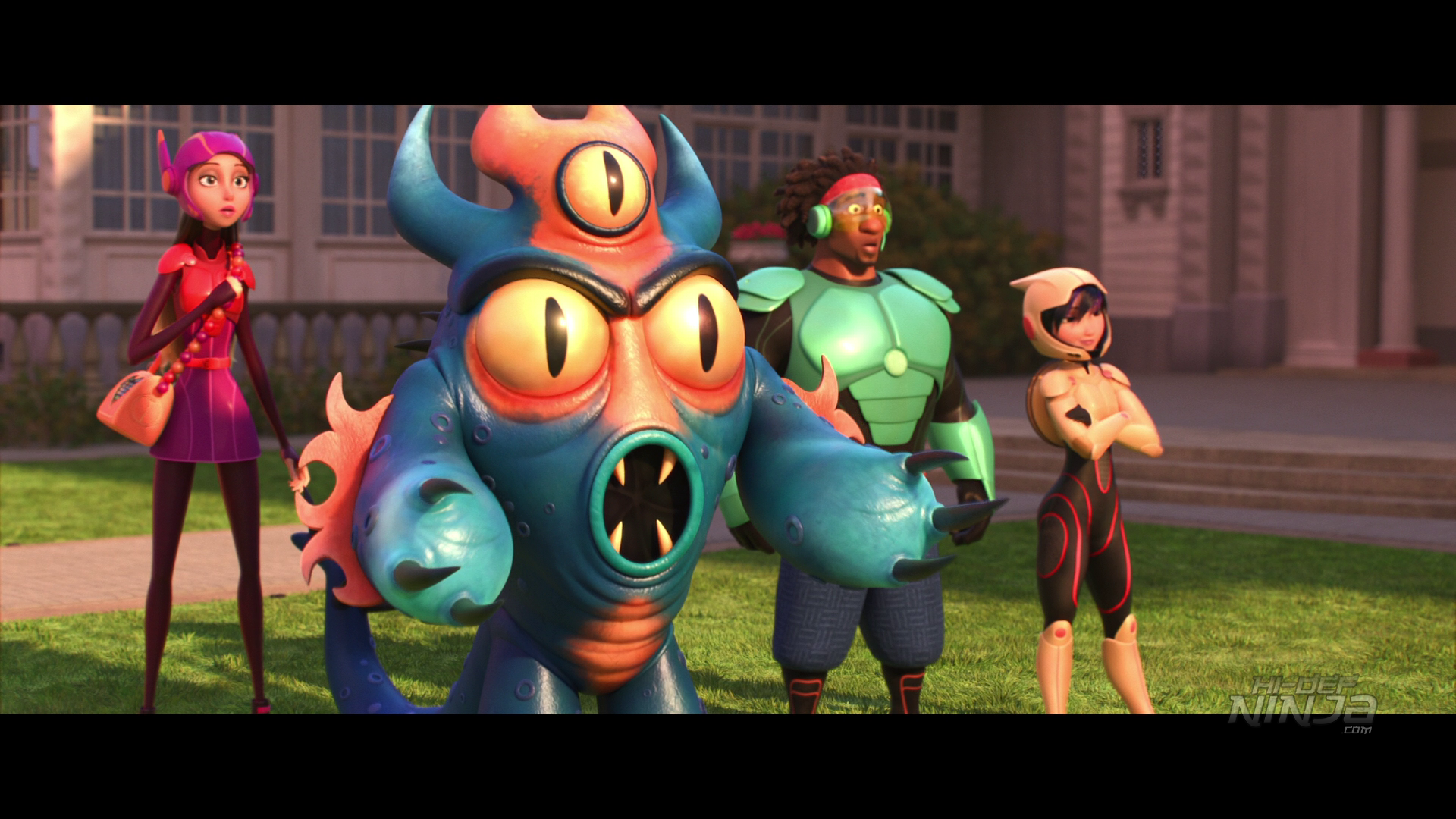 Disney's release of BIG HERO 6 features a DTS-HD Master Audio 7.1 transfer that's immersive and booming, but the experience is noticeably different than with a standard 7.1. From the beginning, you can tell that the lossless track is here to prove a point, but the sound is fairly inconsistent in its placement. Most surround experiences generally place music, dialogue, and certain sound effects in the forward speakers, with more effects and environmentals in the surrounds. Not here: most of the sounds lie in the forwards, leaving the surrounds quiet for entire chapters. One thing that isn't a problem is Composer Henry Jackman's score and the various rock songs which resonate through all speakers. Additionally, dialogue still resides in the center channel, which is clear and does not require any adjustments during playback. These parts represent a full and rewarding experience, but the lack of directionality in other places is disappointing. That wasn't the case at the beginning, when you can hear the subway move from left front, right front, and then right rear before disappearing into more city sounds. Clearly, that experience wasn't brought to the entire track.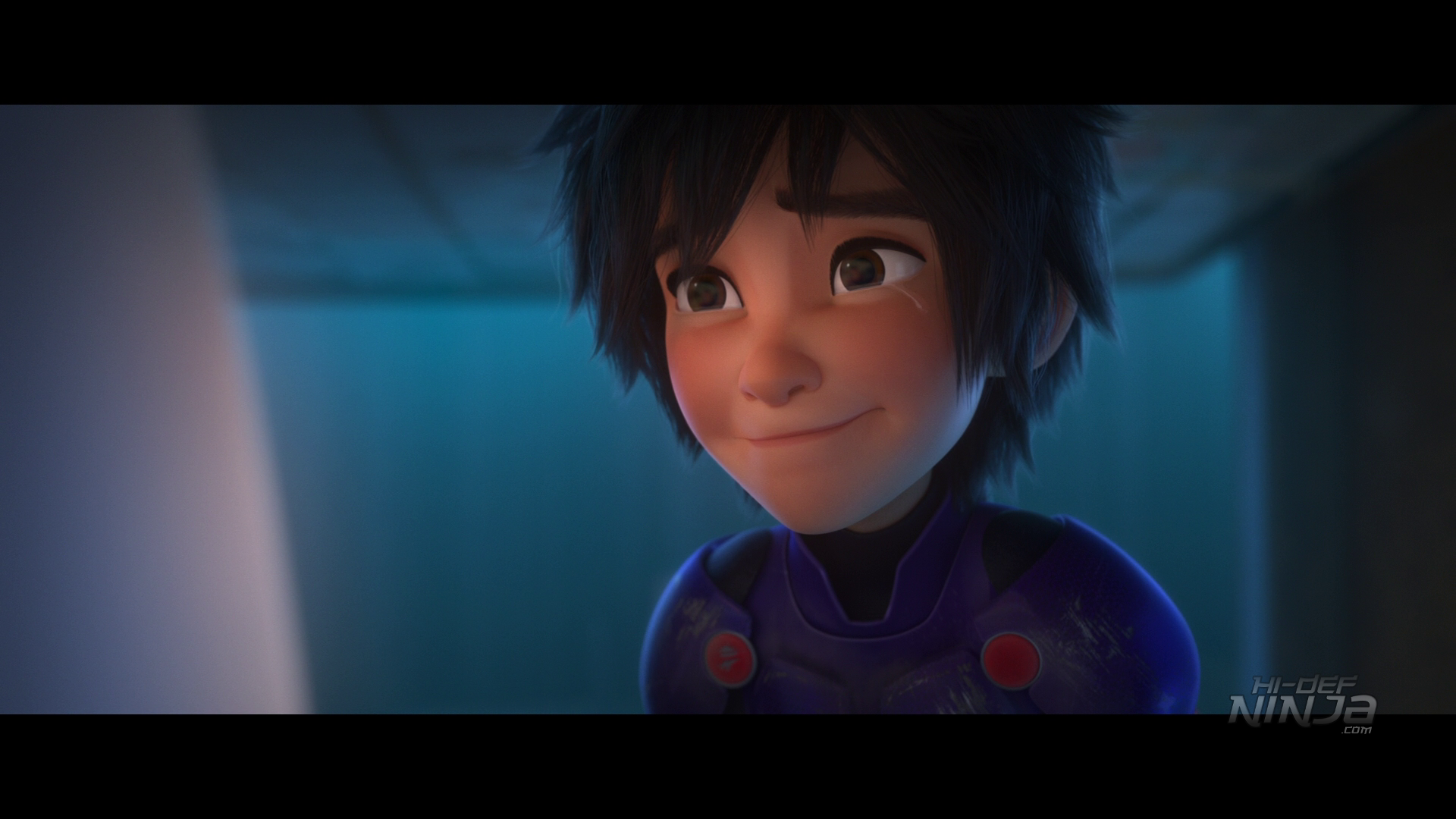 BIG HERO 6 does contain several interesting extras, but there's no commentary from the directors and most of the features come off a bit flat. At least they're all presented in HD:
Theatrical Short – FEAST (6:13): This Oscar-nominated and absolutely adorable short animated film follows a little dog with an enormous appetite. It's a touching addition and originally appeared before BIG HERO 6 in its theatrical release.
The Origin of BIG HERO 6 – Hiro's Journey (15:10): Jamie Chung hosts this featurette which looks at the genesis of the film from its comic book roots to Disney's stunning animation. Unfortunately, the story material changed significantly from the comics, but at least we get to see how – for example – the real-life interactions of the creative teams' siblings influenced the creation of the film. We also learn how a new technology called Hyperion influenced the animation, which helps to give the movie its unique look.  Overall, it's a nice overview of the film.
Big Animator 6: The Characters Behind the Characters (6:39): Members of the creative team gather to share their experiences working on the movie.  They explain their roles within Disney and how they used personal experiences growing up to add new layers to the film.  To have these men gather in a sort of 'roundtable' (although there's no table at all, and it looks like they're in someone's attic) is a unique way of presentation.
Deleted Scenes with Introductions by Directors Don Hall & Chris Williams: The duo bring us Alternate Opening — Prologue (4:05), Alternate Opening — Silent Sparrow (4:53), Yokai's Crew (2:42), and Every Great Super Hero Origin Story Starts with a Grappling Hook (1:12).  Many of the scenes are worthy of checking out, but it's clear that good decisions were made to remove them.
BIG HERO 6 Theatrical Trailer (1:41).
Our evaluation copy arrived as a Blu-ray/DVD Combo with Digital Copy included. There is no interior artwork, but the slipcase is colorful and embossed. At the time of this posting, Target offered a very nice SteelBook, while Wal-Mart offered a third DVD called The Science of Big Hero 6.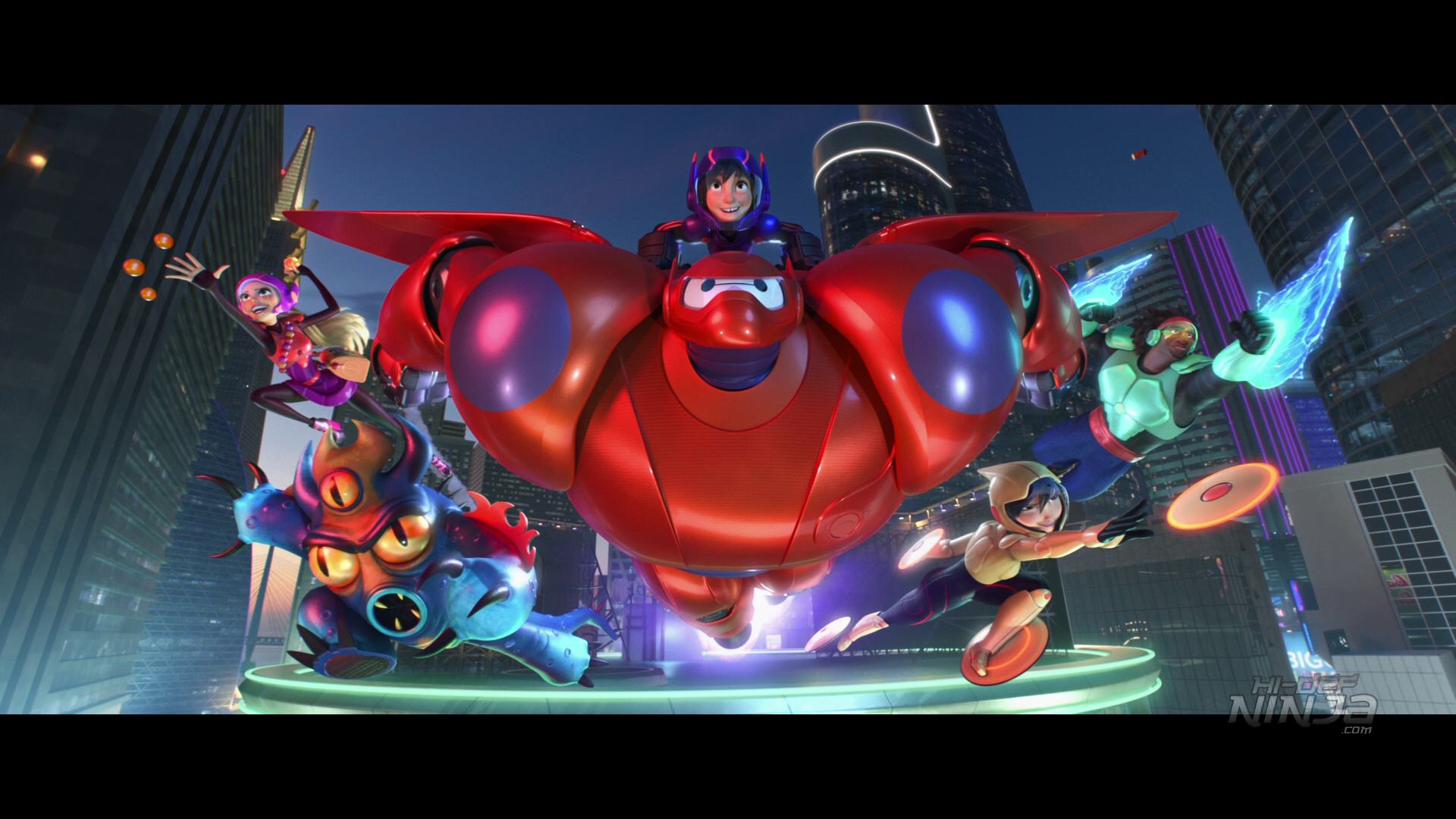 There's nothing we haven't seen before from BIG HERO 6, and that's too bad, because the comic is so intensely different. Not a single piece of that quirkiness made it into the film, reminding us that in the Disney universe, all things unique are scrubbed until they shine with a homogenized gleam. The home release is pretty, sounds good, but its lack of a director's commentary keeps us from learning more about the film.  BIG HERO 6 is enjoyable but ultimately hollow and screams for a dose of humanity; but with all the marketing opportunities conveniently placed even in the supplements, it looks like Disney might have had their priorities elsewhere.
BIG HERO 6 is Rated PG for action and peril, some rude humor, and thematic elements and has a runtime of 108 minutes.