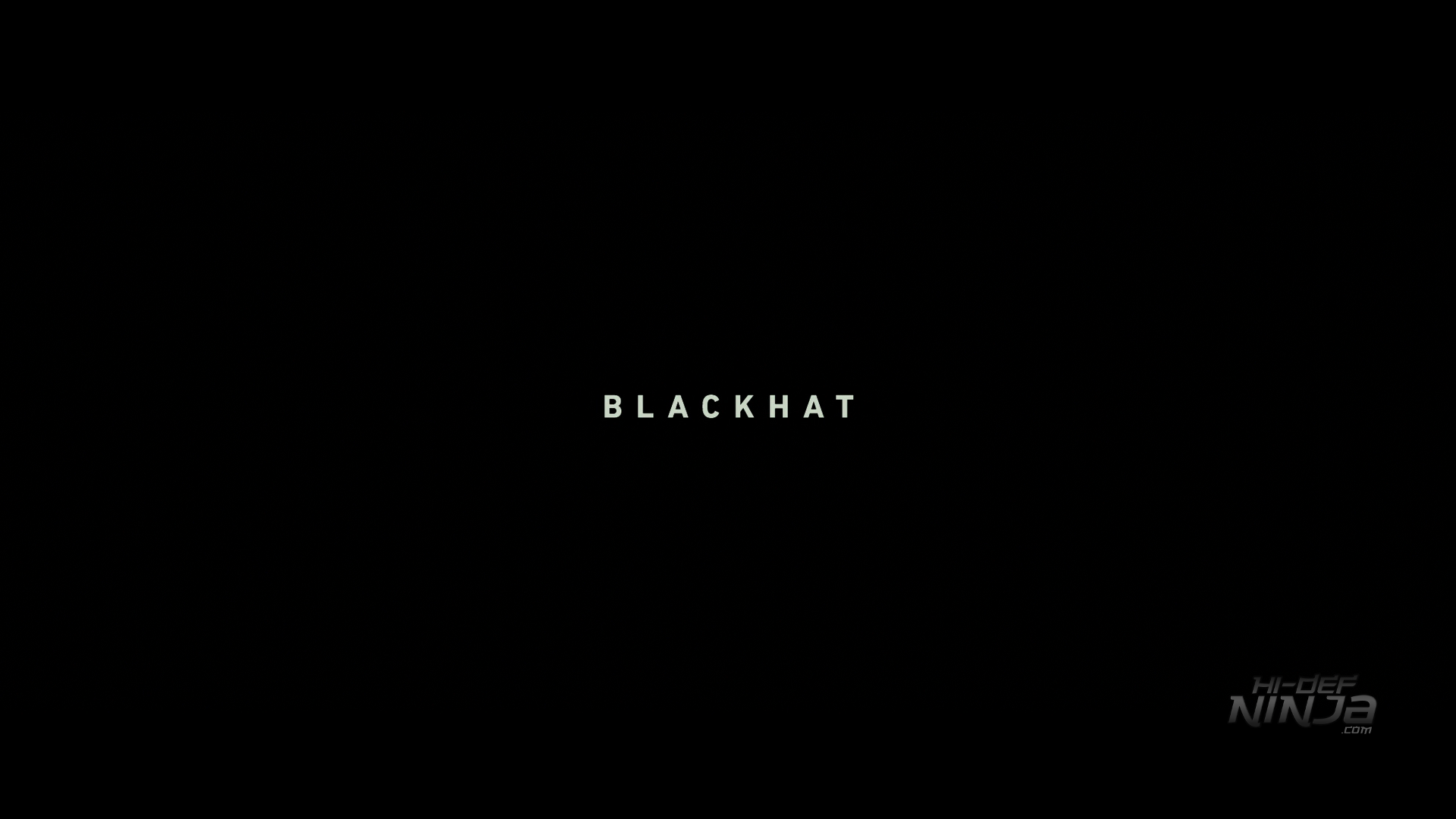 Here's why Universal's release of BLACKHAT might not be worthy of a place in your collection…yet.
WARNING: This review contains spoilers.
In a time when cyber-terrorism has both affected nearly every American and created a new commercial subcategory for businesses to exploit, Michael Mann's BLACKHAT seeks to draw clear lines around the problem and its possible outcome.  The result is not his best work, but one that does bring the conversation into the zeitgeist.  Its release onto home video is also not perfect, with fans of Director Michael Mann sure to cast a definitive thumbs-down.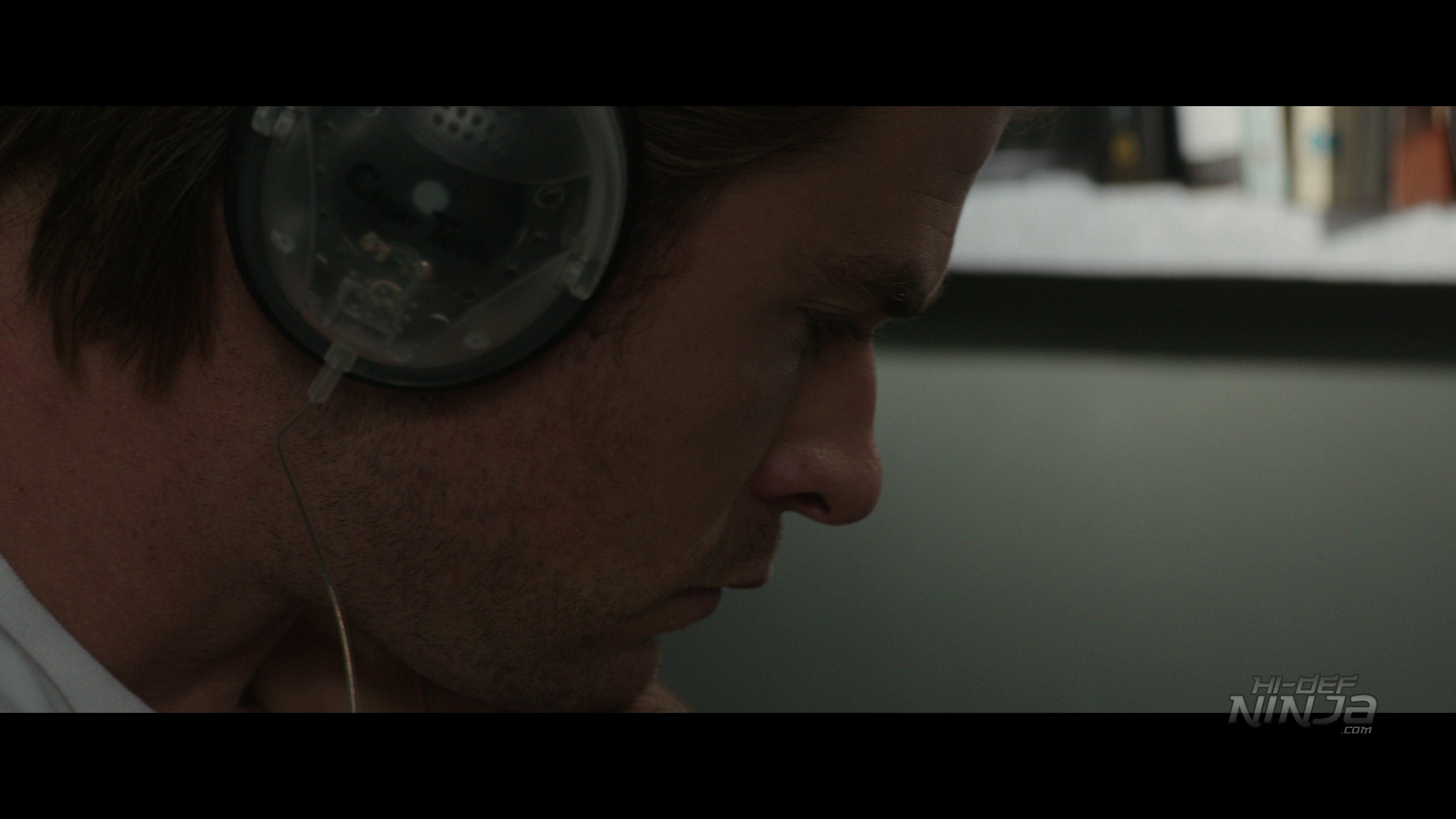 When the world is threatened by an unprecedented cyber attack, the Chinese and US governments band together to uncover its source, gathering a team of talented cyber agents like the Chinese officer Chen Dawai (Leehom Wang) and his sister Kien Chen (Wei Tang), while the US secures FBI Agent Carol Barrett (Viola Davis). But that won't be enough to stem the next wave of hacks, so Dawai seeks out the only person who can help: the cyber criminal Nicholas Hathaway (Chris Hemworth). As their investigation leads all over the globe, Hathaway must track down the terrorist Sadak (Yorick van Wageningen) and his ruthless associate Kassar (Ritchie Coster) before they wipe out Hathaway's team and bring the world economy to its knees.
This isn't Mann's first trip into the violence of the real world – he seems to love placing his characters in realistic, dangerous situations, running many of them to ground and studying how it affects the personalities of their comrades, before tossing them along the side of the road. It makes for great theater, and Cinematographer Stuart DryBurgh paints us one gorgeous long image after another. But that's where some might take issue with BLACKHAT, as many scenes by Mann are allowed to past their point of effectiveness  There's overly-long, tightly-focused stares/contemplation by Hemsworth and others, along with a steady diet of un-SteadyCam that I know made theater audiences a bit nauseous. But this is textbook Mann, his MIAMI VICE television series and movie DNA penetrating every inch of BLACKHAT, including a very good score by a collection of composers include Harry Gregson-Williams which much like Jan Hammer sets a clear tone for the grittiness in which this thriller will play out.
Still, there's the typical plot points which Writer Morgan Davis Foehi leaves in that's anything other than what you expect; Hemsworth will find his target, but not before the typical deadline before more cyber Hell breaks loose. But it's exactly those aspects that make BLACKHAT so rewarding; these continued high stakes make every one of Mann's characters as expendable as the next. Yes, major characters die in Mann films, and BLACKHAT is no different, elevating our experience not because we enjoy seeing large percentages of our leads gunned down, blown up, or cut prison-style, but because it makes every scene worth watching.  No one is safe in his films, as if every nearly figure on the chessboard is disposable. What's more, their sacrifice comes as a normal and realistic way crime is fought, with officers paying the ultimate price for signing on the dotted line.
There's been a lot of criticism leveled at Hemsworth for his poor choices in projects.  I totally disagree.  He's a mesmerizing actor, with stage presence and gravitas that makes everyone else around him that much better.  BLACKHAT gives him many chances to show us he's developed well beyond Thor, as if 2013's RUSH hadn't already proven that.  Although you could probably point out who was going to buy it before the end, Tang and Wang are very likable and become tragic heroes, because their arcs end up serving a greater greater purpose in the story rather than become invincible figures who strut towards the camera. The same goes for Davis whose upcoming appearance as Amanda Waller in SUICIDE SQUAD is perhaps the most brilliant aspect of that casting.  Here, her slow burn eventually gives way to a violent unraveling of her character. The casting and writing issue I have here is our baddie, who is sadly one-note, a character with no real development, making his actions seem random.  His climatic clash with Hathaway makes for a great ending, but a more sympathetic villain would have had more for a far more interesting story.
Listening to one of the supplements, it's clear that Mann pushed his acting troupe beyond their comfort levels. Whether that equates to excellent performances is for you to decide.  There is also a menagerie of different cameras used here, each generating vastly different effects, which unfortunately affects the Video quality of the presentation (see below).   But in the end, critics will no doubt criticize Mann for making this entire experience about whether the price of tin will ultimately be affected.  Yes, that's the whole plot: why a more destructive plan wasn't hatched – one that might have ended our way of life – is beyond me.  But when that big reveal is made, it drops to the ground with a distinctive thud.
While BLACKHAT serves as a message for a time when cyber attacks like these have become commonplace and will eventually seriously threaten the world, it's Mann's execution that ultimately dooms it.  We've forgotten what life was like before them, and Mann uses that to prey on our fears with good – if not great – results. He warns us that a new kind of war is now happening, one that literally encompasses anywhere that someone is connected to the Internet, where terrorists will implode government and economic systems without risking one man in a traditional 20th Century assault. It feels like the perfect message for our times.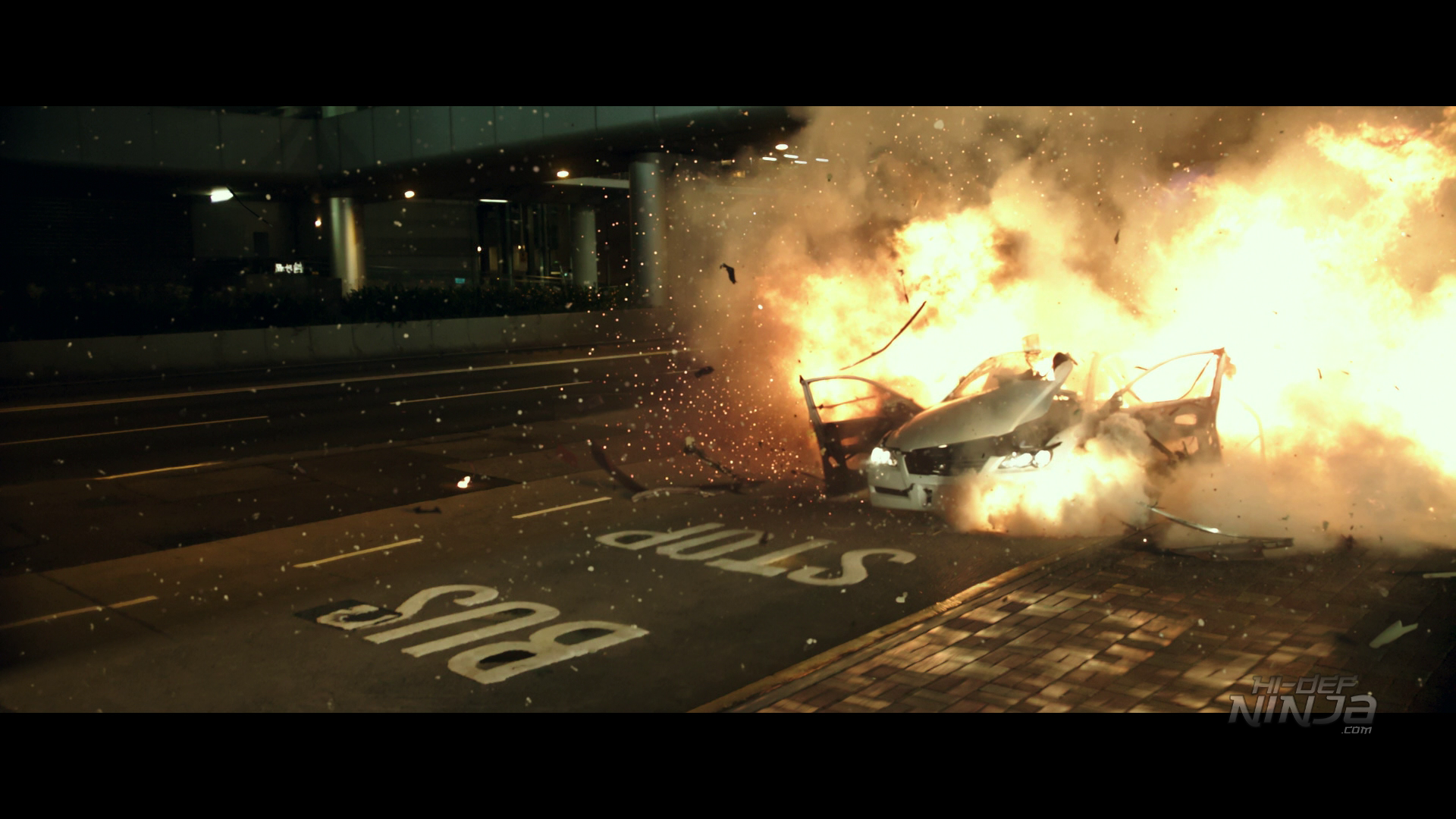 The home release of BLACKHAT features an MPEG-4/AVC transfer that's pretty and detailed in some scenes and a blurry, bouncy mess in others. The production overall is solid, but it doesn't seem like Mann's first priority is stunning visual quality. Skintones and overall detail depend on what sort of light Mann shoots his scenes and with what cameras he uses. Sometimes, everything is razor sharp, with pores on skin and individual strands of hair readily apparent. At other points, the video looks frankly like a soap opera invaded the thriller. We get messy, blurry tracking and even a bit of banding around 22:02 with Hathaway on the tarmac. The same goes with colors, sometimes popping in city scenes, and then looking quite dull in many others. Given Mann's camera-a-scene decisions, blacks and shadows perhaps suffer the most, drowning in crush at points, as do day brightness through windows. It's hard to accept the many and sometimes frenetic stylistic choices here when trying to handicap a transfer like this, especially when the film fails on so many other points.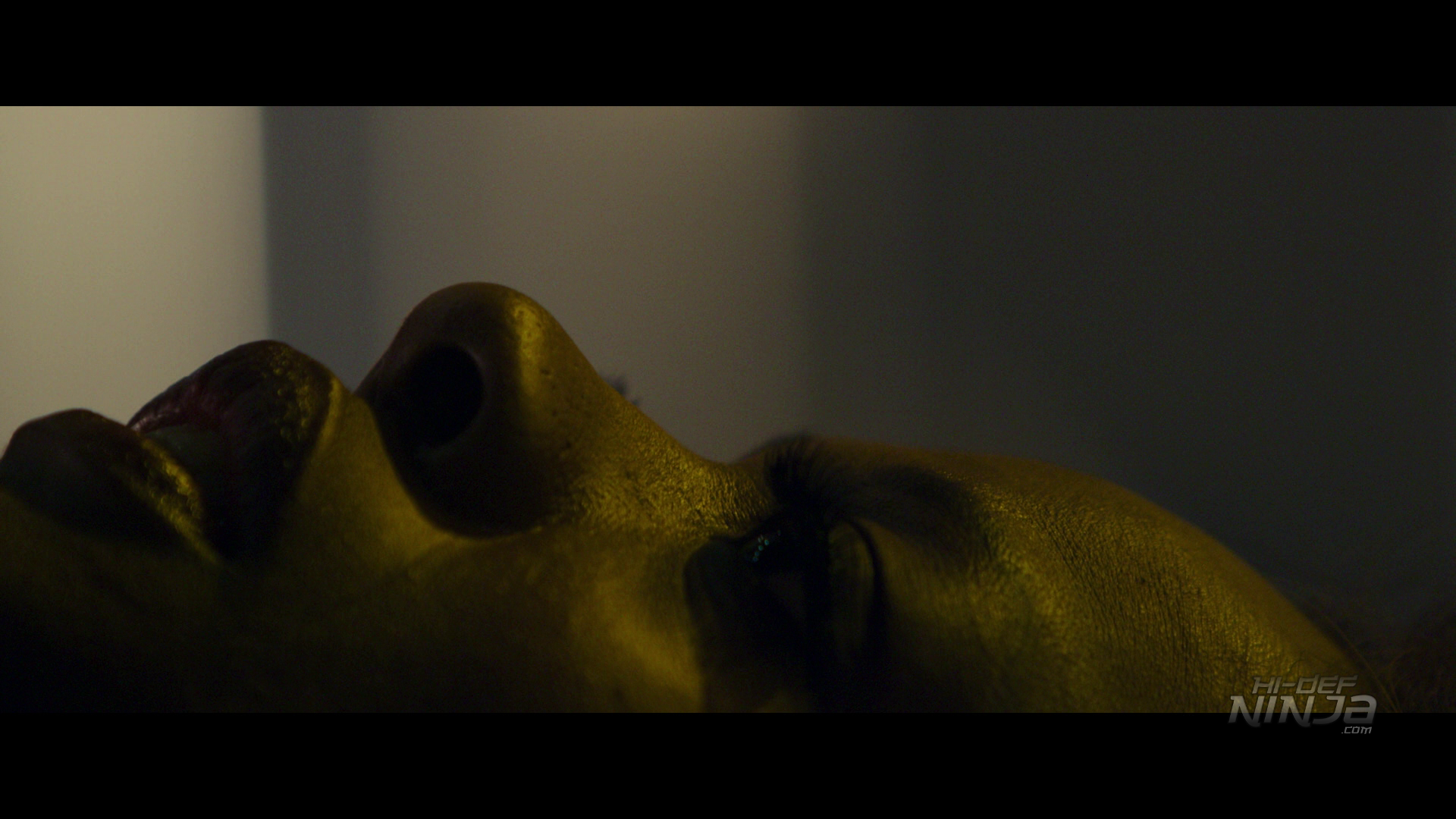 Universal's release of BLACKHAT is like the two RAT codes featured in the movie: at once wonderfully graceful and at the same time messy, clunky, and downright disappointing. There's terrific power in the DTS-HD Master Audio 5.1 surround track, from the tarmac scene led by the beautiful score to the deadly underground firefight at 1:01:28 and at the docks. At those and other points, the LFE absolutely thumps, the forwards brim with sound effects and music, and the surrounds light up with a variety of street noise, police chatter, doors opening and closing, and more of Gregson's music. It's all there, until the moments I noticed in the theatrical release that find themselves here. At several points, there's either horrible ADR, dialogue that fades in and out (45:00 and around 1:52:00), or flat out dropping of the audio (see 4:36 for proof). It's not unreasonable that backfill work could be done to repair a broken track, so it's surprising that Universal didn't make an effort to repair this one. I do remember noticing the same issues from its theatrical release, and so given the opportunity, it's disappointing that Universal – known for consistently great audio transfers – did no more than apparently slap the track onto the BD.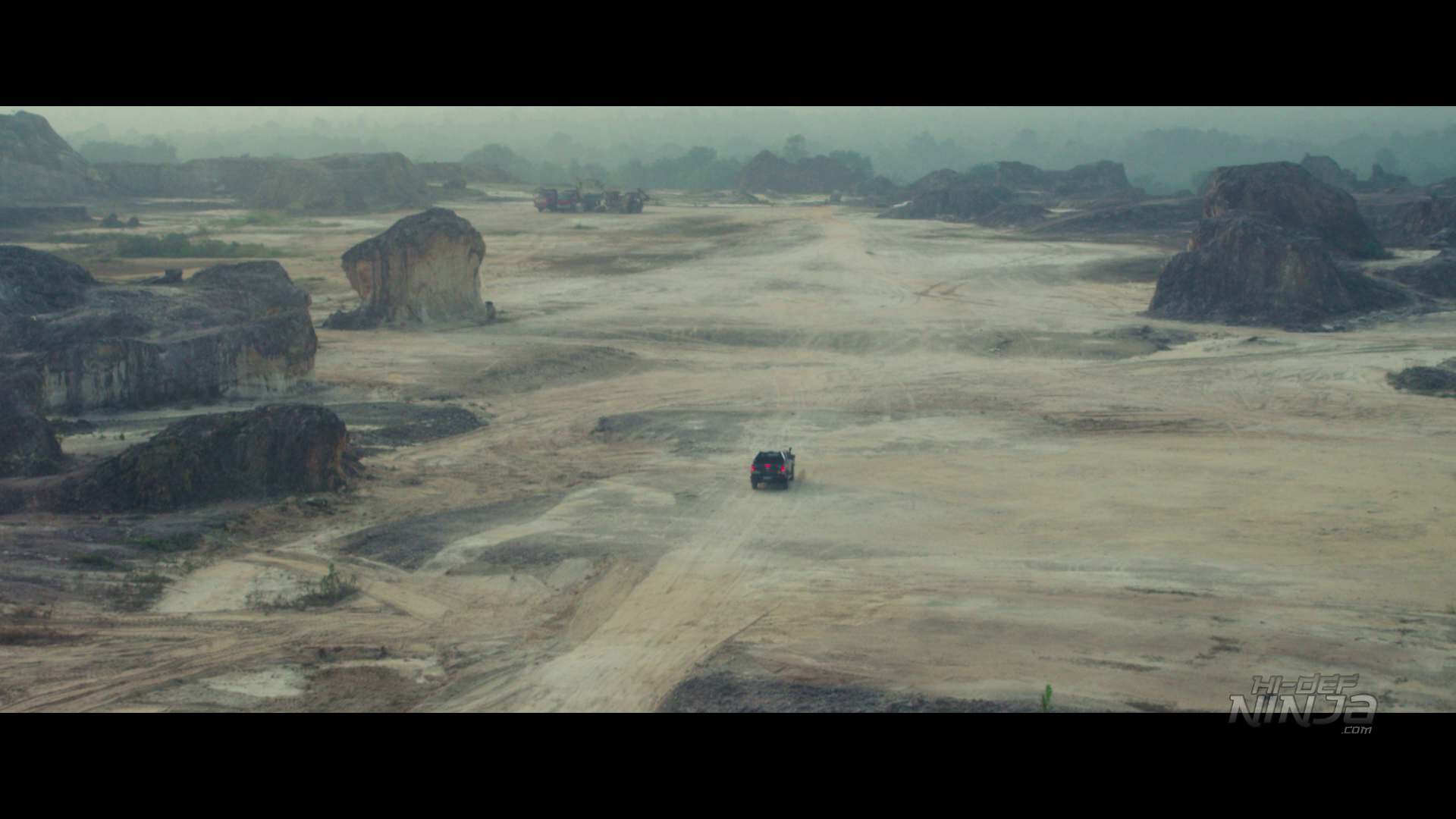 BLACKHAT arrives with three featurettes but no director's commentary. I have said it many times that commentary is usually the only method that a director can use to defend their work once a title is released. When one isn't included, it not only contributes to a lower score on my scale, but it does a great disservice to the audience. I would be more impressed if a director mentioned that he messed up in a certain sequence or on the film in general than not offering a commentary. What we do get is a decent but largely unimpressive lot of extras that are immediately disposable. At least everything is presented in HD:
The Cyber Threat (13:02): Director Michael Mann, cyber security experts, and members of the cast and discuss how the real world of hacking compares to those depicted in the film.
On Location Around the World (9:30): Mann and his creative team why he traveled 74 location and 4 foreign countries to get the look of the film. The result is a beautifully authentic look for a film that needs all the help it can get.
Creating Reality (17:01): Mann discusses how his backstory building of various characters was helpful to the actors as they prepped for their shoot.
Trailers: SEVENTH SON (:31), THE BOY NEXT DOOR (:32), THE LOFT (:31), BLACK SEA (2:09), THE MAN WITH THE IRON FISTS (1:01)
Our evaluation copy arrived as a Blu-ray/DVD Combo with an iTunes/UV Digital Copy. The slipcase is embossed but there is no interior artwork.  At the time of this posting, we were not aware of any alternate releases.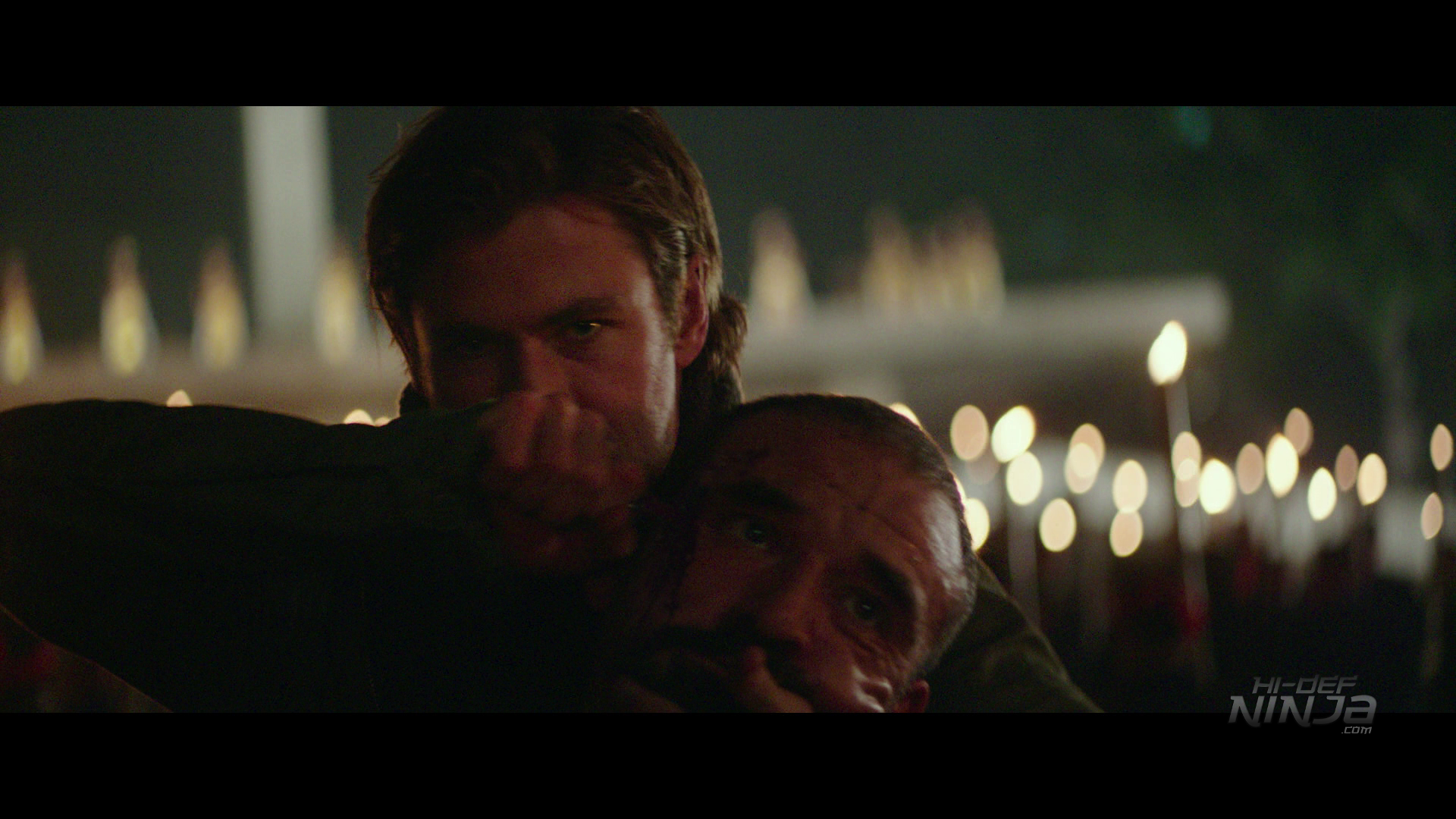 BLACKHAT is filled with excellent performances, some gorgeous cinematography by Mann and DryBurgh, and a haunting soundtrack. Unfortunately, its long runtime and reveal definitely might not sit with those expecting to see Hemsworth play Thor again.  Some of Mann's choices also seem suspect, especially when he takes three minutes to do what it could have been in one. The home release is just as spotty, with decent video, suspect audio, and supplements missing a commentary.  I hope that we'll one day get a director's cut, complete with better supplements, but for now I fear this one will only attract true Mann fans.  So long as you know its shortcomings, I'd say take a chance on it but only as a rental.
BLACKHAT is rated R for violence and some language and has a runtime of 133 minutes.
Discuss this review with fellow HDN fans on Facebook. On Twitter, follow us at @HidefNinja, and follow author Matt Cummings at @mfc90125.