I watched the whole Jurassic trilogy last night to prepare for this 'twenty-years later' restart of the classic adventure series. As the opening sequence rolled, I realised that apart from the trailers, I actually had no idea what to expect except for the certainty that we'd get to see dinosaurs eating people at some point. I am pleased to report that this is the fourth Jurassic film. If you liked any of the original trilogy, you need to see this.
So, without spoilers (and there are a couple of moments worth the admission fee on their own), here's what JURASSIC WORLD delivered to me:
It's a slightly shaky start; a building of backgrounds and introduction to the people we're going to be sharing our adventure with. Nothing untoward, easy to get on with.
And we're off! And boy do they want to get their money's worth from the view. The original Jurassics had some vistas, but the details of the park were scaled to the budget/technology, or inferred. With this, you get the panoramic view; I felt it was at the cost of getting close with the main characters earlier in the film (this fixation is also to blame for a couple of off-the-pace moments later in the film).
You get some early disquieting moments, nicely underplayed but enough to tip the nod for the mayhem to come. No-one is overplaying their part and all the CGI blends well. I'd even say that the dinosaurs from the original JURASSIC PARK would not be completely overwhelmed here — showing just how far ahead the original was for its time.
When things go awry, it's good to see people coming a bit unglued before getting their act together. It struck me as a nice nod to the 'realities' of the situation. I am not going to give away the details, but suffice to say, the peril is scaly and very unreasonable, people do indeed get eaten (thrown, dropped, torn, splattered and swallowed whole), and there are a couple of moments I didn't see coming that only added to the film. There are moments of tenderness and moments of peril, and, yes, there is a lot of screaming. But on to the important bit: if you like velociraptors, this film is going to make you very happy.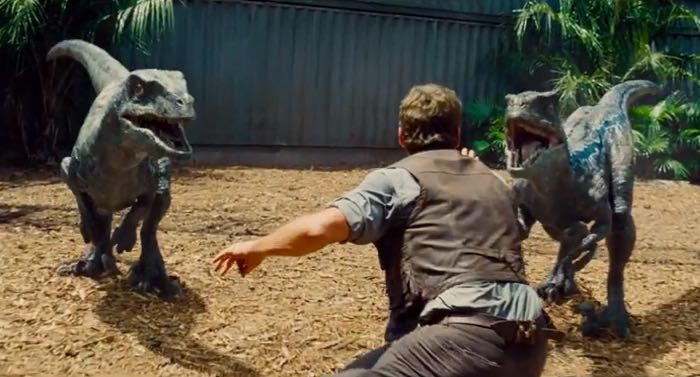 The main monster is excellent, although I do feel very slightly overplayed, but I will let that ride as the finale is knock-down, drag-out excellence — on top of some very fine slaughtering along on the way.
The close is nicely underplayed as well, leaving with a proper finish but having the potential for a sequel.
You can never revisit the awe of JURASSIC PARK, but you can visit JURASSIC WORLD. I would highly recommend that you do.