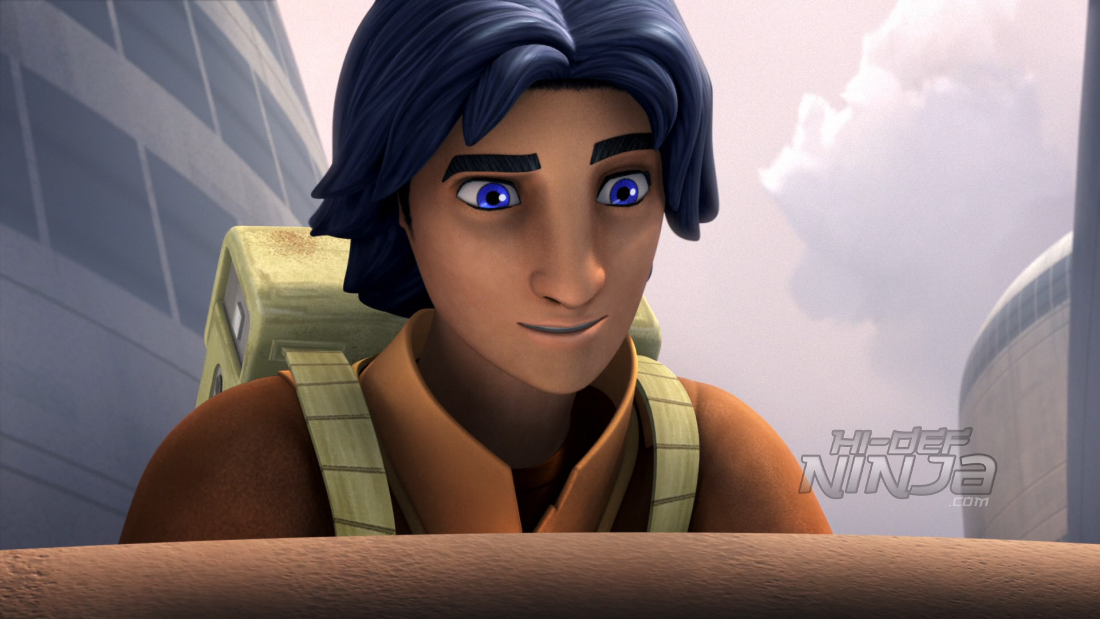 On a planet in the Outer Rim called Lothal, the Empire is making moves to expand their reach and take control of the system.  On Lothal, there is a kid named Ezra Bridger who is homeless, orphaned, and does whatever he has to in order to survive.  While tricking a band of Imperial Stormtroopers, he runs into a small band of rebels who are just looking to resupply.  The group is comprised of a Twi'lek named Hera, a Lasat honor guard named Zeb, a Mandalorian named Sabine, their droid named Chopper, and a Jedi named Kanan.  They are all crewmembers of a ship called The Ghost and, when they aren't pulling off jobs for various employers, they are constantly in conflict with the Empire.  
The show's timeline is 14 years after STAR WARS EPISODE III: REVENGE OF THE SITH and five years before the events in STAR WARS EPISODE IV: A NEW HOPE.  It is a CGI TV series that is aired on Disney XD.  Most of the series characters and locations are based on the incredible concept art of Ralph McQuarrie.  A lot of his designs were used in EPISODE IV but this series has his work all over it.  One of the characters you see it in the most is with Zeb.  His entire look is based on Chewbacca's concept art until George Lucas went with something that looks more like his family dog (see the photo comparison below).  The other standout from the concept art is Darth Vader.  They made him slimmer with a much more menacing look in his helmet.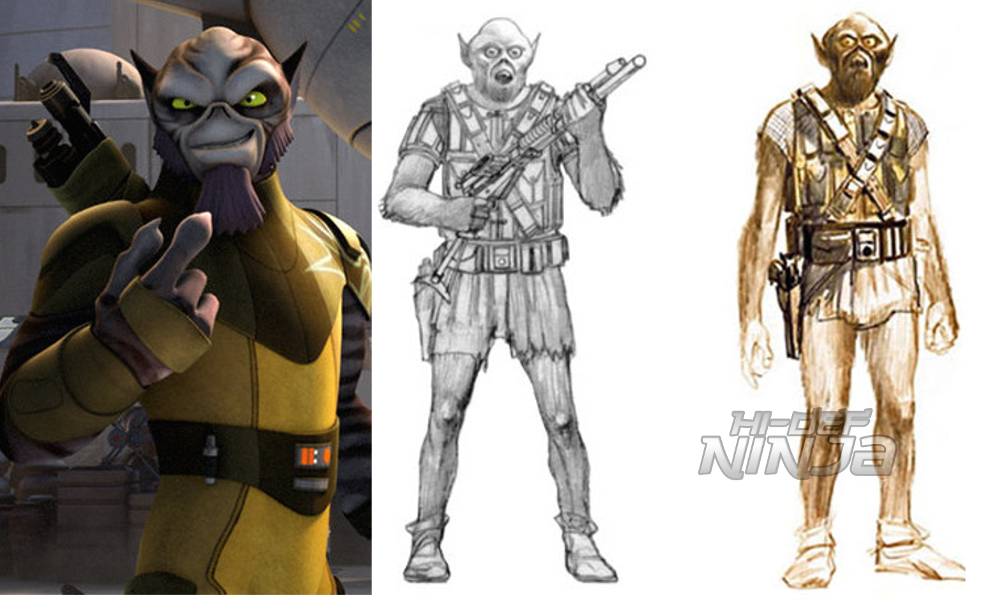 There are so many things that I love about this series.  As I mentioned earlier, all of the early concept art that the series creators used is such a welcomed look for the show.  Not only that but there are so many nods to the expanded Star Wars universe that it is like sensory overload.  For example, they used stormtrooper transports that are based on a Kenner toy from the '80s.  Even in the episode called "Droids in Distress," the transport pilot is the same type from the Disney World ride Star Tours.  It is great that the show appeals to a wide array of fans both young and old.  I also love that they didn't just leave the previous series, STAR WAR: THE CLONE WARS to the wind.  They make small nods and they have even brought some of the old characters back like Ahsoka Tano.  She was a character that fans felt did not have any closure when her character she walked away from the Jedi Order.  I do like that they make the Empire a little more ruthless than in the movies.  They take people's land and businesses in a way that the Empire would: with force and extreme prejudice.  I will say the one thing that disappoints me about the release is that they didn't include the movie "The Siege of Lothal" that was randomly shown after the show was done the first season.  It does wrap up the season a little more than the actual last episode so I was thinking it would make this release.  Hopefully it will be included with the second season.  
Cast
Taylor Gray as Ezra Bridger
Freddie Prinze, Jr. as Kanan Jarrus
Vanessa Marshall as Hera Syndulla
Tiya Sircar as Sabine Wren
Steven Blum as Zeb Orrelios
Ashley Eckstein as Ahsoka Tano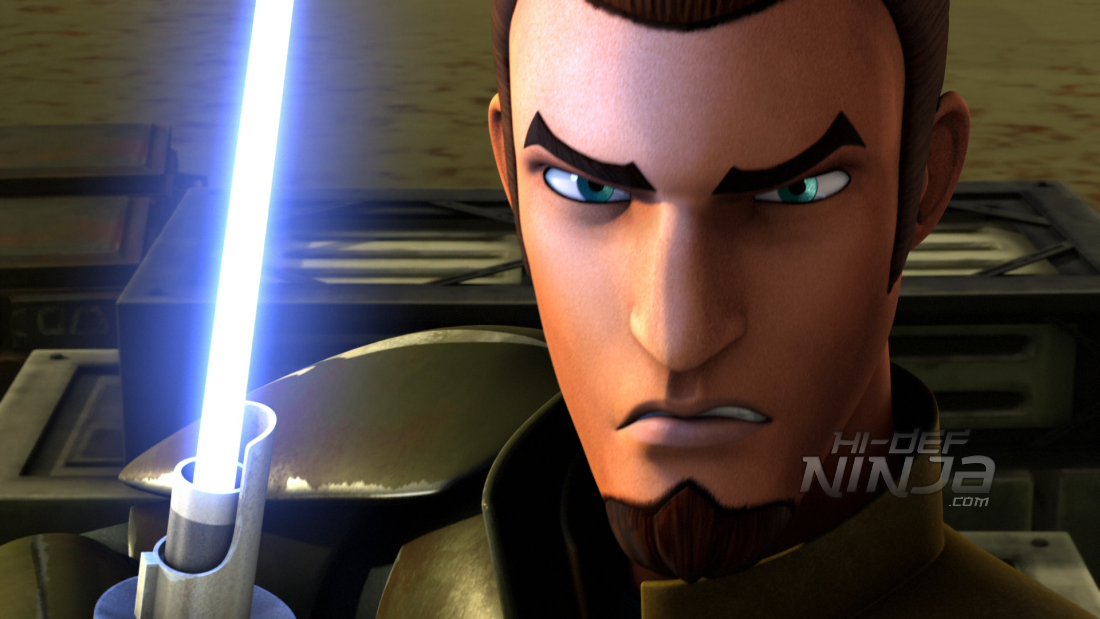 The 1080p AVC transfer of the series is beautiful.  It is so clean and smooth that it looks like it was directly transferred from the original digital source material.  There are plenty of sharp details and little intricacies in every frame of the series.  The animators put a lot of work into the weathering of every surface right down to the small scratches on their weapons.  The coloring is a little bit muted at times but then you catch Sabine in her wild, neon colors that pop on the screen.  The lighting is also very impressive.  It's bright when it needs to be and adjusts the colors accordingly.  You can easily see the evolution of the animation with each episode.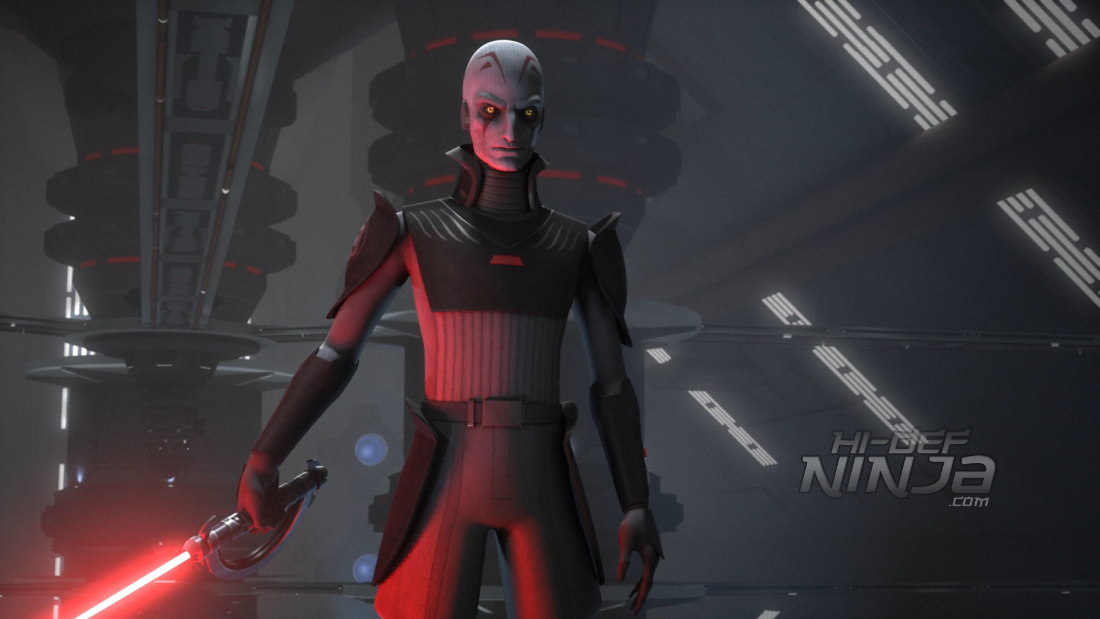 The audio mix is a Dolby Digital 5.1 at 640 kbps, which I assume is the same as the DVD.  It seems to be the norm for the TV series that actually get home releases but there was a time where CLONE WARS was a DTS-HD MA track.  Don't get me wrong, this is a decent mix but with the amount of effects and things happening on screen, HD audio would have been better.  The bass, i would say, is probably above average as well as the treble. The voices and effects reproduction is a also good but there is much to be desired.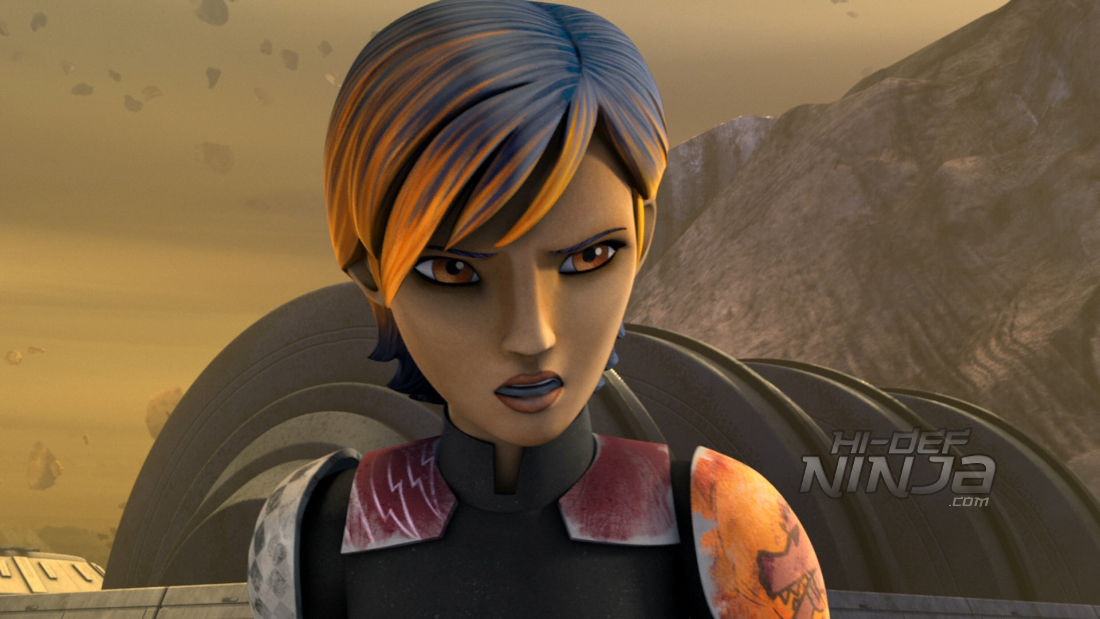 These are a decent line-up of bonus materials that seem to cover almost everything about the series. The Rebel Recon is probably the one thing to not skip over.
Bonus Features:
-Rebels Recon: There are 14 "Rebels Recon" episodes from StarWars.com that cover from the inception of the series to characters development.  
Spark of Rebellion
Droids in Distress
Fighter Flight,
Rise of the Old Masters
Breaking Ranks
Out of Darkness
Empire Day
Gathering Forces
Path of the Jedi
Idiot's Arra
Vision of Hope
Call to Action
Rebel Resolve
Fire Across the Galaxy
Rebels Infiltrates Star Wars Celebration: This is STAR WARS: REBELS doing their panel and premier at the Celebration in 2015.
-Rebels: The Ultimate Guide: This is a 20+ minute clip of Kanan (actor Freddie Prinze, Jr.) narrating an overview of the first season.  
-Animated Shorts: These are the animated shorts that were released on Disney XD with little snippets of the characters mixing it up.
-Season 2: A Look Ahead: Dave Filoni sheds some light of what is in store for the Rebels next.
Episode List
-Spark of Rebellion Part 1
-Spark of Rebellion Part 2
-Driods in Distress
-Fighter Flight
-Rise of the Old Masters
-Breaking Ranks
-Out of Darkness
-Empire Day
-Gathering Forces
-Path of the Jedi
-Idiot's Array
-Vision of Hope
-Call to Action
-Rebel Resolve
-Fire Across the Galaxy
Disc Details
2-disc Blu-ray Set
Running Time
330 mins
Edition Ratings
Rated TV-Y7-FV
Region Coding
Region Free
Video Resolution
1080p AVC MPEG-4
Aspect ratio: 1.78:1
Audio Mixes
English Dolby Digital 5.1 640 kbps
French Dolby Digital 5.1 640 kbps
Spanish Dolby Digital 5.1 640 kbps
German Dolby Digital 5.1 640 kbps
Subtitles
English
French
Spanish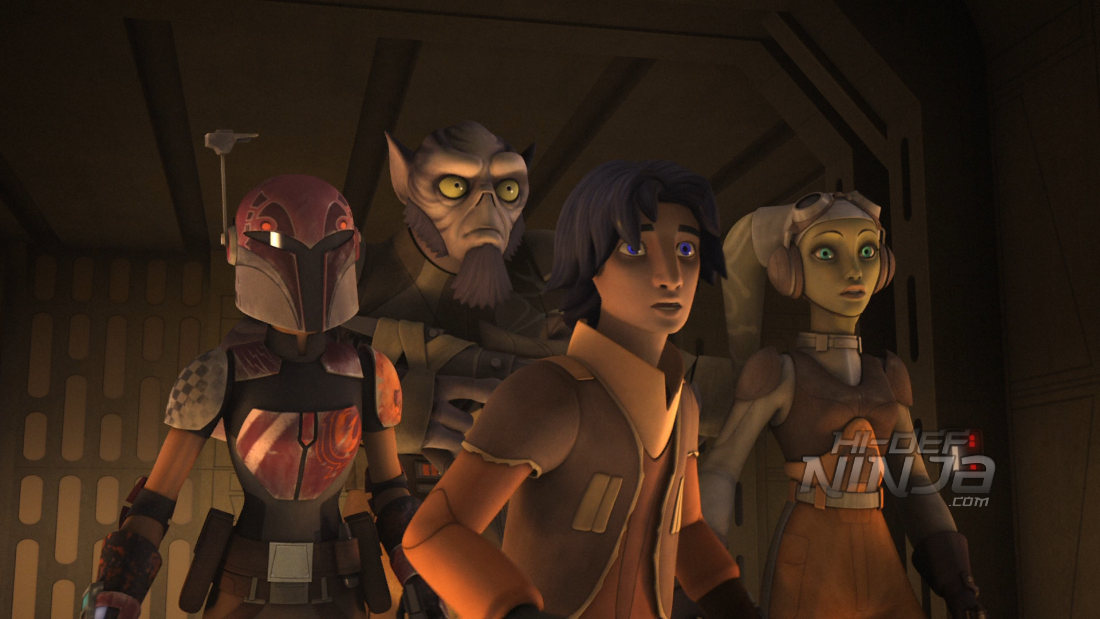 STAR WARS: REBELS does an excellent job of going darker than CLONE WARS because this story is during a much darker time.  The Sith aren't hiding and the Jedi are scattered across the galaxy.  Like I said, it is an entertaining series and I look forward to it coming back on.  The Blu-ray release has an excellent transfer but I wish it had an HD sound mix.  On the other hand, there are tons of bonus features on the discs that explain practically everything except the upcoming season that premiers on October 14th, 2015.  I would recommend this release to any STAR WARS fan, fan of the show or even people who are curious about the series.