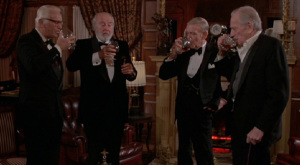 When his brother David dies on the eve of his wedding, Don travels back to his hometown in New England for the funeral services. He meets his grieving father Edward Charles Wanderley, who has a weekly meeting with his old friends Ricky Hawthorne, Dr. John Jaffrey and Sears James to tell tales of horror, and together they form The Chowder Society. When Edward and John die in mysterious circumstances, Don sees the picture of Eva Galli from the 20's and he joins Rick and Sears to tell a ghost story about his romance with Alma Mobley.
Directed by John Irvin (Hamburger Hill, Next of Kin) this is a mild horror that does go some way in capturing the essence of a ghost story that you'd hear before bed time. When the four friends gather to tell stories it's something they do to entertain each other. But when Edward's son David dies in mysterious circumstances, then it brings about events that force the friends to address a terrible event that happened 50 years previous.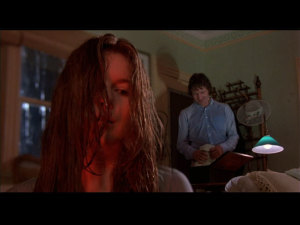 It was very interesting to see Fred Astaire in a serious role such as Ricky Hawthorne, as he is normally known for musicals. However he pulls the part off really well. He makes you believe that he is still tormented over an event from his past, making the audience eager to find out exactly what went on and what Alma Mobley (Alice Krige) has to do with it all. The movie is based on a book by Peter Staraub, but I've never read the story so I cannot comment on how faithful the movie is to the source material.
It was also strange to see that John Irvin was the director as he is more closely associated with action movies. Not to say that these folks can't branch out, it's just sometimes they appear a little out of their depth. I think that's the issue here. The film flips back and forth to between the past and present. It's not difficult to follow, but the attempt to create suspense by leaving the surprises till later have the reverse effect. It creates boredom and even the more 'shocking' events just aren't that shocking. It's not terrible, just merely average. Alice Krige is stunning in the movie and it's always a pleasure to see her on screen when she appears. The final third appears rushed and the conclusion isn't satisfying enough. Worth a watch, but maybe not something to see more than once.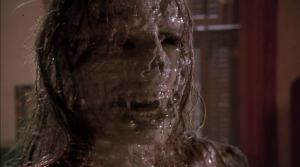 The picture is presented in glorious 1080p HD, MPEG-4 AVC (32.30 Mbps), in its original aspect ratio of 1.85:1. There were no signs of edge enhancement that I could see. The image was mostly very clear and a pleasure on the eyes. Second Sight really have done a great job with the transfer here. There are small signs of grain but it's nothing at all distracting and lends the film some character. The effects of people falling look a tad dated, and don't hold up well in HD, but that's about the only thing I can say wrong about it.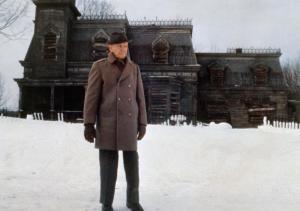 ;
The only audio option is DTS-HD Master Audio 2.0. However it is still wonderfully clear for a film made in 1981, and also one which hasn't ever been available on Blu Ray before. You don't have to have your TV turned up too loud as the dialogue and music both come through loud and clear.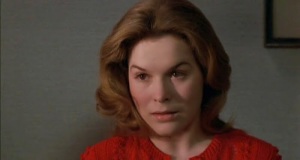 Well Second Sight have really gone out of their way for this one. It's packed to the brim with great extras. First up you have 'Ghost Story Genesis' with author Peter Straub. It lasts for 39.42, and he details exactly how he came up with the idea for the book this movie is based on. He also details his process on conceiving and idea and running with it. Very informative stuff. Next up is an interview with actress Alice Krige on how she played the parts of Alma Mobley and Eva Galli. She begins the interview by talking about her days in college and how she decided to major in drama, much to the chagrin of her parents. That interview runs for 28.52. There is also an interview with screenwriter Laurence Cohen and producer Burt Weissbound on story development and how they had to leave certain elements of the book out for pacing reasons. That runs for 29.09. Finally there is an interview with matte photographer Bill Taylor on how he created some of the stunning backdrops in the movie, which runs for 28.51. The rest of the extras consist of a TV spot, radio spot, photo gallery and trailer. A great package.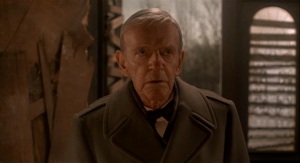 A very nice package all in all. Okay the movie is a tad underwhelming, but the extras included, of which there are plenty, more than make up the price of the Blu Ray. A release that Second Sight can be proud of.
Jonathan McEvoy