When I was at NYCC this year, I had the opportunity to interview one of the Project Managers from Sideshow Collectibles: John Rasmussen. I appreciate him taking the time to speak with me. Enjoy!
Michael – I have been a big fan of the company's collectibles, specifically the 1/6 scale versions. Will we see an increase in the announcements of that size of figures before the end of 2015?
John – Definitely. We have our big online promotions called Spooktacular and the 12 Days of Sideshow. That's when we announce all of our big things and upcoming items [leading into 2016].
Michael – Another line that has been very successful in the past is Star Wars in many different styles, including the Mythos line. Any chance of seeing some new figures from that line?
John – So with the seventh movie [THE FORCE AWAKENS], Star Wars is currently rewriting their universe and they want to be the ones to rewrite it. They have given us a lot of room in the past, but right now they want to promote what is current.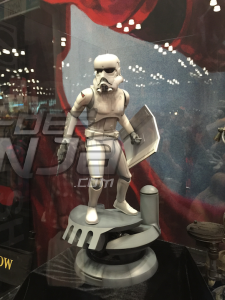 Michael – Also, the Ralph McQuarrie line is genius and I know that Vader and the Stormtroopers are the first to be announced. Are there any plans to explore those original designs further like the early Chewbacca or Yoda designs?
John – We also announced Boba Fett and we are gauging the popularity of those three. We need to see what the people want before moving forward.
Michael – I like the line, especially with the slimmer Vader and saber-wielding Stormtroopers.
With your ever-growing DC 1/6 scale line, any idea when we might see The Flash or the other Justice League alumns that you guys showed at SDCC a few years ago?
John – That's hard to say. I don't exactly know… I can't really say.
Michael – What is your favorite character or line to work on?
John – For me, it is the horror line. We are splashing back into horror in a big way. We are doing Leatherface again and we haven't done him in about 12 years.
Michael – Jason looks awesome. Will you guys expand into Michael Myers or the classics like Elm Street?
John – Freddy for sure. Michael Myers licensing is a nightmare.
Michael – Well, I guess three people own that property…?
John – If there is a way to do it, we would in a heart beat.
Here are some of the photos from their both and I can't wait to see what they surprise us with in the upcoming months!