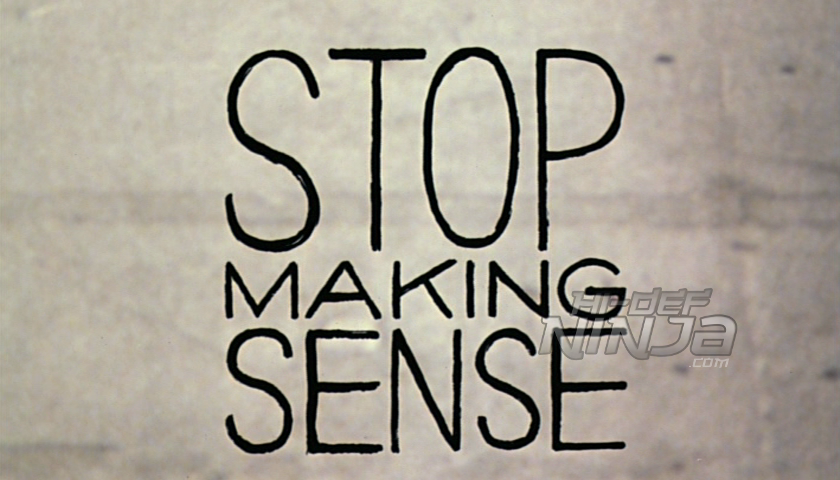 Widely hailed as the greatest concert movie ever made, director Jonathan Demme's celebrated film captures. Talking Heads live at Hollywood's Pantages Theatre in December, 1983.
The film's legendary opening sees David Byrne walk onto an empty stage and give a mesmerising, stripped-back rendition of Psycho Killer. From here the set and the band literally evolve song by song until both are complete and Byrne appears in his iconic 'big suit'. Capturing the infectious energy of a unique Talking heads performance, Stop Making Sense is an unforgettable musical and cinematic experience.
It's a bit unusual for me to watch a concert film in all honesty but this caught my eye as I'm just getting into Talking Heads now and I thought this would be a perfect opportunity to see them at their best. Right from the opening frames, this concert is so brilliantly put together that it's hard not to be impressed. With Jonathan Demme's up close and personal camera work that puts you right in the middle of the stage with the band members and with David Bryne's masterful stage set up (and erratic and loopy on stage behaviour) that starts off with an empty stage and gradually builds itself up over the first handful of songs (carefully selected so that it goes from acoustic only to full on band setup), it was full of energy and entertainment. The selection on songs that are played during the night are guaranteed to get you toe tapping to the beat (as soon as I watched this, I purchased the CD for the car)
Tracklisting:
1.Psycho Killer
2.Heaven
3.Thank You For Sending Me An Angel
4.Found A Job
5.Slippery People
6.Burning Down The House
7.Life During Wartime
8.Making Flippy Floppy
9.Swamp
10.What A Day That Was
11.This Must Be The Place (Naïve Melody)
12.Once In A Lifetime
13.Genius Of Love
14.Girlfriend Is Better
15.Take Me To The River
16.Crosseyed And Painless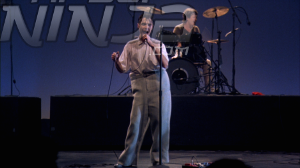 Stop Making Sense is presented on Blu-ray with a 1080/24p MPEG4-AVC codec that preserves its original 1.78:1 aspect ratio. Second Sight has also painstakingly restored this exclusively for its UK release and has cleaned up the footage even more. Shot originally on 35mm, The image on display here won't exactly push your HDTV to it's limits. But for a concert film, the image is good enough. Using full advantage of the darkness that surrounds the stage, the clever use of lighting throughout creates that some memorable images. the film has a healthy layer of grain and a nice sharp level of detail throughout. Colours, whilst not exactly popping out the screen, were nicely rendered and gave the film a natrual look. Due to the amount of bright lights and sheer darkness that are involved, i'm glad to say that no banding was observed. this was one instance of chroma bleed on a couple of the instruments (possibly inherit to the source materal) but it won't distract from your enjoyment.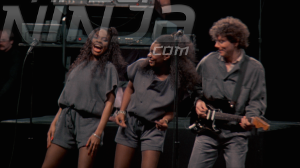 ;
Stop Making Sense offers the viewer two different DTS-MA 5.1 audio mixes (and two different LPCM 2.0 mixes) and both are worth checking out. First up is the 'Feature Film Mix'. This audio mix is the original soundtrack that was recorded on the night
The second mix is the 'Studio Mix' which is basically a spit and polish on the Feature Film mix that puts a bit more focus on the band instead of the live audience ambience. This allows the music to sound a bit more balanced where in the feature film mix, the individual singers and players come across on slightly different levels depending on their on screen presence. The feature film mix has a bit more of an edge to it and was my preferred listening option due to the atmosphere in the film as it gave it a bit more of a live feeling.
Audio quality itself was amazing throughout. Crystal clear dialogue in the centre channel and plenty of activity in both front and rear soundstage with audience cheers and giving the film a real energetic atmosphere.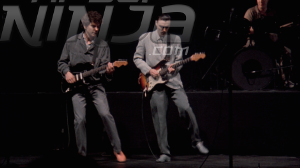 Audio Commentary : Director Jonathan Demme joins all four members of the Talking Heads to deliver an insightful look at Stop Making Sense
Bonus Songs : Two deleted performances of "Cities" and "Big Business / I Zimbra"
David Byrne Interviews… David Byrne: The lead singer interviews himself in this rather zany featurette
Montage : A promotional piece which plays out like a trailer
1999 Press Conference: Stop Making Sense was given a 15th anniversary screening and an hour long Q&A at the San Francisco International Film Festival where the band were on hand to answer the press junket that gathered for the vent.
Storyboard to Film Comparison: A total of 32 sketches of David Byrne's original designs for the stage show.
Trailer: The trailer for the film rounds the disc off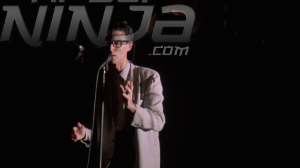 To sum it up…… WOW! For someone who's just discovering Talking Heads, this Blu-ray is pretty much the best starting point to build upon! Faithful and natural looking video transfer accompanied by TWO brilliant DTS-MA 5.1 mixes with plenty of bonus features to dive into after you finished the film!