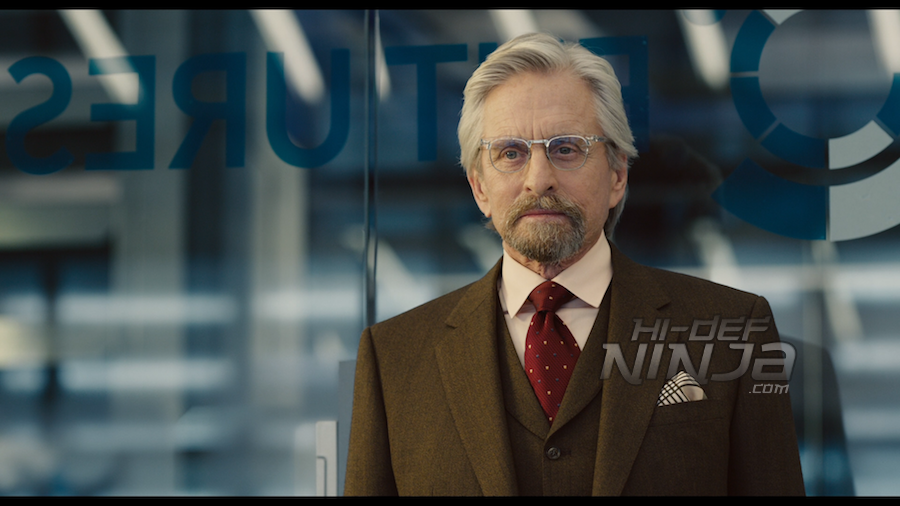 "Tales to Astonish!" – Darren Cross
Dr. Hank Pym is a genius and he has a made a career to better the world with his innovations.  His greatest achievement is what is called The Pym Particle.  What it does is changes the distance between atoms while increasing density strength. It creates the ability to shrink or enlarge organic and inorganic matter alike. SHIELD wanted to take his tech and turn it into a a weapon rather than a tool. He never wanted that so he severed all of his ties to the organization.  
Scott Lang is an ex-con trying to get his life back together to be able to see his little girl.  His friend and old cell mate, Luis, wants him to do a robbery with him but Scott doesn't want to go that direction anymore.  After a tough go of it with Baskin Robbins and no job opportunities in sight, he agrees to work with Luis and his friends to rob a rich guy's safe.  The old safe is well protected and it could have jewels or cash inside but it is definitely something better: The Ant-Man suit.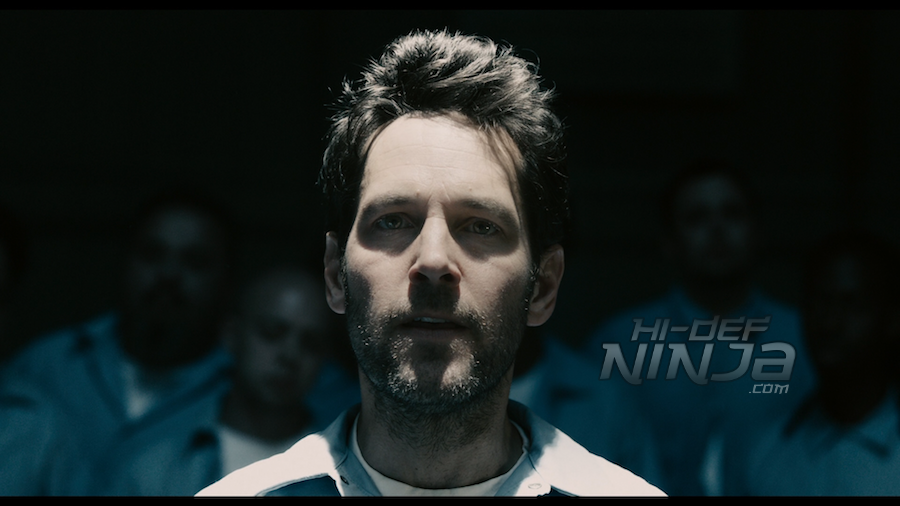 I don't want to go too far into the plot because I don't want anything ruined for the people who haven't seen the film yet.  Marvel's ANT-MAN is directed by Peyton Reed who has directed quite a bit but he is best known for the cult comedy BRING IT ON.  He dove in head first, took the cast that was played out for him and knocked it out of the park. When Paul Rudd was cast, fans were not certain which Ant-Man he was to play: Hank Pym, Scott Lang, Chris McCarthy or Eric O'Grady.  I think fans were happy when they found out he would be Lang and Michael Douglas would play Pym.  I don't thing Disney would ever go for the O'Grady Ant-Man due to his lack of morals and misusing his abilities.   But focusing on Lang as the hero and Pym doing the science doesn't mean that the movie needs to waste time on a long back-story.  The back-stories are important but focusing forward is the way to go.
Paul Rudd is perfect in this role.  Rudd's quick wit and sarcasm is what this movie needs to maintain the overall tone.  He also can play the caring father that makes his motivation believable needed in the film.  Some of his best moments are definitely during his training with his suit and new abilities.  I love seeing Evangeline Lilly in more films.  Since LOST, she hasn't done much until THE HOBBIT series and now she is playing Hope van Dyne.  Her character is hurting from the loss of her mother years ago and her father not being straight with her.  I feel like she is based on Janet from the comics.  She has a lot of heart and I really can't think of another actor that can play her the same way.  
I am highly impressed with the way that this movie turned out.  It is an excellent comic book movie with great pacing, acting, dialogue, and effects.  I was worried because it was in preproduction hell with the original writer and director being replaced while Marvel/Disney wanted to keep the release date. When Reed was tapped to direct, he was known for comedy, not action.  But I'm glad that he made me eat my words.  It's a fun movie and it never takes itself too seriously.  In the film, Rudd is constantly making jokes about the hero's name and that he had nothing to do with it.  I think that's why Marvel continues to be successful with their cinematic universe.  They realize that they are comic book movies and the science may not be sound but that's ok.  It works.  
Cast
Paul Rudd as Scott Lang / Ant-Man
Evangeline Lilly as Hope van Dyne
Michael Douglas as Hank Pym
Corey Stoll as Darren Cross / Yellowjacket
Michael Peña as Luis
Bobby Cannavale as Paxton
Tip "T.I." Harris as Dave
Anthony Mackie as Sam Wilson / Falcon
Wood Harris as Gale
Judy Greer as Maggie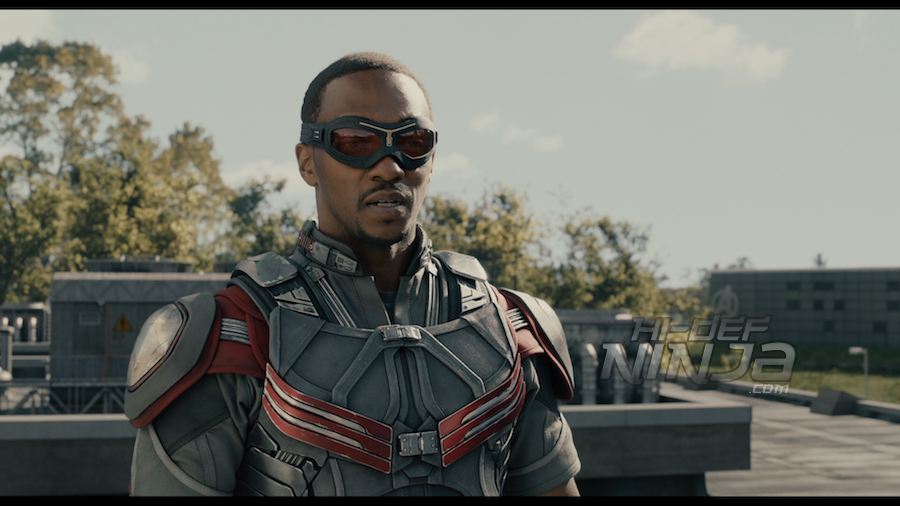 The transfer for ANT-MAN is a 1080p AVC and it looks incredible.  It's great when you review a Blu-ray and you can't decide whether the detailing or the coloring ranks higher. The details in the images are so sharp that, with the help of the fine contrasting, it makes everything distinguishable whether the scene is light or dark.  Of course details are helpful when a lot of the movie has the hero shrunken down to the size of an insect.  I saw the movie in the theater but it really wasn't until the Blu-ray that I could make out all the weathering of the suit and material that the suit is made of.  There is mesh, a red/black leather or vinyl, and flexible metal linings.  The two consistent stand out colors are the reds and yellows, which makes sense due to the hero being red and the villain being yellow.  Even at Pym Technologies, the lighting is bright and in the darker areas, there is no crushing or blocking that stands out.  The blacks are inky and solid.  This is definitely an excellent transfer that Disney should be proud of.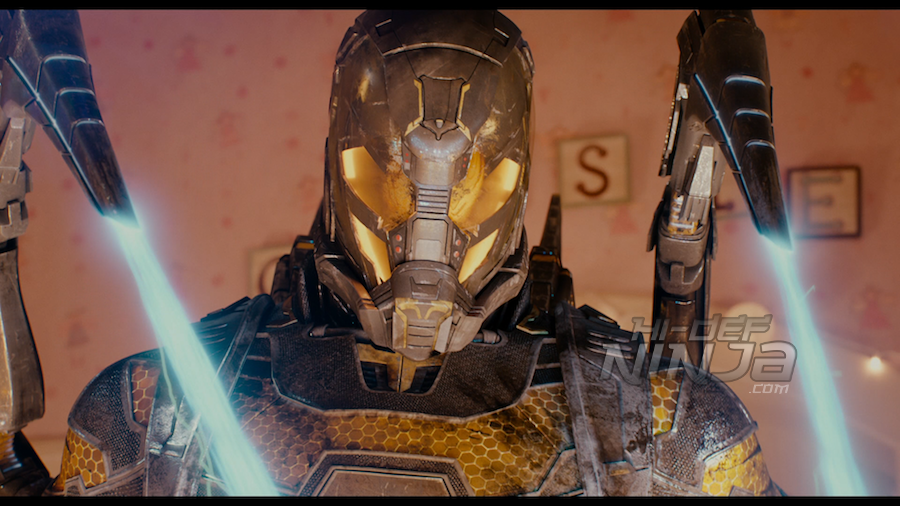 The only audio track on the release is a DTS-HD MA 7.1 mix that is up to par with the video.  The sound effects in the film do not use any one direction more than another.  The 7.1 surround creates a sound space that encapsulates you as the viewer in the world, especially when Ant-Man is small.  In his world, the sounds are both heavy and distant but you can still hear Scott breathing in his suit.  Along with the crisp high are the robust LFEs.  The part in the movie that makes the house shake is when Scott first shrinks and ends up on the floor where the kids are having a party.  I imagine with this mix, satellite speakers with little bass won't push as much as having 7 large speakers and a nice sub.  This is a wonderful track and possibly one of the best in Marvel's library.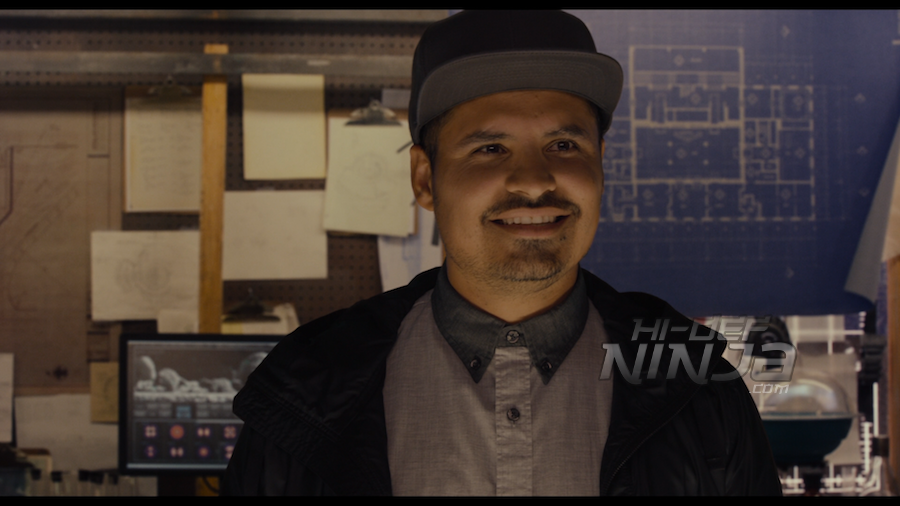 Supplements
this is a pretty good set of extras. Definitely worth checking out.
Bonus Features:
-Making of an Ant-Sized Heist: A How-To Guide: This featurette is great.  It basically covers the whole spectrum that a behind the scenes extra should go through.
-Let's Go to the Macroverse: This featurette explores the visual magic that the crew used to create the world that Ant-Man experiences when he is small.
-WHIH News Front: These clips are from the world of the movie and presented as news stories.
-Gag Reel: It's a funny gag reel.
-Audio Commentary with Director Peyton Reed and Actor Paul Rudd
-Sneak Peeks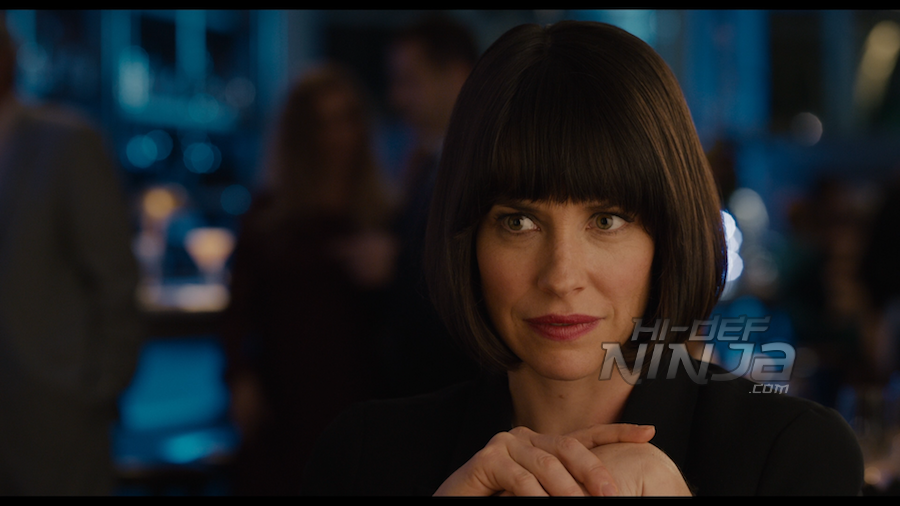 Disc Details
2-disc Blu-ray set w/2D and 3D discs
Digital Copy
Running Time
117 mins
Edition Ratings
PG-13
Region Coding
Region Free
Video Resolution
1080p AVC/MVC MPEG-4
Aspect ratio: 1.85:1
Audio Mixes
English DTS-HD Master Audio 7.1
Subtitles
English SDH
French
Spanish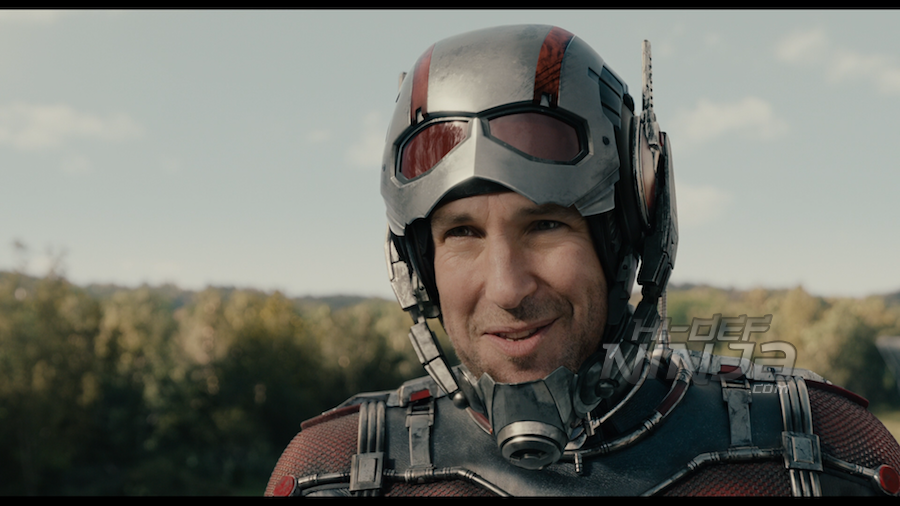 I loved this movie.  It is a fun time with great acting, cool visual effects, editing, and story.  Like GUARDIANS, it is exactly what Marvel needs to do every once in a while to ride that line between serious and light.  As for the Blu-ray, both the audio and video are superb.   It has a decent set of features on it to round it out nicely.  I don't usually comment on the artwork with a release but I like that Disney went with the black case pack inside a nice slipcover.  I highly recommend renting this if you like but I don't think you'll be disappointed with just going out and buying this.
Order your copy of ANT-MAN in 3D from Amazon