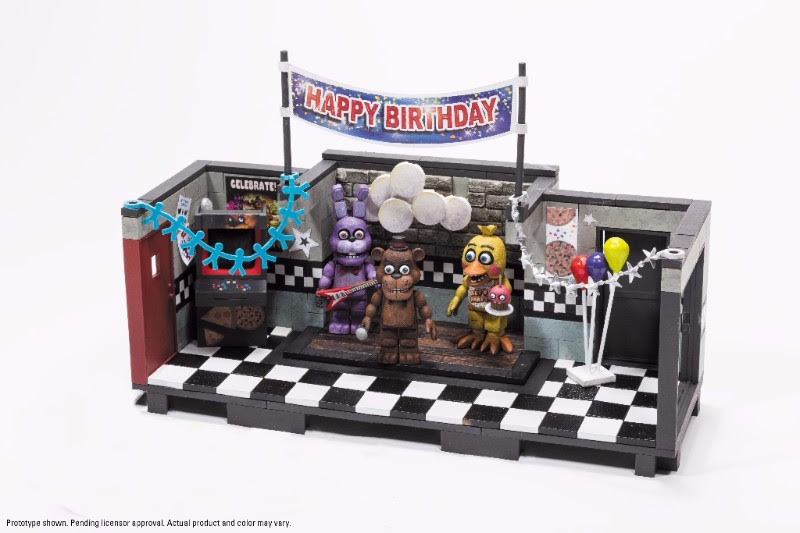 Tempe, AZ – February 9, 2016 – Comic book icon and toy creator Todd McFarlane announced today that McFarlane Toys has teamed with video game maker Scott Cawthon to produce a line of highly collectible construction sets based on his runaway success, Five Night's at Freddy's.  The series has become a verified cultural phenomenon over the last two years allowing Cawthorn to release three sequels. It's been reported that there are over 2000 daily installs of the mobile game. In part, a large part of the game's success was due to influential YouTube stars recording their terrified reactions while playing the game.  With all four Five Nights at Freddy's games in the series firmly nestled into the Top 100 paid app lists on mobile devices, the franchise has thus proven its longevity and consumer appeal.
The first wave of McFarlane's upcoming Five Nights at Freddy's construction sets will depict intricately detailed buildable scenes at various price points. One of the first Construction Sets from McFarlane Toys will allow fans to build the iconic "Freddy Fazbear's Pizza" restaurant featured in the first game.  The game's main characters — Freddy, Bonnie, Chica and Foxy — will all appear as buildable and collectible mini-figures that straddle the line between adorable and absolutely horrifying.
"We've struck the perfect balance," said Todd McFarlane, Owner and CEO of McFarlane Toys. "The mini figures for the Five Nights [at Freddy's] sets are equal parts cute and creepy."  The Five Nights at Freddy's construction sets will be available at major retail locations beginning Summer 2016.  Fans of both McFarlane Toys and Five Nights at Freddy's can check www.mcfarlane.com and the McFarlane Toys social media channels for updates and news.  The McFarlane Toys deal was brokered by Striker Entertainment, the licensing agency for Scottgames.
McFarlane Toys will display Five Nights at Freddy's at International New York Toy Fair 2016 booth 1041.  Showroom is by appointment only.
As a building set collector, I am looking forward to seeing these in person at the upcoming Toy Fair. Having seen what they have done for THE WALKING DEAD and GAME OF THRONES, expect some very detailed, unique sets!
ABOUT FIVE NIGHTS AT FREDDY'S
Five Nights at Freddy's puts the player in the shoes of the new night watchmen of Freddy Fazbear's Pizza.  Freddy, Bonnie, Chica and Foxy, the restaurant's animatronic attractions, are a delight to children during operating hours, but when the lights go out, the terror begins.  The world of Five Nights at Freddy's is rich and mysterious, and the fan base is hungry to discover all of its hidden secrets.  The series spans four games, with a fifth on the horizon, as well as a recently released prose novel.
ABOUT MCFARLANE TOYS:
Grammy-and Emmy-winning producer/director Todd McFarlane, creator of Spawn, is the creative force behind McFarlane Toys, one of America's top action figure manufacturers. McFarlane Toys has become an industry leader, redefining the standards within the action figure market. For complete information on this pop-culture powerhouse, visit the McFarlane Toys website or their Facebook, Twitter, and Instagram pages.