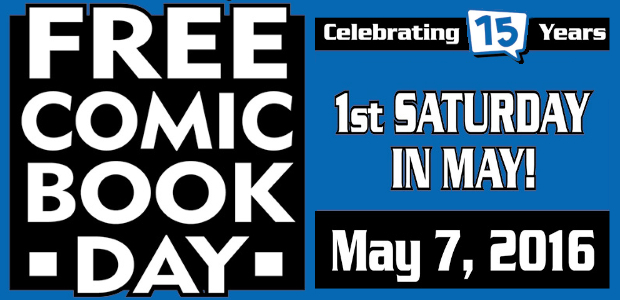 Free Comic Book Day celebrates its 15th Anniversary this year (wow, 15 years already) as it returns on May 7th, 2016. Marvel, DC, Image, Dark Horse and many more publishers are contributing this year; plenty of variety being made available.
The Gold Books this year include many anticipated comic series such as Civil War II, Suicide Squad, Rom, and the new Archie by the creative team of Mark Waid and Fiona Staples. The full gallery of what will be available is below:
FCBD 2016 GOLD BOOKS
It's definitely a good showing this year as far as the Gold Books go, but if those don't interest you, the Silver Books will be offering a whopping 38 titles to choose from, as seen below:
FCBD 2016 SILVER BOOKS
That's a lot of free comics. If you want to read full description for each book plus view previews for some of them, visit the FCBD Comics page. You can also check out the Store Locator to see which shops in your area will be participating in Free Comic Book Day this year.
So, what will you be picking up on the first Saturday of May this year?