If you aren't familiar with Funko, they are the makers of the most amazing vinyl collectibles and toys out there.  Arguably, their most popular line are the POP! figures with licenses including comic book publishers like Marvel and DC Comics, movie franchises like The STAR WARS Saga and THE BREAKFAST CLUB, and even game franchises like BIOSHOCK INFINITE and the FALLOUT series.  I had a chance to speak with Funko's Marketing Manager, Yoko McCann, and here's what she had to say.
Michael – Did you guys enjoy Toy Fair 2016 in New York this year?
Yoko – It was amazing.  It's a fun opportunity to show off some of our new products and lines that we are working on and hear the feedback directly in person.
Michael – How are the product lines chosen?  Do you begin in house and expand outwards by building the prototype first or do the companies with the licenses approach you?
Yoko – When we started out, it used to be us pursuing them all, but these days with the figures' popularity, we are being asked to create characters and use new brands.  There is a lot of 2-way communication there to figure out what fits and works well for both of us.
Michael – That's cool; I'm glad that you guys are in the position where you are being chased.
Yoko – Unfortunately, we do have to turn some down and we still get turned down by some key licenses we'd love to have, too, but on the most part, people seem open and willing.
Michael – I know that you guys work with DC Comics and Marvel, but have you considered doing any other comic book publisher's figures like Valiant or Image?
Yoko – Yeah, I don't know the scope of the conversations, but it is something they've looked into and are considering.  I don't know how far down the chain those communications are and we love being able to do some of those niche things, too.  My boss is a big Saga fan, so he's always pushing for us to explore that, so we'll see.
Michael – Since you've been coming to NYCC, have you considered having a Funko Fun Day here on the east coast?
Yoko – We absolutely get a lot of requests for that.  There is so much that goes into the event and I don't think people realize.  I don't know how quickly we could do something of that scale in other locations because we put so much into it that I think it might take away from the one in terms of the resources.  We would love to put something together on a smaller scale so we will see.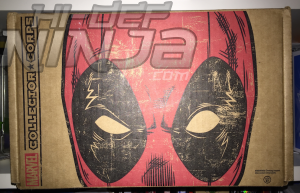 Michael – Are there plans for any other collectors boxes aside from STAR WARS, DC Comics and Marvel?
Yoko – Yes,  but I can't tell you what they are.  There is at least one if not two more coming this year.
Michael – Any idea when the new GAME OF THRONES figures are releasing this year?
Yoko – There are some exclusives coming and Barnes & Noble for sure is getting something very soon.  We are starting to see the samples trickle in and marks that, in about a month, they will hit stores.
Michael – Are there any products in the works for this year that were not at Toy Fair?
Yoko – Yes, there will definitely be more surprises throughout the year.
I want to thank Yoko and Funko for speaking with me about their upcoming products.  I'm going to speculate on the new subscription box being a Disney, but we will see when they make the announcement.
Photos by Michael Madison and Michael Leventhal