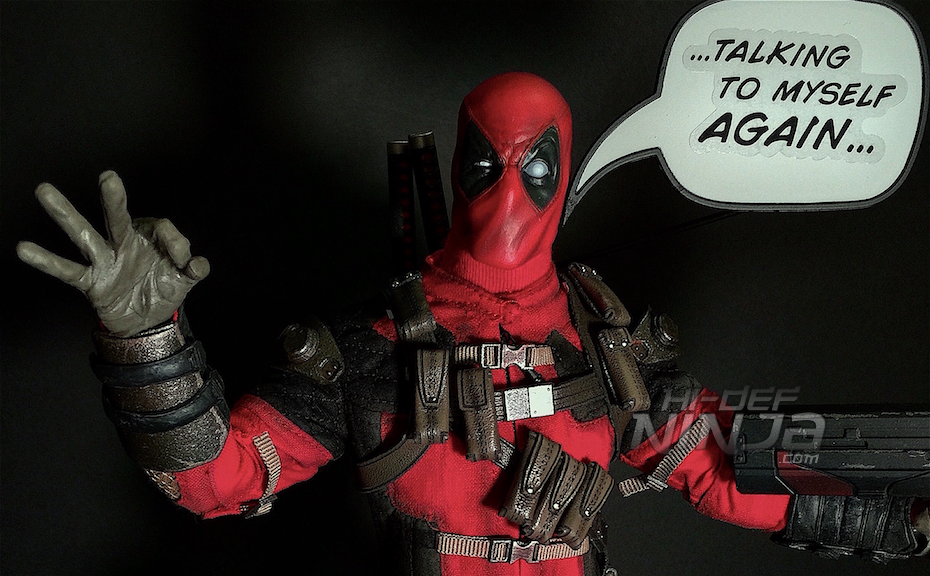 This time around I'm taking a look at Sideshow Collectibles' version of the Marvel Comics' character Deadpool.  This is the 1/6 scale Sideshow Exclusive version that was only available on their site and comes with an awesome extra head for those who were lucky enough to order it early.  So let's dive right in!
Packaging
A lot of toy and collectible companies are realizing that there are collectors out there that don't only care about what's in the box but also what the box looks like.  In this case, the Deadpool box does not only have very cool cover art but also an awesome insert that covers the figure.  The outside artwork is a stylized sketch art that looks excellent and the inside cover is a target with the Deadpool logo as the bulls eye.  Another thing to note is that Sideshow packed this figure in foam so it is well protected in shipping or for the collectors that keep figures in the box without displaying them.
Outfit
Deadpool is a part of the Sideshow's Marvel line where the characters have a more realistic and gritty look than just a spandex costume.  The other available characters are Wolverine and The Punisher (both due out later this year).
He comes with two heads: one that is expressionless and one with a raised brow.  Having the ability to change the entire feel of the figure with one head or the other is a good move from Sideshow.
Unlike the comic book or movie versions of the character, this figure has a practical military look.  The suit itself looks weathered and dirty, just like Wade would wear it.  The suit is a mix of smooth and brushed materials that makes the black portions look a little like suede and most of the red portions feel like Kevlar.
Let's not forget the pouches….lots and lots of pouches.  This is sort of homage to Rob Liefeld who created the character and loads them all with huge guns & pouches.  The pouches are removable so if you want to use less or even none at all, there is always that option.
He has metal-like knee, elbow, and shoulder guards with heavy studs that look tough as nails.  Included are 10 hands for pretty much every kind of gesture you can come up with.  He has a pair of fists, a pair of hands to hold his swords, a pair to hold his pistols, 1 peace sign, 1 thumbs-up, 1 A-OK, and 1 to hold a grenade.  The backs of each hands match the rest of the armor on his body with that worn metallic look.  He has tall tactical boots with aggressive treads and flexible ankles. This takes us into the accessories.
Accessories

The included accessories are definitely one part where Sideshow did not skimp. Now understand, these names are exactly how they appear on Sideshow's site.  Included are 2 Bitchin' Pistols with the Deadpool emblem, 2 metal katana swords(Long Stabby Things), 1  Whoop Ass-ault Rifle, 1 knife (Short Stabby Thing), and 2 Big Boomin' Balls(grenades).  The sword and the knife all have their own sheathes so that he can wear them.  He also has his side holsters for the pistols, grenades, and his knife.
Also included is a stand for posing him planted on the ground or a slightly aerial.  There are plugs built in the top of the stand for the word & thought bubbles that he comes with. They are reusable stickers of thoughts, word bubbles, and Deadpool Emojis.  Now,  one thing that Sideshow warns you is to not press the stickers on too hard to the bubbles or they might be very hard to peel back off.  This tip is very true.  You can see how easy it could be to permanently stick them on or damage the sticker when removing it.
The Sideshow Exclusive accessory is called Headpool.  He is a sort of zombie head from the comics that would take a whole other article to really get into it.  Like the word bubbles, Headpool also has a metal piece to connect him to the stand to make it look like he his flying by his propeller on his head.  It really is a great little wink to the die-hards because Headpool is a little obscure to the average person.
The pistols are very, very cool.  The slides are plastic and they move over a metal rod to be in at rest or in a firing motion.  Deadpool's signature logo is on the grips and the magazines are removable if you want to pose him locking the mags into place.  The assault rifle is one solid piece with a removable scope.  The rifle has a weathered look and with a red accent on the stock.  It has a huge suppressor on the end that is fixed.  The swords are high quality metal and match perfectly with the red handle wrapped in black.  The sheathes can be clipped on to the straps behind his back vertically or crossed. I will say that crossing the sheathes don't always stay in place but it also depends on the pose you put him into.
Articulation
We all know that Deadpool finds himself in bad situations and usually on purpose.  So with this figure, Sideshow made sure to make him extremely flexible but not flimsy.  The arms and shoulders have a ratcheting action so if you pose him to say grab his sword from over his shoulder, his arm will stay in place unlike some figures, which would easily move out of position.  It also makes the arms move further than most figures out there but still looks natural.
Wade's head is on a different type of neck connector that I have never seen before (see above).  The head sits on a flat "plug" that works well but when the head is in certain positions, it doesn't stay like the "ball" connectors.  When tilting the neck to one side or the other, it will unseat and come off slightly.  A better way would be to make the head or neck magnetic to make it say in position.  Granted, it could be a fluke and my figure has a random problem but it is not enough for me to tell folks not to get him.
Bottom Line
Overall, this figure is awesome.  Sideshow included so many weapons, pouches, the bubbles, hands and the additional face for a lot of posing possibilities.  Plus, with the Exclusive version, you get the great addition of Headpool. He looks different enough that if you're a Deadpool junkie and want the Hot Toys version as well, it won't be like owning two identical figures.  Sideshow's Deadpool is a great start to this line and I can't wait to see the Wolvie and Punisher figures next.
Questions? Comments?  Leave them below!
Order your Marvel Deadpool 1/6 Scale Figure from Sideshow Collectibles