The British tabloids named him Eddie the Eagle, making him an instant celebrity loved by the crowd, but hated by the Olympic bureaucrats. They placed a law after Calgary so as to make sure no one else qualified as he did – by becoming the best from a Country that never competed in ski jumping for decades. Edwards went back to Britain as a national hero.
EDDIE THE EAGLE is the feel good movie of the year. Taron Egerton of KINGSMAN fame shows his versatile acting skill set in this flick and when compared to the real life Eddie Edwards, it's crazily spot-on. Hugh Jackman co-stars and proves once more that he doesn't have to have claws to have a popular acting role. This movie is a bit under the radar, but much like even REAL STEEL; it's definitely a film you don't want to miss!
Included in the package is the 4K Blu-ray Disc, Blu-ray, and Digital HD Copy.
"I Take Jumping Very Seriously, Nearly As Much As Proving People Wrong"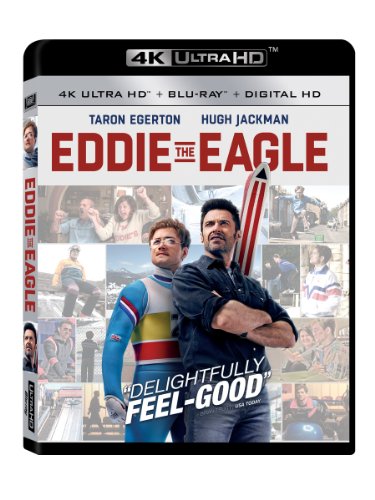 EDDIE THE EAGLE graces us in 4K Ultra HD Blu-ray and the picture quality doesn't disappoint! Dark blacks and vibrant rich colors make for one amazing visual experience. The stark wintry slopes make for a great view of this new technology. Even the more rugged scenes such as the bar scene give off a visual grit that makes you feel immersed in the scenes as well. EDDIE THE EAGLE truly soars in this category as well.
The Blu-ray Disc comes with an amazing 7.1 DTS HD Master Audio Mix. The 4K Ultra-HD Blu-ray Disc however does also include Dolby Atmos. So either way you slick it, this release comes with a stellar mix. The Hugh Jackman lift scene definitely rocks the boat in the audio department. Overall the score is front heavy, but I heard nothing at all wrong with this release. It accomplishes its mission in every part of the audio department.
Extras Include:
• Let The Games Begin: Soaring with Eddie the Eagle Documentary? All or Nothing: The Hero's Heart
• An Unlikely Friendship: Eddie & Peary
• Attitude is Altitude: Filming the Ski Jumps
• Still Gallery
EDDIE THE EAGLE is an underrated gem that definitely deserves a watch, and is the type of film that's worth owning as you'll show family members and revisit over the years as well. It's got a slight bit of NAPOLEON DYNAMITE on skis essence to it. Great true story, albeit with about 50% fictionalization. Eddie's words himself.