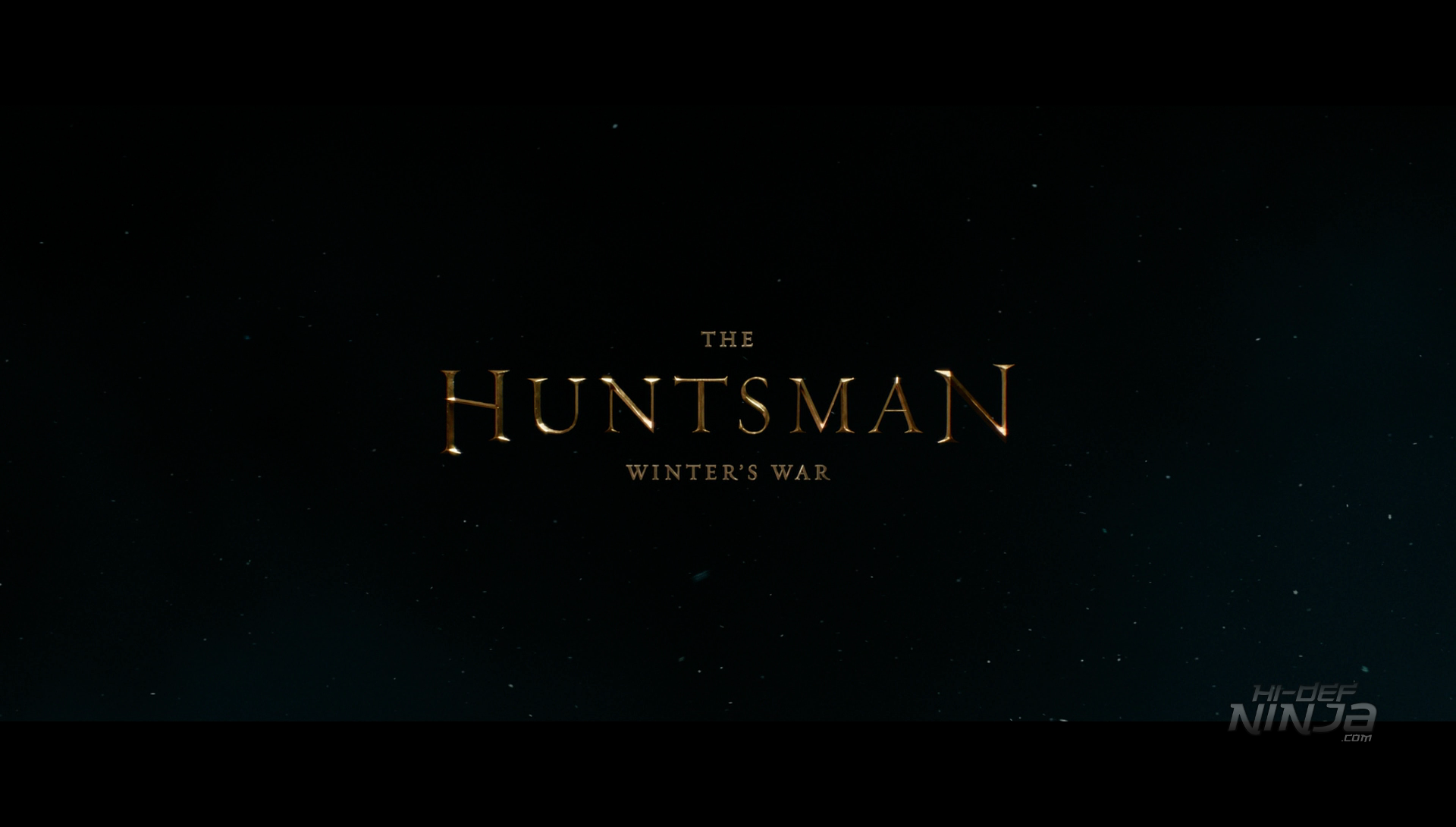 HUNTSMAN: WINTER'S WAR features great video and supplements, but is its entirely forgettable story worth the price?
Review by Matt Cummings
One of the biggest non-AVENGERS surprises of 2012 was SNOW WHITE AND THE HUNTSMAN, a deftly managed fantasy flick with perhaps the most polarizing female in film (Kristen Stewart) alongside a very capable cohort in Chris Hemsworth. It went on to amass over $360m worldwide and made me not want to vomit at seeing Stewart. Fast forward to 2016 and a follow-up sans Stewart seemed ready to move this into legitimate franchise territory.  But while HUNTSMAN: WINTER'S WAR is nicely shot, it's only passable popcorn entertainment, entirely forgettable, and even blandly predictable. Its arrival onto home video is sure to resurrect the diminished role which sequels have played in perhaps the worst Summer movie season in recent memory.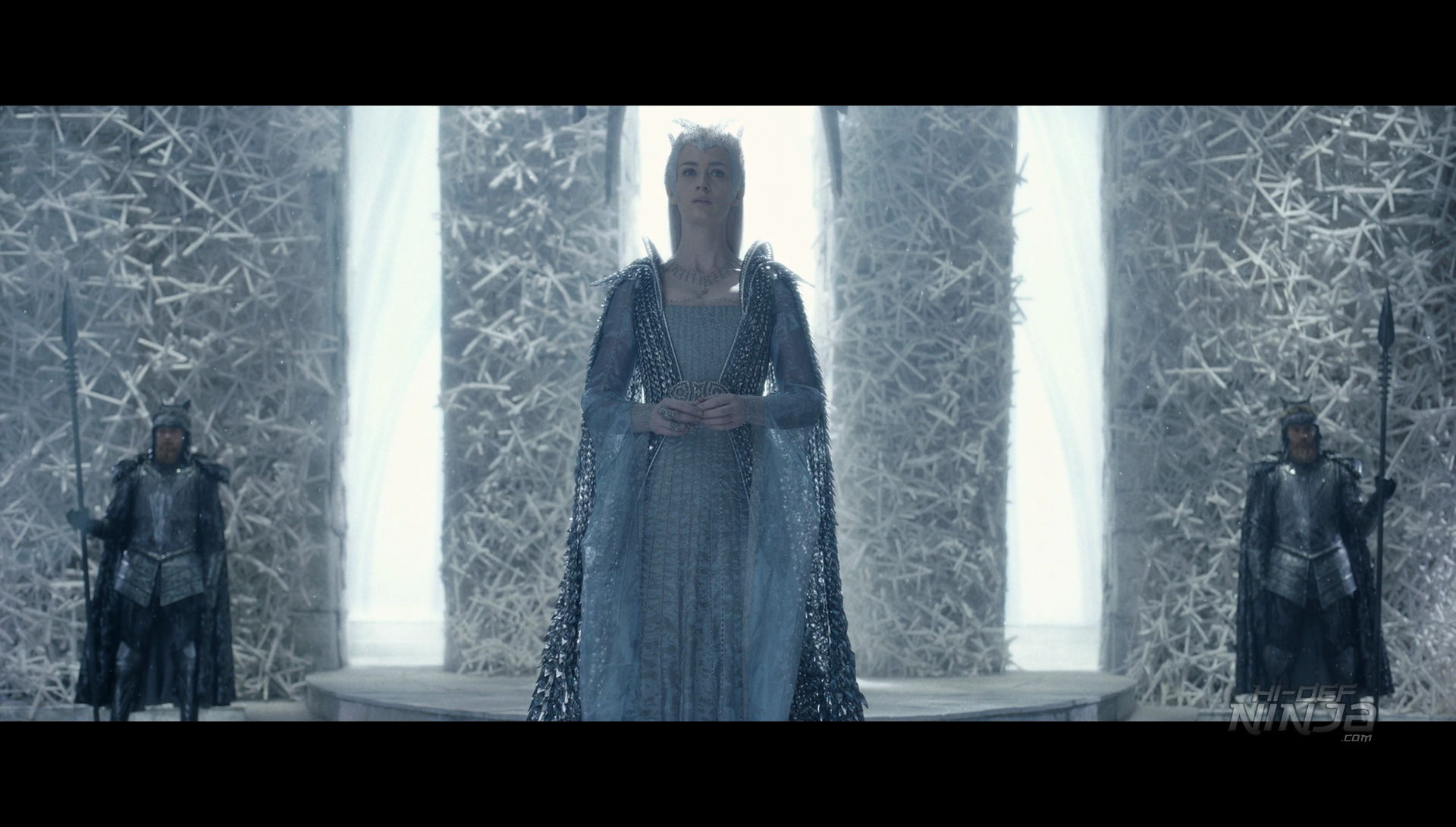 Long before Snow White (Stewart) arrived to revive her fallen kingdom, there was the evil queen Ravenna (Charlize Theron) and her tender sister Freya (Emily Blunt), who herself possesses magic powers that have yet to emerge.  But when newborn baby is murdered by her deadbeat husband, Freya turns into The Ice Queen along with her heart.  As Ravenna's plan to become the penultimate Black Widow on unsuspecting kings, Freya sets up a kingdom for herself, using kidnapped children as soldiers to defend it.  Two of them – Eric (Hemsworth) and Sara (Jessica Chastain) – become her finest but have been banned from loving each other.  When Freya discovers their attempts to carry on their relationship in secret, Freya orders Sara's death, touching off Eric's dark journey which is covered in the first film.  After Ravenna is defeated, Eric is visited by Snow White's husband William (Sam Claflin), who worries that the influence of Ravenna's golden mirror has turned White insane.  When it disappears en route to its destruction, Eric is recruited to find it with an odd assortment of familiar dwarfs including Nion (Nick Frost) and his brother Gryff (Rob Brydon).  But as an attack to return the mirror is planned, Eric learns of a diabolical cover-up that will shake his world to its foundation, while Freya moves to secure the mirror and its unlimited power.
From the beginning of HUNTSMAN: WINTER'S WAR, one will notice the terrible cracks which will eventually overwhelm what should have been a guaranteed winner.  This is not a sequel that addresses Snow White's ongoing adventures, but a pre/sequel that bolts together elements of LORD OF THE RINGS, SEVENTH SON, and HANSEL & GRETEL: WITCH HUNTERS, while expecting us to forget its central character.  There's an infinitely better script out there that sees White struggle against the power of the mirror, while Eric returns to lead a crack team of Huntsmen to secure its destruction.  That scenario would have at least provided more emotion than anything we  been more emotionally involving than what we gotget here.  And to be truthful, a recasting of White was not only preferable but essential to this series' future.  Instead, we can see how all the pieces will play out: after learning of each other's existence, Eric and Sara will patch things up, Ravenna will fail (again), and that love will triumph because bad is somehow dumb and ill-prepared.  Due to its nature, this logic will play out badly, unlike the way it did in DEADPOOL, where stupidity was part of the shtick.
From my railing it might appear HUNTSMAN is no better than the gut-churning failure that is ALLIEGANT or NORM OF THE NORTH.  Not hardly, but it finds itself in some kind of film purgatory that's destined to be remembered more for what it could have achieved than its final result.  That sort of bland predictability haunts HUNTSMAN: WINTER'S WAR by following a nearly robotic gameplan: add a plot point, then a serious moment with serious music, followed by a slow-motion sequence with a long shot of our heroes, and follow it up with a joke or two before moving into an action sequence. This repeats throughout, with Hemsworth taking center stage but never endearing himself to audience over his ripped physique.  More important, Universal seemed impotent to see a sequel beyond Stewart, whose extra-marital affairs wrote her out of one of the only appealing female-centric stories in recent memory, replacing her with a male-centric character that doesn't do much here. WINTER'S WAR feels quite disconnected from the original – and that of the Snow White lore – especially when the character is only mentioned in passing and we see what's obviously a stand-in for Stewart.
WINTER'S WAR features so few memorable scenes, with the original sporting the best version of the Enchanted Forest I've seen, a truly magical (no pun) scene as White meets the great White Hart stag.  Instead, WINTER'S WAR makes an almost Herculean effort to cast some of the brightest female stars in the business, and then provide most of them with the least amount of dialogue and characterization possible.  It's no joke that Blunt, Chastain, and Theron could have (and should have) run this film, but Director Cedric Nicolas-Troyan and Writers Evan Spiliotopoulos and Craig Mazin's efforts suggest their knowledge of Snow White was limited to the previous film.  When Blunt and Theron appear together, you can feel the chemistry of two sisters who distrust and come to despise one another, but it never evolves beyond that quiet smoldering. Their throwdown at film's end feels neither epic nor personal, like two actresses acting on yet another soundstage with little idea of how to imbue their characters with a dose of humanity. If anyone emerges here the best, it's Chastain: she chews on a decent Scottish accent, besting Hemsworth both in terms of substance and style.  And yet that big the big reveal here is so poorly handled that all Chastain can do is look at Theron without saying a word before disappearing back into the castle.
WINTER'S WAR does keep us entertained with some great CGI, the costumes are impeccably assembled, and the music by James Newton-Howard is big and should play well on most home systems. But there's never a sense of urgency or grandeur here, little to worry about Ravenna or Freya's motives, and certainly a reveal that merely sits there. WINTER'S WAR feels like Universal purposely left out Stewart, thinking that a well-cast shell game over there wouldn't expose its core problem over here.  A recast and subsequent script re-write would have produced better results, and you'll see why no matter the version you choose here.

While HUNTSMAN: WINTER'S WAR is a flat film, Universal's transfer is a gorgeous and supple film.  The MPEG-4/AVC transfer is sharp and impressive while retaining both depth and realism that other lesser studios would have simply ignored when they slapped their digital print onto the BD.  Details remain highly accurate from armor to simple garb, with wrinkles and wear easily apparent.  The gowns of Ravenna and Freya look impressive and regal, while human features shine throughout.  Strands of hair, skin pores, and Hemsworth's continual 5:00 shadow remind us that Universal owns the transfer game on new releases, treating each one with equal respect, even if the film itself failed to impress theater-goers.
4K Ultra HD Blu-ray Video Quality: Coming in at even higher clarity, and crystal clear scenery is that of the 4k transfer. If you have the set up that supports Ultra HD Blu-ray then its highly recommended to pick up this version. Best Buy even has an exclusive SteelBook version including the 4k disc. The 4k transfer is crisp, the colors are much brighter and darker showing you many more pixels that are noticeable. Many times you are captivated by this and thus it helps the immersion and ambiance of the film right in your living room, man-cave, den, heck wherever your viewing it! *tongue in cheek*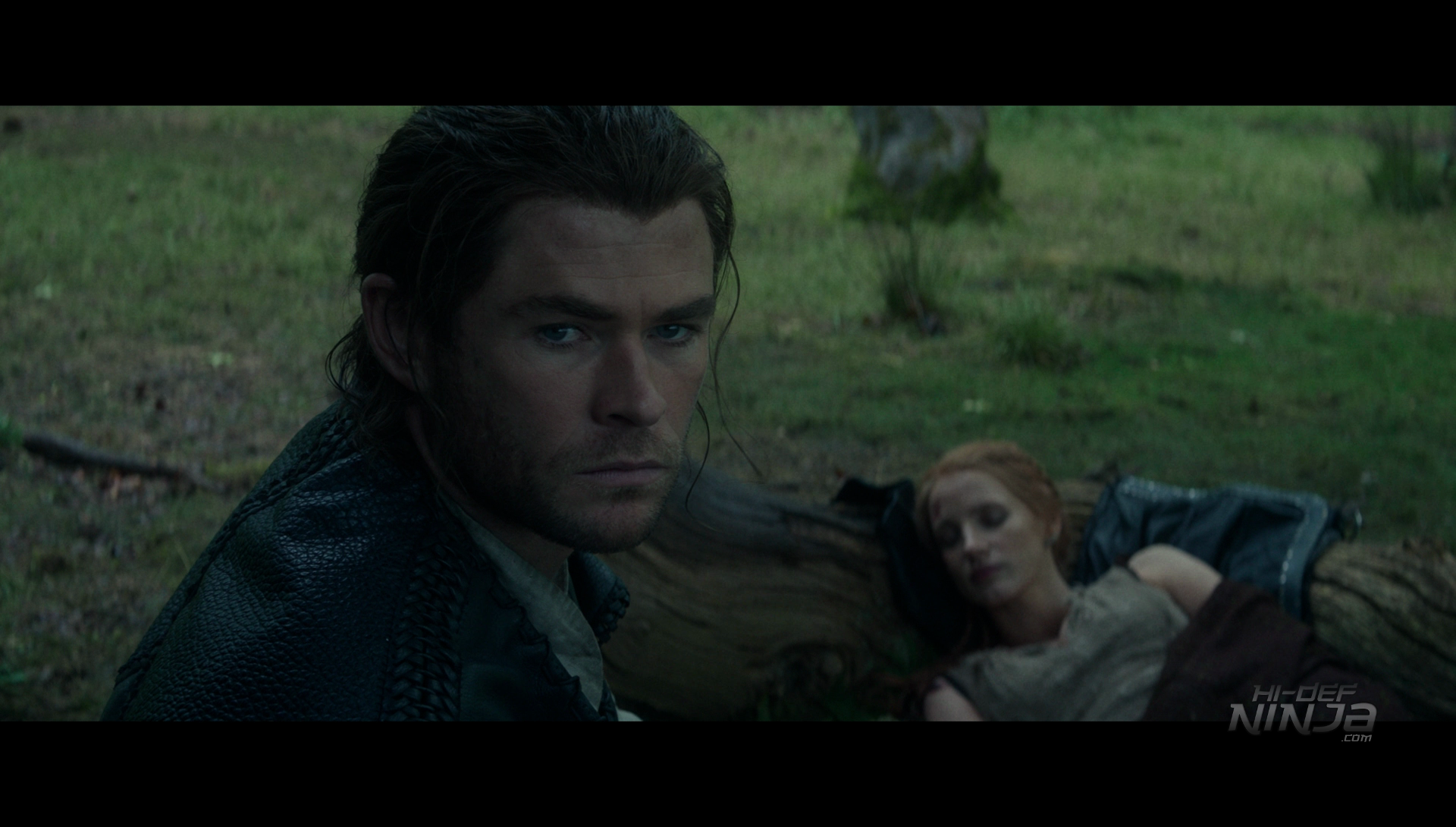 Universal's HUNTSMAN: WINTER'S WAR storms onto Blu-ray with an impressive DTS:X soundtrack. My receiver doesn't offer DTS:X sound, but my Master Audio light kicked on to signal the high-def audio and my Blu-ray player showed the same.  Under normal circumstances, DTS:X would offer more of a 7.1.4 experience, but here the audio should get compressed into the 5 remaining speakers.  However, this isn't the case, and it manifests itself throughout the track.  Let's begin with the dialogue, which is actually – and inexplicably – muted somewhat, starting from Narrator Liam Neeson's monologue.  The audio gets much louder when you switch to the 2-channel environment, but then there's definitely deterioration in the depth of the sound.  The real problem here is exposed when sampling the surrounds, which are mostly flat and feature very little environmentals.  Only occasionally does a zing of an arrow or the twhip of a stick echos in the rears.  Even the LFE delivers moderate oomph in battle scenes but not an overwhelming experience as is usually common from Universal releases.  I've read that those with the proper setup observe a far more impressive experience.  However, since few own such an expensive kit, I am compelled to award this such a low score.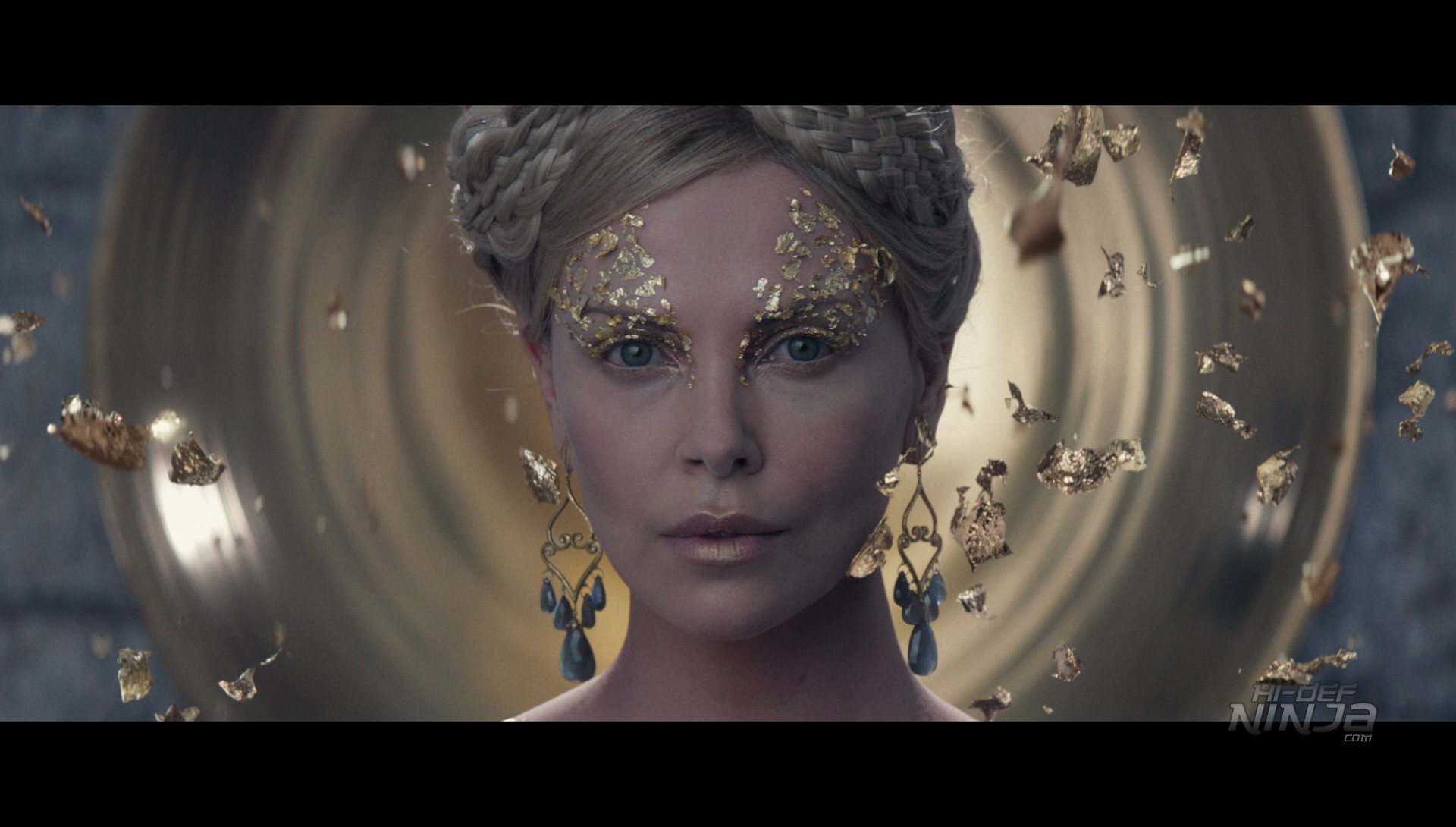 HUNTSMAN: WINTER'S WAR contains a variety of interesting supplements, all of which are offered in HD.  As mentioned previously, we are also granted with two cuts (1:53:57 and 2:00:10) cuts of the film:
Audio Commentary by Director Cedric Nicolas-Troyan: The director provides us with a well-paced and informative commentary, touching on most every aspect of production.  For those of us who appreciate such details – which include casting, the challenges of shooting in certain locations, the very good special effects, etc – the track is almost worth the price of purchase.
Deleted Scenes: Freya Says Goodbye to Ravenna (0:50), Young Eric and Sara Fight (2:20), Eric Finds Passage to Hidden Forest (3:18), and Freya Beats Ravenna in Chess (2:26).  There is optional commentary available by Director Nicolas-Troyan.
Gag Reel (9:43): There's several funny moments captured for our amusement, and you'll find yourself giggling along with them.
Winter's Vistas – The Making of HUNTSMAN: WINTER'S WAR: A well-crafted piece that includes several subsections. Things begin with Two Queens and Two Warriors (7:22), which looks at this first-time director working with an all-star cast.  Meet the Dwarfs (8:10) takes a closer look at the dwarf characters.  Magic All Around (8:44) breaks down the film's very good effects.  Dressed to Kill (6:03) takes us into the costumes with Costume Designer Colleen Atwood.  Love Conquers All (5:58) completes the supplement with the cast discussing Nicolas-Troyan's style and how the cast formed a close bond during shooting.
Trailers: NEIGHBORS 2, THE FREE STATE OF JONES, APRIL AND THE EXTRAORDINARY WORLD, MOTHER'S DAY, UNIVERSAL'S THE WIZARDING WORLD OF HARRY POTTER
Our evaluation copy arrived as a Blu-ray/DVD Combo.  A  voucher for a UV/iTunes digital copy is also included. The slipcase is attractive, but the announcement of "The Story Before Snow White" is emblazoned here as if to clear up customer's worry about where this story takes place.  Best Buy also offered a steelbook of this release, which contains all of the extras we've listed here.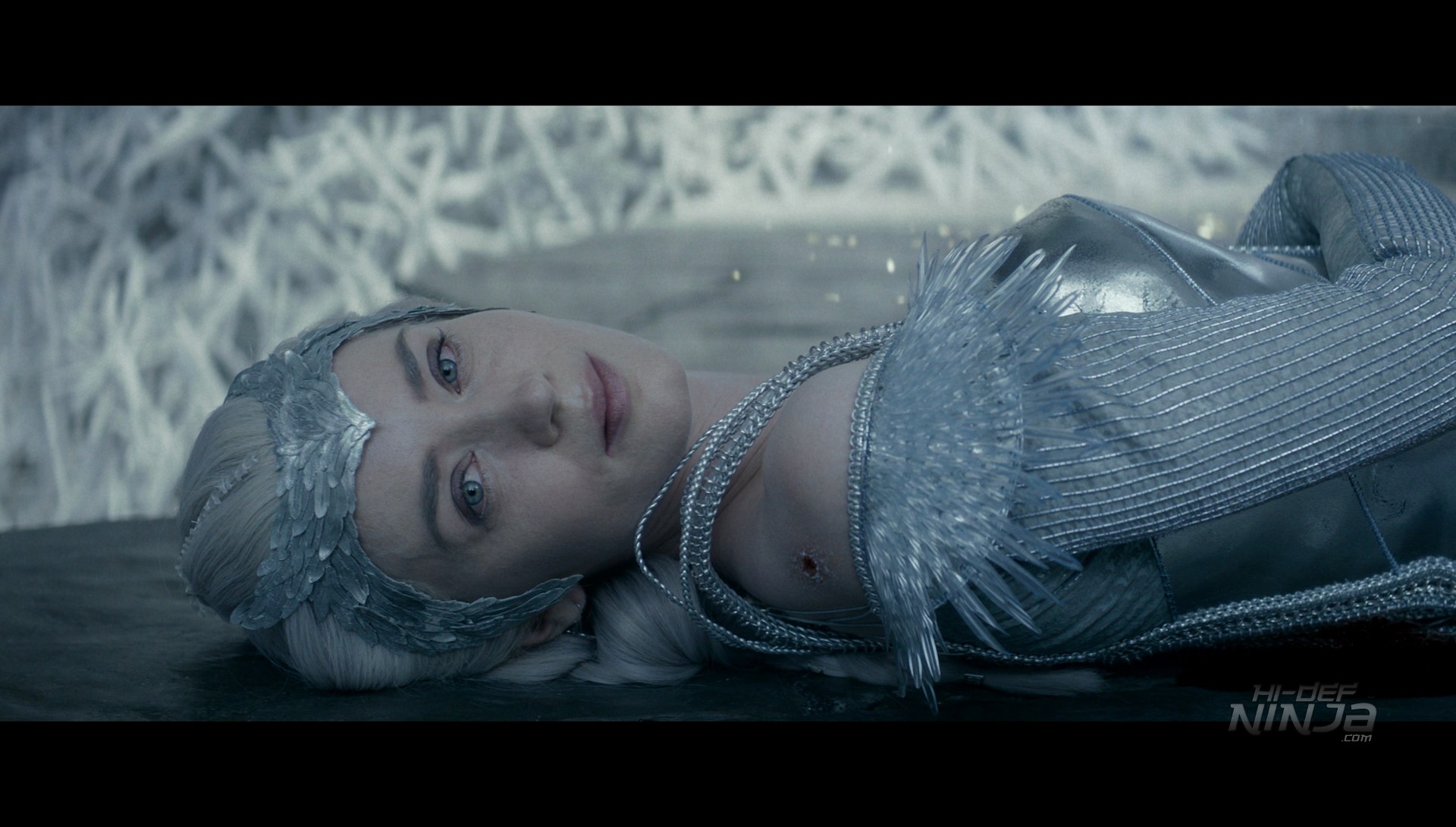 Universal's release of HUNTSMAN: WINTER'S WAR feels a lot like the film itself: an uneven affair that feels a lot like the swords-and-sandals epics we've been forced to consume lately.  With too much talent and not enough story the distinct thud you're hearing is that of a genre that's suffering from fatigue. The home release suffers from poor audio if you don't own a DTS:X setup, but the video and supplements do their best to make up for it.  With Stewart's whereabouts touching off an unneeded conversation rather than a meaningful discourse about the film itself, look for this one to fade quickly only to re-appear in the local bargain bin.  At that point it might be worth investing, but for now I'd say seek a rental and enjoy what supplements appear there.
THE HUNTSMAN: WINTER'S WAR is rated PG-13 for fantasy action violence and some sensuality and has a runtime of 114 minutes (theatrical) and 120 minutes (extended).
Discuss this review with fellow HDN fans on Facebook. On Twitter, follow us at @HiDefNinja, and follow author Matt Cummings at @mfc90125.