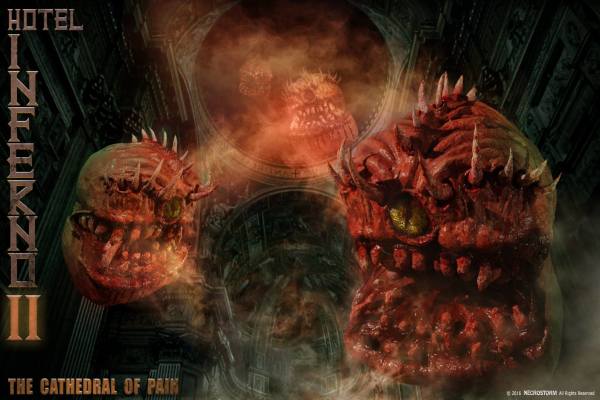 The original HOTEL INFERNO came out in 2013. It utilised the P.O.V. method of filming, with the audience seeing the action through the protagonist's eyes. The same method was used in the recent action movie HARDCORE HENRY, but that was nowhere near as gory or inventive as HOTEL INFERNO.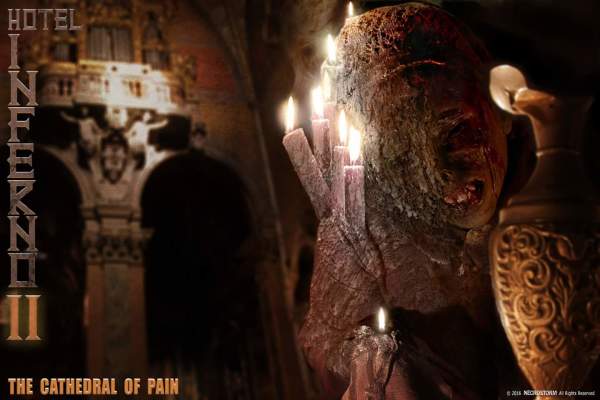 Now the guys at Necrostorm are back. They have started filming on a sequel called HOTEL INFERNO II: CATHEDRAL OF PAIN, but they don't want to just make it like the first movie. They want to create a colossal splatter movie, the likes of which has never been done before. They have set up a page where you can fund the movie for different perks, so for $9.99 you will get a credit, but if you give $299.99 to help fund the movie, you will get a screen-used demon head prop. The rewards vary. Although the best people to explain how it works would be the fine folks at Necrostorm themselves:
Here at Necrostorm, we're putting every shred of our financial and filmmaking efforts into making Hotel Inferno II the FIRST COLOSSAL-SCALE splatter film EVER. Over 8,000 blood-soaked practical effects. 1000 intricate animatronics. Eye-melting 4K resolution. Astonishing digital FX. Huge monsters. Gigantic sets. Hundreds of actors and a selection of action/gore scenes the likes of which you've NEVER seen before. This movie is intended to re-write the definition of the Splatter Film – finally bringing the genre to levels comparable to any other big-budget Hollywood movie. So far, the film is 50% in the can and our staff have already begun editing the first part. In fact, we also have 4 other Hotel Inferno sequels currently at pre-production stage.

.

But to make Hotel Inferno II the COLOSSAL film we all want to see, we need YOUR help. If you pre-order one of the available packages today, your faith in us will go directly into making one of the most mind-blowing splatter movies ever created – and, of course, you'll receive your purchase as soon as the movie is released (there is currently no set release date). More importantly, you'll play your part in writing a new page in cinema history: the day the splatter film 'levelled up' and took Hollywood head-on.

.

We do have the means and ability to finish the film, but without your help it simply won't be on the game-changing scale we sorely want to achieve. YOU will make all the difference… and help us create the first ever COLOSSAL SPLATTER!
To help fund this movie, just click on the following link:
http://www.necrostorm.com/movies/hotelinferno2/buy.html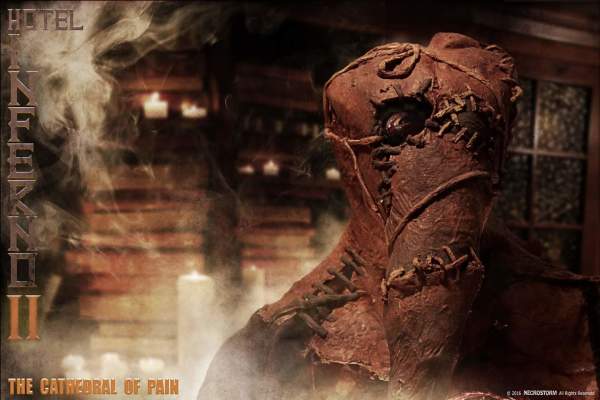 The kind of movies Necrostorm make hark back to the good old days of 80's VHS gore, when practical effects were king. Help this movie become a reality and let's keep independent movie alive.
– Jonathan McEvoy