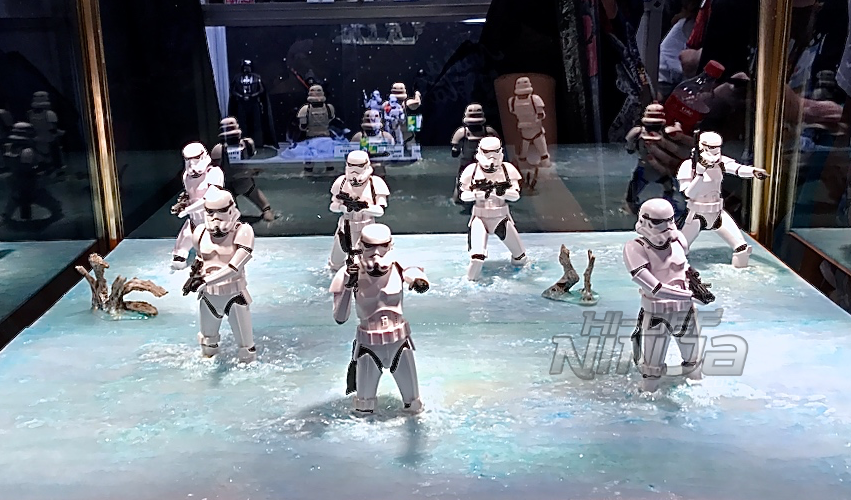 This year at NYCC, I was able to have a chat with Dan Lujan, Director of Media Operations at Kotobukiya USA.  We spoke about products and some of the process that the company goes through to bring the fans an amazing product.
————————
HDN- When it comes to comic book statues, you guy know how to capture the essence of the character.  How do you choose the design or characters that Kotobukiya creates?  Are there multiple versions?
Dan- Let's take, for example, the Marvel Avengers series.  We started off with the Marvel NOW look because it was probably the most current look in the comics at the time. We started the artFX+ line with the Marvel NOW and continued it with the X-men and they also had the Marvel NOW costumes.  After that, our plan was to go with a more classic look almost a hybrid between modern and classic.  That's where we went with Spider-Man.  I wouldn't say its technically a Marvel NOW look but just a more classic look for all the characters in that series…and the same can be said for DC.  We started with the New 52 and now that its over, we're going back to finish the ones that we started but we also want to start new lines with the classic costumes and…also begin work on what's current in the books.  
HDN- Do the companies give you a little bit of artistic freedom to sculpt or present the figures the way that you want?
Dan- Definitely.  Each licensor understands that some of our products, especially our Bishoujo products, a lot of it is based off of the artists' interpretation.  Bishoujo, being pretty girl or beautiful woman, allow us to take the costumes and maybe adjust the fitting so its more appropriate for a Bishoujo statue.  But there's always those quality checks in place because they want to make sure that their properties are being represented in the best way they can.  
So we design something and maybe the costume is not right or the coloring is not right or even if the pose is not right for the character, the licensor will tell us during the evaluation stage that we need to go back and change some things.  So there's always those check and balances in place but I feel that there is enough freedom for us to create the poses and sometimes even the look of the character that we want within the guidelines of each licensor.  
HDN- So there is a very good middle ground? 
Dan- I think so.  I mean, there have been times where maybe we weren't able to pursue a certain direction because the licensor felt it wasn't appropriate but more or less we were able to do what we need to do and still create the product that the customers want to buy.
HDN- I saw with the new Batman: THE ANIMATED SERIES figure, his expressions are swappable. Are there any other plans to do figures that are able to swap just expressions?  
Dan- The Batman is the first time we've gone and just focused on expressions.  I think some of that comes from what we've seen with some of the 1/6 scale manufacturers like Hot Toys, where their particular product has a swappable expression.  By doing that, we are able to create a whole different look for the character when you think about it from angry to surprised to even a silly look.  I think its really fun and it works with certain characters, especially with the animated Batman look.  I'm not sure if its something we'll do with the more realistic pieces.  I haven't seen anything in the schedule that would suggest that we will continue that with the other product lines.  Like you mentioned, we like the swappable parts but its generally like full faceplates, heads, arms or what have you but actually just focusing on the area of the mouth, so to speak.  With having the eyes and nose remain the same, this is the first for our company.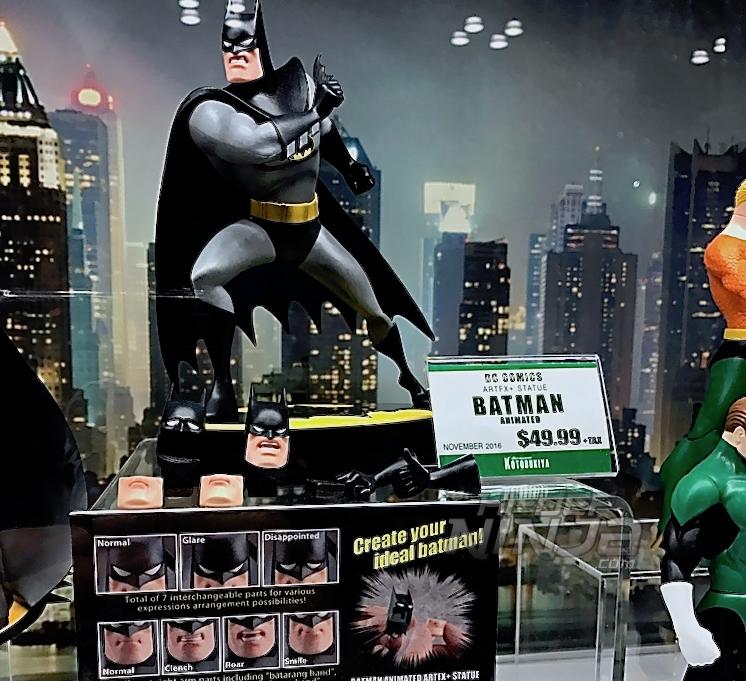 HDN- As far as the different lines you have like STAR WARS, DC, MARVEL and  a lot of the Asian properties, do you have a favorite line or character that you personally get excited about? 
Dan- Oh definitely.  I actually am lucky enough to be able to provide my input and work on some of the lines, in particular the Marvel lines. So i am able to select the characters and make those suggestions to the company for the Marvel Fine Arts statue line.  We got to show The Vision fully painted and Thanos. They're characters that I wanted to see added to the line.  Some of my favorite characters, of course, are Deadpool and Venom and we have been able to do those so its been really nice to see that happen.  Personally speaking, I'm a fan of Star Wars, Marvel and DC…actually, I'm a fan of all of the licenses that we have.  I'm a big fan of the horror lines too so its really exciting to see what's happening with the horror Bishoujo line and what different licenses we can bring into that fold.
HDN- With you guys working with the "Big 2", have you considered working with any other comic book publishers like Valiant, Image or one of the smaller companies?
Dan- It always comes up at every convention.  These smaller publishers or companies will approach us and see if there are any opportunities.  
We take all of this under consideration and I can't say that we have done anything recently with any of those other companies but its something that we evaluate to the fullest extent to see if it would be a good fit and opportunity for us.  We don't rule anything out but its just a matter of "does it fit well within the catalog of products that we're currently offering? is this something that the fans are going to want? is it something that we can bring a unique twist to?"
HDN- Has there ever been a figure that has been challenging to bring from inception to store?
Dan- Sure, we're dealing with something like that right now.  I'm not going to get into the particulars license but when you deal with a character that has licensed apparel from different companies, you've gotta work with both of those companies.  Or if you've got an artist that's created a certain character and they're very particular about how they want that character portrayed, there's a lot of hurdles that you've got to go through.  Those challenges are just all part of the business and how we can work around them…sometimes you need to come up with creative solutions. In the end, I think that everything that we've wanted to do once we sign on a license and actually get to that stage where its been fully sculpted and its waiting for final approval, it gets done.  Nothing's getting shelved at that final stage.
HDN- In the panel, you were saying that the artFX Darth Vader figure is a little bit bigger than the other figures, what scale would that be?
Dan- There's two different scales that we work with in Star Wars. They're the artFX which is 1/7 scale and artFX+ is 1/10 scale so our newest Vader from A NEW HOPE is artFX.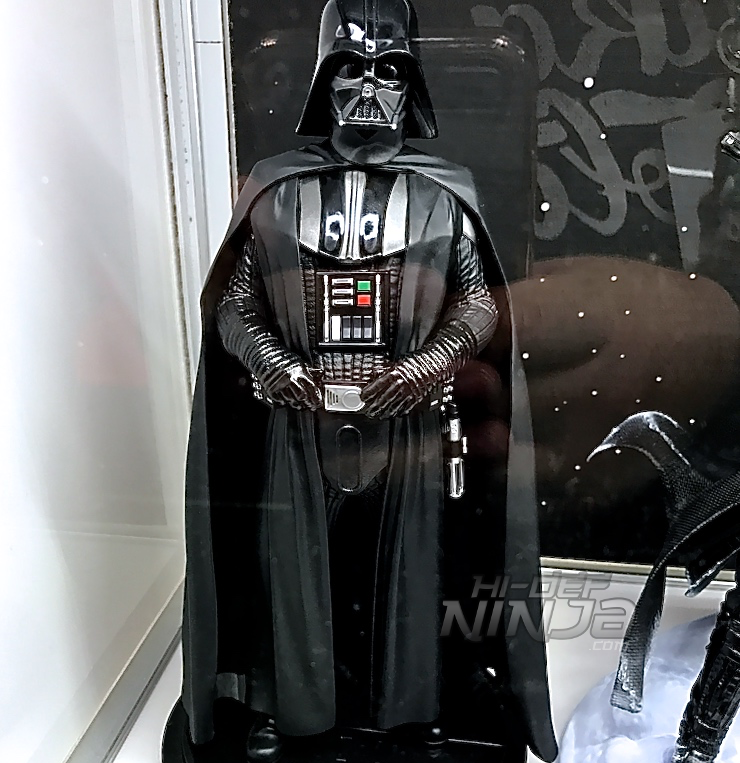 HDN- So he's about 10-11 inches?
Dan- Yeah, its based off of an artFX+ statue we released several years ago. That smaller scale was so popular with consumers that we decided to create a larger scale collectible based off of that same pose.
————————
I want to thank Dan for taking the time to speak with me in the middle of the busiest convention on the east coast. It was fun to learn about the process of how some of the most unique collectibles around are chosen and created. Here are some of the other figures that were being displayed at NYCC 2016 and coming soon from Kotobukiya:
Marvel line

DC Comics line

Star Wars line

Some gaming and Asian Entertainment lines

Other accessories and fun products