LA LA LAND Ultra HD Blu-ray Review
Film

Video

Audio

The Supplements

The Bottom Line
Filmmaker Damien Chazelle follows up on the intense joy that was Whiplash with La La Land, a 50s-style musical set in modern times, proving that his breakout effort was not a stroke of luck. It also shows that the man is a dreamer and fittingly enough, this film concerns people with dreams and what kind of work and sacrifice can go into them to achieve success. La La Land also happens to be a colorful blast of excitement thanks to the performers and style of the film. Now, with 6 Oscar wins under its belt and a whole lot of acclaim in general, the film has arrived on 4k Ultra HD Blu-ray.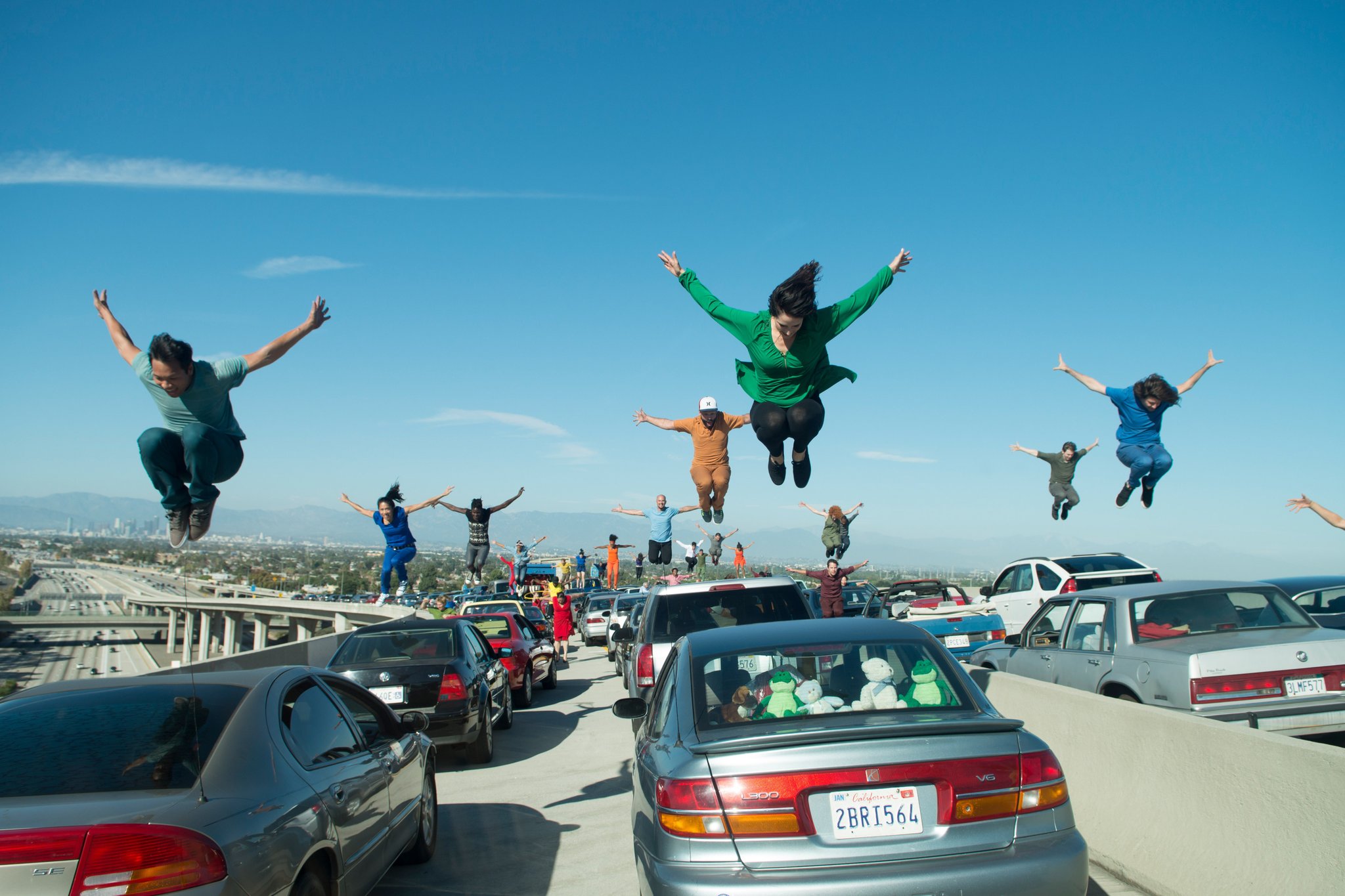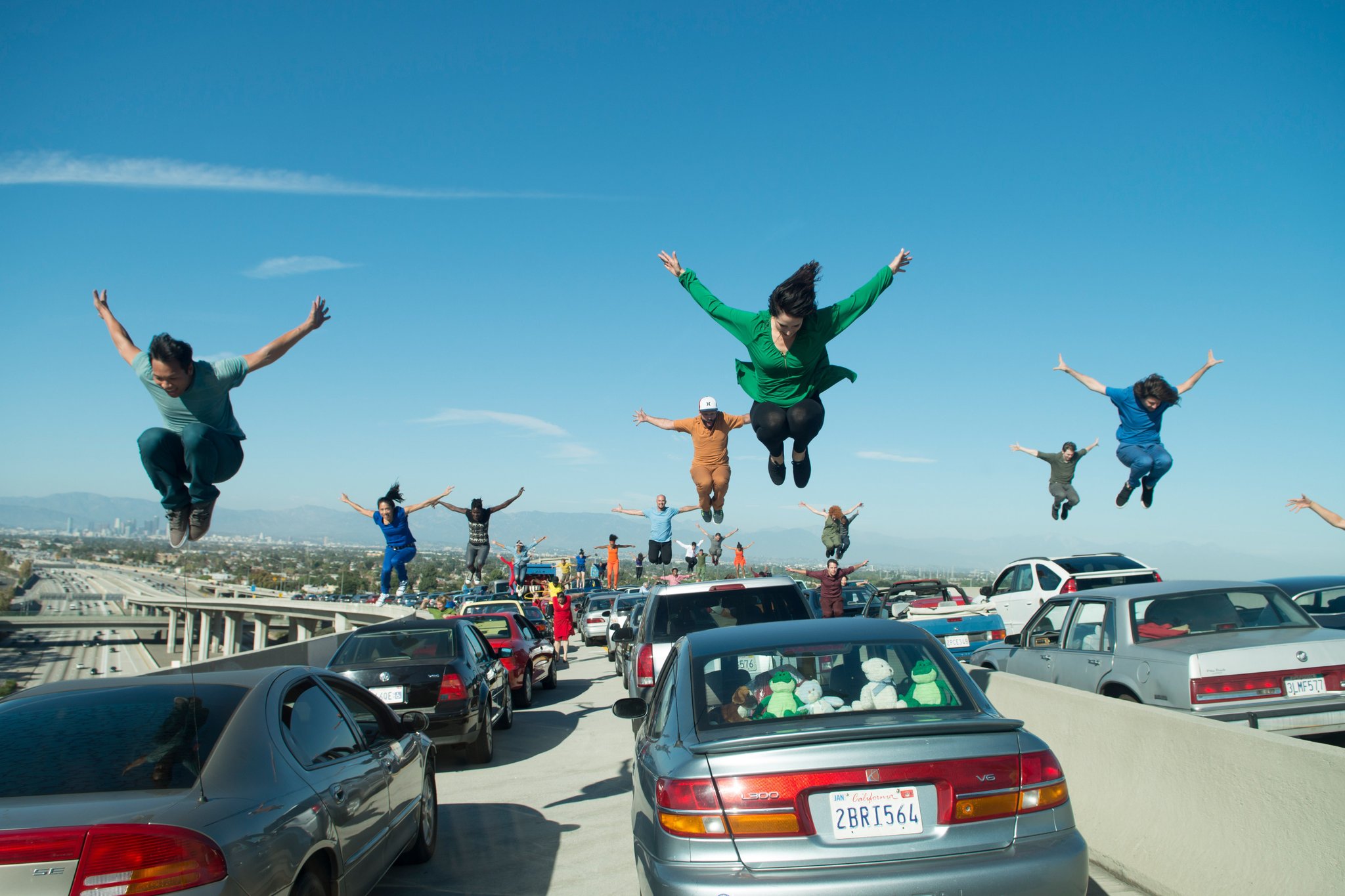 Film
Working to remind audiences of what large-scale musicals use to be like and finding ways to approach the genre with a fresh mind, the film presents a series of complicated set pieces and performers willing to match what Chazelle has in mind for them. Ryan Gosling and Emma Stone star as the characters at the center of this story and they sing, dance and act their way through a variety of scenes. As one can no doubt imagine, La La Land is set in Los Angeles and it follows these two characters, Mia and Sebastian, as they become close with one another and experience the joys and pains of romance.
Both are setup as familiar character types that would seem like clichés were the film not two steps ahead of the audience as far as being in on the joke. Stone plays a barista/aspiring actress. Gosling plays a jazz pianist/aspiring club owner. Both have seen their share of setbacks, whether it be failed auditions or a music career that hasn't quite panned out. The two have a few run-ins with each other, before finally sharing a duet/dance together ("A Lovely Night"). Their infatuation flourishes from there and a romantic storyline runs its course.
Nothing about the plot is too out of the ordinary, aside from that fact that "happily ever after" seems to arrive at the film's midpoint. I won't say how things play out from there, but an expected level of drama does run through the film and threatens to shake up how we perceive these two to be, after having gotten together. Instead of keeping the focus on the plot though, it is worth noting the level of joy that comes in seeing these story beats play out through the lens of a filmmaker that unabashedly loves musicals.
Employing all of the skills and talents available to him, it would be amazing to hear if Chazelle's vision for this film did not come out the way he had intended. La La Land so skillfully launches into different musical and dance numbers that it makes it harder to consider the challenge of achieving what appears to be one-shot takes for many of them.  Sure, movie magic may have been employed, but that is the beauty of cinema. One can question the assemblage of certain scenes, but when the final results impress in such a way, how much of that really matters?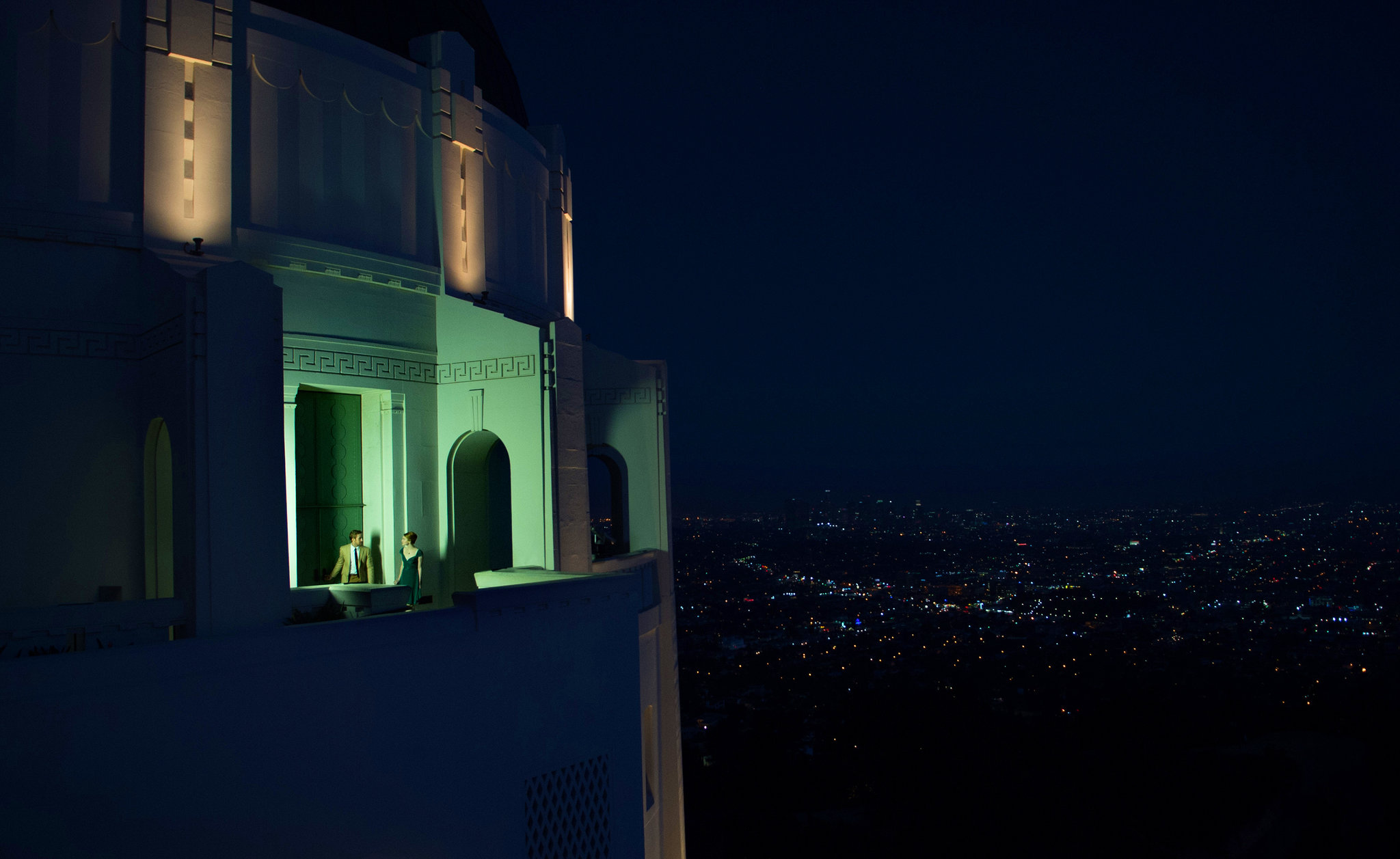 Adding to all of this is a love for the city of Los Angeles this film expresses. An opening number finds the beauty of sitting in traffic on a sunny day. A dance between an aspiring couple is set during magic hour while overlooking the city. Various clubs and old theaters are visited as a way of calling to mind jazz, classic cinema and other elements that can still be found in the city today. While La La Land does not overlook the trials and tribulations it takes to get by, the film is also free of cynicism. The closest it gets is in how Gosling and Stone interact.
Speaking of which, those two are great together in this film. Never mind the level of preparation when it comes to learning to play piano, dance various numbers, sing and hit all the right marks, these two shine as performers whom you are required to follow along with. The banter between the two is quite fun, but they separately have what it takes to support the film's comedic and dramatic beats. Some supporting actors pop up as well, including John Legend and Rosemarie DeWitt, but they have little to do beyond expanding the story for our leads.
Music is, of course, another huge part of this film's success and composer Justin Hurwitz delivers here for sure. Between the establishment of themes, work on the songs and the delight in melding all of these different elements together, this is a film that very much comes to life through various bars and melodies. The songs (with lyrics by Benj Pasek and Justin Paul), in particular have a way of capturing a sense of rhythm that sometimes lets the music take over completely ("City of Stars") and other times allows for the lyrics to flow right along with it ("Someone in the Crowd"). Given La La Land's additional love for jazz, that only makes sense.
In this story of two people finding love and dealing with having what it takes to succeed, Chazelle has found his own success in capturing a terrific sense of delight in his film. A knock could be made at the film's mid-section, which takes a bit of a break from its sense of optimism, but the investment found in the characters and style makes up for it, as a tremendous finale unfolds and develops new layers to the film. Given how so much of the rest of the film is equally engrossing and astounding, there is no reason not to champion the passion that went into bringing La La Land to life.
Video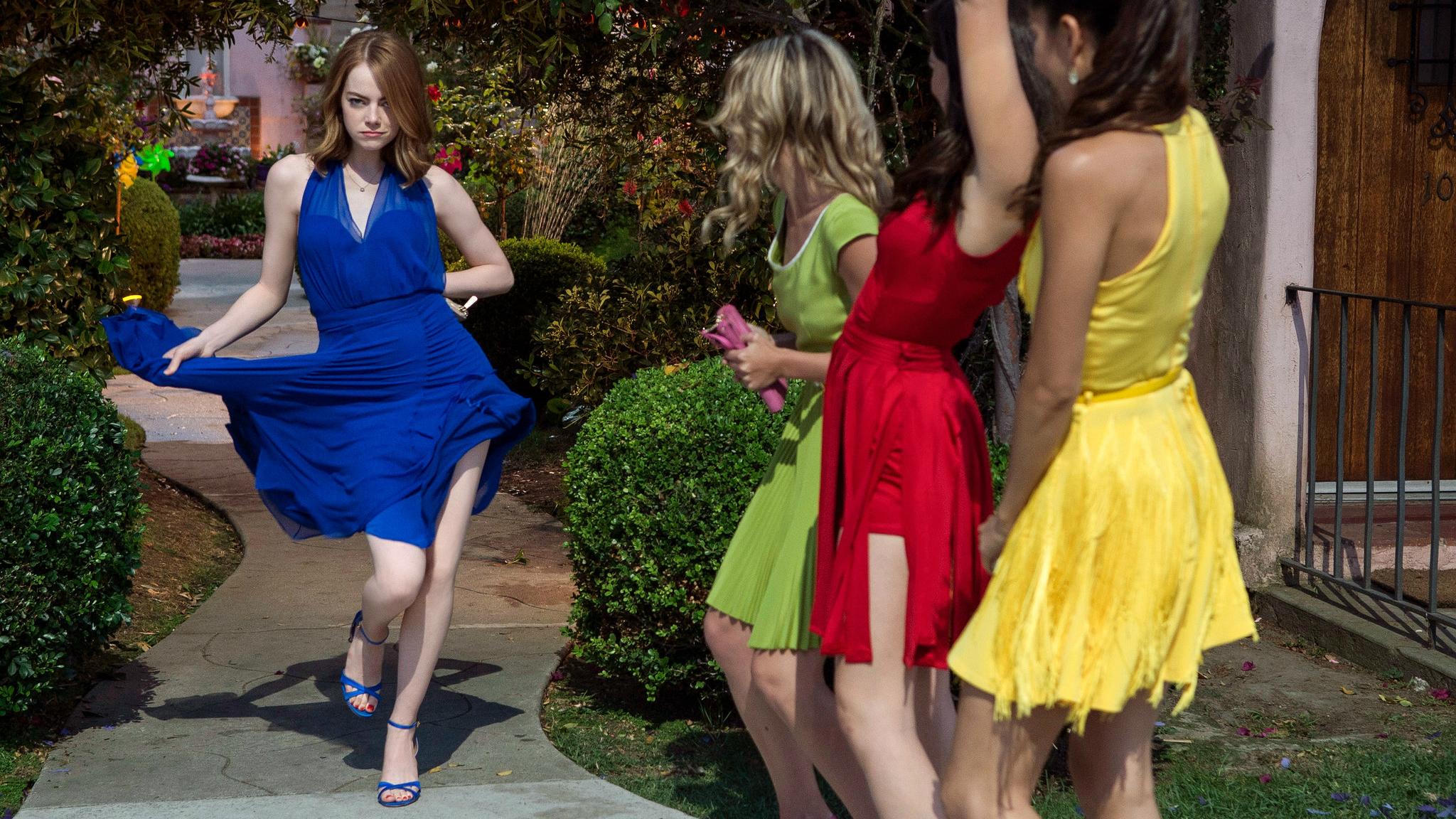 With a musical number titled "Another Day of Sun" to open the film, it should be no surprise to find such a bright and lively video presentation here on this disc. Given the high regard for such a successful film, there was no chance this presentation would look poor and it doesn't. The 1080p transfer preserves the CinemaScope ratio of 2.55:1, which allows for the retro style to take hold on a technical level and space is really used appropriately. Details come through easily and the wonderfully lit cinematography really shines in all the practical locations seen throughout. Darker scenes at night and in clubs also do a fine job of reflecting the solid black levels and overall contrast. Facial textures stand out as well, with facial details being apparent, without seeming overwhelming.

4K Ultra HD Blu-ray:

The 4K Disc is where it is really at if anyone was concerned with how much better this film could look. I didn't mention color yet, as it made the most sense to save it for this section. While the Blu-ray does a fine job bringing out the many great instances of color, this 4K disc is where that aspect truly shines. Watching "Someone In The Crowd", a musical number full of different colors, really puts a great spotlight on just how great this film looks in this upgraded format and the work put in to really deliver a deliberate visual style.
Audio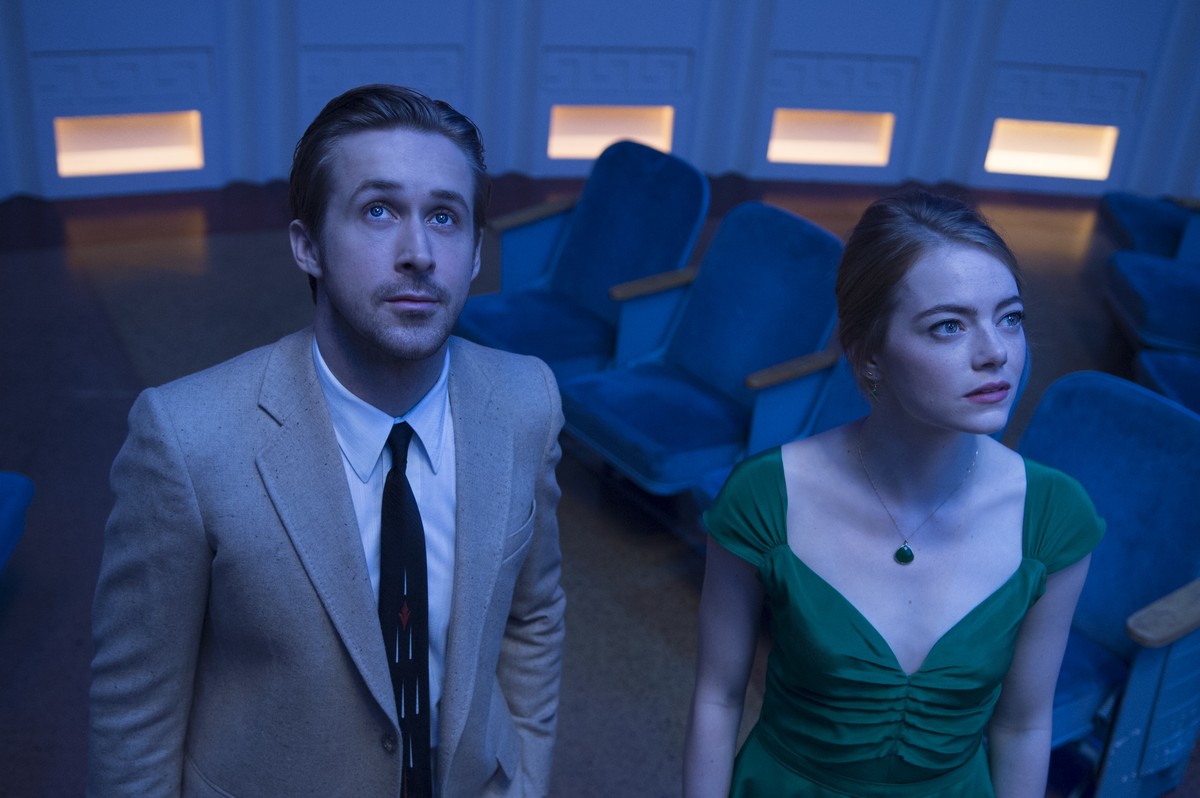 La La Land arrives on Blu-ray and 4K UHD with a Dolby Atmos audio track and it is just fantastic all the way through. From the opening sounds of cars in traffic to the epic final epilogue, you get an immersive listening experience that really delivers on every aspect of this film. The musical numbers, score, dialogue, sound effects and ambient noise all comes through perfectly. It's a fine balance heard throughout, with all the channels being utilized appropriately. Given how involved the soundtrack is for a musical like this, this audio track does not disappoint.
Extras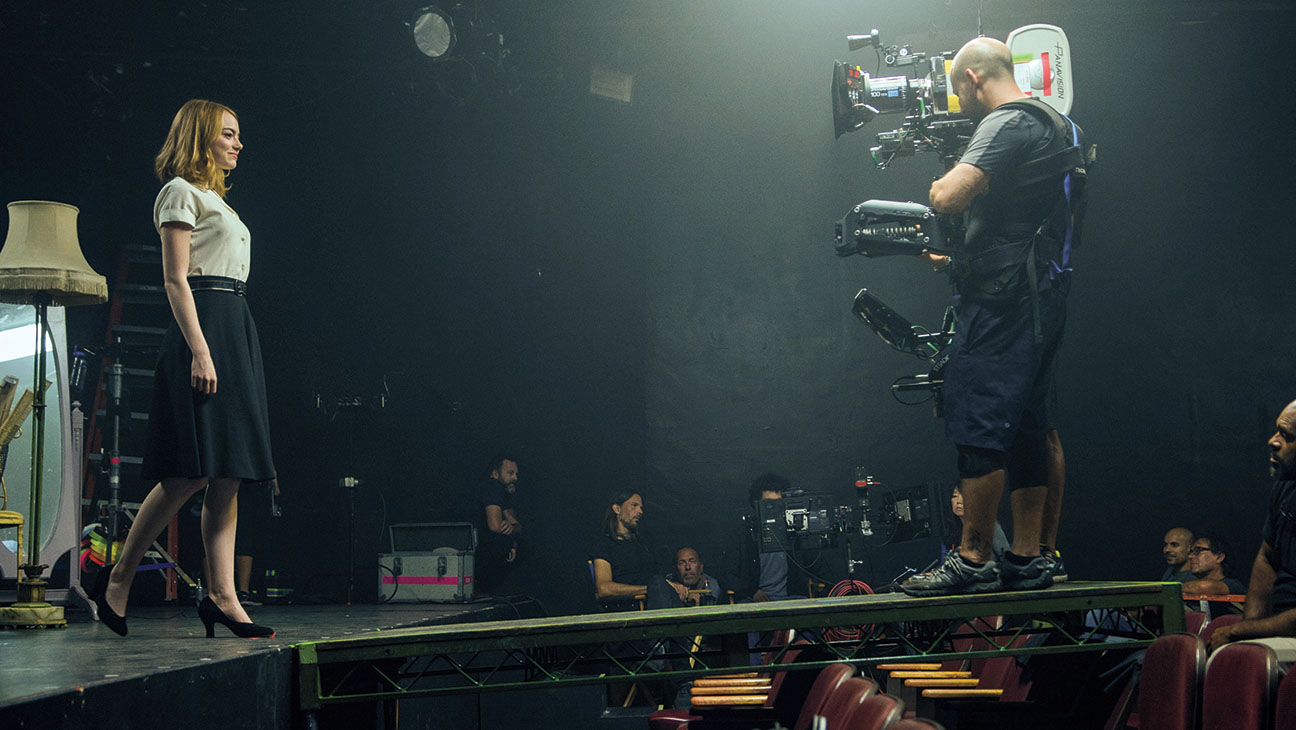 Both the Blu-ray and the UHD disc contain all the same special features and with that in mind, there are a good set of extras here. I wish the featurettes would have gone a bit more in-depth on certain aspects involving the elaborate camera work (since you can find some wild setups online), but there is plenty here to dig into as far as learning about the making of the film.
Features Include:
Audio Commentary with Writer/Director Damien Chazelle and Composer Justin Hurwitz – This is a great track that features friends talking about the film they were able to make together. You get what you'd expect, which is a solid amount of info matched with the easy rapport between the two.
Featurettes – Divided into 10 segments, which can be viewed together by selecting the "Play All" option.

Another Day of Sun: They Closed Down A Freeway
La La Land's Great Party
Ryan Gosling: Piano Student
Before Whiplash: Damien Chazelle's Passion Project
La La Land's Love Letter to Los Angeles 
The Music of La La Land
John Legend's Acting Debut
The Look of Love: Designing La La Land
Ryan and Emma: Third Time's the Charm
Epilogue: The Romance of the Dream

Damien & Justin Sing: The Demos – An interesting look at hearing a song come together, while matched with lots of black and white behind-the-scenes footage.
Marketing Gallery – Trailers and a poster gallery for the film.
Song Selection – A shortcut to all the musical portions of the film.
Digital HD Copy of the Film 
The Bottom Line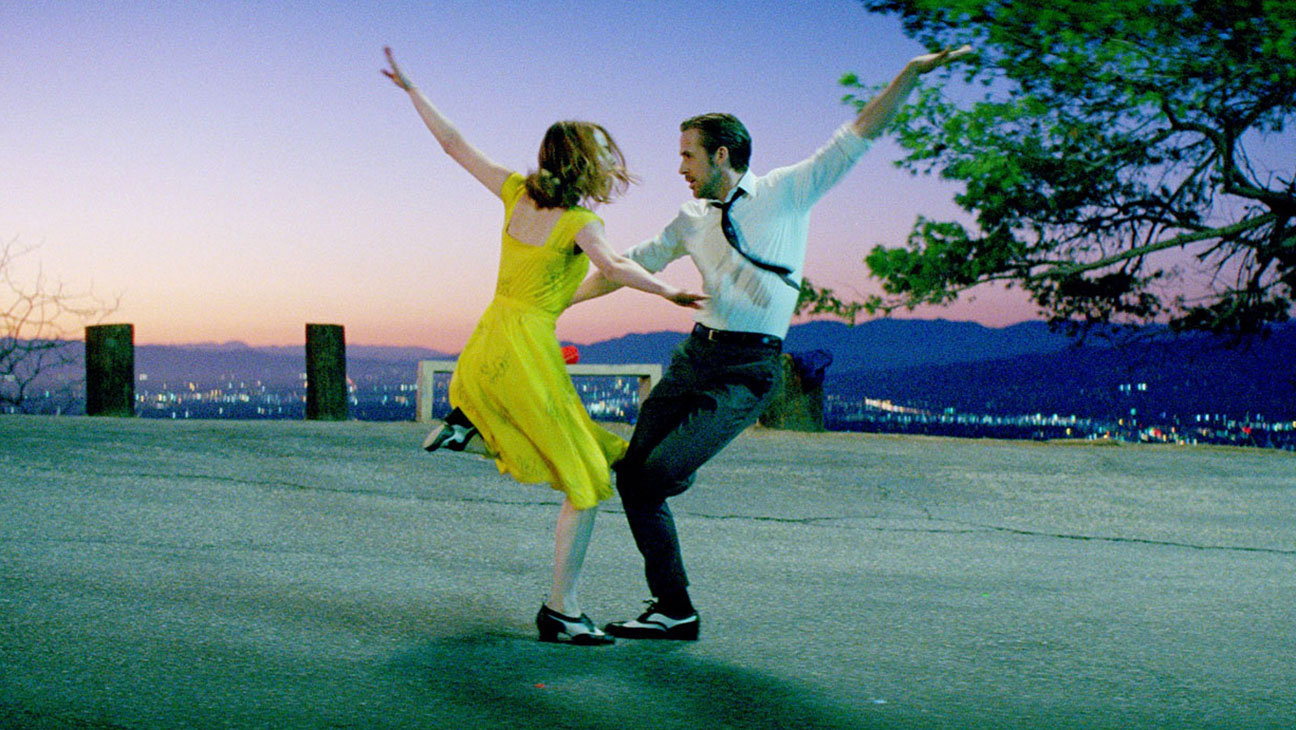 La La Land was easily one of the best films of 2016 and it has been given a great 4K Ultra HD Blu-ray release. The film is wonderfully made and features terrific songs and performances, among other things, making it such a wonderful film. Matching that with a terrific video transfer and a fantastic audio track really helps. There's also the large stack of extras to further helps things along. This is a great release all around.