DONNIE DARKO Remastered Blu-ray Review
The Movie - Theatrical Cut

The Movie - Director's Cut

The Video

The Audio

The Supplements
Donnie Darko is a high school kid who has some personal problems and sleeping issues.  He is constantly waking up in strange places, not remembering what happened the night before.  One night when he isn't in his house, an entire jet engine from an airplane falls into the Darko house and right into his room.  The weird thing is that the FAA doesn't know where it came from.  Donnie begins to see a figure in a twisted bunny suit named Frank, who tells him that the world is going to end in 28 days, 6 hours, 42 minutes, and 12 seconds.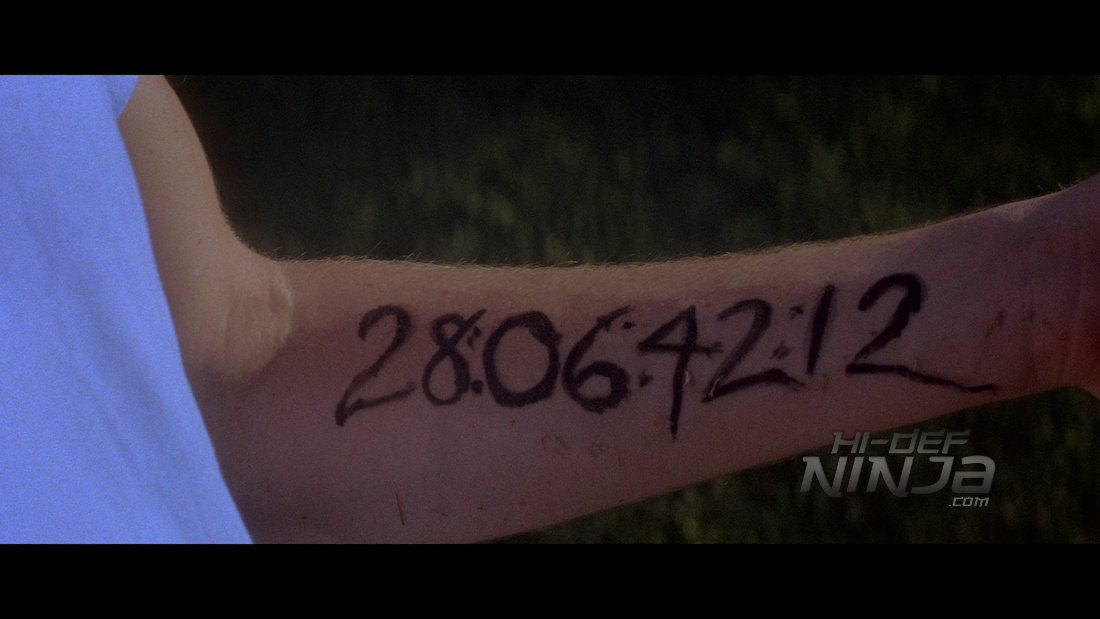 DONNIE DARKO is a sci-fi thriller written and directed by Richard Kelly.  There are a lot of elements to flesh this story out with strong casting, excellent acting, heavy sci-fi, and a perfect soundtrack.  When you hear Kelly explain this film to people, he does it with such passion and love for the film.   
Cast
Jake Gyllenhaal – Donald "Donnie" Darko
Jena Malone – Gretchen Ross
Mary McDonnell – Rose Darko
Holmes Osborne – Eddie Darko
Katharine Ross – Dr. Lilian Thurman
Maggie Gyllenhaal – Elizabeth Darko
Daveigh Chase – Samantha Darko
James Duval – Frank Anderson
Drew Barrymore – Karen Pomeroy
Patrick Swayze – Jim Cunningham
Noah Wyle – Dr. Kenneth Monnitoff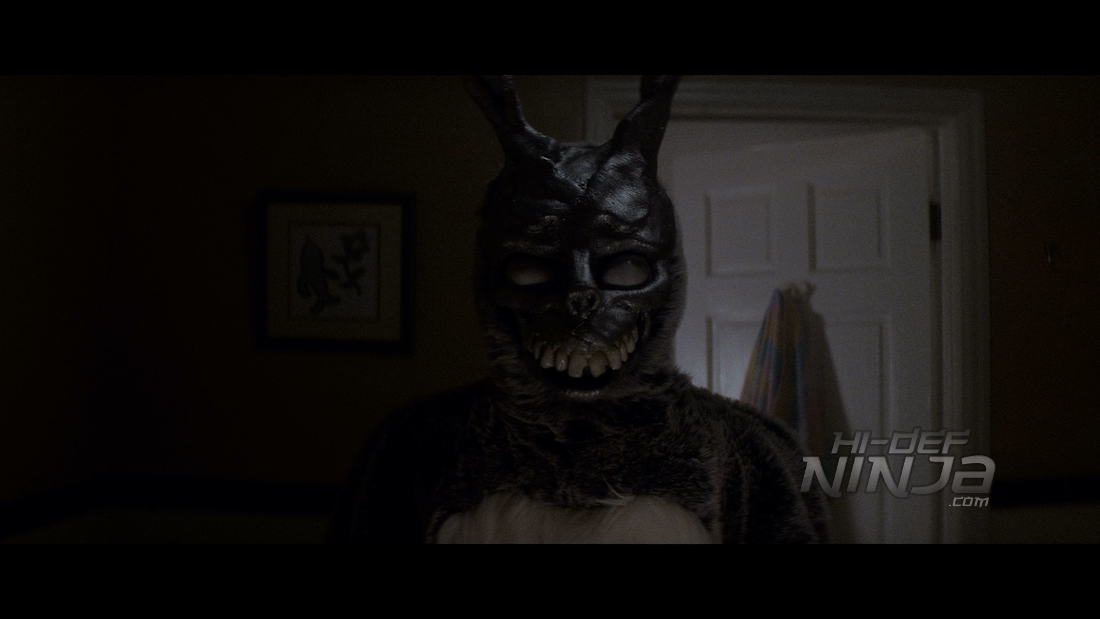 The transfer for both cuts of the film is 1080p AVC presentations.  Both have been remastered from the original 35mm negatives in a 4k resolution with plenty of cleaning up done to create the best video transfer possible.  Both have also been approved by director Richard Kelly, so you are getting what the director intends for the audience to see. 
One of the first things that I noticed is that the images are much cleaner than the previous releases.  Definitely in the details but also in the coloring being evenly fixed in a lot of scenes.  Also, the coloring has some of that HD pop with the colors being bolder and looking like a Blu-ray should with the blues easily looking the best.  This is why doing a remaster can make a difference on a movie this needed it badly.  
The audio is a DTS-HD Master Audio 5.1 mix on both versions of the film.  The dialogue comes through clearly with the effects feeling powerful.  Also, when Frank is speaking, there is eeriness to the echoing of his voice.  The sound field fills up when the dream sequences happen as well.  Because the music plays a huge role in the film, all of it sound beautiful.  I don't hear any real difference between the versions aside from the music being a little different.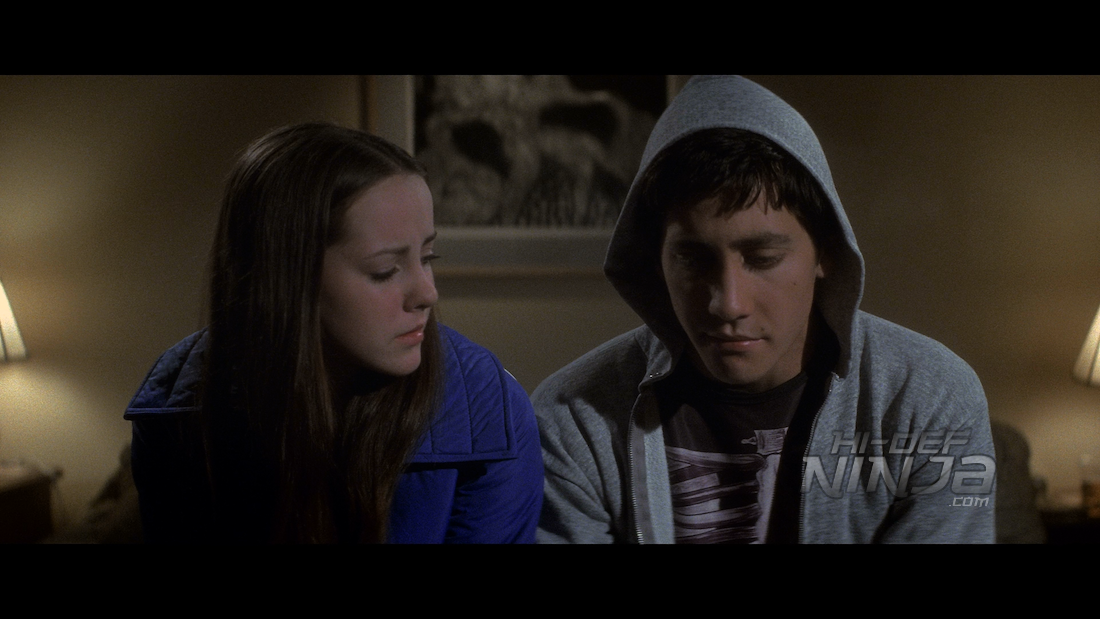 SUPPLEMENTS & PACKAGING
Disc One: Theatrical Cut
-Audio Commentary: with writer/director Richard Kelly and actor Jake Gyllenhaal
 
-Audio Commentary: with writer/director Richard Kelly plus the cast & crew features Drew Barrymore, Jena Malone, Beth Grant, Sean McKittrick, Mary McDonnell, Holmes Osborne, Katharine Ross and James Duval.
 
-Deus ex Machina: The Philosophy of DONNIE DARKO: This amazing documentary explores practically every aspect of the film.
 
-The Goodbye Place: This is Richard Kelly's shirt film from 1996 that offer some themes seen in DONNIE DARKO.
 
-Deleted and Extended Scenes
 
-Trailer
    
Disc Two: Director's Cut
-Audio Commentary: with writer/director Richard Kelly and writer/director Kevin Smith.
 
-DONNIE DARKO Production Diary
 
-Archive Interviews: This is a good set of interviews from the set of the film with some of the cast and crew.
 
-They Made Me Do It: This is footage of an overnight session by artists creating original pieces inspired by the film.
 
-They Made Me Do It II: Actually called "They Made Me Do It Too: The Cult of DONNIE DARKO; this is a look at the way the film has inspired fans.
 
-#1 Fan: A Darkomentary: This was a contest winner's documentary that was on DonnieDarko.comfor the Director's Cut release.
 
-Storyboard Comparisons
 
-B Roll Footage
 
-Cunning Visions Infomercials: With an optional commentary.
 
-Music Video: This is a video of Gary Jules' cover of "Mad World" by Tears for Fears.
 
-Image Gallery
 
-Director's Cut Trailer
 
-TV Spots
Disc Details
4-disc set w/ 2 Blu-rays and 2 DVDs
1/4 slip
a DigiPack for each cut of the film
Art cards and a hardcover book
 
Running Time
Theatrical Cut: 113min
The Director's Cut: 134 mins
 
Edition Ratings
Theatrical Cut: Rated R
The Director's Cut: Unrated 
 
Region Coding
Region A
 
Video Resolution
1080p AVC MPEG-4
Aspect ratio: 2.35:1
 
Audio Mixes
English DTS-HD Master Audio 5.1
 
Subtitles
English SDH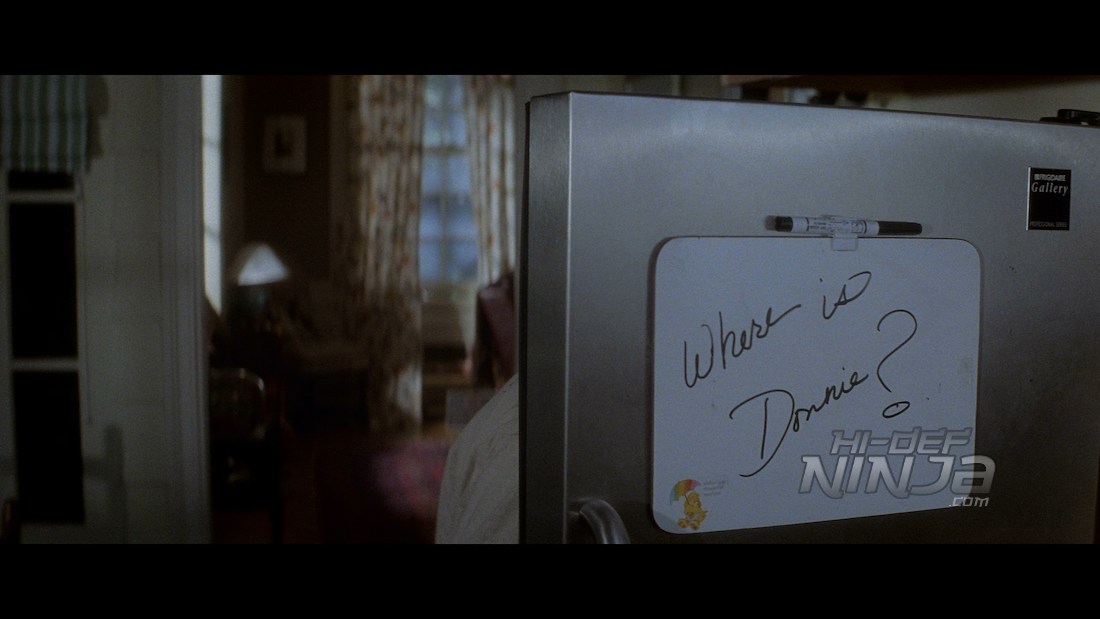 THE BOTTOM LINE:
DONNIE DARKO is the definition of a cult film and the following to this movie is amazing, considering the original box office numbers were not great. There are plenty of movies out there that aren't respected at the release but make more and more fans over the years.  
 
Whether you're a fan of the theatrical cut or the director's cut, this is THE definitive version of this film.  I know that this is one of those movies that you may watch several times and understand more with each viewing.  The supplements included fill most of those plot points that may escape the casual viewer.  They're extensive and interesting.  As for the Blu-ray transfer, this is a release that has always been plagued by issues has most of them resolved and the audio sounds excellent.  I highly recommend to everyone to pick this one up, you won't be disappointed.