Hugh Jackman never looked or sounded better in the 4K/Blu-ray release of LOGAN.
NOTE: Our images were captured from the Blu-ray version.
By Matt Cummings
If 2017's LOGAN and its naughty brother DEADPOOL taught us anything, it's that superhero films can be as violent as JOHN WICK and still bring in the dollars. It's a chapter that some have been waiting to see written for a long time; and while its necessity has taken long to develop, the payoff has been so sweet. Gone are the days of tongue-and-cheek comic book movies, replaced by a parade of blood that feels like it's here to stay. And yet even with that reality on the table, 20th Century Fox's release of LOGAN on 4k/Blu-ray is something to behold, supporting stunning audio and a video and including a set of appealing (if somewhat thing) supplements.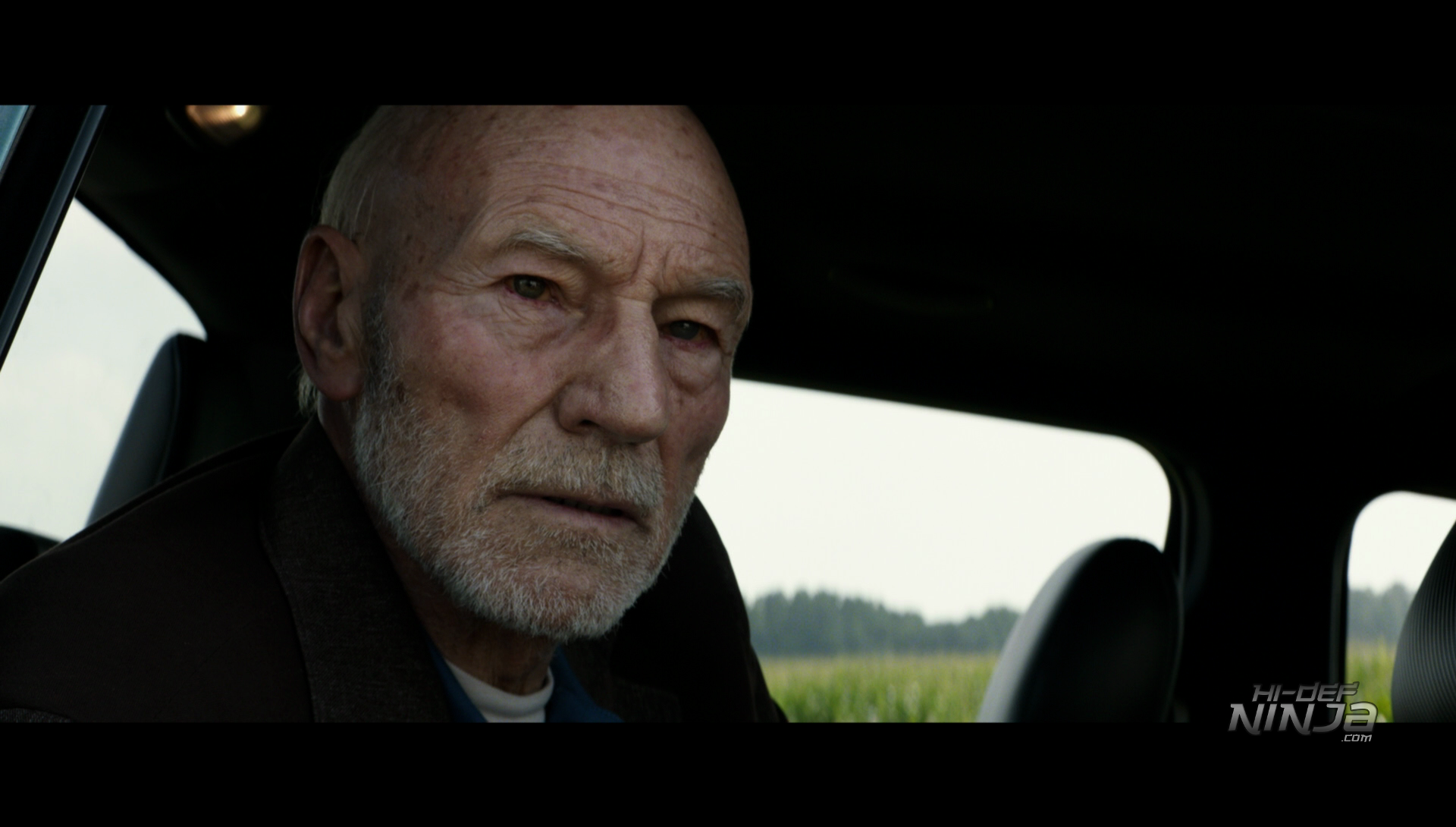 THE MOVIE
The year is 2029, and the X-Men are dead, hunted down, or have been defanged by a series of tragedies and subversions. Some of the last survivors of this campaign of terror include none other than Wolverine (Hugh Jackman) and Professor Charles Xavier (Patrick Stewart), neither of whom is in any condition to fight. Logan has mostly lost his healing power as the adamantium in his system is slowly killing him. Xavier now suffers from dementia, causing his incredible psychic power to explode in a series of "mind quakes." But when a young girl displaying powers similar to his appears at Logan's door, he and Xavier are thrust back into the fight, as they attempt to transport her to the safety of Canada. The result will see Logan and Xavier come to terms with their actions over the years, as both heroes and victims of a system that hates and fears what they represent.
LOGAN succeeds because it's not your typical X-Men movie: there's no vortex to close, no alien invasion to stop, and certainly not a happy ending. It's as much of a character journey as it is a bloodbath, courtesy of Wolverine's claws. It works on a lot of levels because it puts our heroes at the end of their timeline. There's no hero poses here, just struggle and observation, and that makes for a pretty compelling story. Jackman is of course golden here, as is Stewart who I think might be the most underappreciated actor of this franchise. This is as much about the end of Logan as it is Xavier, and so it's fun just to watch these two chew up scenery. That gets even better once the girl's identity is revealed, as Xavier realizes that she might be the future of the X-men, if only they can get her to safety.
Unfortunately, that aspect of LOGAN falls short, as we decline into a boss battle at film's end. The reason for this battle in the first place is clear enough – the government wants all mutants destroyed or prepped for study – but the manner in which it plays out isn't elegant at all. Transigen – the company responsible for the young girl's transformation – has been altering the water to essentially "cure" all mutants of their powers, and those who can't or won't change at hunted by the company's thug (Boyd Holbrook). Donald Pierce's story is a thinly-constructed as possible; we're simply meant to hate him because he hunts mutants. Boring. When the end arrives for Logan, it's all a bit jarring, as if the film needed just one more scene to show us whether X-men 2.0 flourishes.
For all its faults, LOGAN is one of the best from the X-men franchise. It's a competent character movie that devolves into a predictable ending, with side-character development that's only there to further the plot. Still, if this is Jackman and Stewart's final turns, it's a great place for things to land.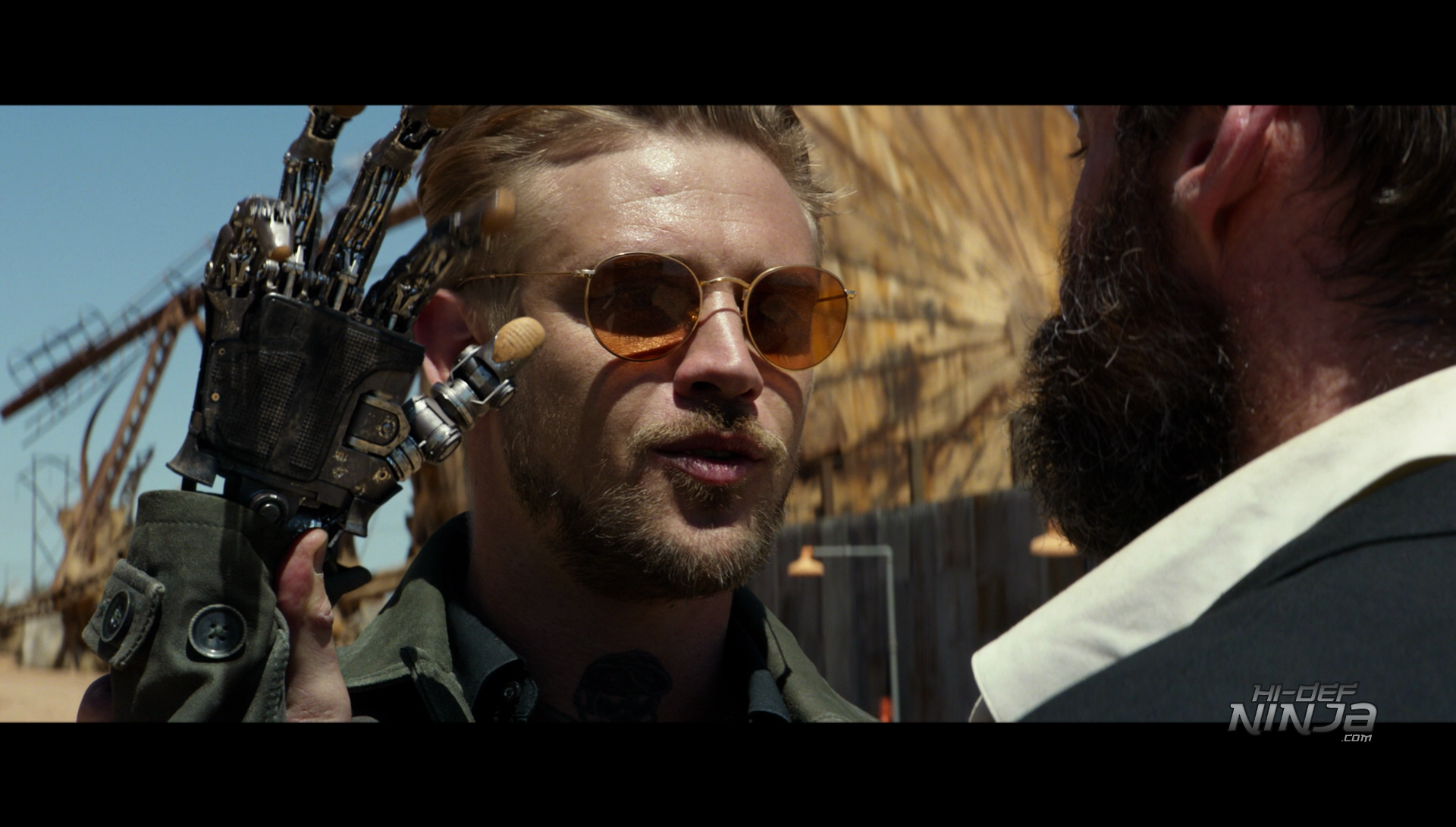 THE VIDEO
20th Century Fox's presentation of LOGAN is presented in both 4K and Blu-ray, as well as a black & white version that the studio is calling "Logan Noir." First, let's break down the color versions. Shot on the Arri Alexa XT and upgraded to 4K in post production, this is a masterful transfer by the studio. It moves between different color palette, starting with the dusty environment of Mexico and moving into more forested environs of the Pacific North. No matter where the story takes us, Director James Mangold's print shines. There's no oversaturation here, just a solid representation of the color scheme. Fine detail – whether it's in manufactured sets or outdoors, display exceptionally beautiful detail. I was even surprised with how much Jackman's veins popped, as I don't remember seeing that much detail during the film's theatrical run. Stewart's age spots and wrinkled forehead demonstrate just how much this great leader has deteriorated over time. Clothing shows off significant wear and tear, while facial features reveal bags under Jackman's eyes, along with sweat and blood. Shadows are especially satisfying, such as those scenes in Mexico where Xavier is being kept. His "room" is a cornucopia of shades, leading to darkened spaces under his bed. The Blu-ray version is also excellent in all of the above areas, and never quits in its fight to outdo 4K. This is a fabulous set of discs brought to us by the studio, and should play very well regardless of what platform you intend to use.
The same isn't the case with the "Logan Noir" version. I was never a fan of Ted Turner's efforts in the 80's and 90's to colorize old movies, and I certainly don't support this sort of reverse engineering a print. It's not like you're watching the movie through a black & white lense, but more like the color has been drained, leaving something that reminds of when I used to de-color my parent's television just for kicks. It's not worth your time to watch this, unless you'll be doing other things like vacuuming. Or napping.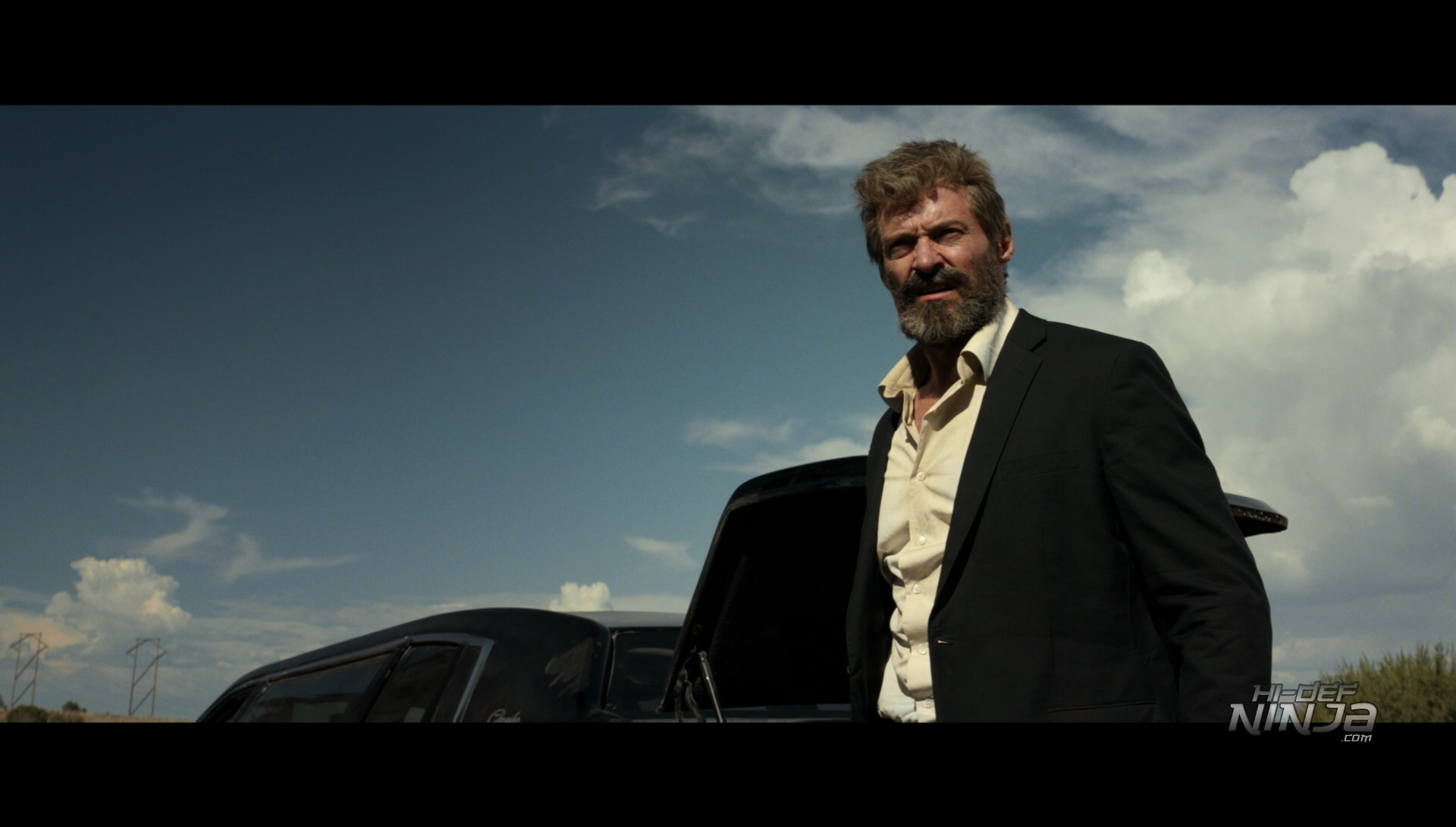 THE AUDIO
LOGAN from 20th Century Fox sports one of the best audio mixes of the year. It's uncommon to hear a DTS-HD Master Audio 7.1 mix quite like this, immersively blending us into Logan' story at nearly every turn. It's not surprising to hear the cacophony of gunfire, the ripping of flesh, and the gunshots that permeate this track. It's also unsurprising to hear the excellent center channel produce crisp audio, which is actually just a dialed-down version of the left/right forward channels. What makes this such a great track is the rears: we hear rain and wind, the sound of casino games in as Vegas, and even the whirring of Logan's limo being stripped. As we move to the end of the film, we get the feeling at points that we're actually in a forest. The LFE pounds and thuds its way through as well, brawny at many times and active throughout. It's a masterful track by the studio, and one that I'd state with conviction is reference quality.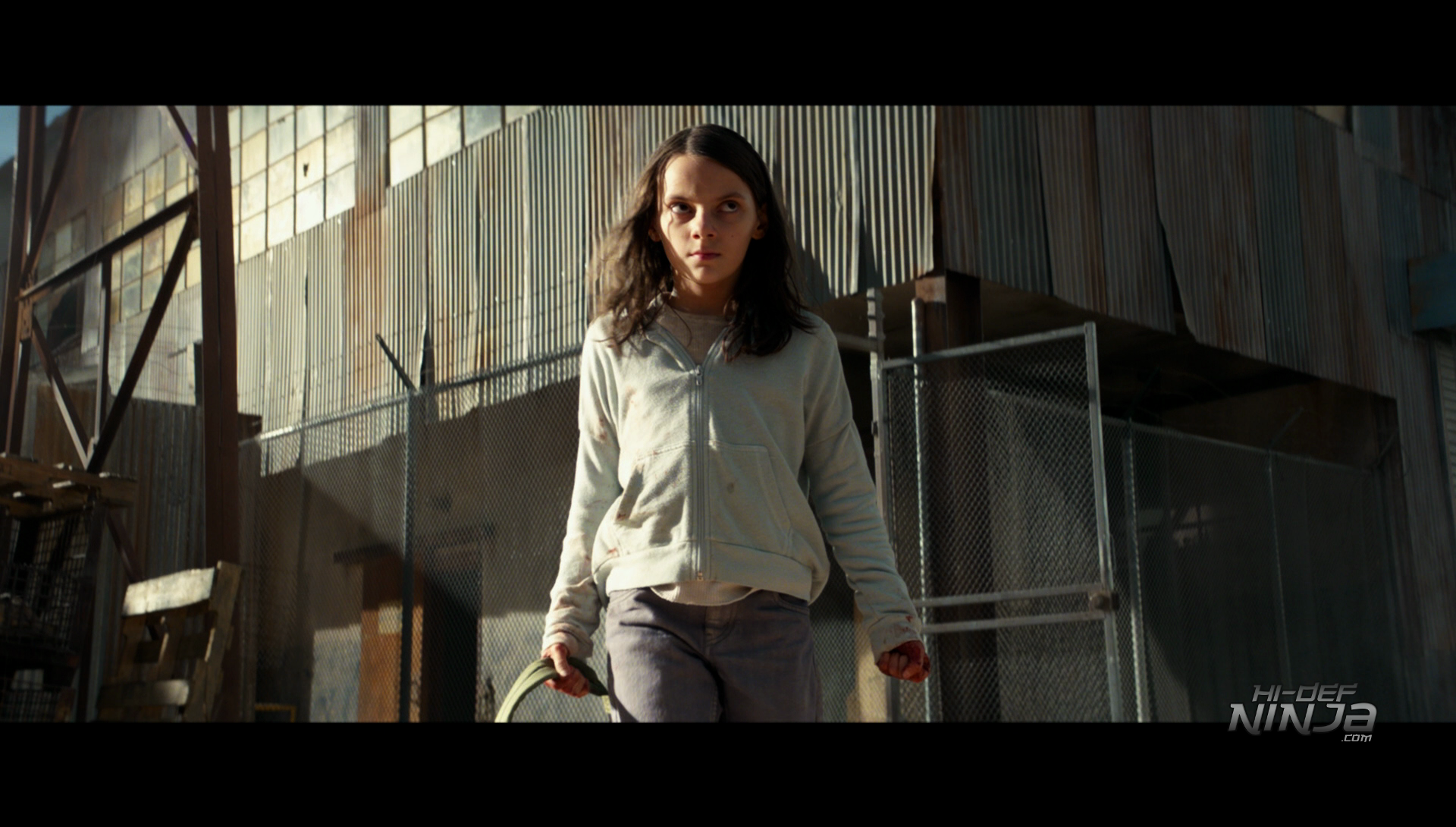 THE SUPPLEMENTS
LOGAN offers very good supplements, including a commentary track on both the 4k and Blu-ray discs. Everything here is presented in HD, but the feature you see on the BD is not included on the 4K:
Disc One: LOGAN
Audio Commentary by Director James Mangold: This is again another excellent discussion about the creation of the movie. Mangold doesn't mince words here, including his disdain for today's superhero films, which he feels are far too repetitive. It's clear by listening to it that Mangold wanted to make something very different. It makes me appreciate the film more.
Deleted Scenes (7:45): This features an optional commentary by Director James Mangold, but there's nothing here that's significant or would have changed the movie.
Making Logan (1:16:05): This is perhaps the best supplement of 2017 so far. It's a rich and thorough breakdown of several aspects of the film. It's almost a feature film due to its length, and there should be plenty that fans will find appealing.
Theatrical Trailers (6:32)
Disc Two: "LOGAN NOIR"
Audio Commentary by Director James Mangold: This is the same commentary which appears on the BD.
Our evaluation copy arrived as a 4k/Blu-ray Combo with an Digital HD copy code. There is no DVD included with this particular purchase. The slipcase is colorful but offers no embossed lettering or interior artwork. At the time of this posting, there were several versions, with almost every retailer hopping onboard. Some of my favorites included the Best Buy steelbook and the Target digibook, many of which sold out quickly upon its release.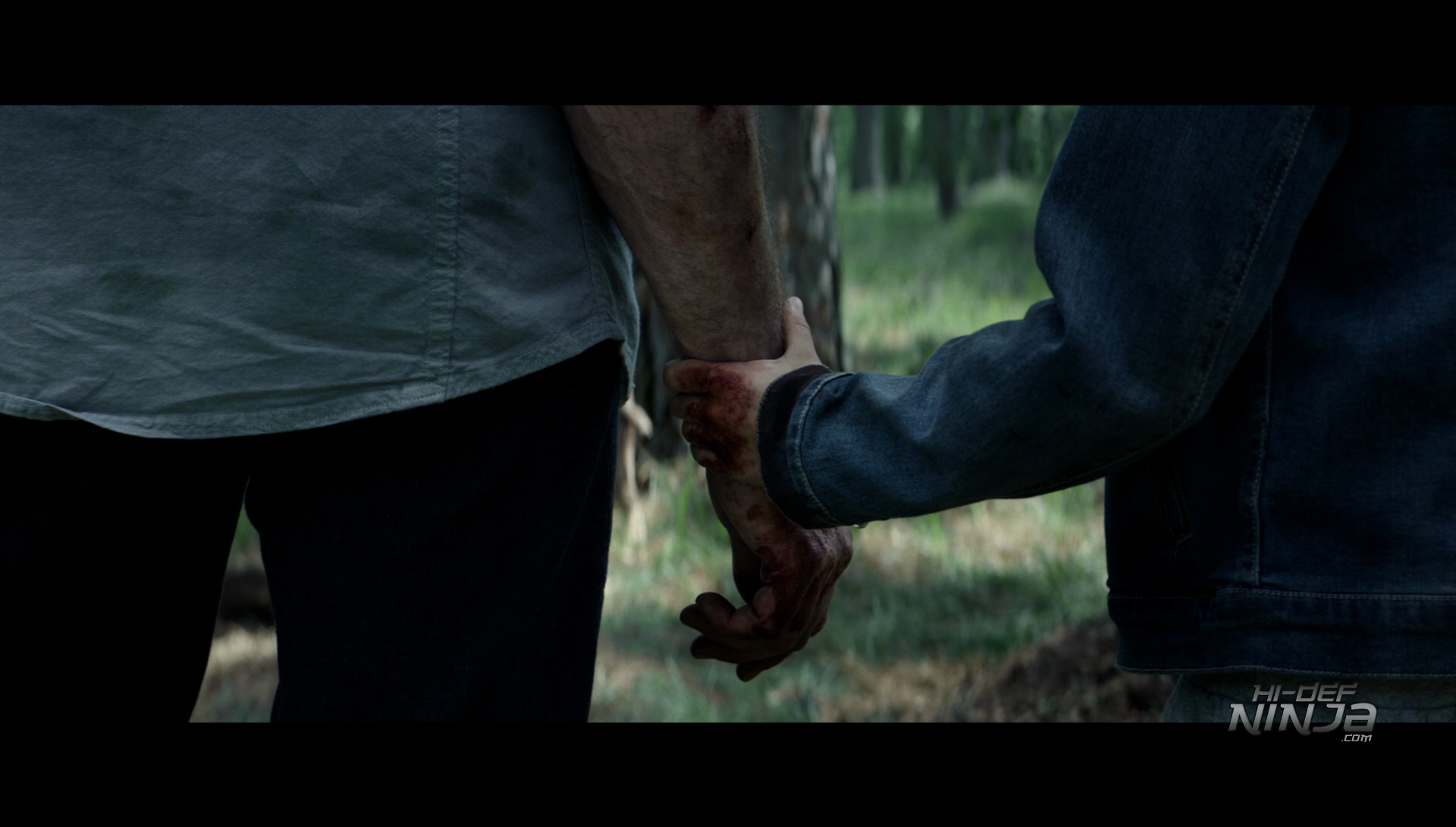 THE BOTTOM LINE
LOGAN proves that comic book movies can be ultra violent and dramatically rich. With an incredible worldwide haul of $612m, it's clear that Fox can produce another if they wish. Perhaps they shouldn't, as this one puts a final thumbprint on Logan's story. It does have a couple of WTF moments, but it's not enough to dissuade from a blind buy. Technical merits are exceptional, minus the "Noir" version. I'd only watch that one after you've checked out the excellent supplements. This is one of the best releases of 2017 so far, and should occupy a spot of pride on your video shelf (or shelves, or room if you're like me).
LOGAN is rated R for strong brutal violence and language throughout, and for brief nudity, and has a runtime of 137 minutes.