The Movie

The Video

The Audio

The Supplements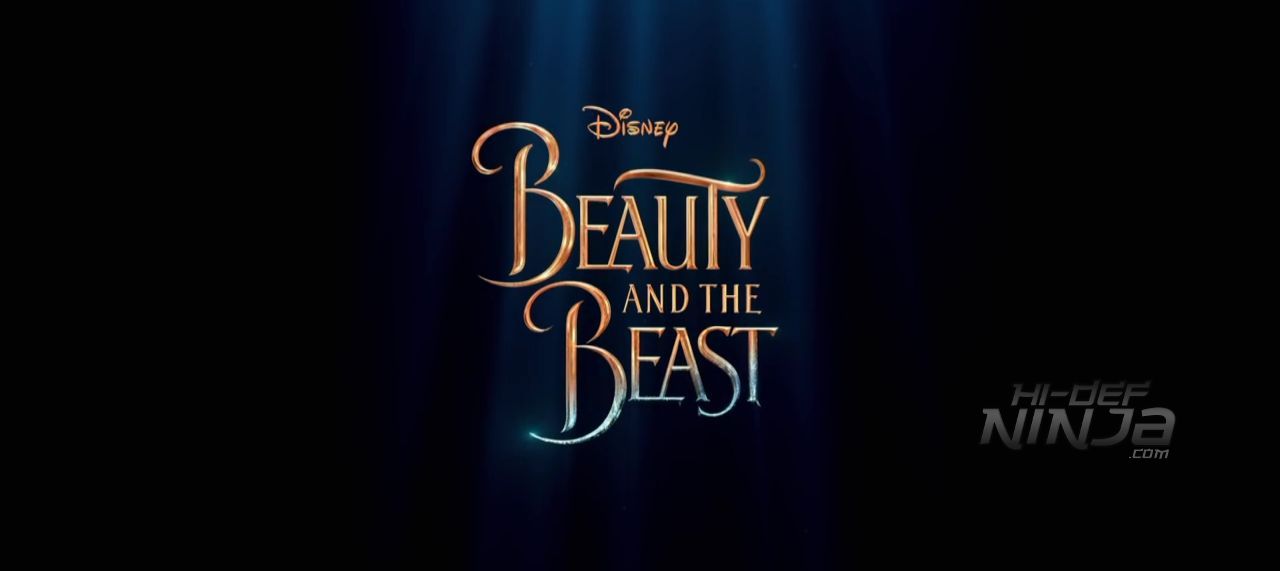 The competent BEAUTY AND THE BEAST looks and sounds gorgeous on Blu-ray.
Review by Matt Cummings
It can be said that Disney's 1991 animated classic BEAUTY AND THE BEAST is as much a seminal moment in many a child's life as it is a history lesson about the studio that created it. Having languished for nearly 20 years behind titles like THE RESCUERS, THE BLACK CAULDRON, and OLIVER AND COMPANY, Disney made a strong comeback with 1989's THE LITTLE MERMAID. But no one was sure whether that was a flash in the pan or a sign of better times (few can name the two duds that followed MERMAID). BEAUTY AND THE BEAST cemented Disney's return, reinventing the studio nearly overnight by wrapping many of the film's elements into its DNA. And while the Blu-ray is treated with the standard lavish audio and video transfer, the live-action version of the classic offers a message of hope and inclusiveness that is absolutely necessary in these turbulent times.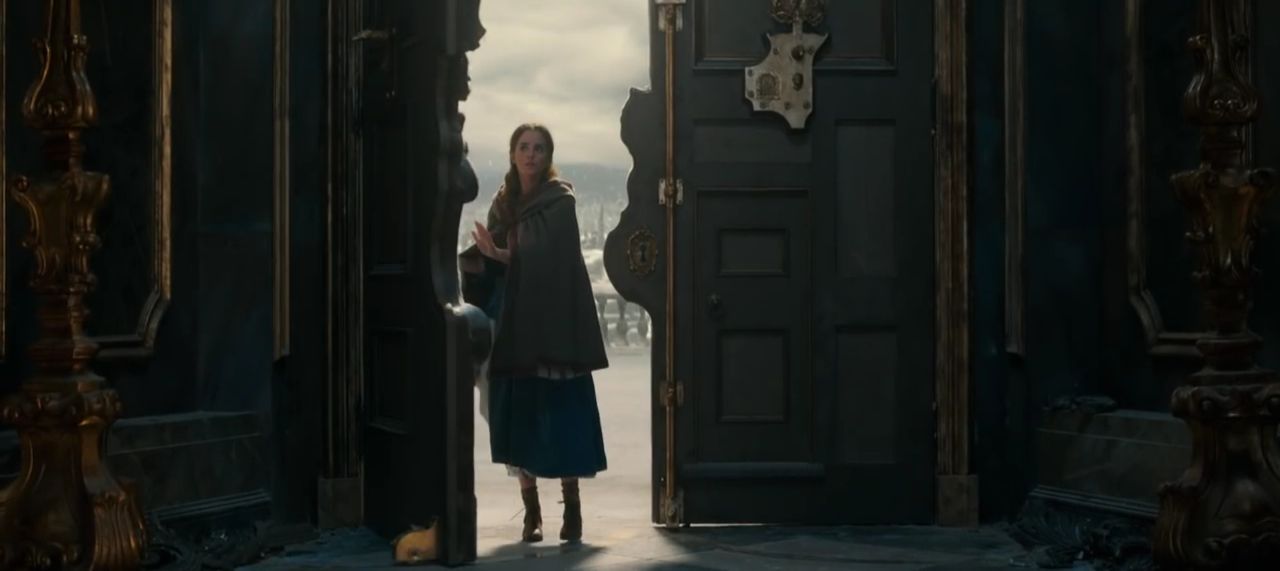 THE MOVIE
The young girl Belle (Emily Watson) lives in a local French town, where everyone is merely satisfied in their stolid roles. Not Belle: her clock maker father Maurice (Kevin Kline) has made Belle a well-read and fiercely independent woman, but the death of her mother years ago is still a sore subject with Maurice. Meanwhile, the hansom rouge Gaston (Luke Evans) is ensconced in trying to win Belle's hand, as other jealous candidates and Gaston's gay mate LeFou (Josh Gad) look on. To Belle, the town's backward ways demand her immediate exit. She soon gets that chance, after Maurice is imprisoned by The Beast (Dan Stevens), who was once a prince of the realm and is now horribly disfigured. His servants too have been transformed into objects of around his mansion, such as the candelabra Lumière (Ewan McGregor), the clock Cogsworth (Ian McKellen), and teapot Mrs. Pott (Emma Thompson), while Belle's town has had their memories erased by the curse. Beast must find love again before a single red rose loses all of its pedals, forever locking him and his help into the objects of Beast's wealth, while Belle must wrestle with the notion that her life might never improve unless she abandons Maurice and the quaint life he has created for them

There's really nothing new about this version of BEAUTY AND THE BEAST, sans a few new musical numbers and a general retooling of the story. But it's the stellar cast that wins the day, most of whom breathe new life into the inanimate objects they portray for most of the 129-minute runtime. In fact, so much of what Disney is today comes from the performances of the original ("Be Our Guest" has become synonymous with Disneyland), while seamlessly incorporating its elements of love and acceptance into every film and television program it now produces. That's a mighty noble effort to undertake, and the revamped version sees Disney doubling down and mostly winning. Some of that is due to its exquisite production design, including Costume Designer Jacqueline Durran and Set Decorator Katie Spencer. Director Bill Condon brings his CHICAGO sensibilities to BEAST, pushing great performances from Watson, Evans, and Stevens. For Watson, she proves that Hermione wasn't mere luck, largely delivering a solid performance as the tough-minded and independent Belle. She will most likely enjoy a long-lasting connection to her character, as her angelic voice and high energy are admittedly infectious.
It's not foolish to want to compare these versions; after all, audiences will no doubt do the same as the studio continues to produce live-action versions of its cherished library. Taken on those terms, BEAUTY AND THE BEAST struggles in places to separate or outdo itself. Strangely enough, it's the CGI which tends to fail us most often, vacillating between grand in the castle scenes and awful in its creation of The Beast. Considering all the photo-realistic wonder we got from THE JUNGLE BOOK, Beast looks…well…2010. He's poorly animated, particularly in scenes when he's walking, failing to move with any sense of grace or power. That might have been due to Stevens's motion capture sessions, but luckily the Brit delivers in other ways, including his comedic interludes with Watson. He's not quite the Beast I was looking for, and his emergence at the end sees him sporting an oddly-suited rockstar-like hairdo.
But for every one of these issues, BEAUTY AND THE BEAST also succeeds in the most important category of all, ringing with a message of inclusiveness that seems more relevant than ever. Regardless of what side of the fence you sit, we need a film like this to remind us that we are a multi-ethnic, multi-lifestyle nation, one who is wrestling with either bringing our Constitution to life or draping it once again in fear-mongering and hate. BEAST celebrates our diversity by merging this message with some very good musical numbers and old Hollywood-esque choreography. Wrapped in song and ready for the grand ball, we celebrate the multi-racial assembly as a reminder of who we can (and should) be. For that reason alone, it's worth your time to check it out. It stands as a powerful reminder of the future that awaits us if we're bold enough to stand for our principles, pitchforks and torches be damned.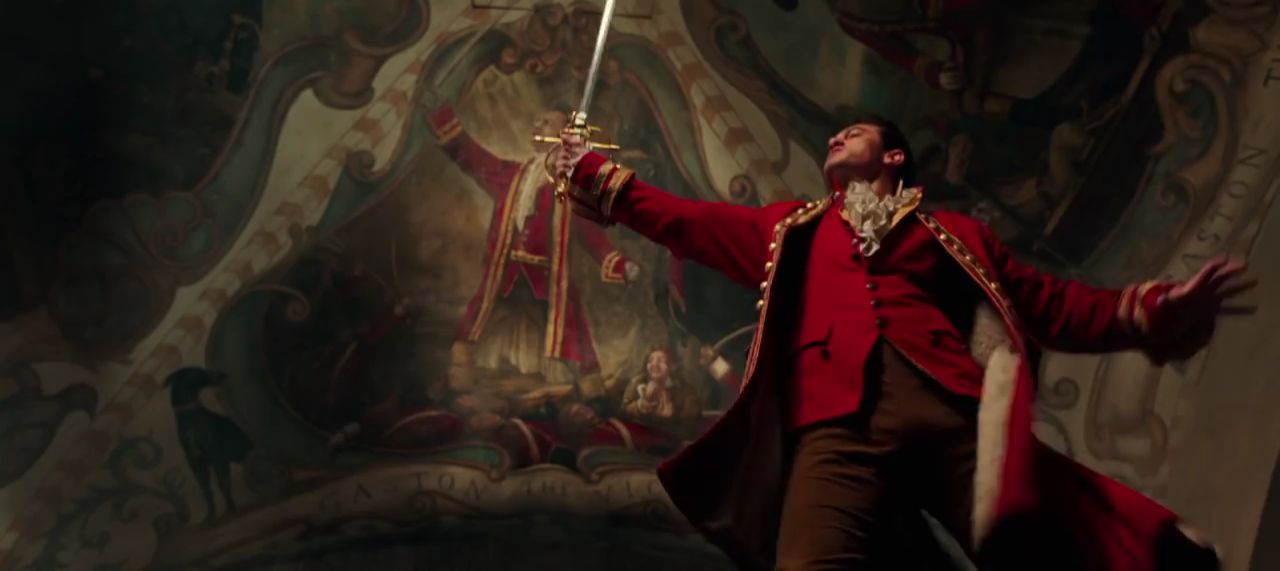 THE VIDEO
Dinsey's BEAUTY AND THE BEAST graces our Blu-ray with a gorgeous, clean print that's one of the best of the year. Digitally photographed on the Arri Alexa XT Plus, the digitally-managed film is incredible in its depth, which I think has a lot to do with the Leica Summilux-C lenses that were utilized. It's almost as if the 3D process trickled down into the 2D print, leaving us with a resplendent visual experience. At the same time, none of the quick movements of the opening song – in which Belle moves about the town in what looks like a single shot – never gets fuzzy or stutters. There, colors are rich and vibrant, inlcuding greens, yellows, and blues. Nothing looks overaturated or bleeds out of the image. Even when the story turns darker, the print is right there with us, showing off very good shadows which transition into some nice blacks. No matter what scene you enjoy, you'll notice the realistic flesh tones, easy-to-spot strands of hair, and even sweat on the brows of our singers. Clothing is also exquisite, revealing stitches and a diversity of materials in their creation. Set design looks fabulous, again showing off that clarity which heightens the experience. There is of course no aliasing or banding of any kind, although you might see some of that from the 3D release, depending on your set up. Overall, this is an excellent Blu-ray release from a studio that makes excellence their business.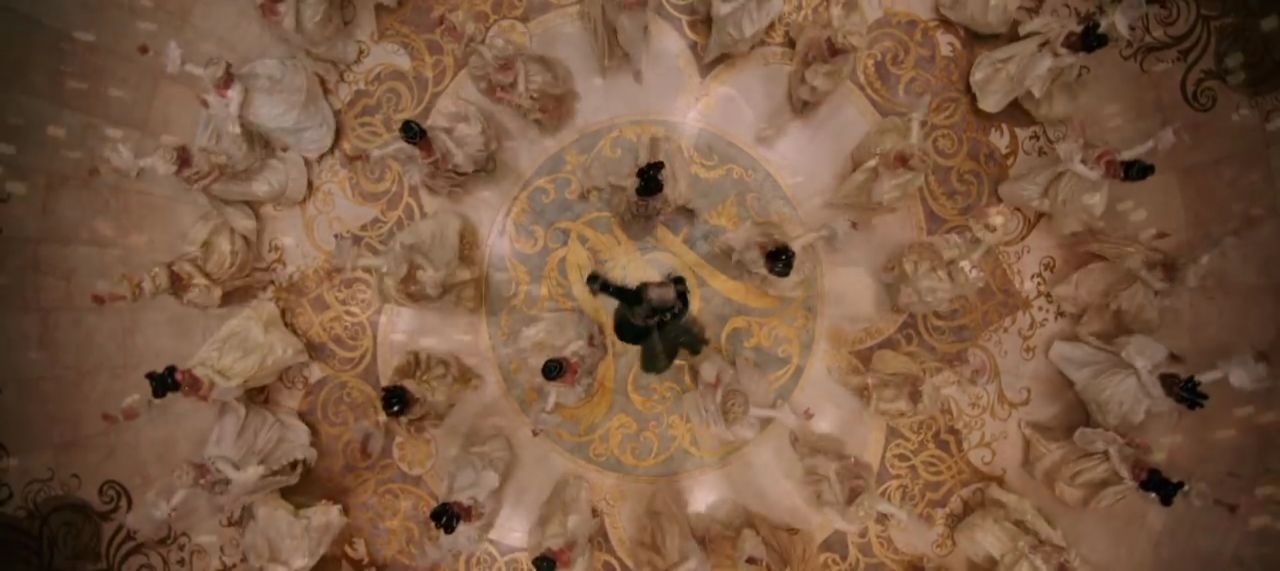 THE AUDIO
Disney's production of BEAUTY AND THE BEAST arrives with a very strong DTS-HD Master Audio 7.1 lossless soundtrack that encourages us to tap our feet and proudly sing along. From the opening ballroom dance sequence to the dark spaces of the castle, the audio presentation creates a vivid and believable landscape that envelopes the listener. The left and right channels produce a fine layering of music and sound effects, while the center channel delivers a strong separated dialogue track. Normally, one would hear dimished music and sound effects along with dialogue: not here. Disney takes the time to separate the track completely, which just goes to show how much care the studio takes with its properties. But the real test of any track starts with the surrounds, and here Disney once again shines. We get the sound of rolling thunder, insects, crowd noise, and of course the great score by Composer Alan Menken. My other standard – the LFE – thumps and pounds its way through the film, never overdoing things but always reminding you of its presence. All in all, this is another masterful release by a studio that makes masterful seem pedestrian.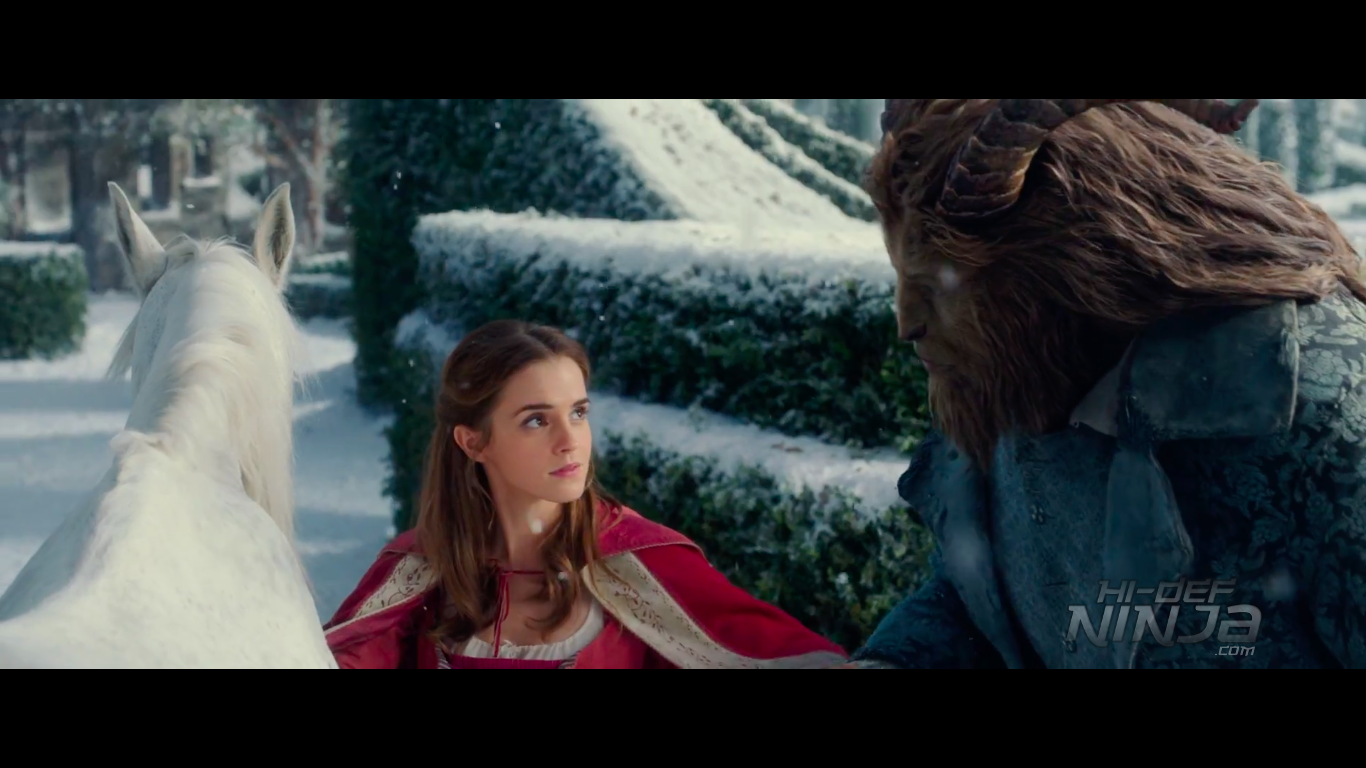 THE SUPPLEMENTS
Unfortunately, Disney's supplements for BEAUTY AND THE BEAST amount to a feast of famine. While numerous, they lack a director's commentary, which I believe is essential to any release. You've read my ramblings on this before, so I'll spare you the drama. What we get is a collection of EPK-like featurettes, along with some likeable stuff for the kids. But overall, it's a fairly empty experience. At least everything here is presented in HD, which does remove some of our disappointment:
Enchanted Table Read (13:31): This is an interesting – an obviously shortened – version of the standard table read, complete with additional music, singing, and dancing. It also includes still artwork and scenes from the film spread throughout.
A Beauty of a Tale (27:08): Here is your EPK featurette, which focuses on behind-the-scenes footage, as well as exploring the process which the filmmakers used to choose which songs appeared in the film. We also get the standard interviews with the cast and crew.
The Women Behind Beauty and the Beast (5:17): This one features Watson, who discusses her role and introduces us to most of the women who helped to make the film. Women dominated almost every department in the creation of the film, so it's a nice piece that underscores the wholistic path which Disney took.
From Song to Screen: Making the Musical Sequences (13:26): These are several behind-the-scenes featurettes, including cast and crew interviews and the way that several musical pieces were made. Sequences include Belle, Be Our Guest, Gaston, and Beauty and the Beast.
Extended Song (4:08): The song Days in the Sun is introduced by Bill Condon.
Deleted Scenes (6:23): Featuring an introduction by Director Bill Condon, sequences include Gaston Courts Belle, Bread and Jam for Agathe, Storming the Ice Gates, Lumiere Torches LeFou, Monsieur Toilette, Cogsworth Rescues Lumiere, Treacle for the Lasses, and LeFou and Monsieur Toilette Reunite.
Making a Moment with Celine Dion (3:24): Singer Celine Dion discusses her experience in the 1991 version. It's honestly one of those throw-away moments that has nothing to do with this version of the film.
Beauty and the Beast" Music Video by Ariana Grande and John Legend (4:02)
Making the Music Video: BEAUTY AND THE BEAST (12:07).
Disney Song Selection (33:09): This is of course the feature that will keep your kids busy for hours, which includes Karaoke versions of various musical selections, including: Belle, How Does a Moment Last Forever, Belle (Reprise), Gaston, Be Our Guest, Days in the Sun, Something There, How Does a Moment Last Forever, Beauty and the Beast, Evermore, The Mob Song, and Beauty and the Beast" (Finale).
Our evaluation copy arrived as a Blu-ray/DVD Combo. A digital copy of the film was also included. Although there is no interior artwork, the slipcase is one of the nicest we've gotten this year, featuring a colorful and embossed image and title. At the time of this posting, Disney made a full-court press in terms of the movie's release. The best of these included the Best Buy Steelbook, which does feature interior artwork but a flat case. I also recommend the Target digibook, which offers a colorful background to the story.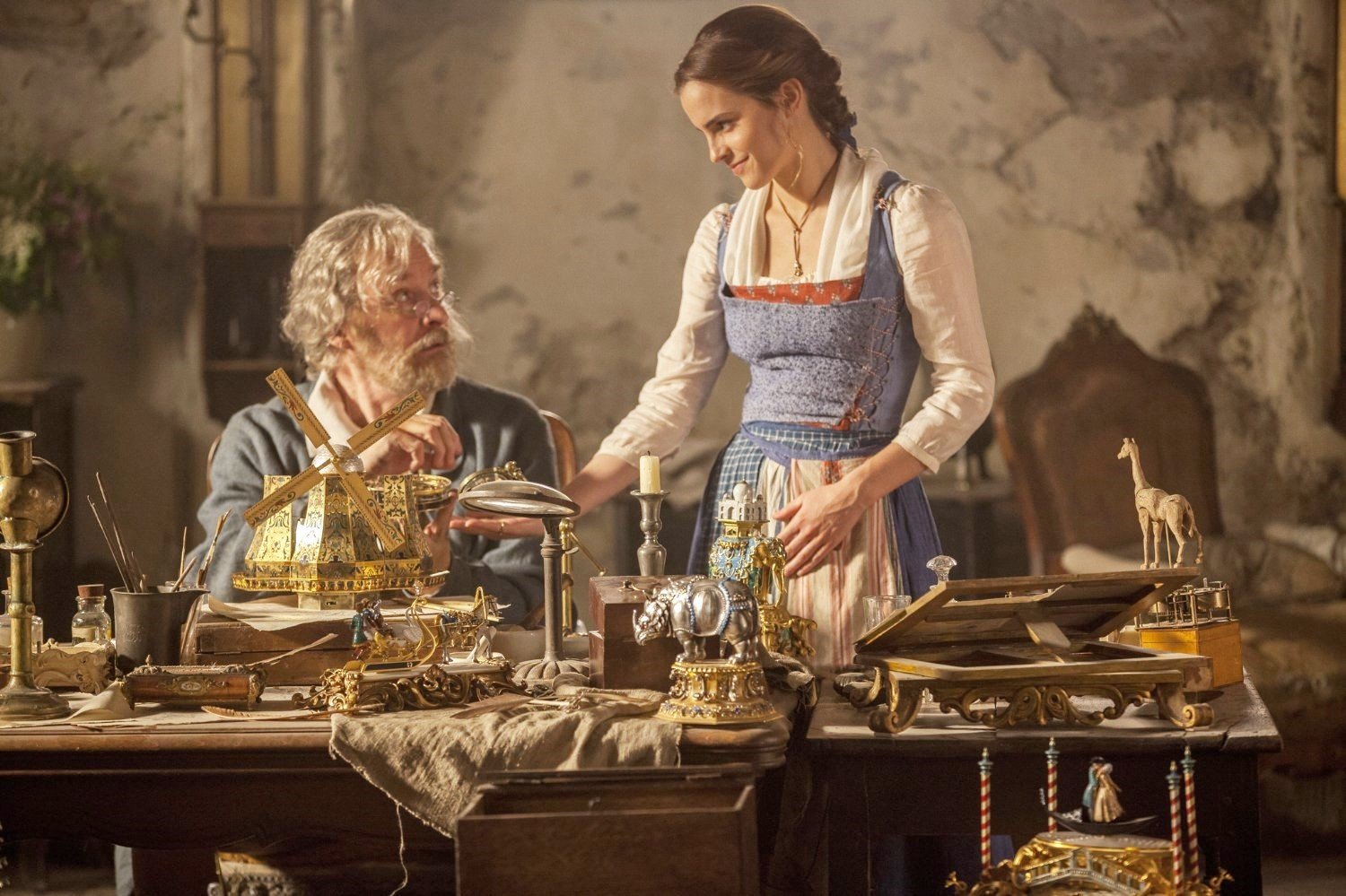 THE BOTTOM LINE
Regardless if we needed another version of the classic, BEAUTY AND THE BEAST is a celebration of diversity, thumbing its nose at isolationist values to express a message of hope and peaceful coexistence. Performances are inspired, but the CGI vacillates between gorgeous and shoddy. The home release is also inspired, featuring excellent audio and video; however, the supplements are a definite miss, and would have fared much better had we received a director's commentary. It's unlikely that parents will care about any of these issues, especially those who grew up with the original ringing through their childhood homes. They will find themselves re-singing these songs (thanks to the return of Menken, who scored the original version) alongside their children, perhaps returning to the moment when they too were first whisked away to Belle's world and when a venerated studio finally returned to greatness.
BEAUTY AND THE BEAST is rated PG for some action violence, peril and frightening images and has a runtime of 119 minutes.