ATOMIC BLONDE punches, shoots, and sexualizes its way to one of the best movies of the year.
Review by Matt Cummings
If the 2017 movie season – particularly the disastrous Summer – has proven anything, it's that audiences are most likely done with the typical reboots and sequels. They want more from their movie, and will stay far away from anything that doesn't feel genuine. Luckily, ATOMIC BLONDE is here to save your Summer, as its mix of deep spycraft, great casting, and James Bond-like sexuality will keep you guessing through some of the best fight scenes you'll see this year.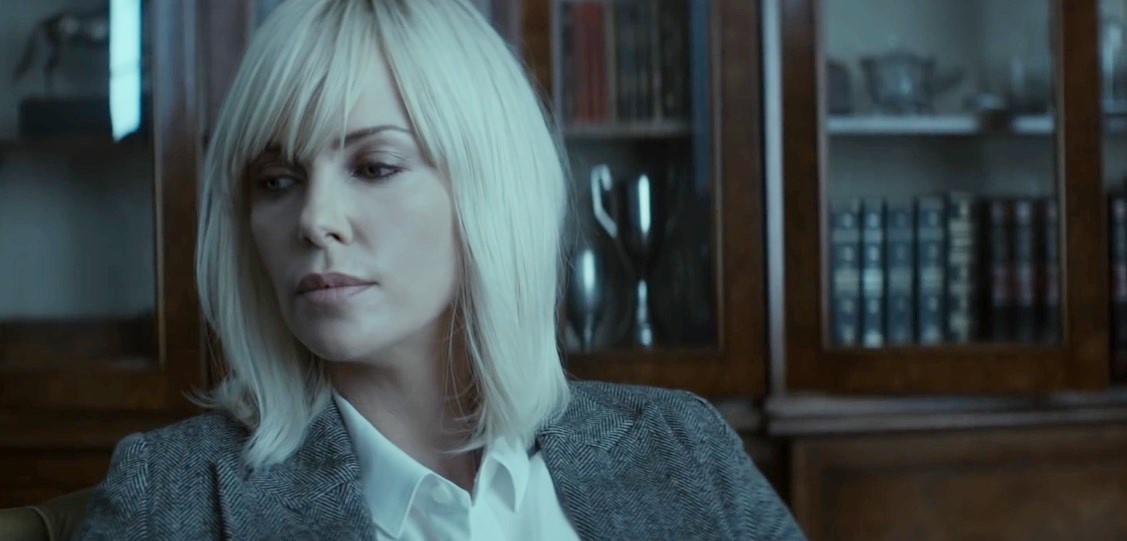 THE MOVIE
It's 1989, and the Berlin Wall is just about ready to see the end of a sledgehammer. MI6 has sent the agent Lorraine (Charlize Theron) deep into East Berlin in an attempt to secure a secret list of the West's deep covert operatives and their identities. But as soon as Lorraine arrives, she's the target of assassination from the KGB and must align herself with unknown entities like the spy Percival (James McAvoy). Highly stylish but possessing a deep range of lethal skills, Lorraine must navigate a bisexual green spy (Sofia Boutella) and her plodding MI6 boss (Toby Jones), while attempting to secure the NOC list, just as the entire KGB seems poised to violent deny her.
From the moment ATOMIC BLONDE fuzzily types its TRON-esque font across the screen, it's clear that we're in for more than just a tip-of-the-hat to 80's German synth. Lorraine is bathing in a tub of ice water, covered in bruises, with a bottle of Vodka nearby. She's clearly been through something hellacious, and the opening act gets us prepped for the insanity which awaits. But BLONDE is also a smart spy thriller, complete with as many levels of deception as TINKER, TAILOR, SOLIDER, SPY but with an interesting new layer: spies are disposable, emotional wrecks whose training is the only thing keeping them from insanity. That's nothing new (see the Daniel Craig Bond movies), but here Lorraine feels particularly damaged. She's learned that a fellow spy and BF was found in East Berlin and it's clear that her boss is hoping she would do the same. Again, that sort of disposability is tough to fathom, especially when the CIA attaché (John Goodman) sits in at her debriefing. But neither the blistering action nor the dark glances in Writer Kurt Johnstad's script would be possible without the assembly of some of the best character actors in the business by Director David Leitch.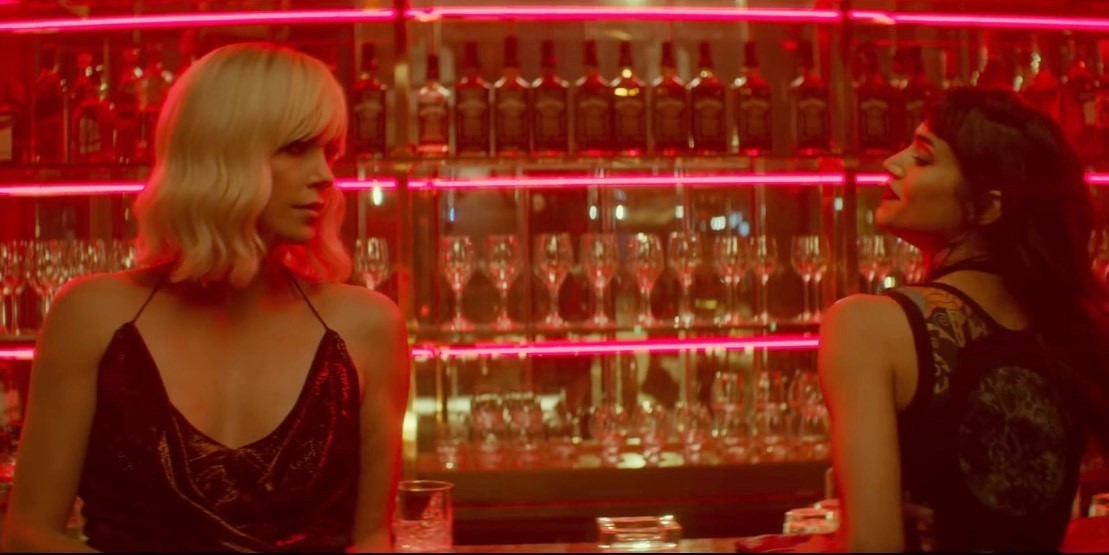 Theron sports a unique kind of hero, one who seems so essential given the times in which we live: she's as smooth as Bond but possesses the intelligence of a super spy who mixes obvious femininity (those thigh-boots are quite telling) with a nearly impenetrable toughness. Sure, she's bruises badly here but there's also the sense in several scenes that Lorraine is playing catchup, and Theron does an excellent job of handling that fragility as well. McAvoy is one of my favorite actors today, because (like Jones) feels completely capable of assuming any role with perfect suavity. For Percival, he's become a shadowy figure which no one quite knows whether they can trust. McAvoy gifts him with an air of corruption who is perhaps even capable of taking out Lorraine and making her look like the villain. Jones, Goodman, and even Eddie Marsan as the keeper of the goods as it were are all indispensable in their roles. Many times in film, you can imagine other actors capable of portraying these characters. BLONDE deftly reminds us that they are in control here, even if the handcuffs are a little too tight.
There are some issues with ATOMIC BLONDE. The second act gets a little too deep into the spycraft for its own good, and the incredible ending does feel like a patched-on plug that turns the tables on us (several times) while setting us up for a sequel. You do feel like Director Leitch is trying to desperately insert ever curve and blind alley he can before eventually giving up his hand. But there's so much great action by the JOHN WICK co-creator and so many wonderful 80's songs that it's hard not to love this sort of eye candy. Say what you want about how it portrays women, but you never feel that Lorraine is a victim.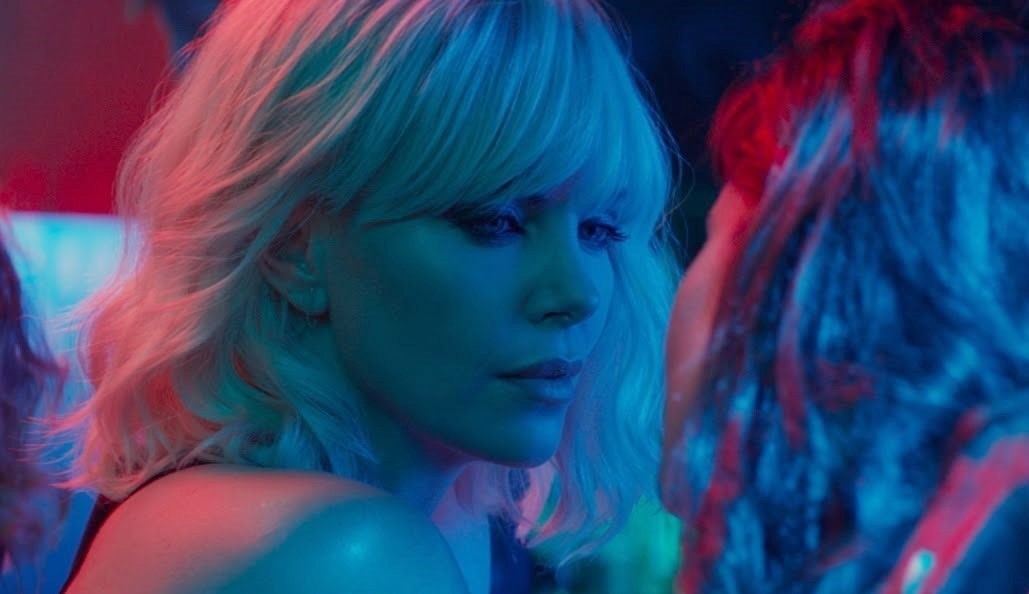 THE BOTTOM LINE
ATOMIC BLONDE punches you in the face, kicks you in the groin, and straddles over you just to make a point. It's one of the best movies of the year, and joins a growing list that bucks the trend of tired sequels and unnecessary reboots. It reminds us that movies with unique premises can make money, something that I hope happens with this one. Lorraine makes yet another powerful argument that women in leads can bring the tough while still being fragile and honestly desiring love. We need more women like Lorraine in film, even if some of the story gets a little lost in spycraft and her thigh-booted fashion turns her into something to be idolized. That's ok, because what we get is smart, funny, and spits in the face of its enemy, laughing all the way back to their stylish hotel room and liquor.
ATOMIC BLONDE is rated R for sequences of strong violence, language throughout, and some sexuality/nudity, and has a runtime of 115 minutes.