The Movie

The Video

The Audio

The Supplements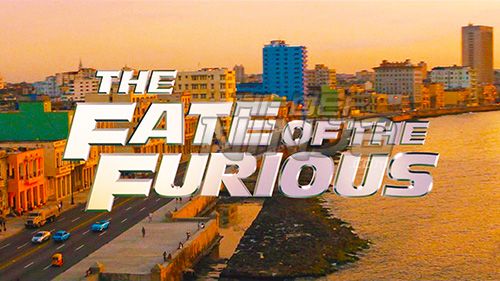 The predictable FATE OF THE FURIOUS features an incredible home release, but it still might not be worth your time.
By Matt Cummings
If a film franchise can be measured by the amount of explosions, stunts, and cheesy dialogue, FATE OF THE FURIOUS would be the greatest series ever. Luckily, we here at HDN have a higher standard, as we like a story with our beat downs (see JOHN WICK: CHAPTER 2). And while FATE arrives as an outstanding home release – including great video, thumping and immersive audio, and very good supplements – its one-note dialogue and an overall sense of staleness erodes the overall effect.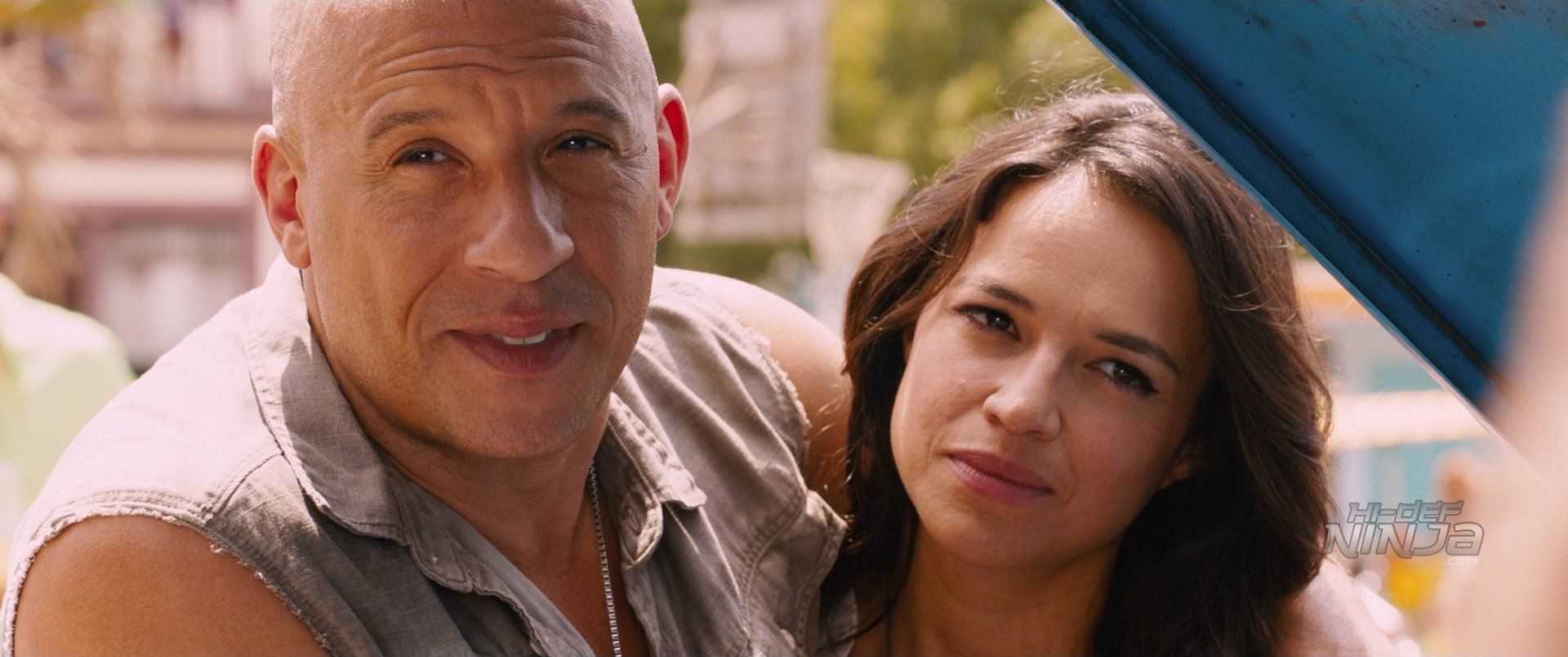 THE MOVIE
As Dominic Toretto (Vin Diesel) and Letty (Michelle Rodriguez) enjoy their honeymoon, he comes face to face with the mastermind techie Cipher (Charlize Theron), who's lost plenty due to his team's efforts over the years. She blackmails him, forcing him to complete a series of tasks or watch another friend die. Hobbs (Dwayne Johnson) re-assembles the team, including Roman (Tyrese Gibson), Tej (Ludacris), and Letty, only to see Dom attack them at the black site of Mr. Nobody (Kurt Russell), stealing a collection of tech designed to upend governments around the world. To defeat this new deadly duo, Nobody enlists the help of none other than Deckard Shaw (Jason Statham), who hasn't forgotten the bitter memories of challenging Hobbs' team. Forced into an uneasy alliance, Letty, Hobbs, and Deckard must stop Dom before Cipher's plan of a worldwide meltdown is realized.
FATE OF THE FURIOUS Director F. Gary Gray has inherited a ship that both has no desire to see its course changed, nor has any idea exactly where it will land. This feels like FAST could continue into the 20's before Universal will let it go, without doing a thing to enhance its growing collection of characters, none of whom are allowed to develop beyond their paper-thin premises. Sans Johnson and Diesel, most of the crew – actors who most likely could do nothing outside of this series – don't seem interested in doing more than reading from Writer Chris Morgan's action-oriented script. Sometimes that philosophy works, such as the various stunt sequences that include self-driving cars doing really bad things and listening to Russell's comedic quips. It's honestly the best of the many stunts here which include a submarine pursuing a car. If you saw this in theaters, your reaction might have been like mine: this series has become a James Bond film, but with street racers. And just like many Bond films, FATE OF THE FURIOUS is content to repackage the same format from the previous films, including the predictability of Ludacris and Gibson clowning one another and Diesel's tried (and mostly tired) "family is everything" shtick. There's a pattern of joke-action-explosion-long stares-plan-joke-repeat going on that at one point you'd swear you were back at the beginning of this movie.
This series has also done an X-MEN-sized muffing-up of its own timeline, establishing huge wrinkles as it applies a major reveal. FATE OF THE FURIOUS is also bereft of logic. Forgetting the plausibility of many of the stunts, the suggestion that Dom would be swayed to injure his own people to protect a lesser one makes no sense. It's also impossible to believe that a team who would have felt the weight of Deckard's killing of Han in TOKYO DRIFT wouldn't leave any ill feelings. And that moment when a major wrinkle is revealed also neatly wraps up any potential future conflicts; it does nothing to accentuate the story, except to provide the one dramatic moment this film has.
But underneath the skirts, guns, slick cars, and explosions, FATE OF THE FURIOUS also suffers a serious problem: its leads apparently do not like one another. We've all learned about the bad blood between Deisel and Johnson, and now having seen the film at home, it's clear that these guys (and the future health of the series) have a real problem. Morgan is forced to navigate some perilous moments to keep these two from really hurting one another, and the result is that the two only see each other less than 5 times throughout FATE, including a very weird end scene. It's sad to say, but the death of Paul Walker in 2013 has certainly changed this series' dynamic, so how can any chemistry be built when your leads refuse to work with one another? Moreover, this "family" including Dom have somehow morphed into the world's most elite squad, capable of solving every issue with guns, or tech, or cars. Dom can jump over buildings and submarines, even escape from a heat-seeking missile, and can race a beat-up Cuban ride all the way to victory, all because he's become something the series never envisioned for him. He's just in one bigger car chase after another, but without the cool factor of Bond. And while we get some memorable cameos and a general upgrading in talent with Theron and Statham (and yet another surprise), Theron doesn't sell it as well as FAST 7's Shaw. She's not so much of an ultimate baddie to Dom's ultimate hero as she's merely another aggressor for Dom to take down. I do like the tech element, especially if you remember events from the previous film. But its lack of a true emotional element keeps FATE from equaling or surpassing previous films.
THE VIDEO
Universal Home Video's presentation of FATE OF THE FURIOUS is presented in an MPEG-4/AVC transfer that should look good on any high-definition platform. Colors – particularly during the opening scenes in Havana – pop with reds, oranges, and sea blues, basking everything (even prison jumpsuits) in deep, rich color. As the film moves to New York, so does that palette, eventually getting blotted out during the final act. But throughout, skin tones look realistic and reveal individual strands of hair, pores, and sweat. The one area that needs just a topping-off is shadows. Blacks do very well, but shadows get lost too quickly, and it's prevalent in high contrast scenes with Mr. Nobody's suit. Shadows inside cars, on the street, and on Ciper's jet are just fine and the cars look gorgeous. Clothing (especially that prison garb again) reveal individual threads, while sets are well-appointed. Universal's release also doesn't contain aliasing, banding, or edge enhancement, leading me to award great marks. This should be even better on 4k, as it was digitally shot with a variety of cameras including the Arri Alexa XT Plus.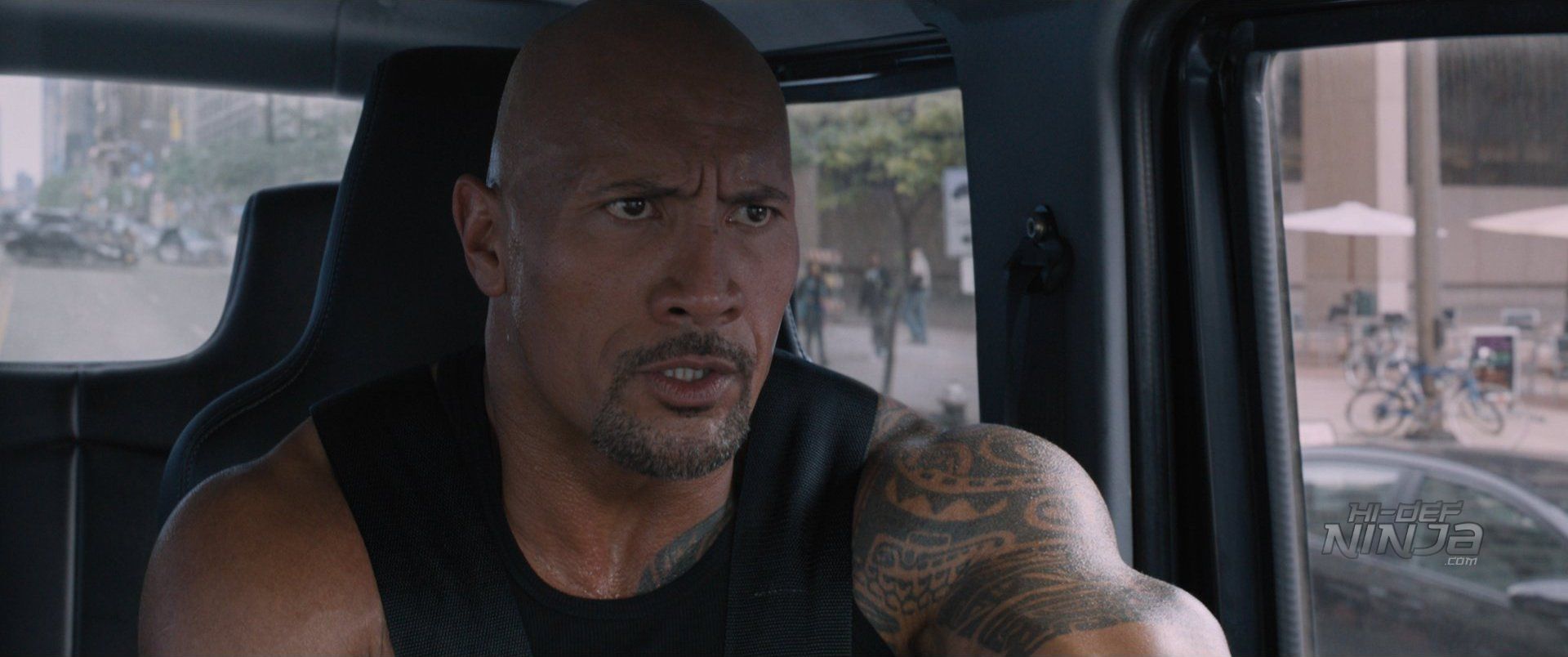 THE AUDIO
Universal's FATE OF THE FURIOUS sports a truly amazing audio mix. Complete with several versions, including an impressive DTS-X package, it's boisterous and blazing throughout, only missing once in awhile in the quiet moments and excelling through many more. From the clear dialogue emanating from the center channel – which is by the way completely devoid of music or sound effects – to the front channels that effortlessly move the explosions and car chases, this is a well-manicured track. Music features heavily in this series, and FATE doesn't disappoint, with a ton of bass-forward jams that work great with the LFE. But as we've already seen in 2017, what separates merely good soundscapes from truly great ones is both that LFE and the surrounds. Both excel in their own way, bolstered by an immersive rear experience that incorporates a ton of crowd noise, wind and snow, and even the plinking of keyboards. The LFE is a powerhouse, rumbling and running over the competition with throaty bass in car chases and gunfights, especially when Dom revs his over-muscled vehicles. Crunching metal and crashing glass sound pretty good too, sometimes becoming a wall of sound instead of a nuanced collection. But it's easily overtaken by another moment of mayhem, and then another, which should prove to us just how antsy this track is to prove itself. This is yet another feather in Universal's cap, but one we shouldn't forget is their game to give up. Remember that we've been enjoying this sort of acumen from them for over a decade now, so its hard sometimes to award them high marks when they've played this game so well for so long. Count on us to reward them for you. You're welcome.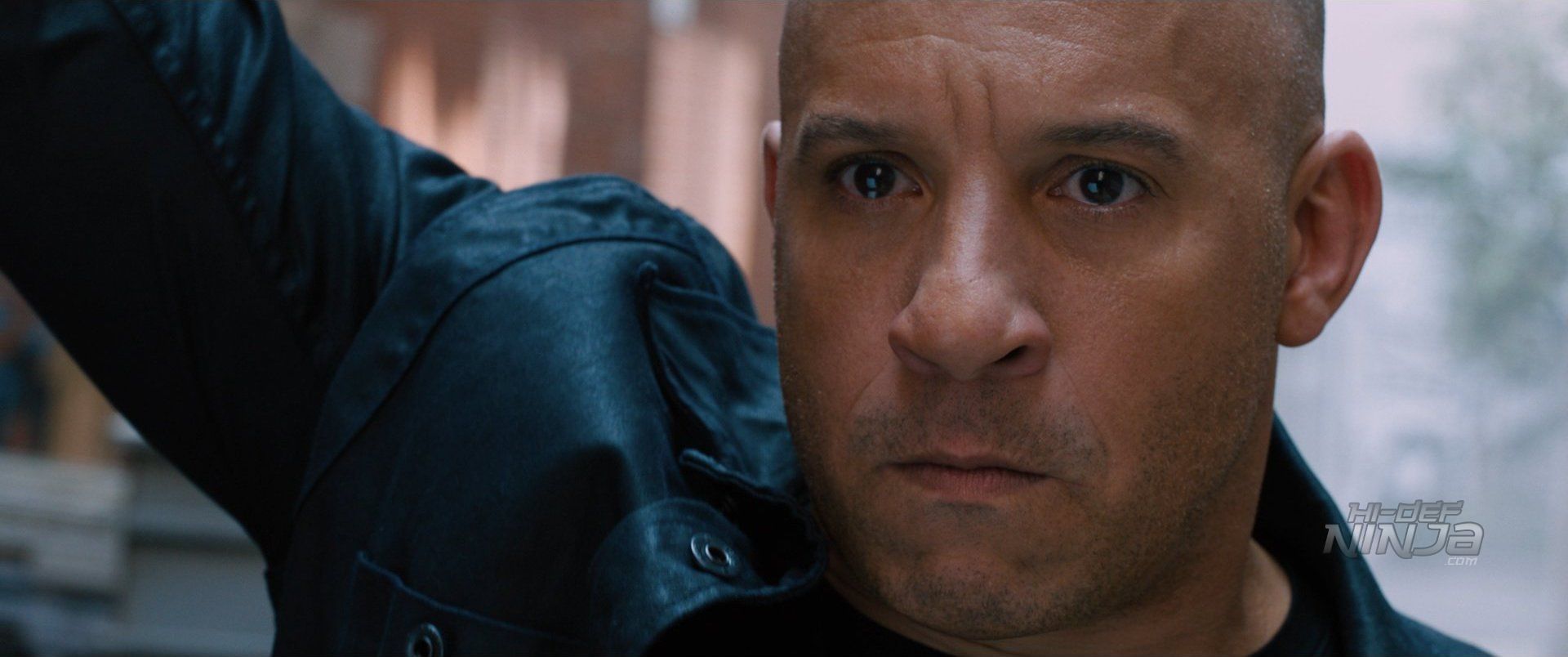 THE SUPPLEMENTS
FATE OF THE FURIOUS offers the right mix of supplements, including a commentary track and a nice collection of behind-the-scenes featurettes. Unfortunately, there's no deleted scenes, including the much-talked about stinger that was supposed to be a jumping off point for a Shaw/Hobbs film, which got nixed by Diesel at the last minute. But it's all presented here in HD:
Audio Commentary by Director F. Gary Gray: If there were problems on the set, Gray has nothing to say about it, instead taking us in-depth to cover various elements of the film.
The Cuban Spirit (8:04): This takes a moment to document the cast and crew's time in Cuba, as it was the first major studio film ever to shoot there.
In the Family: This is a four-part featurette that explores the film's characters. Parts include Betraying the Family: Cipher and Dom (6:35), Leaderless: A Family Lost, (5:00), Shaw Family Values (3:56), Meet the Nobodys (5:45).
Car Culture: Again, a multipart set of supplements that break down the various rides used in the movie. Features include The Hero Cars of 'Fast' (10:24), Zombie Cars (5:35), and The Ripsaw (5:22).
All About the Stunts: Another multi-part set that explores the stunts. Included are Malecon Street Race (6:15), Iceland Stunt Diaries (6:45), and The Streets of New York (5:27).
Extended Fight Scenes: Longer versions of two scenes including Prison Fight (3:01), and Plane Fight (2:00).
Trailers: THE MUMMY, FAST AND FURIOUS RIDE, DEAD AGAIN I TOMBSTONE, COLLIDE, DESPICABLE ME 3
Our evaluation copy arrived as a Blu-ray/DVD Combo with a UV/iTunes digital copy code inside. The curious part here is the 13-minute extended cut, which is only available on digital. I don't think I've ever seen a studio offer such a lengthy version, only to throw it onto digital instead of giving it a proper burn onto a disc. The slipcase is colorful and embossed, putting its best foot forward in terms of packaging. At the time of this posting, there were several versions, with almost every retailer hopping aboard. Best Buy offered a steelbook, while Target offered a cinch sack. Yeah, that was my reaction as well.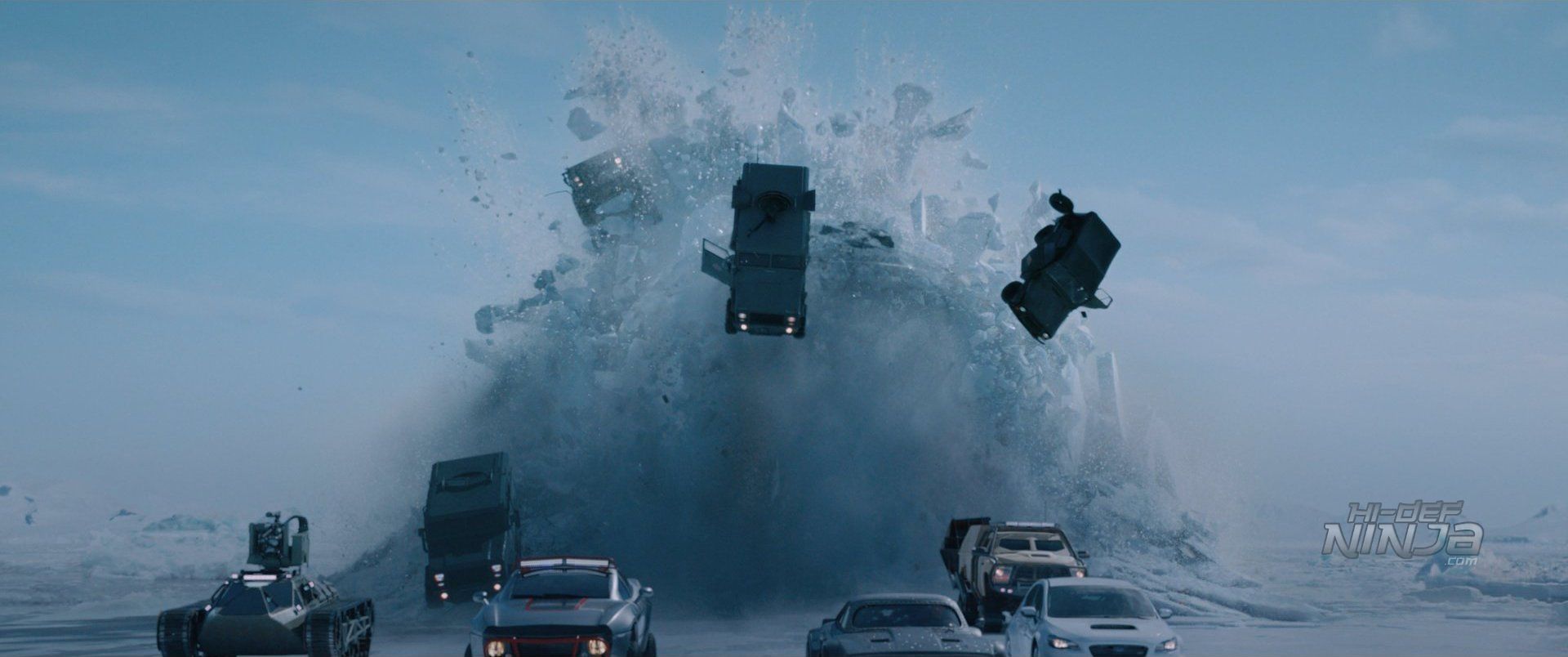 THE BOTTOM LINE
FATE OF THE FURIOUS is like drinking a diet soda: it goes down easy but leaves no memory of its appearance. Well cast and featuring some surprises along the way, but there's definitely something amiss here, refusing to be anything more than a retread of similar elements from the last two films. It's not that FURIOUS is bad, it's just bigger than the previous movie, which was bigger than the one before it. And although we're happy to drink an even larger can of that soda, it doesn't mean we enjoy it any more. In fact, you can feel just how long in the tooth it's become. If Diesel's not careful, his antics to keep tight control over this series will be the thing that ultimately dooms it. I do think a smaller movie is in order, something like a Hobbs-Shaw side story, which is in many ways what they did for FAST AND FURIOUS. This sort of mindlessness is fun but it's time for a change, and for Diesel to help move it in whatever direction Universal is planning.
FATE OF THE FURIOUS is rated PG-13 for prolonged sequences of violence and destruction, suggestive content, and language and has a runtime of 136 minutes.