THE MOVIE

THE VIDEO

THE AUDIO

THE SUPPLEMENTS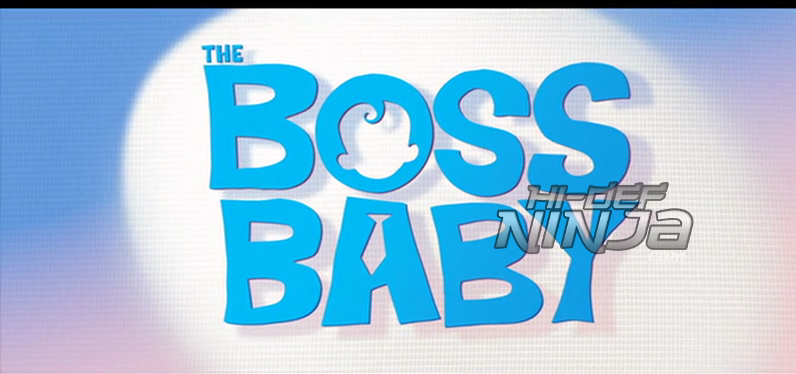 Dreamworks' THE BOSS BABY arrives on home video, ready to tug at our corporate heart and childhood imagination.
NOTE: Our images are captured from the DVD version.
By Matt Cummings
The story of a world painted by a boy's fertile imagination is nothing new to cinema, but Dreamworks' THE BOSS BABY adds several interesting new wrinkles, all of which are later dismissed as it moves into a predictable rescue timeline. And while it fails to keep its original message on point, the home release features stellar video, merely good audio, as well as a diaper filled with supplements, most of which might resemble what you find in spoiled baby linen.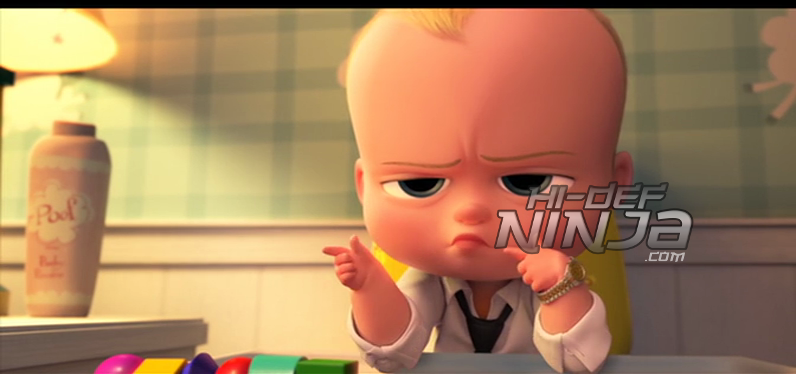 THE MOVIE
For the boy Tim (voiced by Miles Bakshi), the world is filled every day with amazing adventures, either as a swashbuckler, a space adventurer, or a hearty explorer. His parents (voiced by Lisa Kudrow and Jimmy Kimmel), provide Tim with the good life, surrounded by songs, books, and hugs, before heading to work at Puppy Co. All that changes, however, when his parents mention the one word a spoiled child hates to hear: "brother." Before he can grasp the coming changes to his life, a little brother (voiced by Alec Baldwin) arrives, but he's no ordinary baby. Dressed in a business suit and carrying a briefcase, it's also revealed that Boss can talk, much to the amazement of Tim, who quickly sees his parent time reduced to zero. After being grounded for showing hostility towards Boss – and attempting to record his secret meetings with other babies on the street – the two enter into an uneasy alliance, as its revealed that Puppy Co. will soon release a puppy that never grows old. Such a reveal will make babies extinct – or so the logic goes – as potential parents would opt for a puppy over a needy baby. As the two join forces to learn about the company's plans, they soon realize that they need each other in more ways than just saving the world from a puppy invasion.
THE BOSS BABY is odd thing to be sure. Insanely funny and highly stylized in many parts – thanks to PENGUINS creator Tom McGrath – it also finishes fairly dull with an odd commentary on the workplace and the concept of "moving up." Its logic – that babies are somehow manufactured (and are intelligent from the get go) and that their breastmilk contains additives which keep them from "baby-ing out" is a bit hard to accept, mostly because it's not explained very well. The key to successful universe building does lie in some sort of exposition (visual or aural), but BOSS isn't really concerned about that. While it sees itself as a kid's movie with several very funny sequences, it's content with showing baby's rear ends, blowing farts, and even graying out Boss' genitals during a fight with Tim. It's that kind of wild insanity which made PENGUINS OF MADAGASCAR so enjoyable, thanks to Writer Michael McCullers' imagination. Clandestine meetings with other babies, battles for affection with the parents, and even the strange office dynamics of Babycorp are achieved with frenetic physical style. There's also a specific design aesthetic here, as the film resonates with the 50's drive-in theme, including billboards and the design of BabyCorp itself, which I think really works. And for many, these will be more than enough to enjoy THE BOSS BABY. But just like the smell of an unattended dirty diaper, the structural problems with the movie endure through into the third act.
BOSS essentially takes our titular character through the entire process of corporate success, basking him in the glory of a corner office with adoring employees, before he realizes that he's supposedly missing something: a family. For the first 80 minutes of this raucous affair, Baby couldn't care less, powered through by breastmilk and his impeccable dress (how mom and dad don't realize that he's actually wearing suits is beyond me); when the reality finally hits him, it feels less genuine. While vocal talents are sound, there's not much chemistry between them. There's also a lot of jokes here that will go over kids' heads, so parents will have to provide some context to the banal corporate office structure, which actually might be a great sleep inducer. In fact, based on the amount of 70's car chase scenes (using the S.W.A.T. television theme song) and references to RAIDERS OF THE LOST ARK and LORD OF THE RINGS, I believe THE BOSS BABY is actually a more appropriate film for adults. When placed in that corner, it suffers a lot more because the logic behind the universe isn't sound. But you'll find yourself laughing a lot with all the meta, which is perhaps the bigger point behind the film. THE BOSS BABY isn't exactly the diet drink we've consumed with this Summer's thin box office offerings, but you'll be hard-pressed to remember much about it after you're done.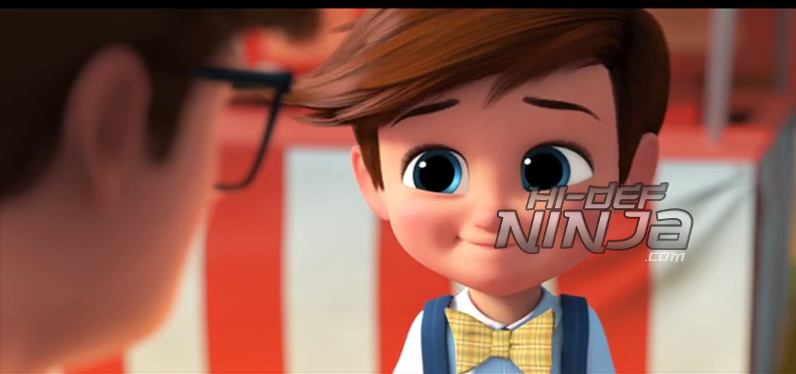 THE VIDEO
Dreamworks' THE BOSS BABY gifts us with an impressive MPEG-4 AVC transfer, hitting as many highs as possible. Colors are rich and satisfying, bathing the image in warmth during the human scenes, and then effortlessly transitioning to Tim's primary-colored imagination in others. We get beautiful blues, rich reds, and tans/browns that truly titillate. It assists with the film's frenetic physical style, and never disappoints. Movement of the characters never stutters or results in edge enhancement, and human details shine. BOSS isn't the visual spectacle that is MOANA, DESPICABLE ME 3, or other photo-realistic animated fare, but that doesn't mean it suffers as a result. Characters are darkly inked and gorgeously detailed, while backgrounds show off detail and are constructed to give their audience a sense of depth. There's not many night sequences here, but shadowing throughout is superb. Finally, there's no evidence of banding or aliasing in the print, leading me to award this top marks, and I might even go so far as to award it as reference grade.
ULTRA HD Blu-ray 4K
The Ultra HD Blu-ray 4k version packed with HDR providing brilliant brights and the deepest darks. So its billed and thus it does in fact give an incredible picture when viewed with your Ultra HD tv with HDR. Animated titles look amazing in 1080p and we've been looking for an animated film to really crush it with the picture quality as Trolls looked like the likely subject but fell a bit sharp. Boss Baby on the other hand just really looks amazing.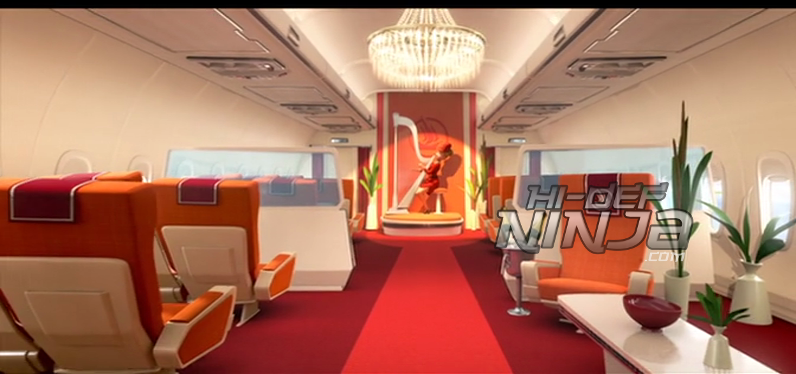 THE AUDIO
THE BOSS BABY arrives with a DTS-HD Master Audio 7.1 lossless experience that's frankly a tad hard to hear. I found myself cranking up the sound beyond what I normally choose, wondering if my new set up (which now can include Atmos) was lacking. I've heard this complaint before about BOSS, and the problem doesn't diminish even when you turn it up. Generally speaking, it sounds fine, with good surround that supports Composer Hans Zimmer's score as well as a few environmentals. The forwards also deliver well enough, separating dialogue into the center channel, while giving us music and effects through properly-phased forwards. But the LFE is mostly lacking, and it only comes to life when a rocket takes off near film's end, and even that isn't too impressive. All in all, it's a competent delivery, but I wonder what was passing through the studio's mind as they essentially dialed-down what could have been a raucous (and more enjoyable) experience.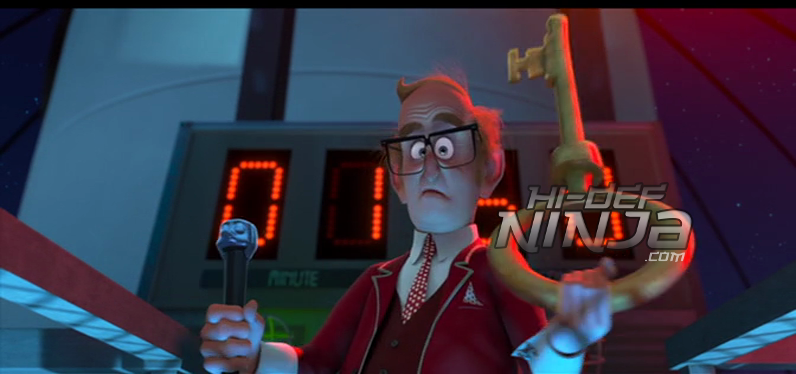 THE SUPPLEMENTS
While THE BOSS BABY arrives chock full of supplements, there's a lack of quality here, including no commentary track. Even for an animated film of this craziness, I do think it's a missed opportunity for the director to share his thoughts on the creative process. That said, you will be entertained with some of these, but my score does reflect both the lack of a commentary and a less-than-stellar breakdown of the movie. Luckily, what we do get is presented here in HD:
Babycorp and You (3:03): One of the best offerings here, Boss hosts an orientation video for new employees.
The Forever Puppy Infomercial (2:09): Another strong submission, CEO Francis Francis (voiced by Steve Buscemi) hosts a commercial for the adorable Forever Young Puppies.
Babies vs. Puppies: Who Do You Love? (3:26): News Past Your Bedtime debates the question.
The Boss Baby and Tim's Treasure Hunt Through Time (3:35): McGrath as Gandalf's brother narrates a short journey through Tim's imaginary adventures.
The Boss Baby's Undercover Team (2:17): This takes a short look at Boss' supporting team.
Cookies Are for Closers: Inside Babycorp (3:37): The cast and crew are interviewed about the film's premise.
The Great Sibling Competition (3:27): One of the most interesting offerings, the cast and crew share their thoughts on growing up with a sibling.
Happy Accidents: The Deleted Scenes of THE BOSS BABY (11:30): Director Tom McGrath and Producer Ramsey Naito introduce a few cut scenes in their early stages.
Gallery (3:03): You can either choose to scroll through manually or let the player do it for you.
Theatrical Trailer (2:01)
The World of DreamWorks Animation: Music videos including SHREK, MADAGASCAR, HOW TO TRAIN YOUR DRAGON, KING FU PANDA, THE CROODS, TURBO, and HOME.
Sneak Peek:: CAPTAIN UNDERPANTS: THE FIRST EPIC MOVIE, DIARY OF A WIMPY KID, DREAMWORKS TELEVISION
Our evaluation copy arrived as a Blu-ray/DVD Combo with Digital HD copy code inside. (and the 4k pertaining to that video quality paragraph) The curious part of their home marketing campaign suggests that this is a "special edition," yet no standard version of the release has been offered for sale, as of the date of this review. The slipcase is colorful but definitely pedestrian, and there is no interior artwork. At the time of this posting, a special "special edition" was offered, which included a talking baby keychain, while Walmart released a variant slipcase and 20 minutes of extra footage on Vudu. Where as the 4k Ultra HD version comes with a slipcover as well.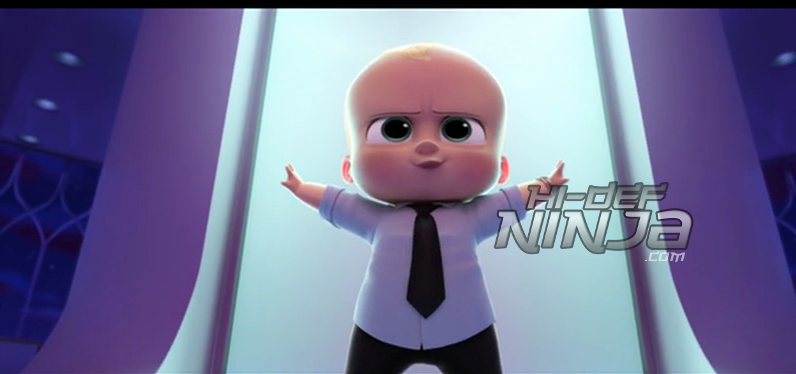 THE BOTTOM LINE
THE BOSS BABY is a mostly entertaining time, filled with zaniness, stellar animation, and more than a few Elvis impersonators. And once you get into things, it does tend to lean more towards the adults as it makes a strange little commentary on the corporate world and the concept of "moving up." But once the film moves into it bigger message, that's where it poops its diapers. It offers only a minimum amount of the sibling rivalry/bonding story, and is much more confident in the worlds it creates for Tim, including a really fun (and way too short) Elvis impersonator sequence. Voice work is very good and considering its worldwide theatrical haul of nearly $500m, plenty of age groups found something they liked, but it could have been a lot better. The home release is a little uneven, sporting a gorgeous transfer but dialed-down audio and barely passable supplements. If you liked it in the theater and think you (or your kids) will watch it more than once, consider a purchase.
THE BOSS BABY is rated PG for some mild rude humor and has a runtime of 97 minutes.