The Movie

The Video

The Audio

The Supplements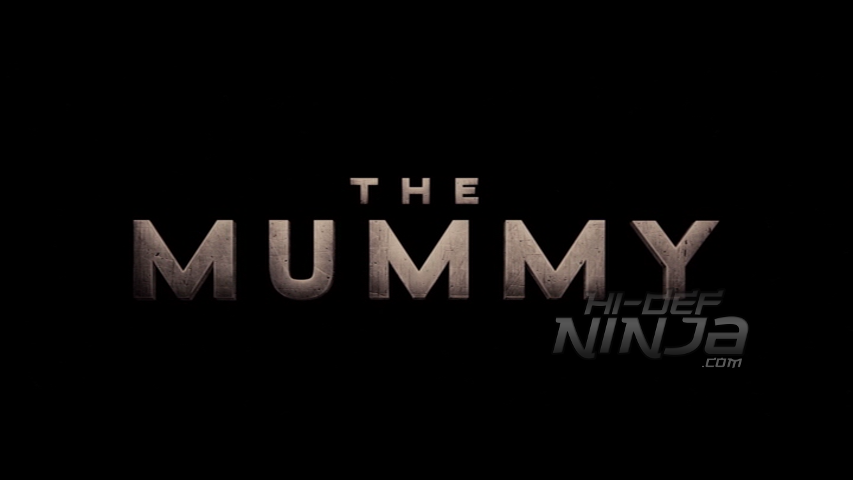 The competent but underwhelming THE MUMMY looks and sounds fabulous on Blu-ray.
NOTE: Our images were captured from the DVD version.
By Matt Cummings
When news arrived last year that Universal was establishing a Movie Monster Universe (let's call it the MMU), the idea wasn't exactly met with sweeping acceptance. How do you compete with some of horror cinema's most iconic films? Things seemed to improve dramatically when we heard about the talent that was being assembled: Cruise, Crowe, Bardem, Depp, Jolie. Unfortunately, Universal's first foray (or maybe second if you count DRACULA UNTOLD) into this universe – that being THE MUMMY – arrives merely as a competent production, but lacks the glory of the 1999 Brenden Fraser classic or the power of this year's WONDER WOMAN in terms of whetting our appetite for a larger story. And while Universal does its very best to gift MUMMY with terrific sound, gorgeous video, and a very satisfying array of supplements – its commercial and critical failure might endanger this once-intriguing concept.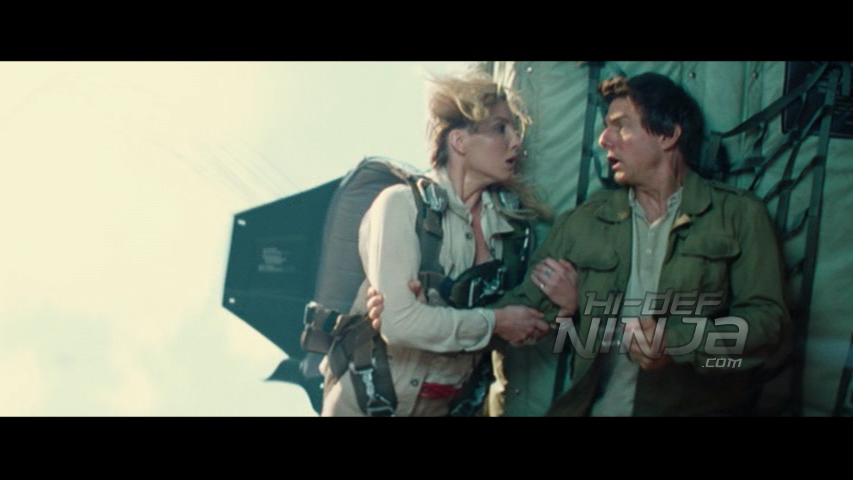 THE MOVIE
After re-awakening the 5,000-year-old Egyptian Ahmanet (Sofia Boutella), two treasure hunters Nick (Tom Cruise) and Chris (Jake Johnson) become intertwined in the destiny of the queen, who murdered her father in an attempt to become Egypt's pharaoh. At the same time, a secret and ancient organization is tracking their movements, lead by archaeologist Jenny Halsey (Annabelle Wallis) whose search for the god Set has taken her to Iraq. But when Ahmanet adopts Nick as her new gateway to Set, Halsey calls in none other than Doctor Henry Jekyll (Russell Crowe) to assist her. Jekyll also harbors a dark secret: he must take injections to keep his 'condition' from turning him into none other than Mr. Hyde, a murderous and hideous creature. With Jekyll and Halsey's help, Nick must destroy Ahmanet before she can use an ancient weapon to murder him and walk the earth as a servant of the maniacal princess.
THE MUMMY never really gets off the ground beyond its very good action and stellar CGI, which blends flawlessly. Part of the problem is its heritage: there are simply better versions of this movie that exist, such as the 1999 Brendan Fraser film and of course the original. But your reaction will also depend on whether you were around when either was originally released; if you're too young, then this one might be a nice vehicle into the Dark Universe (Universal's name for the franchise). But it's clear that I'm not the only one who loved the Fraser version, and that weighs heavily over MUMMY. This one is trying for something bigger: a connected monster universe where the character will join The Invisible Man, Frankenstein, Dr. Jekyll/Mr. Hyde, and others in an AVENGERS-style response team. Hyde is Nick Fury in this scenario, but that's all we get from Crowe's portrayal. He never gets to tussle with Ahmanet, choosing instead to destroy Nick rather than build a team around him. In fact, only Cruise delivers a complete storyline; his is one of redemption, a man who hides his conscience but possesses genuine humanity. His chemistry with everyone is superb, and Wallis and Johnson really benefit from the superstar's presence. Sadly, it's not enough.
Director Alex Kurtzman, once a heavy hitter as a writer and producer, lost the STAR TREK: BEYOND job for reasons that now seem clear after watching MUMMY a few times. He understands characters only from a popcorn perspective, content to wrap Cruise and the others in funny glances or in great action sequences, but never really knowing what his characters are all about. Even Cruise collaborator Christopher McQuarrie can't get deep enough without boring audiences along the way, such as Crowe's monologue about Ahmanet, a usually important sequence that comes off as tacked on.
But aside from all of these flaws, a larger one about the MMU could be its biggest: if/once this universe is established, what activity will all of these monsters find themselves doing? Defending against an alien invasion, a vortex, or even a concocted single-film villain with powers somehow larger than those of these monsters? Whatever they have in store, MUMMY gives no weight to any of these threats of danger, and never suggests that Team Monsters is even necessary. Ahmanet is just a beautiful but disposable piece on a chessboard that seems ill-defined. Will we see Frankenstein and Wolfman arm-wrestling while Dracula looks on drinking from a bloody challis? Whatever the end game here, MUMMY does little to set up any threat, although it does want us to support its desires for a sequel. Based on the huge losses it took domestically, it appears that and the MMU itself face serious jeopardy.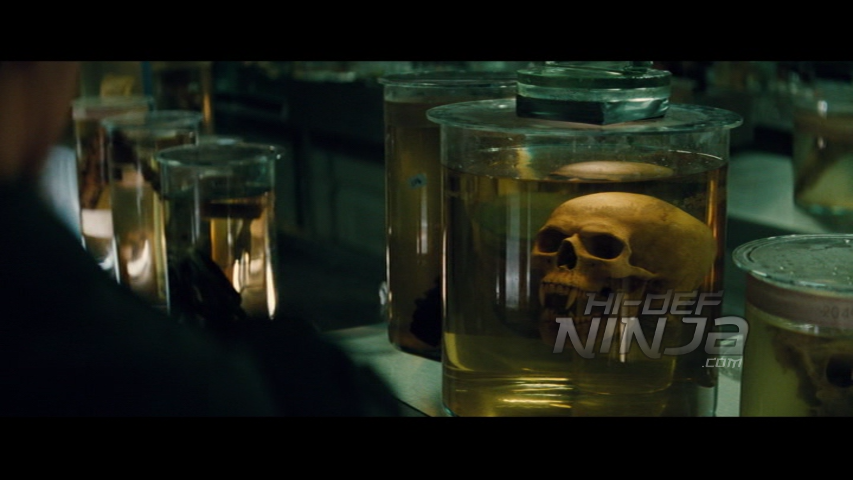 THE VIDEO
If Universal's THE MUMMY is a creative failure, the same cannot be said about its visual presence. Simply put, this is a beautiful movie to look at, partially because it was shot on film. This gives the amazingly complex and practical sets a chance to shine in every scene. The MPEG4 AVC transfer delivers a rich and textured experience, balancing light and color with just enough grain. Clothing details, like Crowe's stitching in his white dress shirt (see 1:10:26), come alive everywhere without looking cheap or suffering from edge enhancement. Skin and flesh tones look lifelike, from dirt on Johnson's face after the aerial assault to Wallis' white stitched shirt onboard the plane. Earthworks – like stone and sand – are a gorgeous brown, while the cosmopolitan schemes of London and of Jekyll's lab Perdigium are rich and complex. Clarity is off the charts, and every shot is expertly shot and smartly transferred. Black levels are fantastic, even the action sequences near the church in Act 2. Cruise's black shirt never gets swallowed up in the dark corners, while Perdigium shows off deep detail going all the way back to the end of the sets. Much like their work on FATE OF THE FURIOUS, Universal Home Entertainment proves why they are at the top of the transfer heap. This is why you buy Blu-ray and seek the best set up for your home, so you can show off prints like this to your friends.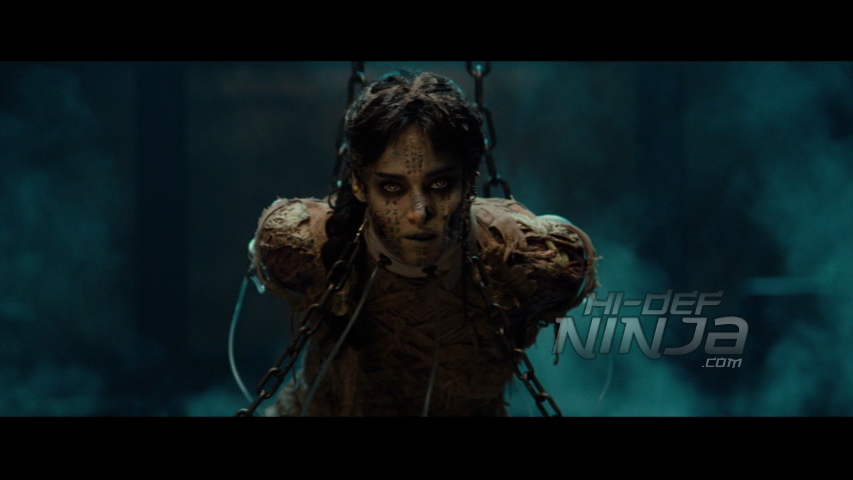 THE AUDIO
THE MUMMY sports a Dolby Atmos mix that transferred to a TrueHD 7.1 experience in my 5.1 set up. Even with all of these adjustments, Universal creates a richly dark experience in every speaker and never lets up. Dialogue, while not truly separated from the audio, is dialed up and easily discerned. Music by Composers Brian Tyler and Danny Elfman rings through the speakers with grace and power. Left and right channels handle the bulk of the sound, effortlessly mixing music and sound effects, showing off complex movement like running and explosions. Action scenes do very well here, as the LFE pounds and thumps in accordance with Universal's wishes. Gunshots, chaotic screaming, whistling sandstorms, and exploding glass and engines do so with incredible depth and clarity. Surrounds bring the money home, immersing us in sand, crowd noise, trains, planes, and other vehicles. It's not 100% immersion (my only criticism here), but it's very good. Overall, this should play very well on every sound platform available, and should entice audiophiles to crank it up.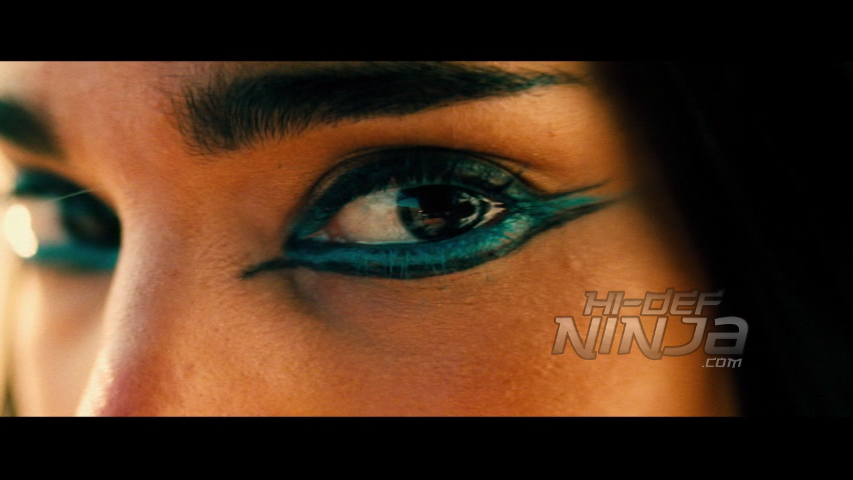 THE SUPPLEMENTS
THE MUMMY delivers an impressive amount of supplements, including a commentary track and an enjoyable collection of behind-the-scenes featurettes. Everything is presented here in HD:
Deleted and Extended Scenes (4:52): Scenes include Beautiful, Cunning, and Ruthless; Your Friend Is Alive; Sand In My Mouth; and She's Escaped.
Cruise & Kurtzman: A Conversation (21:15): The duo sit down for what feels like a genuinely enjoyable talk about various aspects of the film. The two seem to enjoy each other's company.
Rooted in Reality (6:52): Kurtzman and Cruise take us through the film's philosophy while keeping it grounded by using practical sets. The attention to detail – including Darwin's actual specimens – add an interesting layer.
Life In Zero-G: Creating the Plane Crash (7:32): If you thought the plane sequence was somehow shot on a soundstage, watch this.
Meet Ahmanet (7:39): The cast and crew reflect on what Boutella brings to the role and the various transformations her character undergoes.
strong>Cruise in Action (6:09): If you didn't know it already, Cruise is kind of a badass. This featurette proves why.
Becoming Jekyll and Hyde (7:10): We learn how the crew and Russell Crowe brought Jekyll/Hyde to life.
Choreographed Chaos (6:35): London is on display as the cast and crew shoot in various locations and use practical effects wherever possible.
Nick Morton: In Search of a Soul (5:43): We get more information on Cruise's character.
Ahmanet Reborn Animated Graphic Novel (3:52): This all-too-short but beautifully-conceived story about Ahmanet's origin story. Boutella narrates while animated imagery follow.
Feature Commentary with Director/Producer Alex Kurtzman and Cast Members Sofia Boutella, Annabelle Wallis, and Jake Johnson: This gets into all the details of the film, repeating some of what you've read above, but the cast and crew make it very engaging.
Trailers: ATOMIC BLONDE, DESPICABLE ME 3, CULT OF CHUCKY
Our evaluation copy arrived as a Blu-ray/DVD Combo with a digital copy code inside. I've noticed that studios are moving away from the Digital HD moniker, so it will be interesting to see what quality we get when redeeming the code. The slipcase is embossed but misses some great chances to display, leaving out Wallis, Johnson, and even Crowe.  There is no interior artwork.  At the time of this posting, there were several versions, with Target offering a steelbook.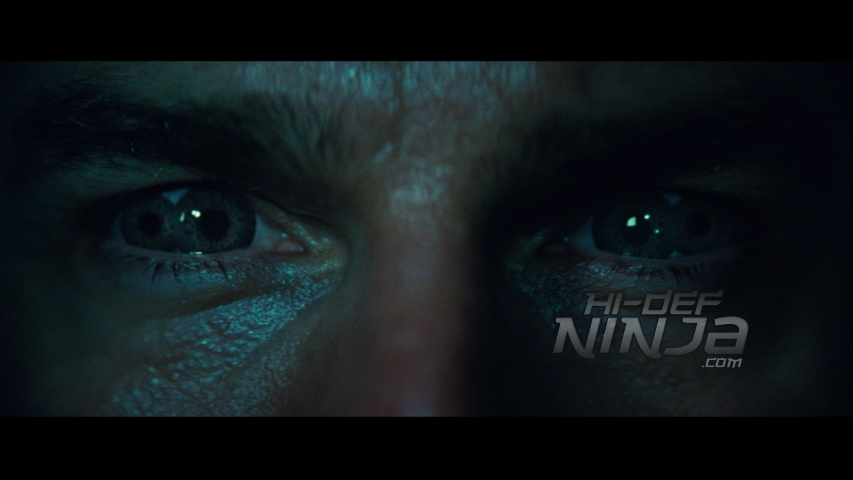 THE BOTTOM LINE
While it made over $400m worldwide, the paltry $80m American earnings for THE MUMMY will cast a certain amount of doubt on the future of this franchise. It's slow to develop and misses golden opportunities to present a truly visual experience that instead make it fairly pedestrian. CGI and music are excellent, and all technical details are superior. Universal dodged a bullet here, but it's unclear whether future audiences will give this series another break if they witness a repeat. For now, enjoy it as a purchase, but don't be surprised if you find purging this collection for another reboot.
THE MUMMY is rated PG-13 for violence, action and scary images, and for some suggestive content and partial nudity and has a runtime of 110 minutes.