This year, I was given the opportunity to speak with Andy Smith (no, not HDN's) from Sideshow Collectibles. He took me around the booth at NYCC and we were able to speak about a lot of the current and upcoming collectibles from their various lines as well as partners.
Michael – I know that previously, you had made some products from the Star Wars Mythos line and you have announced the upcoming 1:6 scale Obi-Wan Kenobi; do you guys have a plan of expanding on it?
Andy – Absolutely, Mythos is the opportunity to return to something that we love.
We have this amazing opportunity, where Lucasfilm is letting us play in their sandbox. Lucasfilm are pretty excited about it. They are the ones who actually revealed Mythos Obi-Wan at San Diego Comic Con, We had to keep it a secret in our booth and wait until they announced it…it was awesome. This line is only going to get bigger. It's onwards and upwards.
Michael – With that, will there be a variety of offerings or mainly 1:6 scale figures?
Andy – I believe it's mainly 1:6 scale…at least to begin with. You never know what the future may bring!
The great thing with 1:6 scale is the materials, the polymers that we use for the figures allow us to get even greater details than we did with the polystone statues back in the day. Once Obi-wan starts getting out there, people will see the crazy details in this thing, it's pretty badass.
Michael – Just from the photos I've seen and here at the show, it looks like it's going to be great.
Andy – It's nuts! There's so much there. We wanted to keep the key pieces that people went crazy about from the statue (like Qui-Gon's lightsaber, Anakin's lightsaber, the moisture-vaporators, the bantha skin). We tried to make it like he literally has his life on his back. We want to embrace this idea of this one key moment in his life. He has all these relics from being a Jedi knight literally slung onto his back, and he has to walk forward into the wilderness and embrace his new life as a hermit. He has everything to get the job done.
Michael – Is it true that the sculpt is based on both Alec Guinness and Ewan McGregor?
Andy – Yes. So on the original Mythos statue, we offered swap out portraits, but with this new version, and we wanted one portrait to convey both.
The original plan was actually to portray a young Alec Guinness, and we had a really cool sculpt. But, internally, we came to the conclusion that y'know young Obi-Wan isn't Alec Guinness – its Ewan McGregor! So we had to try and capture that moment in time when he could kinda be both actors. What we tried to do then is take a young Alec Guinness as a starting point and then morph it a bit…especially around the hairline and the beard. Get the little touches of Ewan McGregor in there.
We made it a little more like grizzled Ewan, y'know like when he does those long distance motorbike rides and stuff. Trying to take those character elements but still remain Alec Guinness in the eyes.
A guy at the show this weekend said that it was like a lenticular portrait which I though was awesome! He said, "I look at it and at each angle I see a different actor." Well that's cool, that's what we want. That made my day!
I know that Kevin Ellis, the project manager for Mythos Obi Wan, worked really hard to make sure that the portrait has the elements of Ewan and Alec in there, and I'm sure he'd be thrilled to hear that.
Michael – You can see it in the shape because Alec Guinness has a rounder face.
Andy – Yup! It's all in the eyes for me, its all Alec right there.
Michael – I've noticed that you brought the J. Scott Campbell Fairytale Fantasy statue. Is there a laid out plan?
Andy – For what we're working on next? There's actually a not-so-subtle hint in the printed backdrop behind her…
Michael – Wow…I'm seeing it now and I wish I saw it before I asked, haha
Andy – We have Alice and Tinkerbell in the works (among others).
We've worked with J. Scott Campbell before and his stuff is incredibly popular. We did an awesome line of Spider-Man statues a few years back and they are still much talked about fan favorites. J was heavily involved in the art direction and bringing these pieces to life. There are a lot of little things in there, like the subtle freckles on the Mermaid – they are pure J.
This is just the beginning, and I know he has a bunch more that the wants to do.
That's part of why we bring prototypes to shows like NYCC, so we can get feedback on the things we are working on from fellow collectors and fans.
Michael – Are these in anyway related to the Zenoscope Fairy Tales comics?
Andy – Not that I'm aware of.
Michael – Here is one of those things that I know you may not be able to discuss but here goes: At SDCC you had a 1:6 scale figure of Deckard from BLADE RUNNER and there has been no real mention of him. So obviously you'll be making this figure…
Andy – Nothing is obvious with us (maniacal laugh)…seriously though, this is exactly what we love to do at shows.
This is the reason why we bring early prototypes to conventions. We will bring original sculpts; unpainted protos, Swamp Thing over there actually has his concept art printed on a backdrop behind him. We like to show where our minds are at the moment, purely for that feedback… well, partially to get feedback and partially to mess with you (I'm kidding, I'm kidding!).
Essentially, Deckard is someone a lot of us love. You'll have to wait and see what the future brings…
Michael – Fair enough, I had to ask and I'm a 1:6 scale collector so from all of us: please make this!
Andy – Its something we daydream about, so…who knows what'll happen
Michael – The Avengers Assemble statues look incredible. Are you planning on getting the whole original team or branch out into the other members of the team?
Andy – The idea with Avengers Assemble was that the "proximity bases" are themed and designed to compliment each other. They don't physically fit together, they don't lock in, but they work together as part of the same scene, so we can always add more. There's definitely more characters in the works, and who they are I'm not allowed to say right now. Its fair to say that there are a few curveballs in the mix, and that they're being made 100% from a fan's perspective. We love these characters, and I think hopefully there will be at least one more piece unveiled before the end of this year. There are most definitely more Avengers on the way!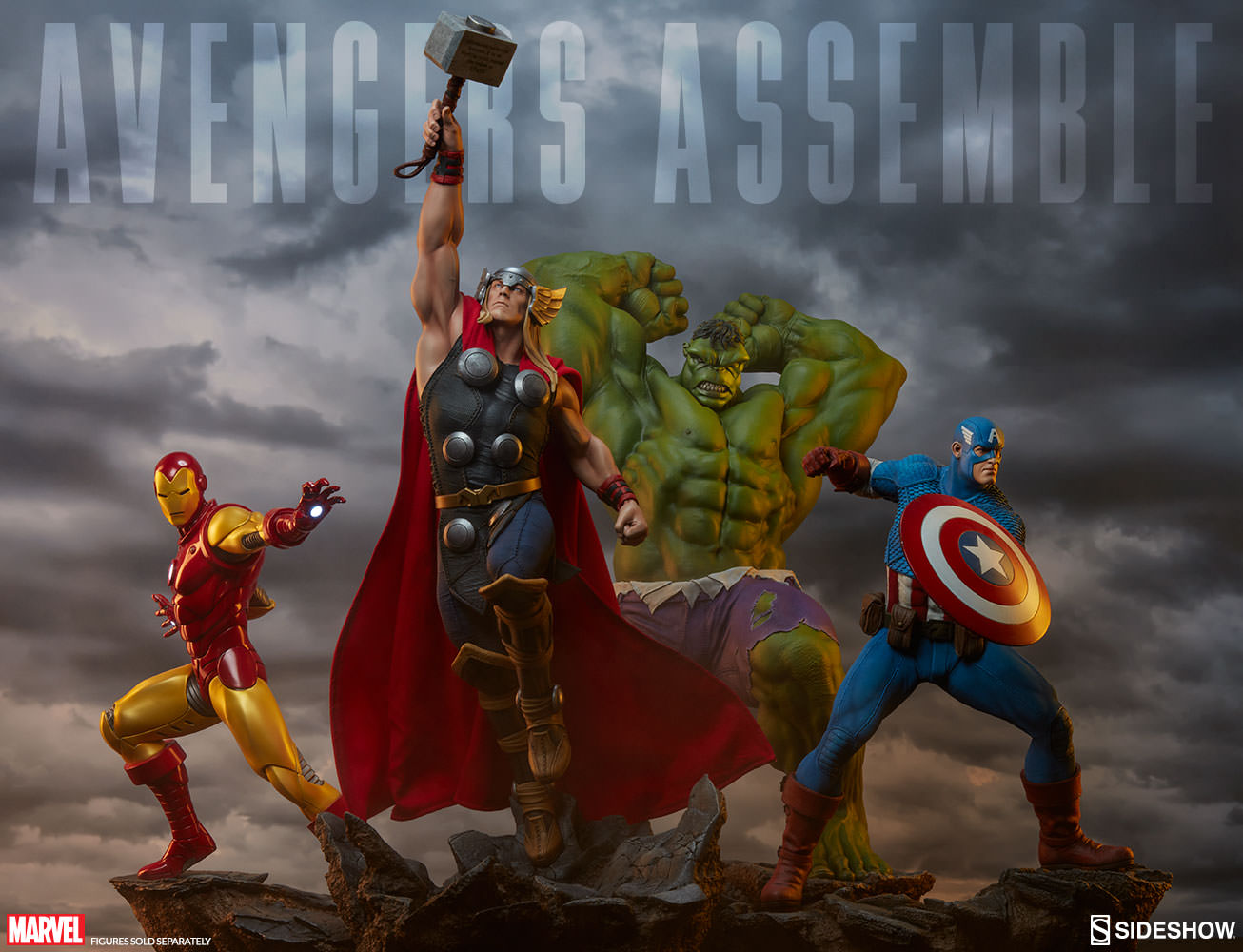 Michael – I think it's a great line for the people who are collectors but they don't want just the movie property versions of the characters.
Andy – We tried to create our idealized fantasy interpretations of the comic book characters. They are all the characters we love, but with a few Sideshow twists.
Michael – Like how Captain America is similar to the Ultimate comics universe version but with the modern comic twist.
Andy – We wanted to release comic versions of the characters with the detail that we're known for. Combining that detail with clean lines and bright colors. It was a cool combo.
People can hopefully see the love there and the fanboy way that we work.
We have guys that literally look for nerdiest things and the coolest little touches to add. Like, for example, the new Batman Legendary Scale Figure, if you look at it just right, the brow line, the wrinkles in his cowl, the lines of his face, they make the bat symbol in the negative space! How cool is that! You've got Zac Roane to thank for that! Such a cool little detail!
That's what we like to nerd out about. Some things are super subtle, sometimes we wonder how people haven't noticed them all yet.
Michael – Well, two statues that I can think of like that you've done hidden things are the Venom and the Swamp Thing with the little things: the symbiote piece and the turtle in the swamp.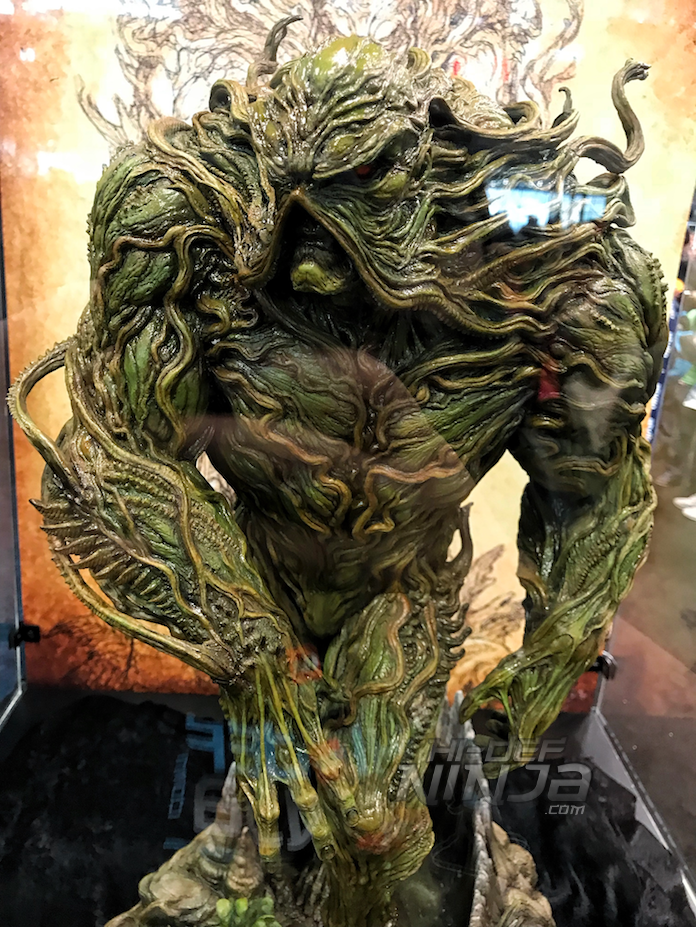 Andy – Swamp Thing is full of them! He has the sweet potatoes on his back like the hallucinogenic ones from the comics! Paul Komoda, the artist who designed and sculpted Swamp Thing is a huge fan. I know it was a real labor of love for him, and he slipped a few Easter Eggs in there. We haven't even revealed the exclusive yet and I can tell you it's kinda a big deal for Swamp Thing Fans. I can't tell you what it is yet, but it's more than a swap out arm or a different portrait – it's a whole other character!
Michael – Along with the Deckard question, there was a Flash figure that was shown years ago and never seen again. Is he going to be released or was it only a prototype?
Andy – Like right now at our booth, you can see the classic take on Batman in 1:6 scale as well as some new Marvel 1:6 scale characters.
We are doing more 1:6 scale pieces that are definitely comic book inspired.
Hot Toys are fanatic, and we love working with them, and they do a lot of the cinematic stuff. It's a great relationship because we can sort of play in other realms, and explore those characters from the comic book source material.
Walter O'Neal has been designing some amazing 1:6 scale figures inspired by the comics. I love the new Thor figure! He's a personal favorite of mine.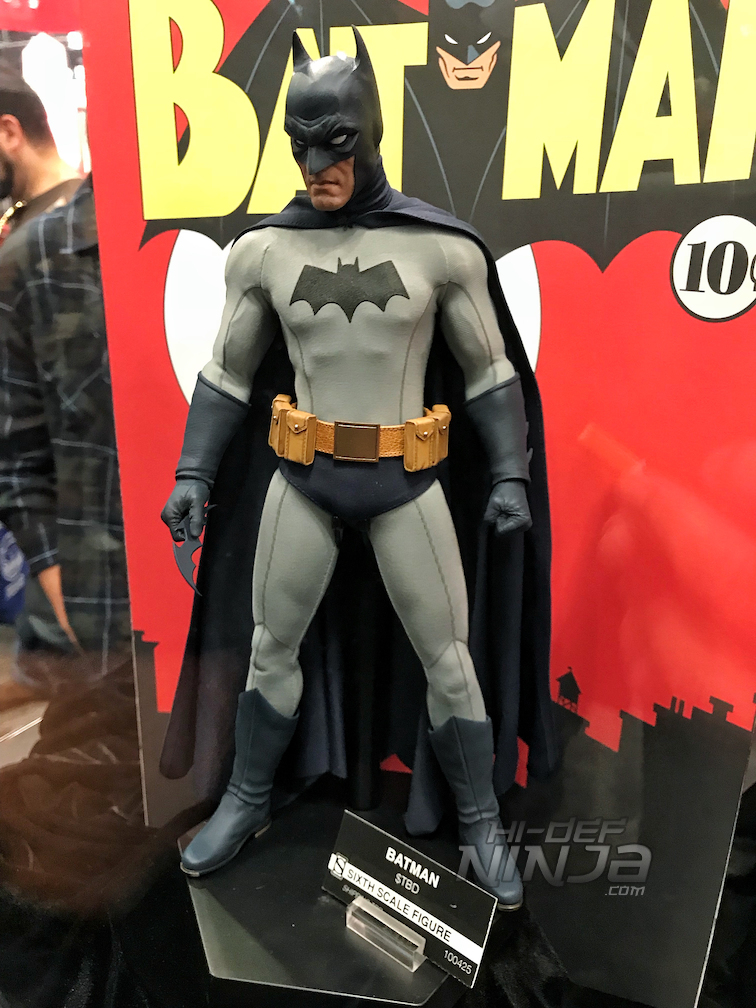 We do have more stories to tell in the Star Wars Universe too. Like the Bounty Hunters. We just dropped the new 1:6 scale Han Solo in Carbonite (that thing is so much fun!) but that's not the end. There's definitely a Scum and Villainy vibe that will continue on in 1:6 scale.
The Hoth series too. That is not done yet. There's more snowy stuff coming!
Michael – Like the Snowtrooper you announced is relatively new..
Andy – Yessir! The Snowtrooper Commander. So you see, we still have some cinematic stuff in the works. But you're gonna see more comic book inspired 1:6 scale in the future too.
Michael – With the great new Batman you announced: is he more like the Gotham knight or his own thing?
Andy – He is more along the lines of the Walter O'Neal designed Marvel figures. He is a combination of comic book sources funneled through one of our guy's brains (laughs). He's a new classic…
Andy – I can't wait for people to get the new Daredevil 1:6 scale figure in-hand. He has a whole new body under there that no one has really talked about yet because he's still a prototype, but once you get him, the articulation is nuts. You can really do those cool acrobatic poses that Daredevil deserves.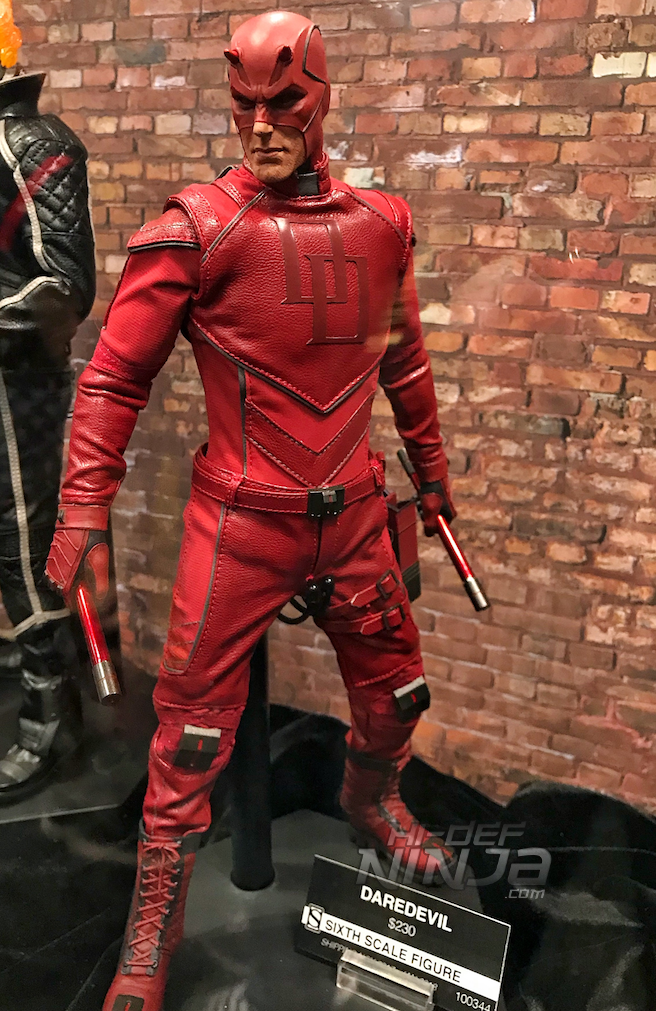 Michael – So that might apply to a Spider-Man in terms of movement?
Andy – That would be great! I can't promise anything, but that's certainly something we've daydreamed about.
We are always trying to push ourselves to do things a little bit differently. There are some really good 1:6 scale figures out there now. It's a great time to be collecting.
What we're trying to offer fans is something just a little bit different. Like our take on Punisher or Deadpool might be different to others out there. Our new Lobo too – he has hidden magnets in his arm to wrap the chains around. Little touches like that. Things that are totally Sideshow. We're nerds for those little details.
It's great to have that variety in the market, to be spoiled for choice, am I right? It makes the fans say: "I like this, but I also really like this, maybe I'll buy both".
Like Ghost Rider, for example, with…
Michael – Robbie Reyes vs. Johnny Blaze…
Andy – Exactly! We love both, and that's the great thing! Right now, you can get both!
We are friends with Felipe Smith (Robbie Reyes creator) and Gabriel Luna (who played Reyes in Agents of SHIELD). They are super cool guys. It's been so cool to see their character brought to life in 1:6 scale. The Hot Toys one is awesome! He's such a good figure, and he has cool little touches, tons of accessories. He's rad.
Our version of Ghost Rider is Johnny Blaze. We went more hardcore comic book, and that's worked out perfectly, collectors can grab different versions of Ghost Rider all in that same scale.
We have a bunch of faux leatherwork on our Rider. That patch on the front of his jacket is magnetized so that can change the look. He's got that rad Johnny Blaze belt buckle. We use real denim, I love that! People ask what we use for the denim, and we tell them…
Both in unison – Denim?
Andy – Ha ha ha! Yup! Denim!
We were trying to bring collectors the classic Rider, The Spirit of Vengeance.
Hot Toys went with the TV show version. Fans can grab both. I love that! I know I'll be buying both myself.
It would be great if someone did the Robbie Reyes from the comics too, with the steel head and the flames out of the forehead. It would be amazing! That's just me daydreaming again!
Michael – And it's great that you have that contrast. Some people like the Johnny blaze character and some like the variety.
Andy – And it's a wonderful relationship. It's so cool that we are a company that has our own figures, statues, busts etc. but over the years we have also become a kinda collector hub that sells these epic pieces from companies we admire.
We have this opportunity to bring fans all the coolest statues and figures, but also to do cross-collaborations. Like Tweeterhead for example. Tweeterhead make sick DC figures! Their new Joker and Harley (with Bud and Lou the Hyenas!) they are so cool!
Then we got to collaborate with them on Masters of the Universe statues too!
We just announced an Orko figure with them this weekend. He's right here at our booth.
So, it's a chance to cross pollinate and work together. There doesn't need to be rivalry. We are all in it for the love. We are all nerds.
When you visit our site you have all these badass options from different companies, then also collaborative pieces too. We've worked together with Prime 1, with Tweeterhead, this is just the beginning!
We aren't competing to make the same figure, we're each bringing our own twist, and you as the collector, you get to choose what you want, you lucky people! (Laughs)
Michael – And variety is the spice of life…
Andy – Could you imagine if you came to NYCC and everyone made exactly the same figure? How much would that suck?
Andy – We come from a horror background. Sideshow's OG crew are all special effects men and women. They worked with Stan Winston and other legends. Some of our earlier stuff before Sideshow was actually posable scale maquettes for stop-motion stunts in movies. I hate the word "pioneers", that's not how we roll, but we were definitely there right in the thick of it early on, making scale figures and exploring posable realistic figures.
We were also right there in the good old days pushing for actor likenesses in the figures. That's a cool part of Sideshow, that always excited and fascinated me as a fan long before I worked for them. The movie stuff, and being near Hollywood.
Sideshow's original crew cut their teeth on movie stuff, actor likenesses, different scale, hyper realism. That's our origin.
We have expanded over the years, and now we go from 1:6 scale all the way to life size.
That's actually something I love to talk to people about. The difference between a prop and a sculpture. There are some great companies doing prop replicas – we actually distribute them through our site – but we're more about sculptures. Our life sized figure isn't a suit you can wear. It's a giant statue depicting an idealized version of the character from the movie. That's an important distinction.
One cool thing I really like about our life sized K-2SO statue that's at the show this weekend is that its origins come from a much smaller scale. You know our guys dig the details, we just can't help but go nuts with the extra touches and the realism.
Well, we were designing a 1:4 scale K-2SO, and there was just so much detail packed into that model that we realized we could blow him up to his full seven feet!
Although the pose and accessories are very different, the 1:4 scale K2 and the life size one actually come from that same model.
I think that's a fun example of just how much detail we like to fit in there! (laughs)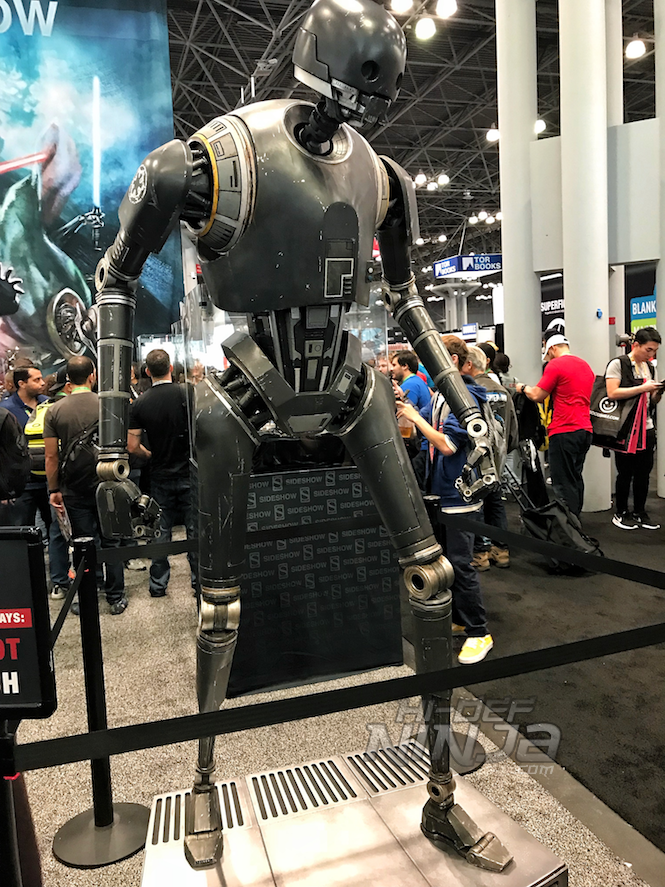 Michael – It must be amazing to create things for people that you love. You have that passion that is awesome that is completely conveyed to the collectors. Even in Sideshow live, you can tell that you all love it.
Andy – Oh for sure. We wouldn't do it if we didn't love it. It's a luxury, and a privilege and we appreciate that.
There's no way that we could ever get mad at Marvel, DC, or Lucasfilm or any of the licensors (laughs). They give us these opportunities, and we get to do what we love everyday.
Of course, its still a job, and people have their grouchy moments (usually before coffee in the morning!) we're only human, but we love this. We live and breathe this stuff.
And to have that freedom now, look at Mythos, it is just an honor. Imagine after so many years working with great companies like Lucasfilm, to be given permission to play with a moment in time, to tell a new story with one of the characters we love. We are getting to takes these characters and have fun. It's a game changer.
I can't describe how much we love this stuff…
Michael – I mean, you guys close the offices to see the movies you love as a company.
Andy– Yes! (Laughs) It's so much fun to watch movies with the Sideshow team.
I'm excited for Last Jedi. We just unveiled a new Hot Toys Luke Skywalker figure at the show yesterday. That was my first time seeing that piece. It's beautiful. Killer sculpt, and amazing fabric. Hot Toys did a great job.
Michael – what about movie spoilers?
Andy- Some of our guys know more than others. As you can imagine, that information is SO classified!
I'm happily not one of the privileged few (laughs). I don't want any spoilers. All this is new to me!
Michael – The Court of The Dead game was shown, what is the status on that?
Andy – The "video game" itself is currently on hiatus, but "game" in the broader term…there may be some more fun things in the works. Hint hint (laughs).
Court is huge. Like it's been amazing how fast it has grown and how people have embraced this new world. It's grown into a monster really quick.
Michael – The reveals at San Diego this year were huge. This is a corner of the statue world where you guys can literally do whatever you want.
Andy – And that's what is REALLY interesting about the Court. Not only the world, the monsters or the characters, but also the freedom of experimentation.
Some of Sideshows crew are old school horror guys. We've got Tom Gilliland working with Casey Love working with Amilcar Fong, it's like the perfect storm of creepy cool monster stuff (laughs)
We don't have the time or material constraints. Court becomes a testing ground for everything.
All the material choices, all the ways that we work with the fabric, the way things are designed, painted, assembled. It's become the proving ground for all our most cutting edge ideas and processes.
Malavestros is the most complicated sculpture that we have done in terms of mass production, so all of that is a learning experience. If you're really smart, you can look at Court to see where the rest of the company is going to go.
It's our proving ground. Only the strongest survive! (maniacal laugh)
Michael – Like with Gallevarbe you see the water shimmer used that eventually made it in some of the other sculpts you've done like the water on Swamp Thing.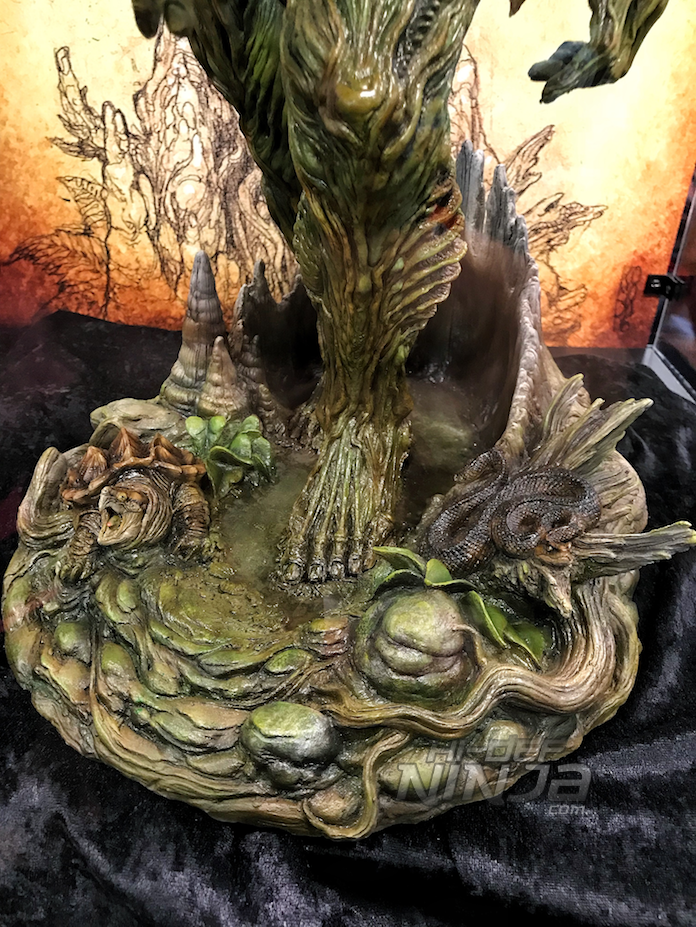 Andy – That's the wonderful thing about Court. You'll see elements from Court in everything we do. The water effects, the translucency, Court had a hand in that for sure.
The Court has become a really important part of our company, as well as an awesome in-house world building opportunity. Tom Gilliland, the Court creator, is really into Easter Eggs, he loves adding little details and story telling. There is simply no dead space in a Court statue, everything means something.
The deeper you get into the world, the more you learn about why this was here. He's got a game plan. So you might be like "oh damn, that book you revealed six months ago related to this character who was just revealed", Tom's hardcore into that. His mind is like one big DVD extra feature, y'know. He just loves going crazy into that world.
Even now we'll have fans ask "does this mean this?" And we go "uh huh, yep…" "Ohhhh…" And you disappear down a whole new rabbit hole.
The new Demithyle has a lot of chains hanging off him and there are icons and symbols hanging form him. Those mean things. We don't add detail without reason. Look at the embossed metal work on his armor, there's stories being told.
Michael – And now I'm going to study the statues…
Andy – And that's what we want! (laughs) we encourage that.
And once you get into Faction allegiance, and you start to identify with a certain faction within the Court, you start learning about those characters and their stories, a whole different world opens up.
You start getting into the world politics, and it gets like a whole new weird Game of Thrones vibe going on, there's whole stories arcs that are hidden in the statues and the expanded world. It's pretty damn deep for a statue on your shelf, but I know a lot of people love that. We certainly do!
You're gonna wanna read the comics, you're gonna wanna read the Court Chronicle. Dig deeper, there's riches to discover!
Michael – Is that going to be an ongoing series? because I was hoping for an ongoing series of comics about this…like I can see a conspiracy board with twine and thumbtacks.
Andy – That's how Tom's mind works! It's like the TV show Dexter with all the red cords connecting everything! (laughs)
There's a collected edition of our comics with a bunch of new content added for print. It's called Grave Tales, and it's available through Insight Editions.
There's also the Court Chronicle. It's like a big tome, it's an introduction to the characters and their world. It's like the Dungeon Masters Manual of the Court (laughs)
We've got a novella coming soon, the publishing side is expanding a lot.
So you'll see a bunch of print material and comics
We're also working with Project Ray Gun on a bunch of cool stuff in the very near future. There's jewelry too (with our friends at Badali and Han Cholo), and we've put a lot of hidden Court iconography into that too.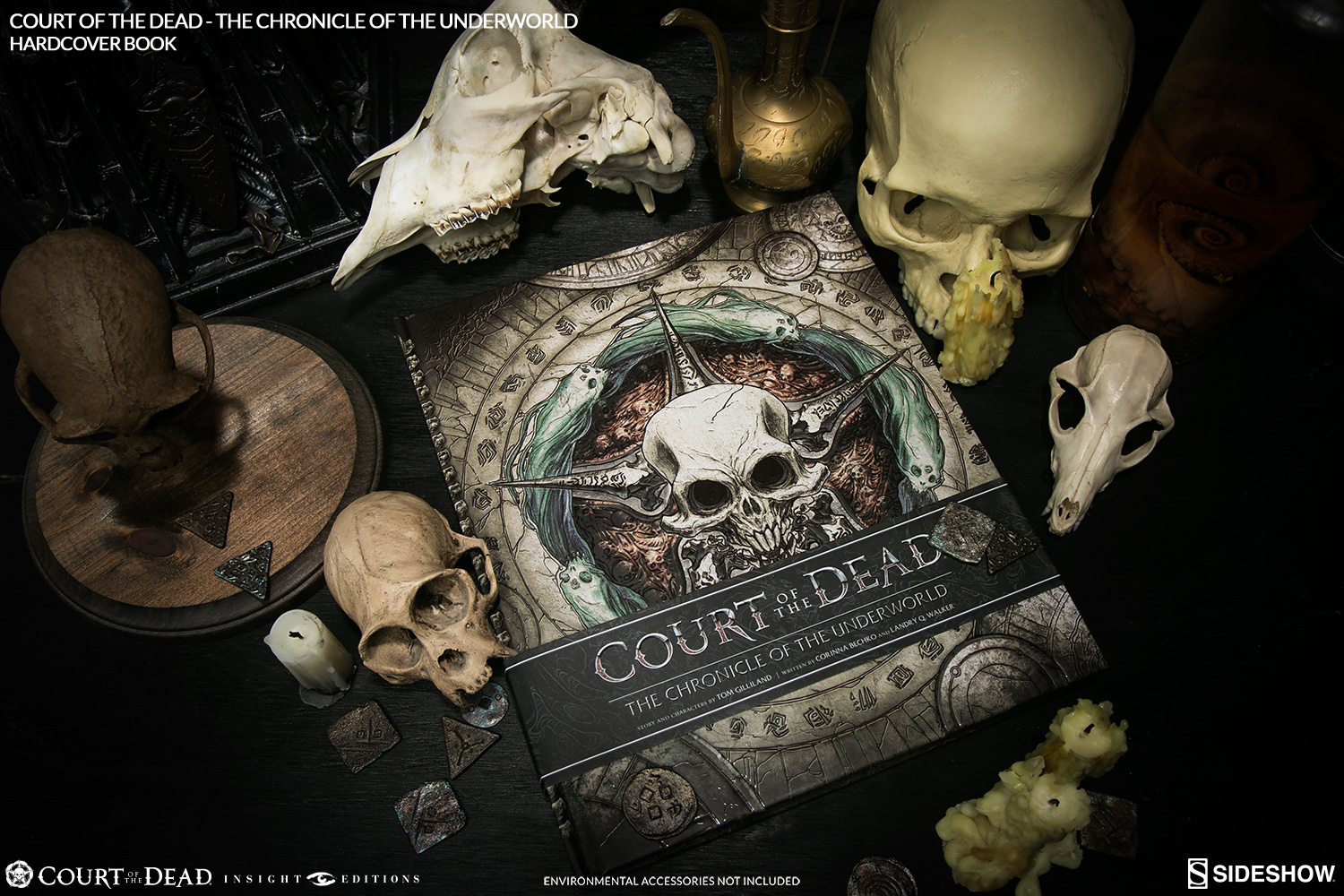 Michael – Are the comics self published?
Andy – For print, we work with Insight Editions. Check them out. They make some awesome books!
I want to thank both Andy and Sideshow Collectibles for taking the time and speaking with me at length about their showing this year at NYCC. It was fun, informative and it leaves collectors like myself anticipating everything that Sideshow has in store for us. Be on the lookout for their biggest event Spooktacular, beginning October 23rd, 2017. You can check out all about it here.
Photos are a mix from Sideshow Collectibles' site and Michael Madison at the convention