WONDER 4k UHD and Blu-ray Review
The Movie

The Video - 4k UHD

The Video - Blu-ray

The Audio

The Supplements
August "Auggie" Pullman is like most kid's his age: he's into video games, Star Wars, science, and space.  However, he does have a rare genetic disorder that has caused him to have 27 surgeries since he was born and it has affected his face.  Because of his love for the space, he imagines himself as an astronaut and even has a replica helmet.  It acts as his security blanket to hide away when he needs to.
Up until now, he has been homeschooled by his mother and both parents, Isabel and Nick, feel like the older he gets, the harder it will be for him to attend school with other children and they enroll him for the 5th grade at Beecher Prep.
WONDER is directed by Stephen Chbosky and based on the novel of the same name by R.J. Palacio.  Chbosky is the director who also did THE PERKS OF BEING A WALLFLOWER and he has this ability to tell these stories that brings the story to a humanizing level.
With big names like Julia Roberts and Owen Wilson playing the adults, you would think that they might dominate screen time but you would be wrong.  Jacob Tremblay as Auggie is the star and his portrayal is excellent.  He was very good in THE ROOM but in this, some of his emotions have to come through the makeup that he is wearing.  The variety of classmates makes up an eclectic group of people for him to interact with. 
 
Cast
Julia Roberts – Isabel Pullman
Owen Wilson – Nate Pullman
Jacob Tremblay – August "Auggie" Pullman
Izabela Vidovic – Olivia "Via" Pullman
Noah Jupe – Jack Will
Bryce Gheisar – Julian Albans
Elle McKinnon – Charlotte Cody
Millie Davis – Summer Dawson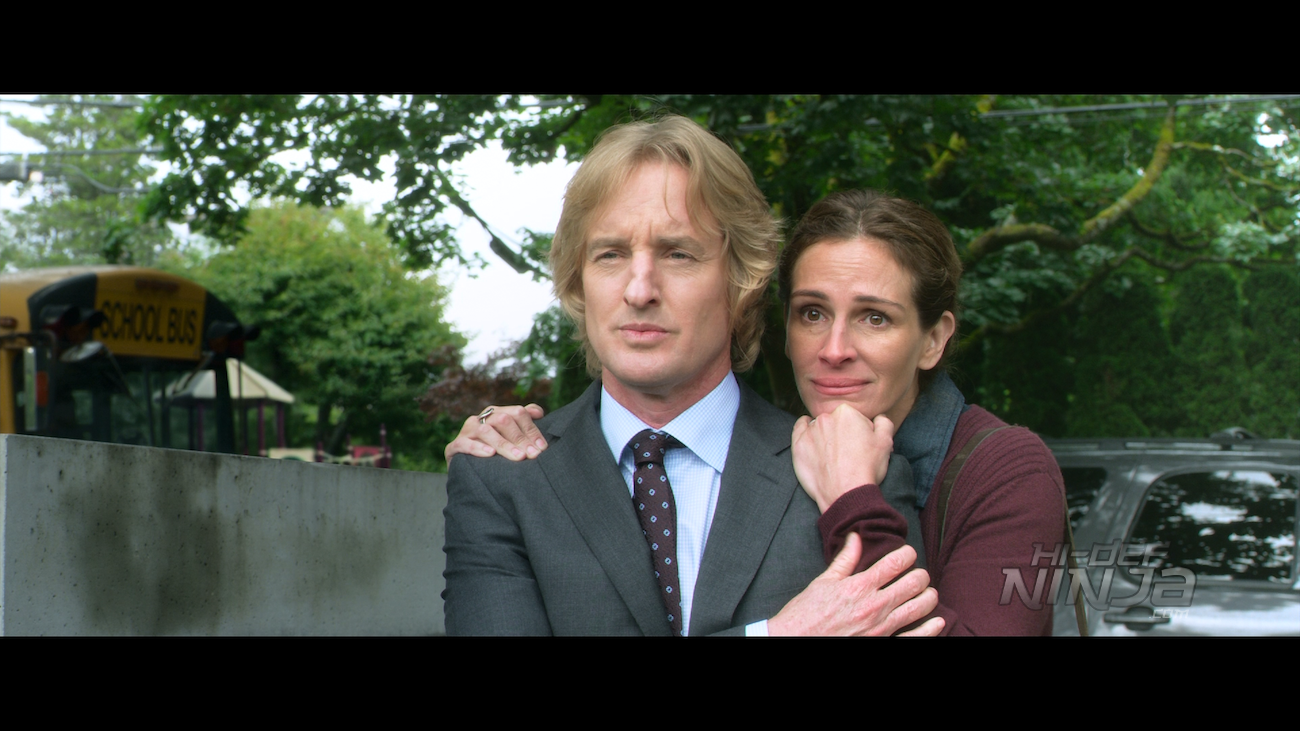 VIDEO QUALITY:
4k UHD
The video is a 2160p HEVC that has a really clear picture.  There aren't any spectacular effects or big action moments but the various outdoor settings have a peaceful beauty.  It makes sense that the film has received a nomination for Best Achievement in Makeup and Hairstyling due to how realistic Auggie's appearance comes off.  There are no flaws in the makeup and the detailed images show that.  Most of the indoor scenes in the house and in the classrooms have a lot of little details that are also easy to see.  The HDR makes the colors a little brighter and the blacks a bit deeper, making the contrasting look bolder.
Blu-ray
The video is a 1080p AVC presentation that also has a great looking picture.  The colors are brilliant in the outdoor scenes and especially towards the end at the nature reserve.  There aren't any issues with darker scenes or with the contrasting.  The picture isn't too far off from the 4k UHD disc.
 

AUDIO QUALITY:
The audio is a Dolby TrueHD 7.1 mix that is the same on both discs.  Both offer a lot of clear sound in this dialogue heavy track.  The voices are natural and mix well with the effects.  The narration by all of the actors sounds excellent with the characters explaining things from their point of view. Ambient sound from the crowded areas like both inside and outside of the school.  Also, Chewbacca sounds like Chewbacca.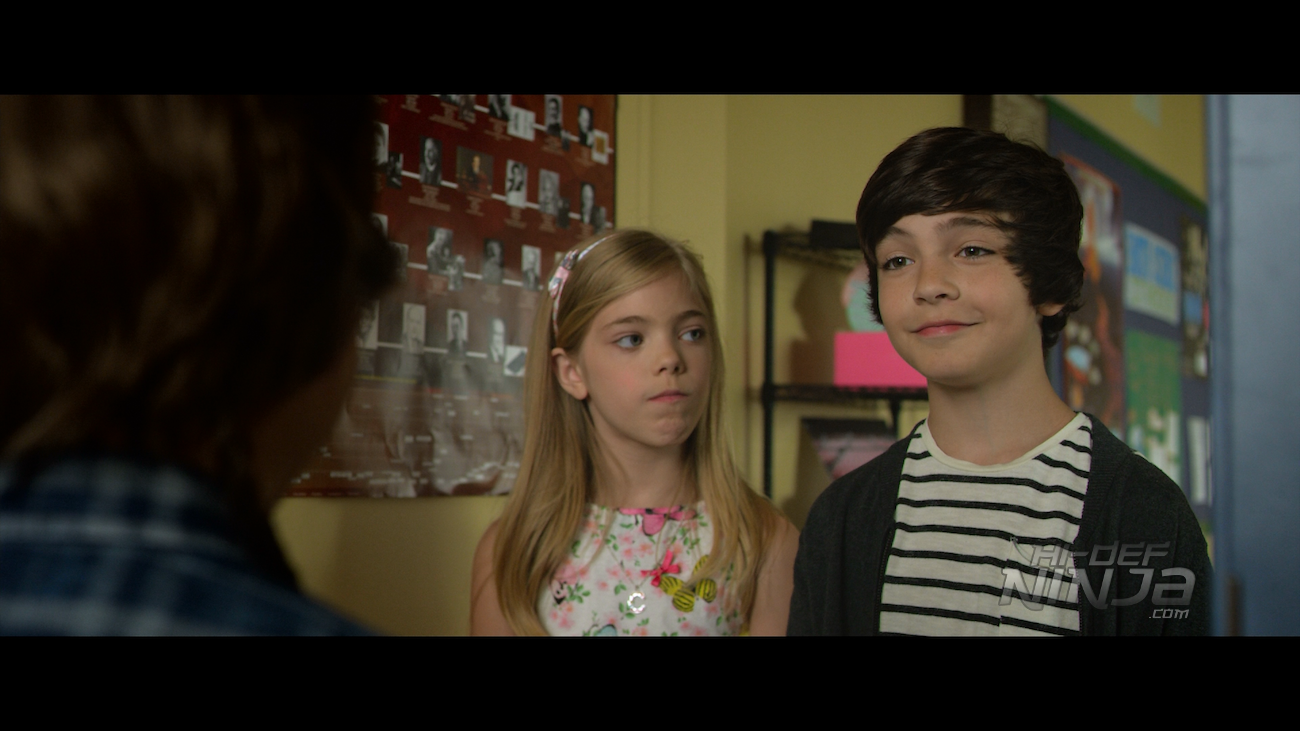 SUPPLEMENTS & PACKAGING
-Audio Commentary: with Stephen Chbosky and R.J. Palacio.
-Summer of Fun Multi-Part Documentary: This is a nearly hour long documentary about pretty much anything that you want to know about the movie.
-A Child's Sense of Wonder: This featurette is about the not adults in the movie.
-What a Wonderful World: This is about using Vancouver to pass for New York City to shoot the movie.
-"Brand New Eyes" Music Video
-Theatrical Trailers
-Wonder Soundtrack Behind the Scenes: This is about the soundtrack for the film.
Disc Details
2-disc set w/ 1 Blu-ray and 1 DVD
Digital copy
 
Running Time
113 mins
 
Edition Ratings
Rated PG
 
Region Coding
Region A
 
4k UHD
Video Resolution
2160p HEVC / H.265
HDR: Dolby Vision and HDR10
Aspect ratio: 2.40:1
 
Audio Mixes
English Dolby TrueHD 7.1
Spanish Dolby Digital 5.1
French Dolby Digital 5.1
English Dolby Digital 2.0
 
Subtitles
English
English SDH
Spanish
 
Blu-ray
Video Resolution
1080p AVC MPEG-4
Aspect ratio: 2.40:1
Audio Mixes
English Dolby TrueHD 7.1
Spanish Dolby Digital 5.1
French Dolby Digital 5.1
English Dolby Digital 2.0
 
Subtitles
English
English SDH
Spanish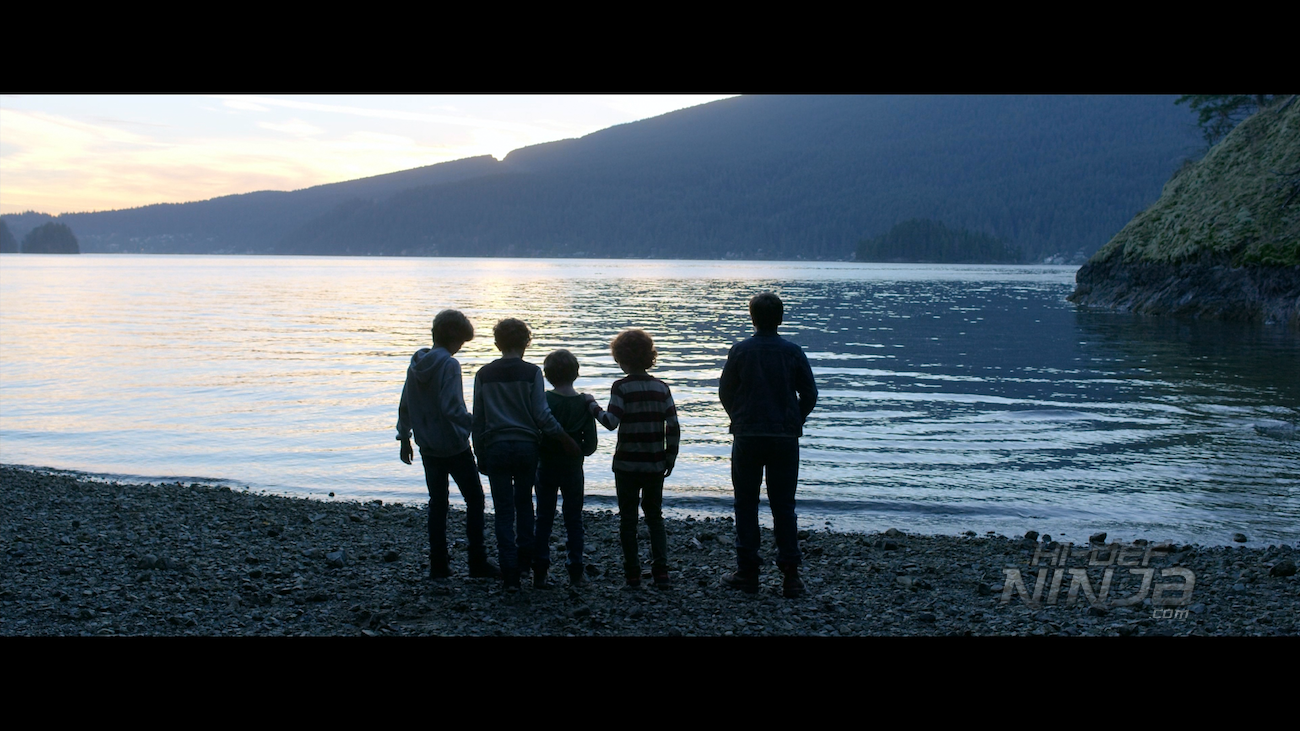 THE BOTTOM LINE:
WONDER is a film that tugs at the heartstrings.  There is some great humor and the way that everyone speaks to each other feels natural. The movie itself does a wonderful job of building up all of the characters that are a part of Auggie's life and, as I mentioned, give their point of view as to their involvement in his life.  Both the 4k UHD and Blu-ray have been authored well in the video as well as the sound.  The extras are also good and cover pretty much all of the facets in the film.  This is one that I can easily recommend to anyone to pick up.