As has become procedure Mattel held their Collectors Preview Sunday afternoon along with their Influencer Breakfast on Monday morning. Because of the separate events you may see different backgrounds as I choose better photos or different events having slightly different items showcased while maintaining coverage based on product line.
Mattel being the huge company they are have a lot of brands with a ton of new products. So let's dive right in and take a look through their WWE, Hot Wheels, Mega, DC Universe, and Jurassic Park lines. Hi-Def Ninja is of course very grateful for Mattel inviting them to both their events.
DC Universe
In their DC Universe line there were a slew of new product reveals. Within the DC Universe, there a slew of 6" figures in a variety of product ranges. Their multiverse line features highly detailed key characters from fan favorite Batman video games, animation and bestselling comics while featuring over 15 points of articulation whereas the regular assortment features less articulation but still with some amazing detail along with some vehicles for these figures. While the 12" figures feature amazing detail though boasting less articulation. The DC Super Hero Girls line also had some fun figures in their line.
A new printing process being used for the DC and WWE figures allow for a much more detailed and crisper look to the figures.
It was really nice to see the Batman Returns Batman and Penguin Figures!
Multiverse
Regular Assortment, Vehicles, and 12" Figures
DC Super Hero Girls
Jurassic World
With a new Jurassic World movie around the corner Mattel had a full range of products and crossovers with the most products ever for this franchise including pre-school, action figures, playsets, vehicles, plush, connected products. The figures segment has over 70 unique dinosaurs alone.
I've posted photos of many of the products below but I wanted to focus on two particular ones the Jurassic World Pterano-Drone and the Jurassic World Kamigami Robots
The Jurassic World Pterano-Drone is a quadcopter that uses a hand-held remote. Features include an auto-circle and auto-land. Watch it in action below.
The Jurassic World Kamigami Robots is a cross over with the Kamigami line. These robotic do-it-yourself model kits combine origami concepts with robotics engineering. Kamigamis have full sensor suites to talk to each other and explore their environment and can be controlled through an app. The Jurassic World versions let you build either a "Blue" or Villain Velociraptor dinos.
Hot Wheels
2018 marks Hot Wheels 50th  anniversary. To celebrate and continue its message to ignite and nurture the challenger spirit in all children Hot Wheels is coming out with a slew of new items. Hot Wheels started with 16 toy cars – The Hot Wheels Original Sweet 16 and we will see them released for 2018. For collectors 2018 will have a set of six Black and Gold series. Also for basic cars you will see Marvel, DC, Disney, and Jurassic World.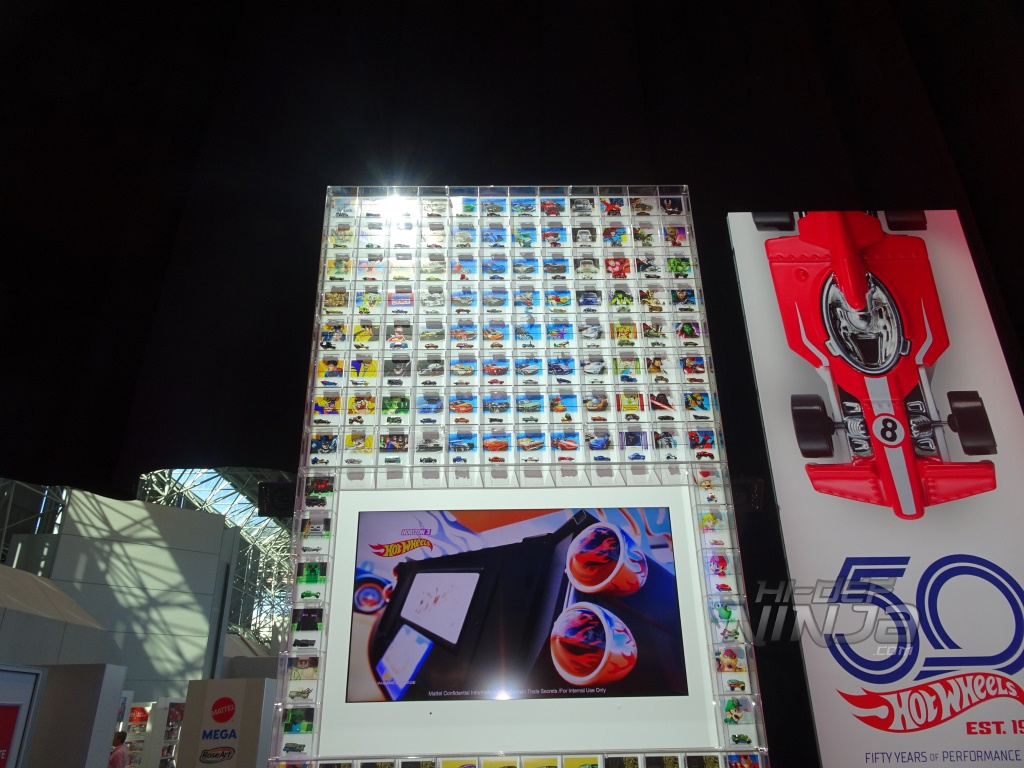 Original Sweet 16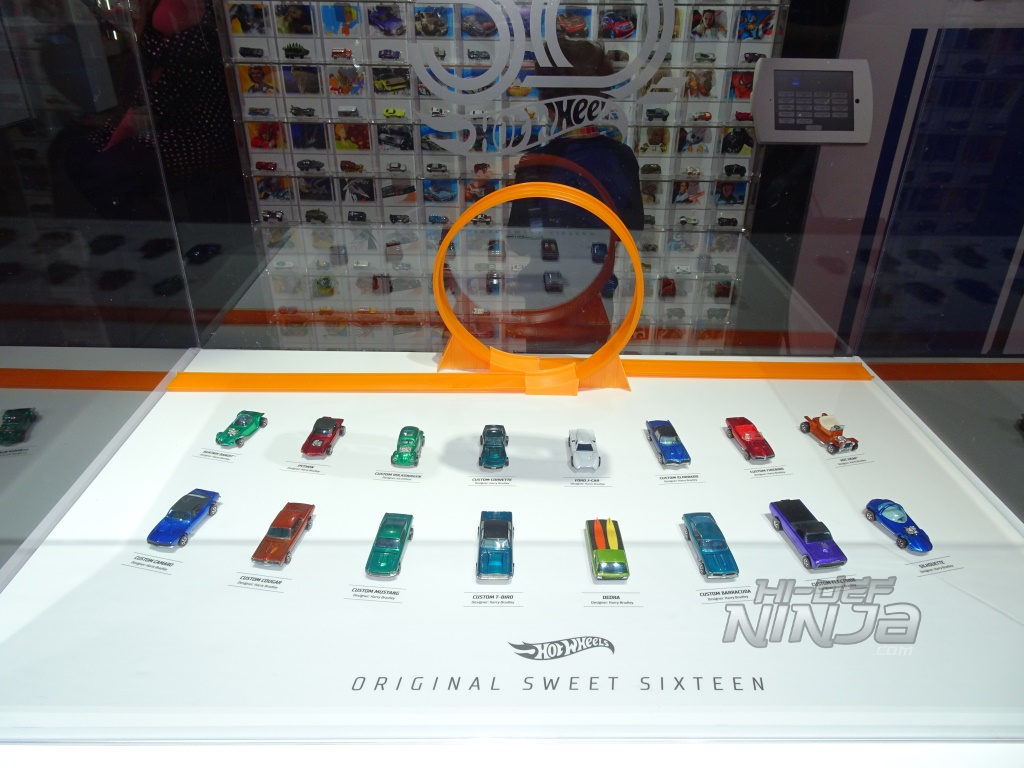 For Star Wars there are two different series a Millenium Falcon and Tie Fighters as well as a line of mini vehicles called Battle Rollers on ball bearings meant to crash into each other.
Battle Rollers
Black and Gold
Classic
Marvel
DC
Jurassic World
Disney
A bunch of new tracks and track products were on display in the showroom all of which have their own theme but can interconnect. However two cool items were the Corkscrew Crash a motorized track has three crash zones with boosted crashing and smashing. While the Augmoto Augmented Reality Racing track set features the first racing platform that combines the play scale electric cars and AR technology. AR brings the vehicles and track set to life with a loop of fire, hazardous oil spills, fireworks and strategic stops to recharge your car in the pit lane all controlled via a smart device.
Cars
The Cars franchise featuring unique diecast line continues to grow. As a popular collectible, consumers can both collect and play with the cars individually or take their fun to the next level with playsets. Along with an assortment of new cars on display was an impressive Super Track. This massive truck transforms from trailer to a 5-foot racetrack. With lights and sounds, boosters, grand stands you can replay scenes from Cars 3.
WWE
Mattels ultra popular WWE line includes a basic figure line and an elite figure line. The 2018 basic line will feature 62 figures let you pose your favorite wrestler or battle in ring with his current foe. Meanwhile the elite line features greater articulation detailed character expression, authentic ring attire and iconic accessories. All 54 figures in the line come with a unique backdrop designed by fan favorite artist, Rob Schamberger
Elite
However to have these epic battles you'll need a ring. The WWE Elite Smackdown Live Main Event Ring is perfectly scaled for the elite figures and features authentic logos, a light-up ring apron and blue glowing posts for Smackdown Live and comes with the first-ever Jinder Mahal Elite figure. Other Figures Sold Separately.
Flashback Series
For the female fan base Mattel launched the WWE Superstars line in 2017. The figures and roleplay, inspired by their in-ring characters, feature multiple points of articulation, amazing details, and in-ring style.
MEGA
The Mega Construx continues to provide brick building options with Call of Duty, Halo, Pokemon and a slew of other properties for minifigures this line isn't going anywhere. While the Inventions line allow for free form creativity with sets that are open ended.
Minifigures
Inventions
Halo
Call of Duty
Pokemon
Finally there was this really sweet Tomb Raider Barbie
Thanks again to Mattel for inviting Hi-Def Ninja into their booth space!