THE FLORIDA PROJECT Blu-ray Review
The Movie

The Video

The Sound

The Supplements
At The Magic Castle Motel in Kissimmee, Florida, there are a number of families who are living there long-term like they're apartments. Moonee is six and she lives with her mom Halley there. It is one of the less expensive places in the area but better maintained then others. Monee, Scooty, and the new girl Jancey run around the area causing all kinds of trouble with the tenants as well as other local establishments. The manager Bobby has to maintain the place and deal with the everyday, including these out of control kids.
One day, the three are playing in some abandoned condos and they light the place on fire. When Scooty's mom Ashley finds out, she cuts off all ties with Halley including the food that she sneaks her from her diner job. Broke and hungry, Halley needs to do whatever she can to keep her home and not get thrown out on the street.
THE FLORIDA PROJECT is a film directed and co-written by Sean Baker. It was also co-written by Chris Bergoch. The film gives a focused look at the hidden homes. These are people that live in budget motels and one step away form being homeless. The majority of the time is spent from the children's prospective and you really get a sense of how kids don't see some of the bad that is happening around them.
Bria Vinaite is an unknown who feels natural as her character Halley. It may come off as she doesn't know what she is doing but a lot of it is taken from an idea of who her character is. The research from the filmmakers and the actress created this persona of a trashy girl in a terrible situation.
Willem DaFoe is deserving of the Oscar nomination for Best Performance by an Actor in a Supporting Role. Like the movie, his character is a slow burn that becomes a welcoming blaze when he needs to get things done. Like a lot of people nominated in his category, he is a gem in Hollywood that deserves praise in almost anything that he does.
Cast
Brooklynn Prince – Moonee: Halley's daughter
Bria Vinaite – Halley: Moonee's mother
Willem Dafoe – Bobby Hicks: the manager of The Magic Castle Motel
Valeria Cotto – Jancey: Stacy's granddaughter and Moonee's new friend
Mela Murder – Ashley: Scooty's mother and Halley's friend
Christopher Rivera – Scooty: Ashley's son and Moonee's close friend.
Aiden Malik – Dicky: a friend of Moonee and Scooty
Caleb Landry Jones – Jack Hicks: Bobby's son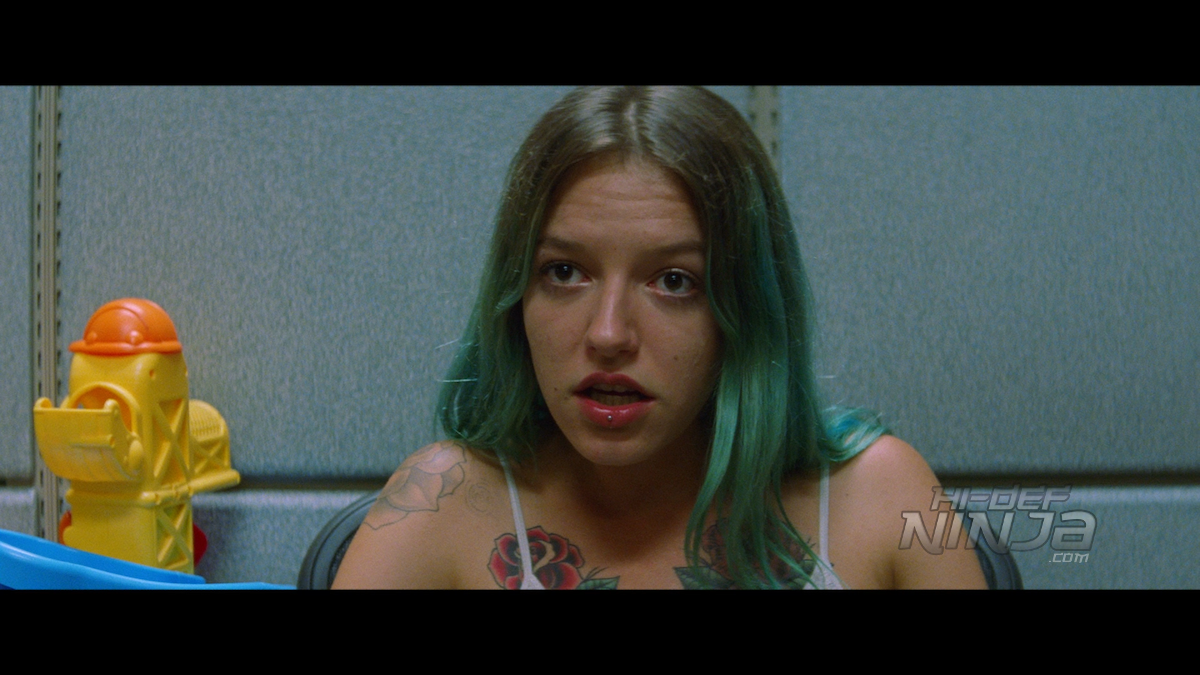 VIDEO QUALITY:
The video is a 1080p AVC presentation that has a really good transfer. The movie has been filmed on different medias such as 35mm film and even an iPhone with an anamorphic converter to match the captured film. The best way that I can describe this movie is both bright and gritty; sometimes at the same time. The coloring of the plant life in the area is a lush and bright green. It looks like Florida, that's for sure. The Magic Castle is painted in a vibrant purple that looks incredible on film. There are also plenty of details in the face and clothing so you can tell the state of the people from that motel.
AUDIO QUALITY:
The audio is a DTS-HD Master Audio 5.1 mix that keeps the film active. The motel and many of the other scene settings are near Disney World so it sits right on an incredibly busy highway. This creates plenty of movement within the sound field. There is also a helicopter that is constantly flying from right to left outside of the motel so you hear that movement at times. The LFEs are strong and you hear some of the people partying outside. The dialogue is natural and sounds great.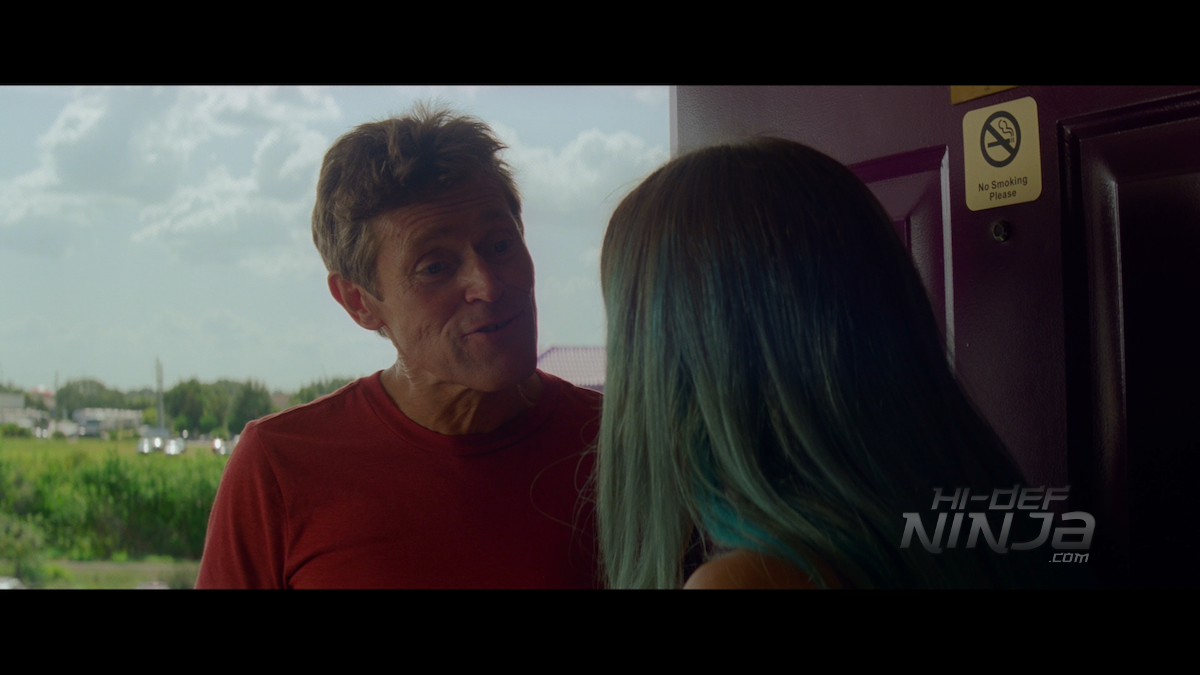 SUPPLEMENTS & PACKAGING
-Under the Rainbow: Making THE FLORIDA PROJECT: This featurette has quick scenes and snippets cut together to make this extra.
-Cast and Crew Interviews: This is a huge set of interviews of Sean Baker, Willem Dafoe, Brooklynn Prince, Bria Vinaite, Mela Murder, Valeria Cotto and Chris Bergoch.
-Bloopers and Outtakes
Disc Details
1 Blu-ray Disc
Digital copy
Running Time
115 mins
Edition Ratings
Rated R
Region Coding
Region A
Video Resolution
1080p AVC MPEG-4
Aspect ratio: 2.38:1
Audio Mixes
English DTS-HD Master Audio 5.1
Subtitles
English SDH
Spanish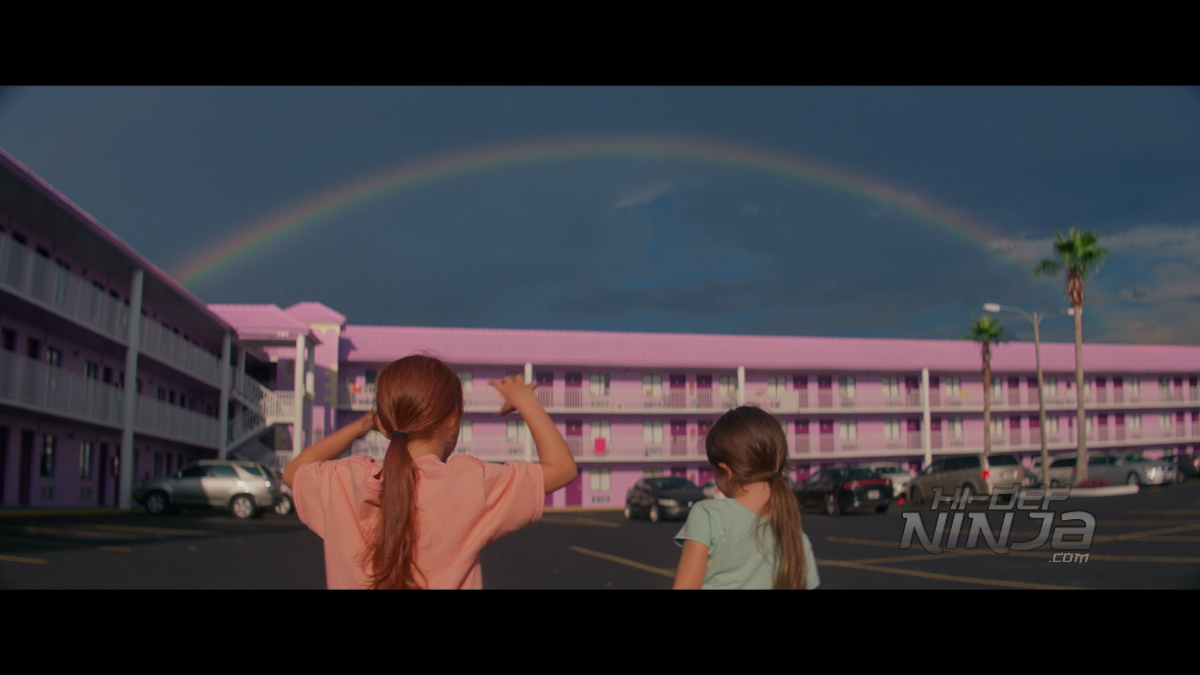 THE BOTTOM LINE:
THE FLORIDA PROJECT is a really good movie that does feature these children with very rough adult issues happening around them. There's something about it that reminds me of BEASTS OF THE SOUTHERN WILD. Not in the way that Hushpuppy narrates about her world but just that you are getting a child's view of what it is to grow up in a community of hidden homes. The Blu-ray looks superb and has a really good accompanying sound mix. The extras are really good with a lot of insight into the making and the motivations of creating the film. I'll be honest, I didn't know where it was going but once things became clear, the movie really makes sense. I highly recommend picking this up.