The Hangman
The Movie

Video Quality

Audio Quality

Supplements
Hangman is a 2017 American crime thriller film directed by Johnny Martin and written by Charles Huttinger and Michael Caissie. The film stars Al Pacino, Karl Urban, Joe Anderson, Sarah Shahi, and Brittany Snow. The film follows a detective who tries to track down a serial killer who bases his murders off the child's guessing game. It was released on December 22, 2017, and was panned by critics.
I guess my disclaimer first and foremost should be that I'm a huge Al Pacino fan. He is an absolute film icon and legend. I find it very hard to find any problems with his on screen work. He may be getting up their in age, but his character was credible and believable. Perhaps being a retired cop lent towards that credibility as opposed to an active one. However I think he could have still pulled off an active right at the brink of retirement detective. Never the less that wasn't the case of this film and if anything I felt Pacino carried Karl Urban along much more effortlessly where a few times Urban seemed to just push some of the scenes a bit too much. Borderline on the edge of meh at times, and that's being said from a fan of Karl Urban none the less. I always root for the guy since meeting him at NYCC.
Some viewers may not be able to get with the story line, but I felt it was unique, fun, and thrilling at times should you be able to immerse yourself in this story and "whodunnit" plot.
Hangman might not be the film to garner the critics high praise, but its still a nice entry into the filmography for Pacino standing more in comparison to that of "Stand Up Guys" then say "HEAT". If you go in expecting that then you'll come out pleased. I also feel like this is a good progression of Karl Urban's career who still is looking for a role where he can really stand out because despite the enjoyment I find in the Star Trek reboot franchise or Dredd so far we have not seen Urban scratch that true top rung superstar status. However I feel he has it in him.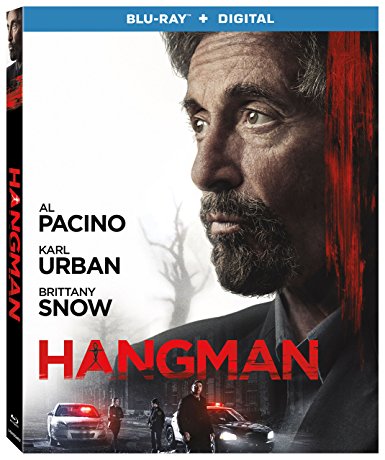 Purchase HANGMAN On Blu-ray Today
Audio Quality: HANGMAN comes with a 5.1 DTS HD Master Audio Track that is more than suitable for this film. This film has plenty of different types of settings to help allow this track to really showcase itself. There were a few moments where some dialogue seemed a bit unbalanced between the actors but even still it was pretty rare in its instances.
Video Quality: HANGMAN comes in beautiful 1080p goodness that handles the film well with lots of dark scenes that showcase small instances of grain at times and outside locations that really pop. Much like the audio not much to complain about in the VQ department and that's obviously a good thing.
Supplements:
Al Pacino: Insight from a Hollywood Legend – An informative look about the film from the main man himself. Al Pacino.
Hangman: In Their Own Words

https://www.youtube.com/watch?v=RywFBnkZ4eI