The Movie

Video Quality

Audio Quality

Supplements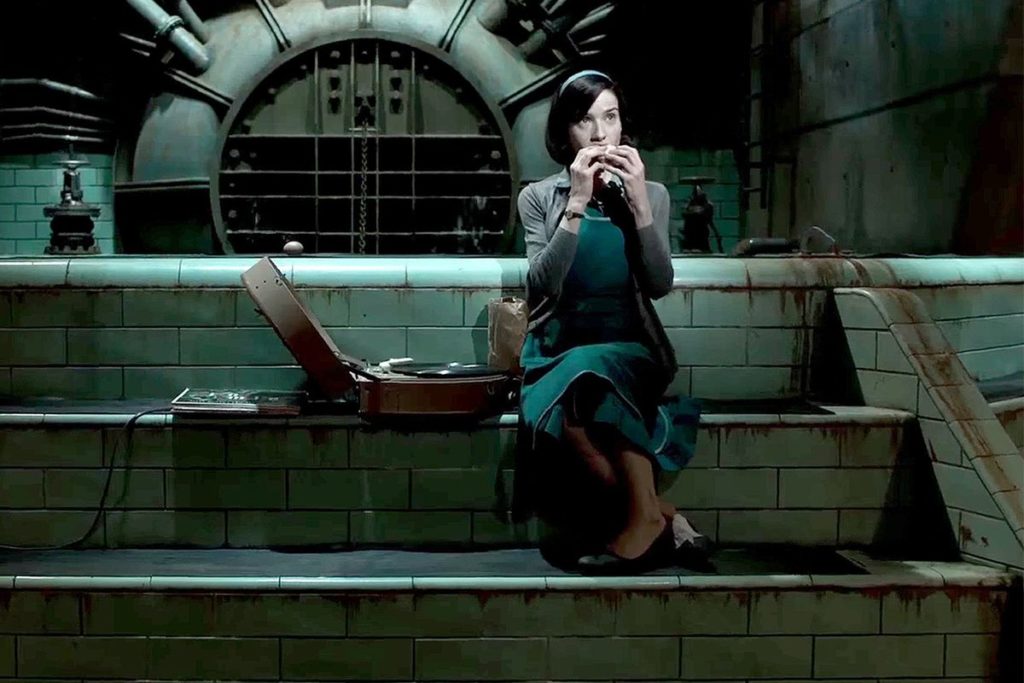 Elisa is a mute, isolated woman who works as a cleaning lady in a hidden, high-security government laboratory in 1962 Baltimore. Her life changes forever when she discovers the lab's classified secret — a mysterious, scaled creature from South America that lives in a water tank. As Elisa develops a unique bond with her new friend, she soon learns that its fate and very survival lies in the hands of a hostile government agent and a marine biologist.
Guillermo Del Toro's next master piece to add to his film catalog is one that will spark dialogue of debate and intrigue for those who take the picture for more than what they see. He's on record for mentioning how this film represents a lot of the issues the world is facing and the master Director sure knows how to create a world and story so unique in it's ways that it turns hollywood head over heels in love with The Shape of Water.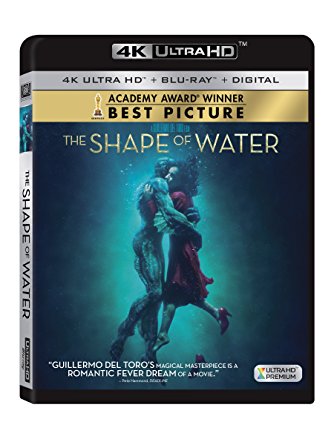 Purchase The Shape of Water on Ultra HD Blu-ray HERE Today
VIDEO QUALITY:
Beautiful colors and vivid imagery from the inner workings of the master that is Guillermo Del Toro lend their way on to the screen in both the 1080p transfer for Blu-ray and the 4k with HDR on the Ultra HD Blu-ray. Each disc provides a luscious experience to feast your eyes upon. This film is amazing in every sense of the word for the visual treat that it is. The dark seaweed like green tones and hues that marry with the shadowesque dark scenes really set the stage for the HDR to scream quality in the darkest of darks and brightest of brights. Creatures always tend to look amazing in HD and with the contemporary monster maker master in Guillermo del Toro this creature is no different in beautiful UHD.
AUDIO QUALITY:
The Shape of Water comes to both Blu-ray and Ultra HD Blu-ray with a DTS HD Master 5.1 Audio Track. While the track does the film justice I'm still a bit surprised there was no Dolby Atmos or DTS-X track. The film took 9 months for scoring The Shape of Water to really nail the music and score/songs of the 30's and time period so with as much detail that went into the film for production and composing one would think the technical audio tracks would follow. I would love to hear why such was released in this effort as opposed to only being left to wonder if later down the line there is a re-release with improved audio. etc.
SUPPLEMENTS:
A Fairytale for Troubled Times: A great informative piece.
Anatomy of a Scene: Prologue
Anatomy of a Scene: The Dance
Shaping the Waves: A Conversation with James Jean: James Jean is a monster in his own right on the alternative poster and art scene in which I follow closely. Guillermo Del Toro also is heavy in the scene and its no surprise he went after the heavyweight that is James Jean to fulfill his vision for the film art, poster etc.
Guillermo del Toro's Master Class: Another very informative piece that I wish was longer.
Trailers
The Bottom Line:
The Shape of Water is a great visual treat and a pleasant score combined make for a film you'll likely revisit every few years. The Ultra HD Blu-ray edition is one worth owning. There is a certain charm the film has even with the explicit content that'll likely have film fans clamoring over this film for many years to come. It's no wonder it cleaned up during the award season.