BRAVEN Blu-ray
The Movie

Video Quality

Audio Quality

Supplements
Braven is a 2018 Canadian action thriller film directed by Lin Oeding and written by Mike Nilon and Thomas Pa'a Sibbett. The film stars Jason Momoa as Joe Braven, Garret Dillahunt, Stephen Lang, Jill Wagner, and Brendan Fletcher. Principal photography began early-December 2015 in Newfoundland, Canada
Purchase Braven on Blu-ray Today!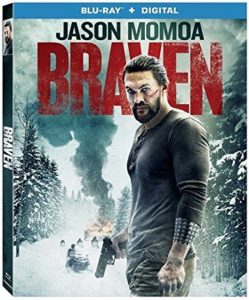 THE MOVIE:
Braven is likely going to be an underrated movie that doesn't find the mass audience it deserves. However I'm really hoping that with Jason Momoa's new found "larger than life" stardom what with his Aquaman role that this film will draw in an audience for his sake, and in turn find an action survivalist suspenseful thriller (with more emphasis on action) that people can discover and enjoy. I admittedly thought Braven might be one of those films that would stink up the joint. And while it can be your typical "kill the baddies" type action flick with the muscled up star, those films often fall flat where BRAVEN on the other hand keeps you interested and entertains.
Perhaps its the 98 minute run time that also helps the film benefit in that there is less fluff. BRAVEN takes advantage of the shorter time with a sense of precision that doesn't stuff you with too much too fast, but craftily keeps a well toned pace of setting up the plot and story and ramping up the action before the final act.
Jason Momoa sells the role, does a bang up job, and its a film like this that takes me back to a comparison of when Arnold was passing the torch to The Rock in him being the next big action star in The Rundown. The Rock became just that, and while there is no need for torch passing just yet it's obvious that there is room for more than one action hero much like the glory days of Arnold, Sylvester, and Jean Claude Van Dame. Speaking of JCVD, Braven feels like a new age modern updated "insert JCVD action flick". We all remember JCVD's heyday when he was pumping them out left and right year after year.
I predict to see a lot more Jason Momoa action flicks, and hopefully they are as fun and entertaining a viewing as BRAVEN was.
BRAVEN tells the story of having drugs stashed at his cabin (and secondary residence) in which he ultimately sends his father to live who suffers from dementia (it seems like, or early stages) only for the smugglers to realize someone is there upon their return. Being the ultimate baddies that they are and not stealthy ninjas its their idea and plan that they need to take out whomever is in the cabin upon retrieving their dope. The relationship between father and son (Joe) has already been tested in the movie and is a complex one at that, but in the face of grave danger blood is often thicker than water.
As Jason Momoa exclaims in the special features he's always wanted to make a movie like Rambo First Blood, and I can definitely see some similarities in this film. Some. Doing a little digging the Director whom this is his first full film Directing is Lin Oeding who is no secret to the hollywood system as he's been working primarily in the stunt arena since 1997 in major motion pictures that everyone knows of. This is pretty exciting to see this next step in his career.
VIDEO QUALITY:
BRAVEN comes to us in a beautiful 1080p transfer where the film was shot in the deep woods and mountains of Newfoundland though the film takes place story wise in Washington State/Canada border. Beautiful snowy landscapes, cabins, fire, and scenery make for a great visual treat. The Director's vast experience in the Hollywood Stunt scene both performing to later directing make for an intelligent film maker who can get the most out of an action movie in the visual department.
AUDIO QUALITY:
BRAVEN comes to blu-ray with a DTS HD Master 5.1 audio track and with the sheer amount of gun fire in this film and roaring of four-wheelers, crashes, and all out chaos allows for the audio track to really shine. A pretty well rounded immersive experience in your home theater set up but often heavy on the fronts so if you have only TV speakers or a soundbar you'll likely have a nice experience as well. Though the 5.1 is where it's at.
SUPPLEMENTS:
Packed in a blu-ray combo pack with a digital version of the film BRAVEN also includes the following feature.
BRAVEN'S VIEW: That's right only one behind the scenes type of special feature, but it definitely gives you a look into the filming of the movie in that its a montage of clips and cuts to the actors (really just Jason Momoa and Jill Wagner) speaking on the film. They are answering interview questions in that you never get to hear the actual question being asked. It's informative none the less, but some insight from the Director would have been nice.
Something is better than nothing, but definitely next to nothing in the special features department of this blu-ray disc.