Universal and the LEGO Group announced today the launch of their collaboration for Jurassic World. Their largest partnership to date, the partnership will offer an expanded line of construction sets, all-new animated content, and, for the first time ever, a lifestyle collection.
In anticipation of the upcoming global theatrical release of Jurassic World: Fallen Kingdom in June, Universal is building upon the success of LEGO Jurassic World, with the debut of construction sets that span every LEGO age category, as well as two all-new, animated videos, and a collection of soft lines and publishing to reach audiences beyond the toy aisle. The sets are due to hit shelves on April 16, 2018.
Only three sets were revealed today at the Nuremberg Toy Fair with more to be revealed at the upcoming New York Toy Fair but upon launch there will be 13 constructions sets spanning the various LEGO® play categories: Systems, Juniors, DUPLO, and Walmart exclusive BrickHeadz collectibe line. There will also be retailer exclusives at both Toys "R" Us and Walmart.
Additionally, fans will find new soft line and publishing offerings available later this year including licensed apparel and animated content.
Set four years later Isla Nublar now sits abandoned by humans while the surviving dinosaurs fend for themselves in the jungles.  When the island's dormant volcano begins roaring to life, Owen (Chris Pratt) and Claire (Bryce Dallas Howard) mount a campaign to rescue the remaining dinosaurs from this extinction-level event.  Jurassic World: Fallen Kingdom arrives in U.S. theaters on June 22, 2018. For more information, visit www.jurassicworld.com.
[Update of New Sets from April 14, 2018]
Yesterday Lego revealed a slew of new sets including BirckHeadz sets.
Dilophosaurus Outpost Attack (75931)
289 pieces
|$39.99 USD
Brace the hunters for a fierce Dilophosaurus Outpost Attack in this fun play set inspired by Jurassic World™. Step down from the lookout tower and crane, featuring exploding gate and wall functions, crate and baby Dilophosaurus, and use the tranquilizer gun to stop the Dilophosaurus breaking through the fences. Features an outpost fence with a watchtower, movable crane and exploding gate and wall functions.  This dinosaur set includes 3 minifigures and 2 dinosaur figures. Dilophosaurus features posable limbs, head and snapping jaws.

Jurassic Park Velociraptor Chase (75932)
360 pieces
$39.99 USD
Recreate a classic scene from the original Jurassic Park movie with this fun LEGO® set that celebrates the 25th anniversary of the original blockbuster movie. Open the kitchen cabinet to hide Lex and Tim Murphy from the prowling Velociraptor, use the locking door function to keep the dinosaur out of the computer control room, then push it through the breakable window to continue the chase. Control room features a computer desk, ladder, telephone, door locking system and smashing window, plus a cold storage unit with dinosaur DNA and embryo storage, and a security camera. Kitchen area features a jelly dessert, chocolate, spoon, cleaver, hot dog, pots and pans, and an opening cabinet. This dinosaur set includes 4 minifigures (Alan Grant, Ellie Sattler, Lex Murphy and Tim Murphy) and a Velociraptor figure.
T.rex Transport (75933)
609 pieces
$69.99 USD
Track the Tyrannosaurus Rex in this big-action play set scene inspired by Jurassic World™ and return it to the transporter, featuring a single-seater truck, detachable container with opening and lockable side panels, and a mobile medical unit and monitoring system with 2 transfusion leads. This T. rex toy includes 3 minifigures (Zia and 2 guards) and 2 dinosaur figures. The T. rex features posable limbs, head and snapping jaws.
LEGO® BrickHeadz from Jurassic World: Fallen Kingdom  

These LEGO® BrickHeadz construction characters are fun to build using colorful LEGO bricks that recreate all their iconic details from the blockbuster Jurassic World: Fallen Kingdom movie. Each character stands on a buildable collector's baseplate with BrickHeadz logo for easy display in your home, office or anywhere you like. Have fun growing your LEGO® BrickHeadz™ collection with other classic characters from your favorite movies, TV series, games and comics.
Owen & Blue (41614)
234 pieces
$19.99 USD
Buildable LEGO® BrickHeadz™ construction characters featuring Owen and Blue have BrickHeadz eyes and authentic details from the blockbuster Jurassic World: Fallen Kingdom movie, including Owen's tranquilizer gun and velociraptor Blue's white teeth.
 The original sets revealed from January are below!
[Original Sets from January 30, 2018]
75928 – LEGO® Jurassic World Blue's Helicopter Pursuit (75928)
397 Pieces
$39.99
Builders can unite Owen with his lead Velociraptor in this set designed for fans, ages seven and up. The set includes a quadbike, helicopter, featuring rotating blades and dual searchlights. The set also includes three minifigures: Owen, Wheatley and a pilot, plus Blue, the Velociraptor.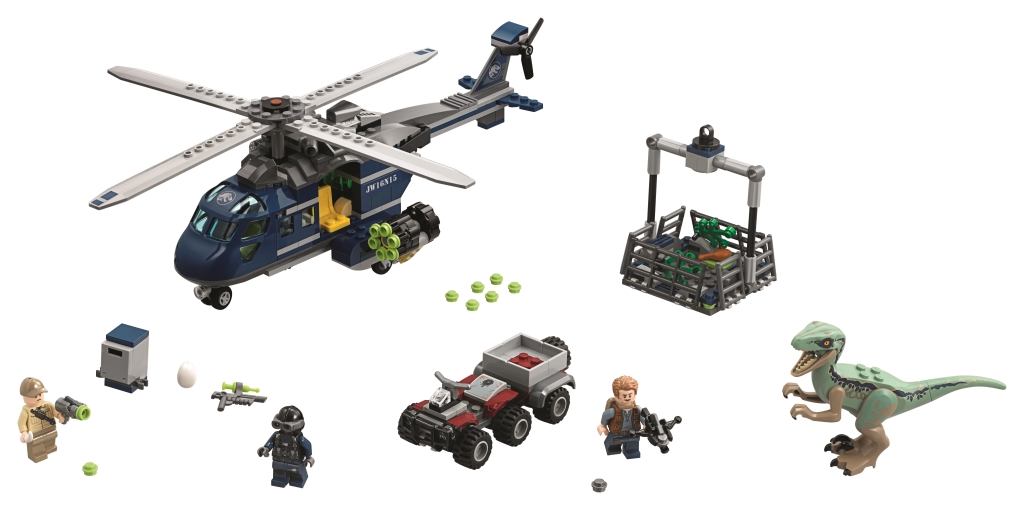 LEGO® Juniors T. Rex Breakout (10758)
150 Pieces
$49.99
Children as young as four can play along and build a posable T. rex, opening gate and a truck with Quick Start chassis. This LEGO Juniors set includes easier building instructions and quick start elements as well as three minifigures and a baby dinosaur figure.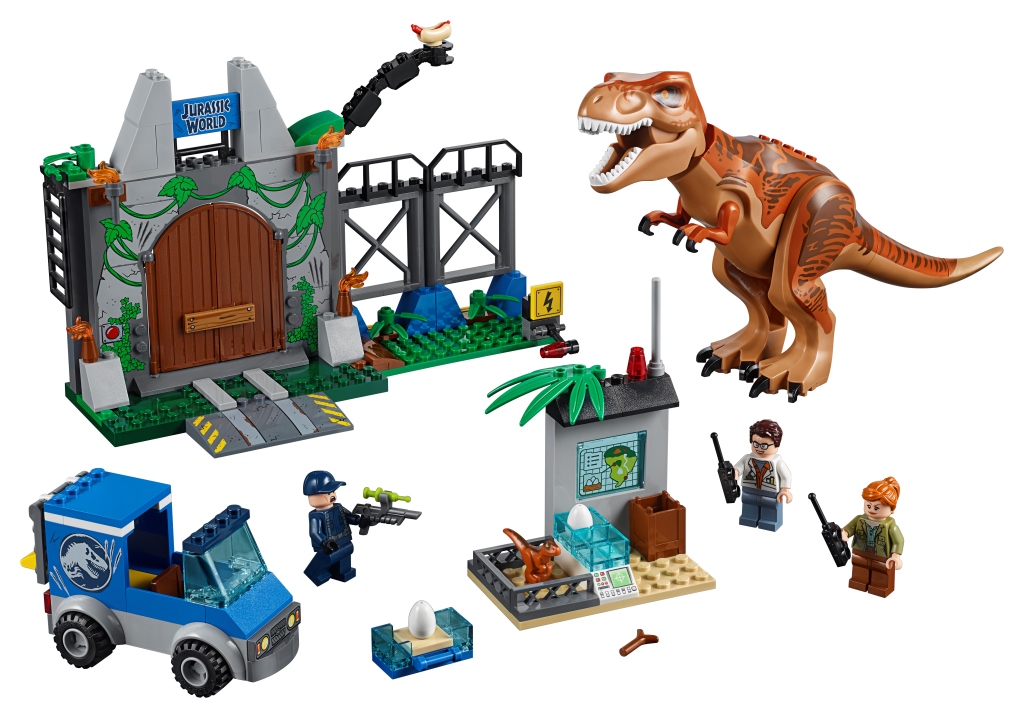 LEGO® DUPLO® T. Rex Tower (10880)
22 Pieces
$29.99
This new LEGO DUPLO set is suitable for builders, ages two and older. This easy-to-build dinosaur features large building bricks and is great for creating endless role-play stories! Toddlers and their parents can build this set together, which features a T. rex with opening jaw, revolving lookout tower, car and an Owen LEGO® DUPLO® figure.