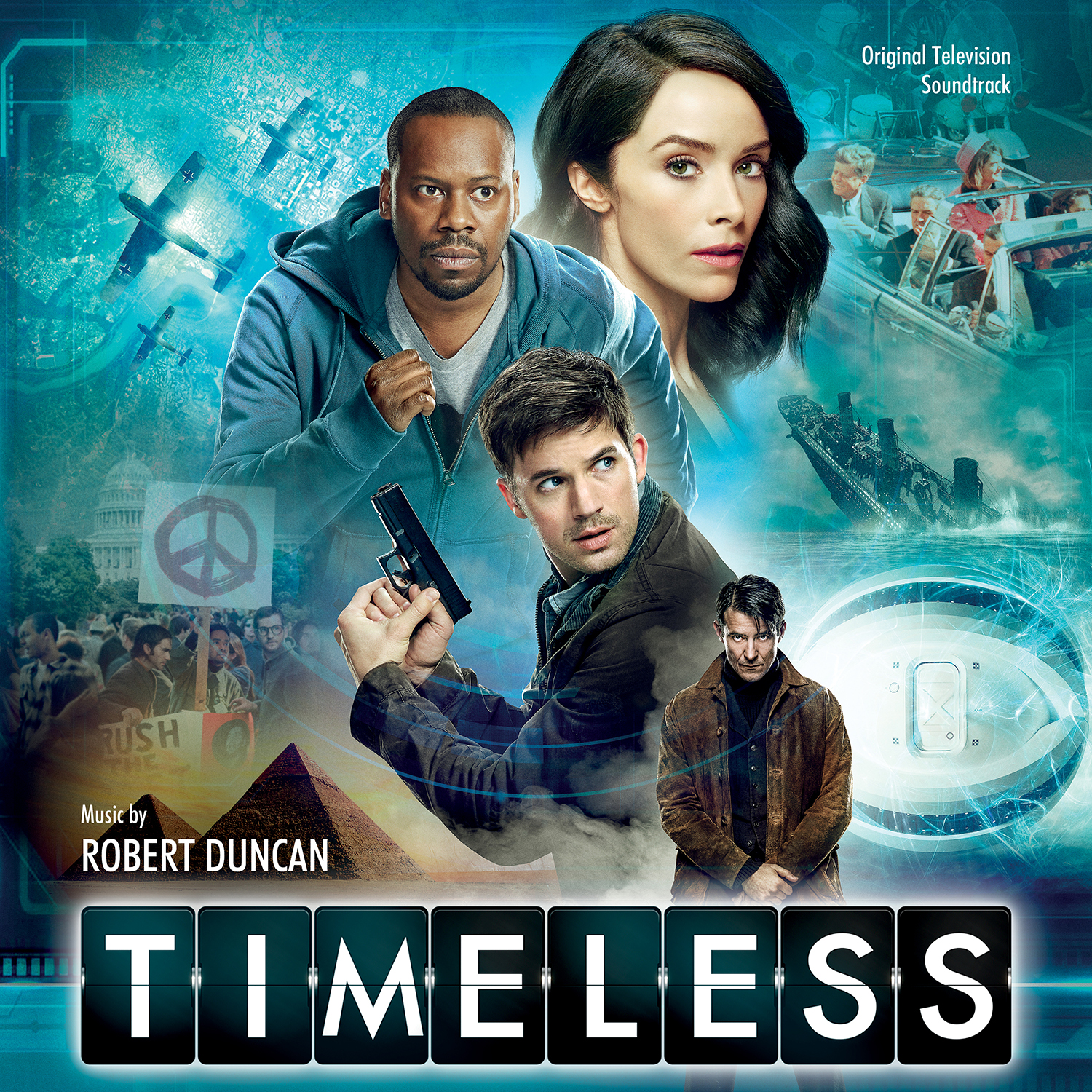 TIMELESS – ORIGINAL TELEVISION SOUNDTRACK launches us into time travel mayhem with a terrific score.
Review by Matt Cummings
NBC's TIMELESS is one of those shows that you both wonder how it got renewed for a second season, and giddy in the fact that someone actually brought it back from the dead. And dead it was: after learning that the time-traveling series would not be renewed for a second season, fans rebelled. The flood of social media demands has seen the series' glorious return, ala seasons 2 and 3 of STAR TREK: TOS. One of the reasons for its almost-cult following (and I'm a Day One supporter, BTW) is Composer Robert Duncan's score, which reminds us just how far television scores have matured. Filled with both incredible orchestral moments and touching smaller pieces, TIMELESS – ORIGINAL TELEVISION SOUNDTRACK elegantly dives us into time travel mayhem.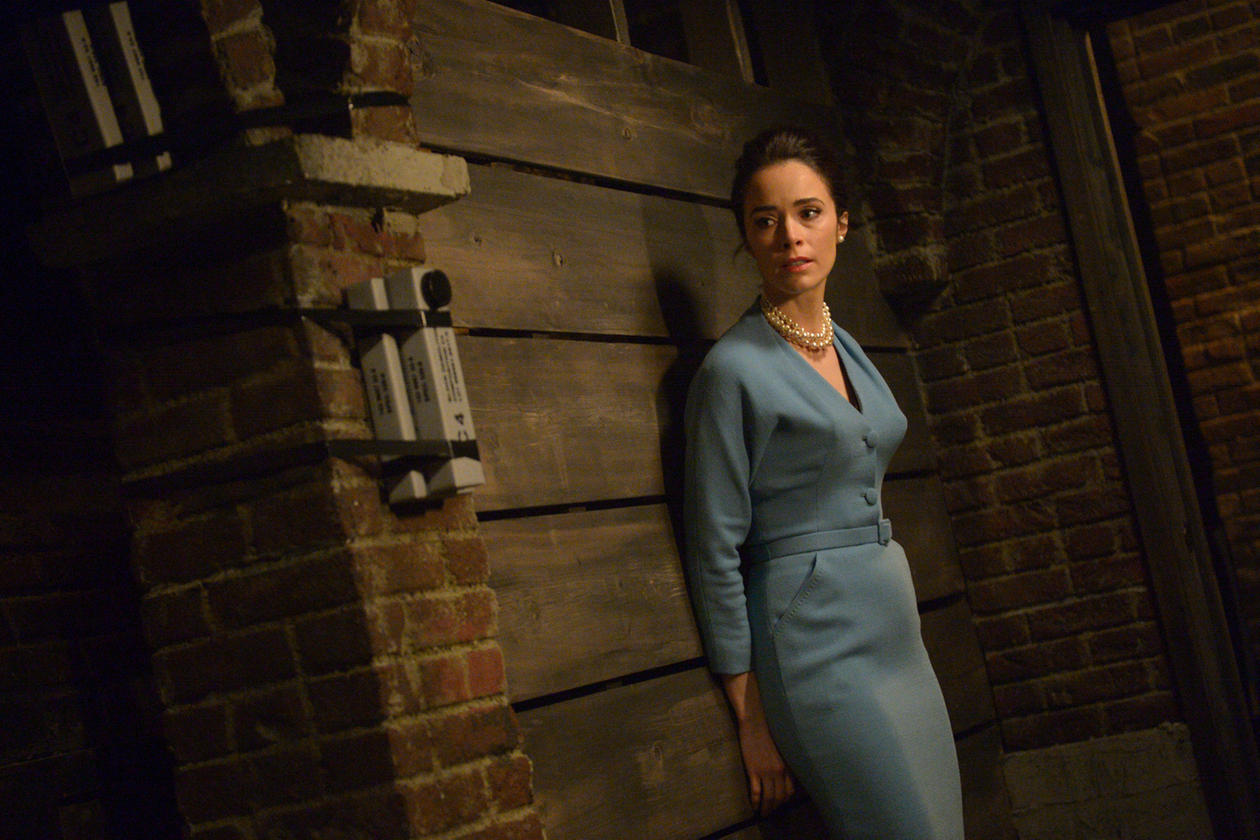 THE MOVIE
After the mysterious criminal Flynn (Goran Visnjic) steals a time machine from present day, its creator recruits three unlikely people in an attempt to rescue the device and bring Flynn to justice. But nothing can prepare the historian Lucy (Abigail Spencer), the solider Wyatt (Matt Lanter), and the "driver" Rufus (Malcolm Barrett) for the dangers they're about to encounter. As they travel through time, they become aware of Flynn's mission: to destroy a secret organization called Rittenhouse, who's killed Flynn's family in an attempt to keep him in line. As they come face to face with members of Rittenhouse, the team faces incredible challenges and temptations to right the wrongs of their own personal history without altering time so much that they themselves might never have existed.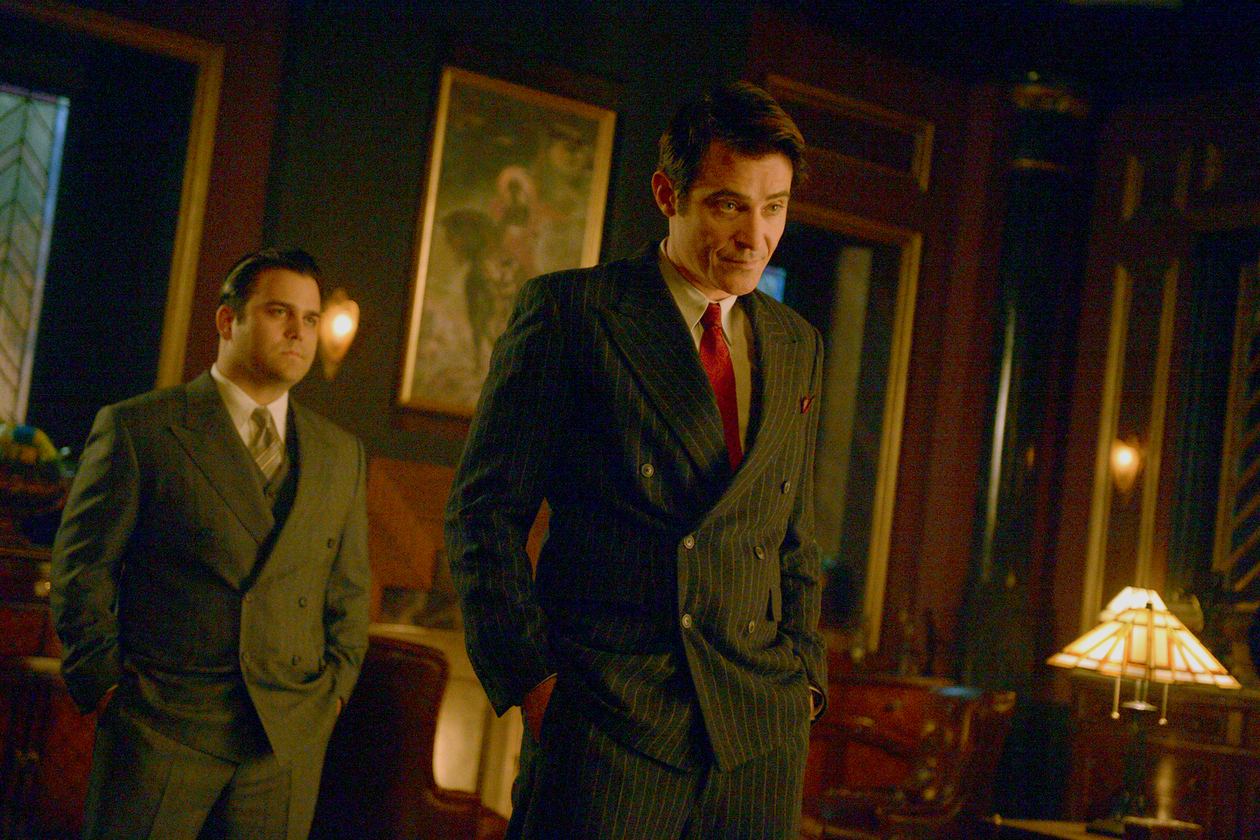 THE SCORE
Primarily a television composer (S.W.A.T., CASTLE), Duncan's efforts here sure don't show his relative newcomer status.  From the moment the first tracks Might Want to Hold On, and continuing through Lifeboat and Flynn Steals the Mothership, we know just what Duncan has in store for us: cinematic-quality music surrounded by deep orchestral moments, along with some beautiful smaller surprises.  One of the latter is a favorite: Wyatt and Lucy.  The love theme for our duo is striking, haunting, and provides a level of depth that expands this score into a welcomed new direction.  I love big themes, but sometimes you need to slow down, and that's what Wyatt and Lucy does so well; ditto for Almost Kiss.  Right after that, another favorite track – Flynn Walks – arrives to remind us of the seriousness of the series' plot.  It's got a lot of DARK KNIGHT in there, which is especially appropriate considering how dangerous our baddie behaves throughout.
There's a stunning 51 tracks here, but none of them are longer than 2 minutes.  That might seem strange, given that our favorite scores go on for far longer.  But, it all seems to work in the series, and Duncan's poise throughout never leaves us with filler.  Travis' Letter  takes us down a western-themed landscape without straying too far into a rendition of THE GOOD, THE BAD, AND THE UGLY.  Based on the diversity and richness of each track, Duncan is apparently using a mix of synths and real instruments, rather than a full orchestra; if the reality is opposite, then my appreciation for the series' production value would grow even more.  Wyatt Stays, Lincoln Assassination, and Rufus and Jiya are other favorites as the score concludes.
If you've read these score reviews, you know I'm a sucker for Hans Zimmer's INTERSTELLAR.  Duncan gives us a tip of the hat (either intentionally or not) with the track Secret of the Clock.  There, Duncan throws in orchestral whole notes allowing the sound to resonate before taking on the next tone, while Clockmaker and the Peasants uses the rhythm of a time keeper to weave a really great (albeit short at 1:21) experience that you don't often get. Lucy Taken is also incredible, but also incredibly short; at just :32, I wish they had given us a lot more of this groove.  With 51 tracks here, that doesn't provide a lot of time for things to expand, a fact that is going to frustrate some who expect longer, but there's so many great tracks included that you'd need a multi-disc set to do it justice.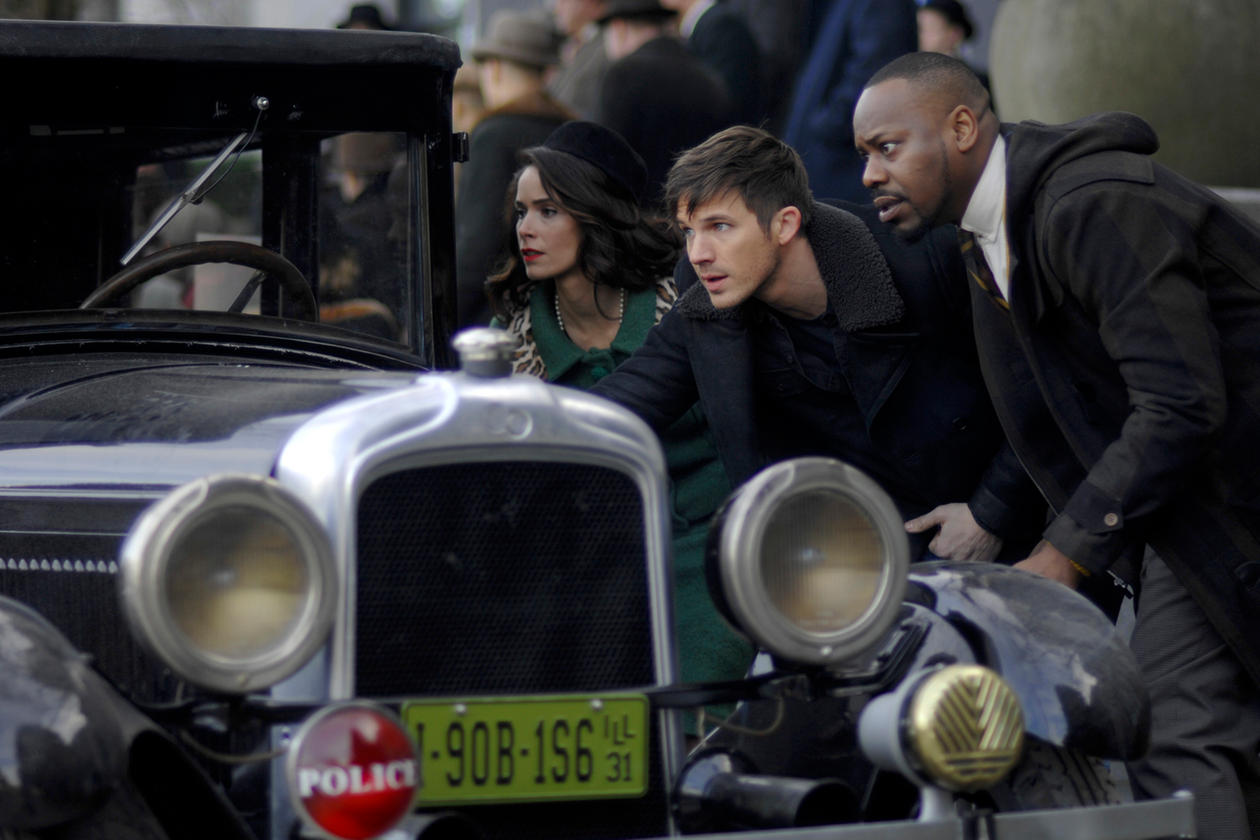 THE BOTTOM LINE
With season 2 of TIMELESS already underway, fans can add (and should) add this score to their music collection.  I hope this will elevate Duncan to mainstream film scores, as he definitely has the knack for building tension and finding the right music for the moment.  Recent television has been graced by an army of talented composers like Blake Neely (THE FLASH, ARROW, LEGENDS OF TOMORROW); now, we can add Duncan to that list, as his 51 tracks jet us through time in search of Flynn and Rittenhouse in as elegant a manner as possible.  Just like the show, production value here is stellar, with each track reminding us that we're in not only a renaissance of television but in television scores.  TIMELESS – ORIGINAL TELEVISION SOUNDTRACK is fantastic, and will definitely form the base of my next playlist.  And while you're at it, check out the show: it's really great.
At the time of this review, NBC is airing TIMELESS on Sundays at 10/9c. Varèse Sarabande will release the soundtrack digitally on April 13, and on CD May 4, 2018.  At the time of this posting, we were unaware of any special editions, unless the CD.