Toys, Tots, Pets, & More (ttpm) held their Spring 2018 show in Manhattan this past Thursday unveiling their picks for the most wanted summer toys as well as having a host of brands on hand to show off their newest products. For those not familiar with them ttpm is a site where purchasers can research the best toys for the best prices. It is the only site that combines reviews (written and video) with live pricing comparisons, one-click purchasing, and product availability of major retailers. With their app shoppers can also make informed decisions when making purchases at the store or online, saving both time and money. For more info please visit their site: http://ttpm.com
The spring showcase started as usual with an introduction by ttpm CEO Jim Silver going over trends in the industry and then reveling their picks for the top toys of Summer 2018 from three main categories; Movie Toys, Classic Play, and Outdoor Toys. As normal I've focused on products relevant to Hi-Def Ninja, mainly from the Movies category, but for a full list of the 2018 Summer most wanted toys please follow the link to the ttpm site: https://ttpm.com/mostwanted/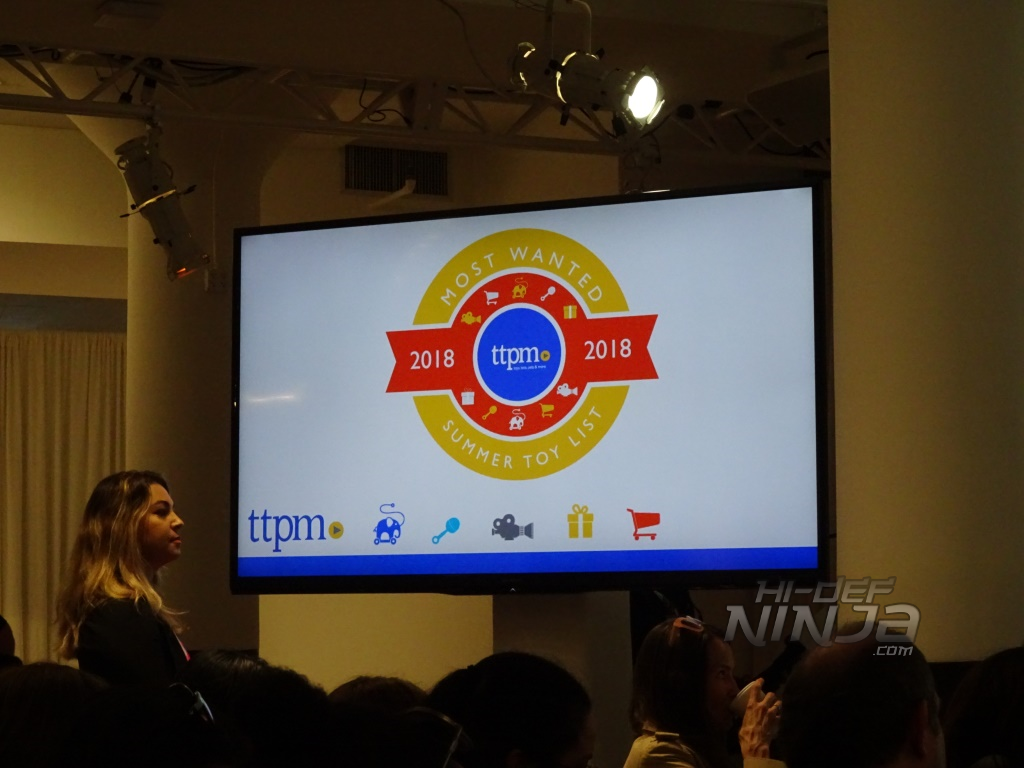 Movie Toys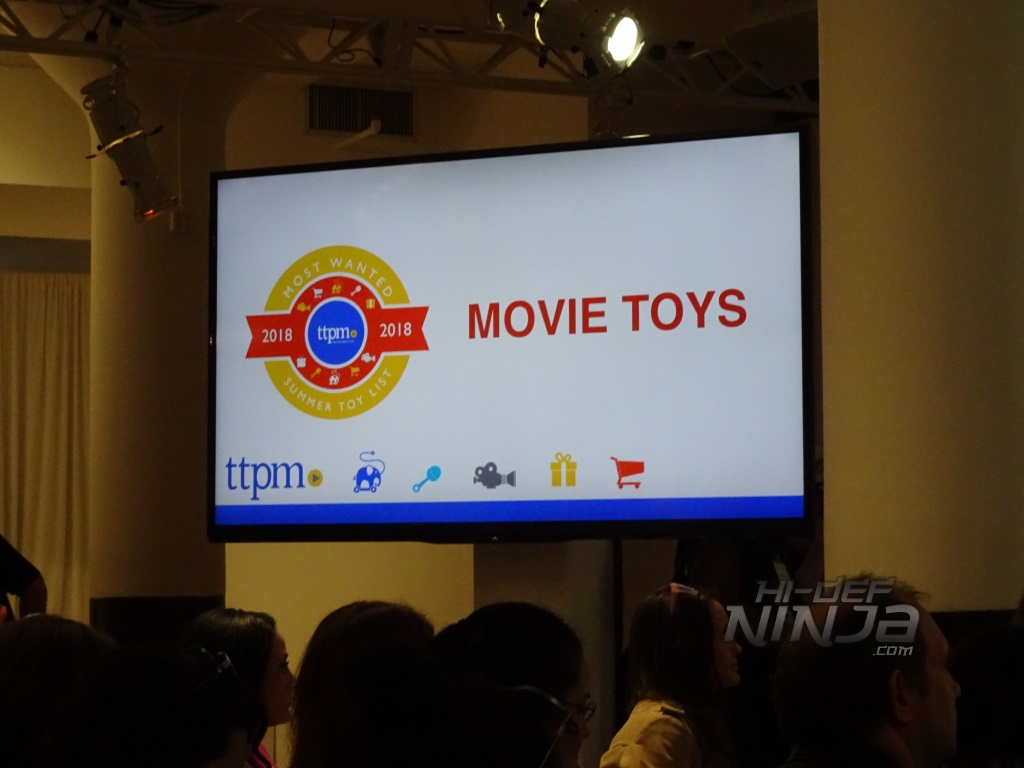 Hasbro – Avengers: Infinity War Hero Vision Iron Man A/R Experience
An A/R game that lets you take the role of Iron Man and complete various missions.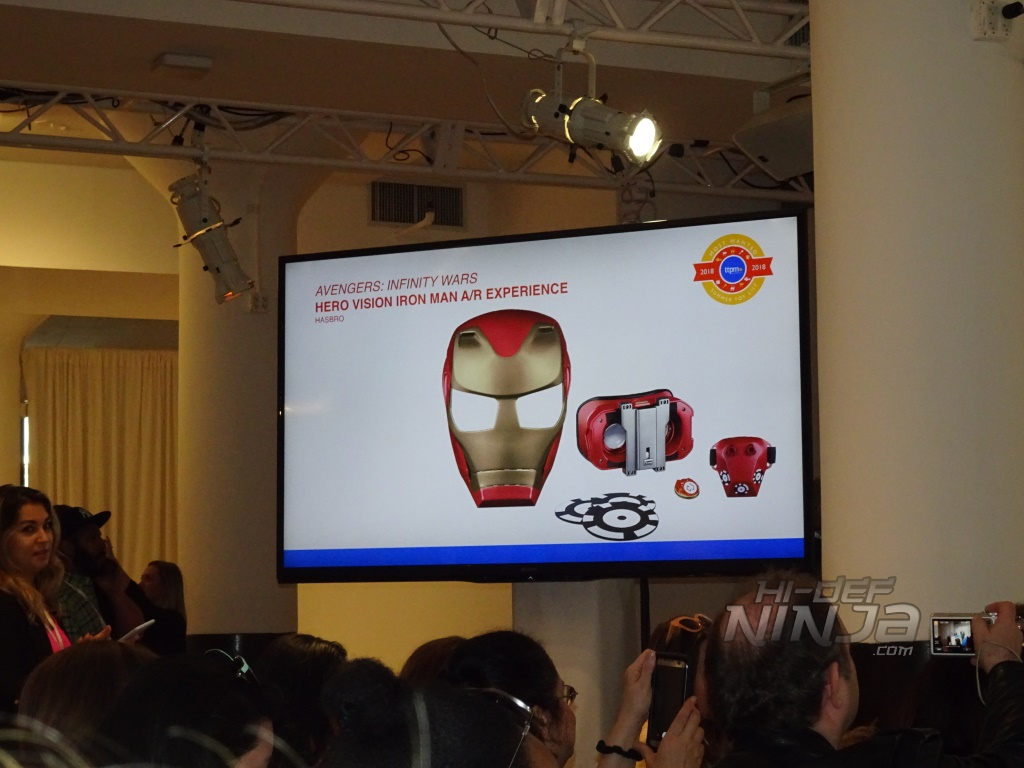 Hasbro – Han Solo Mighty Muggs
A collectible figure that'sfeatures three different expressions on a characters face.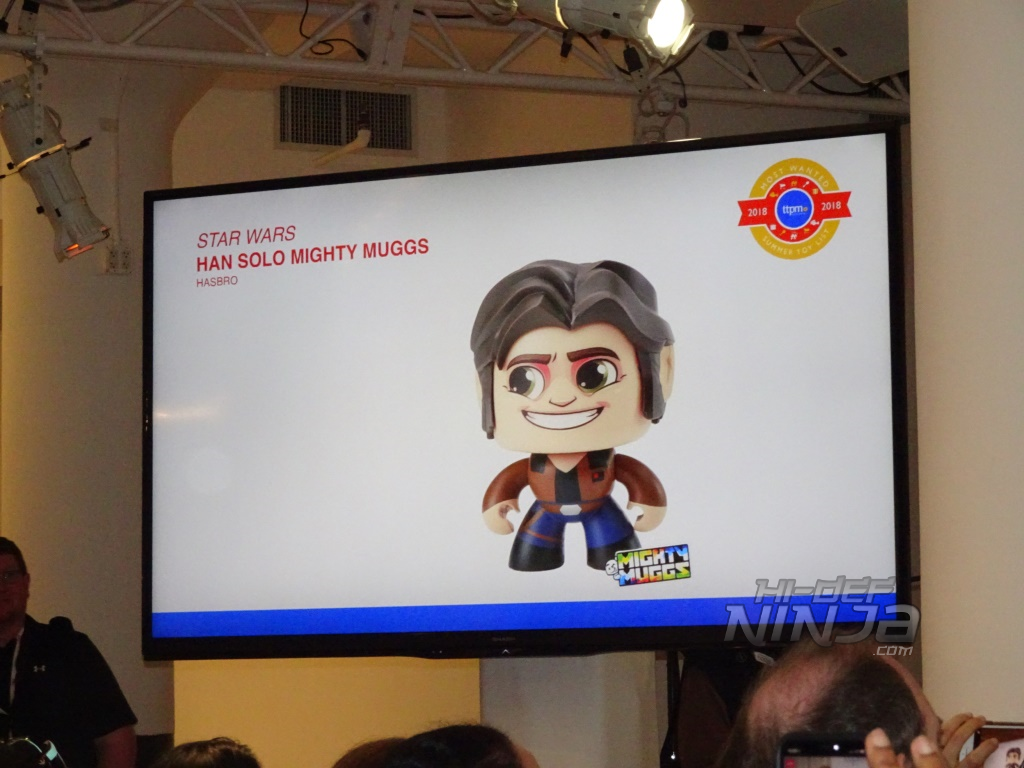 Mattel – Jurassic World Super Colossal Tyrannosaurus Rex
Thsi T-Rex is the biggest dinosaur figure in the new toy line from Mattel, at roughly three feet long in size it will swallow other figures whole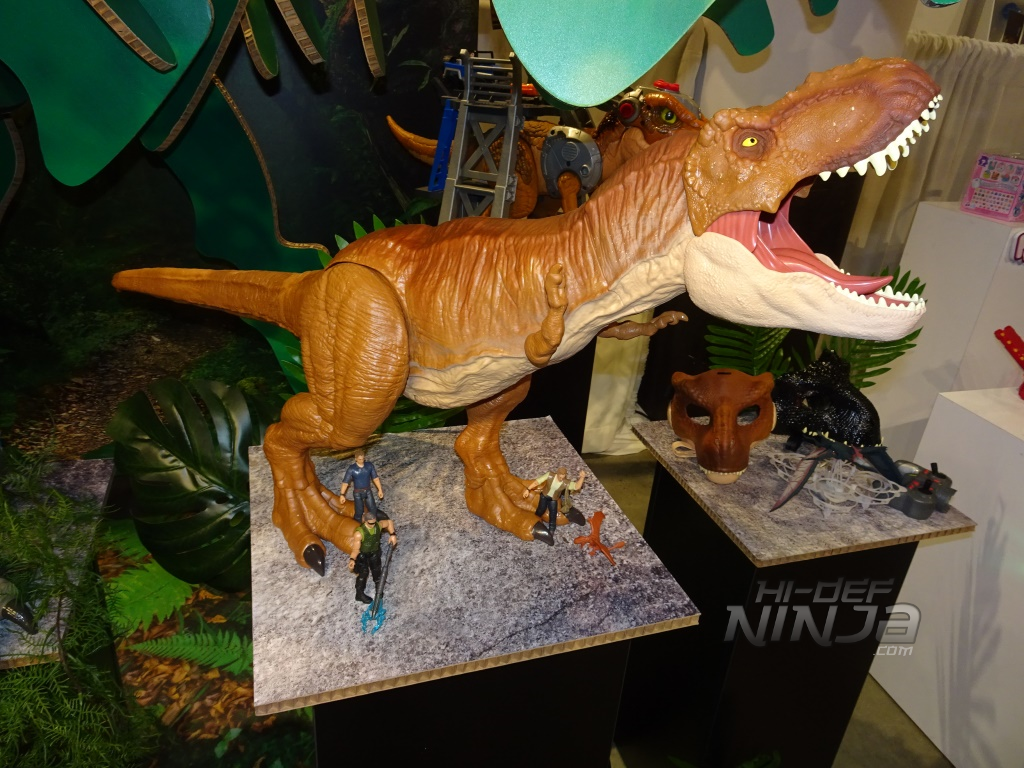 Classic Play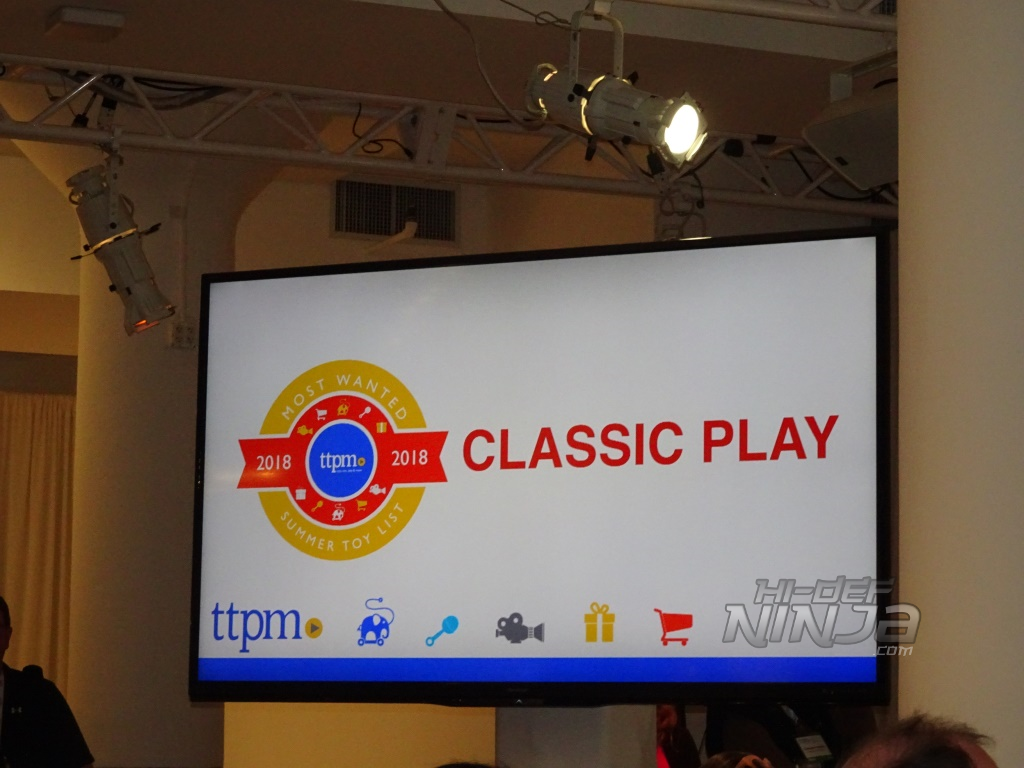 Big G Creative – Bob Ross The Art of Chill Game
Discover the relaxing world of beloved painter Bob Ross as you play a basic strategy game and make game playing an art in itself.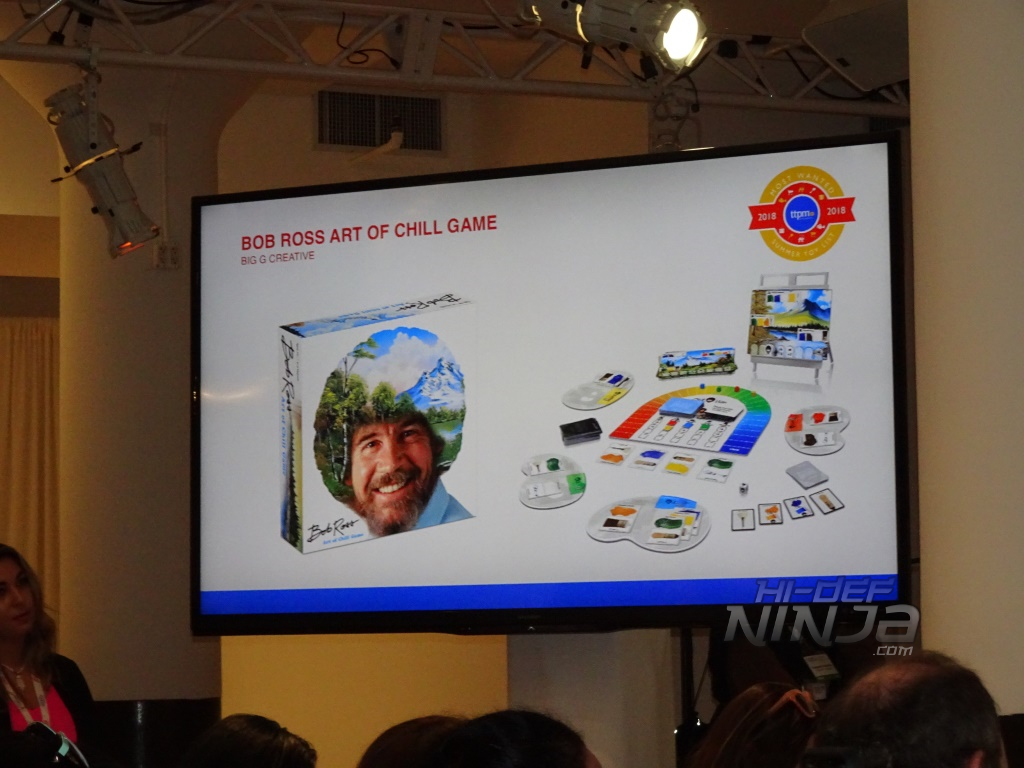 Hasbro
Hasbro had a good ttpm Spring show with not one but two items on the most wanted list with the Avengers: Infinity War Hero Vision Iron Man A/R Experience and the Han Solo Mighty Muggs collectible figures. Hasbro had a small set up with a selection from all their lines including My Little Pony, Transformers, Star Wars, Marvel, and gaming. From Black Panther they also had a Connect Four and Monopoly skinned game. Monopoly also had a Mario Kart version as well. Finally a new toy line Lock Stars was revealed.
Lego
Lego was on hand with a bunch of their licensed products including recently revealed Jurassic World and Star Wars: Solo sets. But the big reveal was the over 4,000 piece Creative Roller Coaster set available in June.
LEGO Creator Expert: Roller Coaster (10261)
$379.99 US
4,124 pieces
Available June 1, 2018.
Take a ride with the ultimate Roller Coaster!
Enjoy the thrills and excitement of the fairground with this chain-lift Roller Coaster featuring a wealth of brick-built details and 11 minifigures.  Upgradable with LEGO® Power Functions and LEGO BOOST for an added movement sensor and realistic sound effects!
Capture the speed, thrills and excitement of the ultimate fairground attraction with this incredible LEGO® Creator Expert 10261 Roller Coaster. This fully functional chain-lift model comes with 2 trains —each consisting of 3 train cars with low-friction wheels , a 44-piece track consisting of 7 different rail elements, and an array of authentic features and functions, including a ticket booth, cotton candy cart, concession stand, height marker, and a covered boarding station complete with opening barriers and a control panel. Lower the lap bars to secure the riders into the cars and release the brake to send the train to the foot of the first climb. Then activate the chain lift and enjoy the ride as the gravity-driven cars hurtle through the Roller Coaster's twists and turns, then move the rails to launch a second train. AND don't forget to smile as you race past the camera!
Upgrade the Roller Coaster with LEGO Power functions for a motorized chain lift or LEGO BOOST for an added movement sensor and realistic sound effects! This incredible collectible toy has been designed to provide a challenging and rewarding building experience with a touch of nostalgia and charm. Includes 11 minifigures, a cotton candy vendor, 2 ride attendants with accurate measuring sticks, 2 grandparents with their granddaughter and 5 riders. 8 of these minifigures feature reversible heads to display different emotions. Special new-for-June-2018 elements include a 2x8x6 Rail Slope, 1x2x1 Bow Brick, plant leaves, stalks and flowers.
This will go perfect with last years carousel.
Mattel
Mattel didn't have too much new product from toy fair. They had a display of Hot Wheels, Jurassic World: Fallen Kingdom, Thomas and Friends, and Barbie figures.
Disney
Though they license their products out to other companies Disney was on hand with a selection of Marvel Infinity War products including a Black Panther Mask and the Hasbro Marvel Legends Series Infinity Gauntlet. They were also displaying some Lego Guardians of the Galaxy and Solo sets. However the big item on display was the Lego The Incredibles game which covers the story of both movies. Available June 15 the game features the signature Lego humor as it recreates unforgettable scenes from the movie.
Control your favorite characters and team up as a family to conquer crime and family life. Players compete in action packed missions facing the games signature villains in an open world hub including Municiberg.
Jakks Pacific
Speaking of the Incredibles movie, Jakks Pacific had a full line up of toys from the upcoming movie including Junior Supers, Figures, Dolls, and blind boxes.
Super Impulse
Miniature versions of iconic toys like the Original Wiz-z-zer, Doodletop, Etch-A-Sketch, Rubik's Cube and more! New in their world's smallest are mini Mattel Hot Wheels cars celebrating the 50th anniversary.
Clockwork Dreams from The Lazy Dog & Co.
https://www.thelazydog.co/
Coming out later this year this company had some really cool mechanical playsets. Crank the wheels and the sets move featuring a pegasus, a circus, little red riding hood, and more. Not out yet but they looked pretty cool.