Gladiator Ultra HD 4k Review
The Movie

Video Quality

Audio Quality

Supplements
Gladiator is a 2000 epic historical drama film directed by Ridley Scott and written by David Franzoni, John Logan, and William Nicholson. It stars Russell Crowe, Joaquin Phoenix, Connie Nielsen, Ralf Möller, Oliver Reed (in his final role), Djimon Hounsou, Derek Jacobi, John Shrapnel, and Richard Harris. Crowe portrays Hispano-Roman general Maximus Decimus Meridius, who is betrayed when Commodus, the ambitious son of Emperor Marcus Aurelius, murders his father and seizes the throne. Reduced to slavery, Maximus rises through the ranks of the gladiatorial arena to avenge the murders of his family and his emperor.
Purchase GLADIATOR on Ultra HD Blu-ray Today!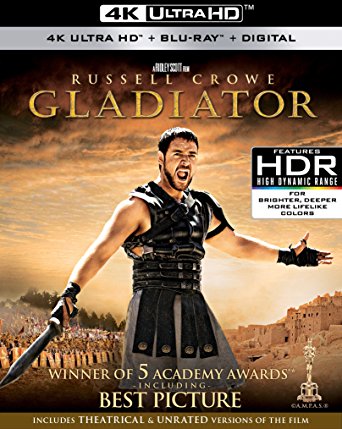 THE MOVIE:
While Russell Crowe may have had a budding career with such cult like hits of ROMPER STOMPER and THE QUICK AND THE DEAD it wasn't until GLADIATOR that Russell Crowe lit the world on fire and became a household name. GLADIATOR will always go down as THE film that is most easily recognizable to his career. Like many folks on Hi-Def Ninja Russell Crowe is also that of a collector, and an entire paper could be written about the psyche of a person to one's own work versus something they are a fan of because just recently the collector that Crowe is just sold off the sword from Gladiator among a few other major items from the film. See HERE. Random fact no doubt, but one I thought would be appreciated by our collector audience.
GLADIATOR also marks the claim-to-fame for Joaquin Phoenix long before his clips on TMZ were buzz worthy. GLADIATOR is a film that is easily rewatchable and I remember watching this film countless times in my late teenage years and ultimately on the ten plus viewings just fast forwarding through the Joaquin Phoenix scenes to speed up the viewing. An epic that has since brought back the popularity of films from the roman empire and perhaps giving Hollywood more incentive to create even films from Greek mythology that started to crop up more commonly afterwards.
If you are a millennial and have missed out on this absolute "modern" classic then don't wait any longer and purchase this film on a whim as you won't be disappointed.
VIDEO QUALITY:
GLADIATOR comes to glorious 4k with HDR / Dolby Vision. The Dolby Vision looks stunning on the 65″ LG we tested it out on. The darks have never been more deep and compelling while the detail in the arena are mind blowing. Such an incredible transfer that benefits greatly from the high dynamic range. The film shows great deep contrast in most scenes with some slight grain at times that likely are more inherit of the film.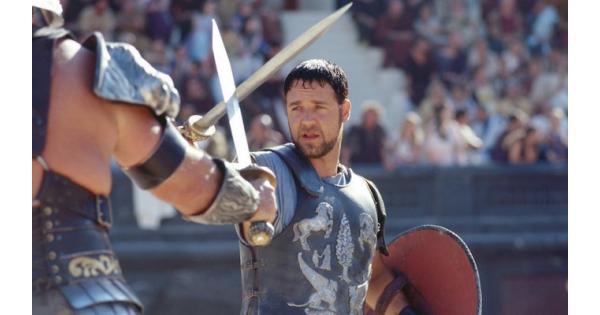 AUDIO QUALITY:
The Ultra HD Blu-ray 4k version of GLADIATOR comes with a DTS X audio track as well as DTS X Headphone track and Dolby Digital 5.1 tracks for French and Spanish. The blu-ray disc has the same 5.1 DTS HD Master Audio track as before. The film's DTS X track does an exceptional job of handling Hans Zimmer's amazing soundtrack and the fight scenes never sounded better. The clanging of metal in battle is immersive.
SUPPLEMENTS:
Same Special Features from the previous blu-ray disc thus on the blu-ray disc provided while the Commentaries are also on the Ultra HD Blu-ray Disc.
Strength and Honour: Creating the World of Gladiator
Image & Design: Storyboard Design
Storyboard Archive
Costume Design Gallery and Photo Galleries
Visions from Elysium: Topic Portal
The Aurelian Archives: My Gladiator Journal by Spencer Treat Clark.
The film was released in the United States on May 5, 2000. The film received favorable reviews from critics and grossed $457 million worldwide, making it the second highest-grossing film of 2000. The film won multiple awards, including Best Picture, Best Actor for Crowe and three other Oscars at the 73rd Academy Awards. It has also been credited with rekindling interest in entertainment centered around ancient Greek and Roman culture, such as the TV series Rome. – wikipedia