ANNIHILATION REVIEW
The Movie

Video Quality

Audio Quality

Supplements
Annihilation is a 2018 science fiction psychological horror film written and directed by Alex Garland, based on the novel of the same name by Jeff VanderMeer. It stars Natalie Portman, Jennifer Jason Leigh, Gina Rodriguez, Tessa Thompson, Tuva Novotny, and Oscar Isaac.
Purchase ANNIHILATION on Ultra HD Blu-ray Today!
ANNIHILATION is a 4K Ultra HD Blu-ray Exclusive to Best Buy until October 29th 2018.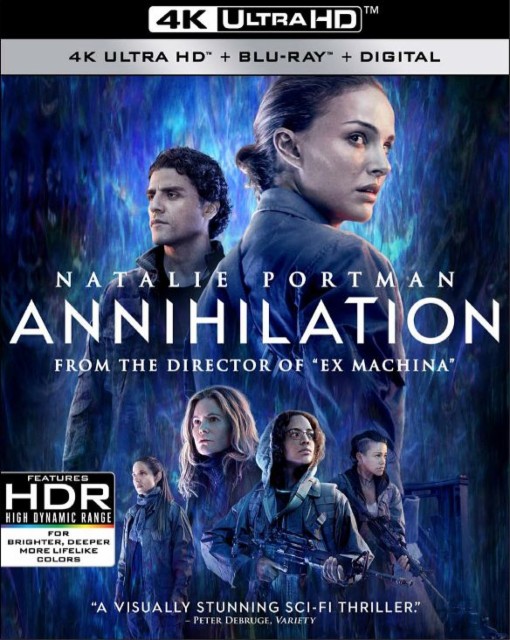 THE MOVIE:
Alex Garland who is hot off the heels of the much acclaimed EX MACHINA brings us ANNHILATION starring Natalie Portman, Jennifer Jason Leigh, Gina Rodriguez, Tessa Thompson, Tuva Novotny and Oscar Isaac. Yes, even 3 years later can be considered "hot off the heels" when we are talking about writer/directors. Important to bring that quality up as Mr. Garland is an amazing talent in the industry. One could even argue he's like a polar opposite of Quentin Tarantino but somehow riding a parallel next to him. Every film QT writes and directs is either a hit or finds its fan base. It seems Alex Garland while navigating different genres also accomplishes the same feat. 28 DAYS LATER and DREDD are just a couple others that come to mind. Granted this is an adapted screenplay though based on a novel from Jeff Vandermeer so not trying to discredit QT's original screenplays for the majority of his work.
So where does ANNIHILATION fall into this filmography for Mr. Garland? I think ANNIHILATION will find it's audience, fans, and do well enough in the home media and digital markets that years later people speak better of it. Right now there is some heavy mixed reactions. I myself thought it was good, but not great. However it's one of those films that I'm left thinking was it that the film was trying to do too much? Or will I keep having questions about the world that ANNIHILATION created and are there different takes on the ending?
I'm still having to chew through what it was that I witnessed and ultimately decide how much do I like this film. One thing is for sure that it was definitely original and creepy yet trippy viewing. And that for me made it a fun watch, but ever since EX MACHINA I always feel like Garland's films can also have some deeper meanings or innuendos. Either way, I'd recommend everyone at least give it a watch to decide for yourself if its your cup of tea.
VIDEO QUALITY:
A stunning 4k HDR picture quality where in that this film's plot/genre etc really lend itself to such visuals. Sci-fi aesthetics and at times a dark yet also borderline psychedelic atmosphere make this one trippy visual undertaking to explore. The film also received the HD Premium Label for technical quality. Some great deep dark scenes that benefit from the High Dynamic Range being able to look a bit more full then the Blu-ray Disc and then the complete swing of having eye candy like scenes as well with vibrant visuals.
AUDIO QUALITY:
ANNIHILATION comes to Ultra HD Blu-ray with Dolby Atmos that is pretty much one of the best parts of this release. Immersive audio that is a treat to your ears if you happen to have a home entertainment system. Obviously the gun shots ring out loudly, but the animal scenes in the shimmer really make their presence felt. A wonderful score as well that is totally creepy and sci-fi like is perfect for this atmos track. The Blu-ray disc also has the atmos track.
SUPPLEMENTS:
A decent amount of special features for ANNIHILATION which round out over 80 minutes. So enough to sink your teeth into.
Refractions: Story Origins
For Those That Follow: Casting Annihilation
Shimmer: Shooting on Location
Vanished Into Havoc: Visual and Special Effects
The film was released in Canada and the United States by Paramount Pictures on February 23, 2018, and in China (the only other country to receive a theatrical release) on April 13, 2018.[6] It was released digitally by Netflix in a number of other countries on March 12, 2018. – wikipedia